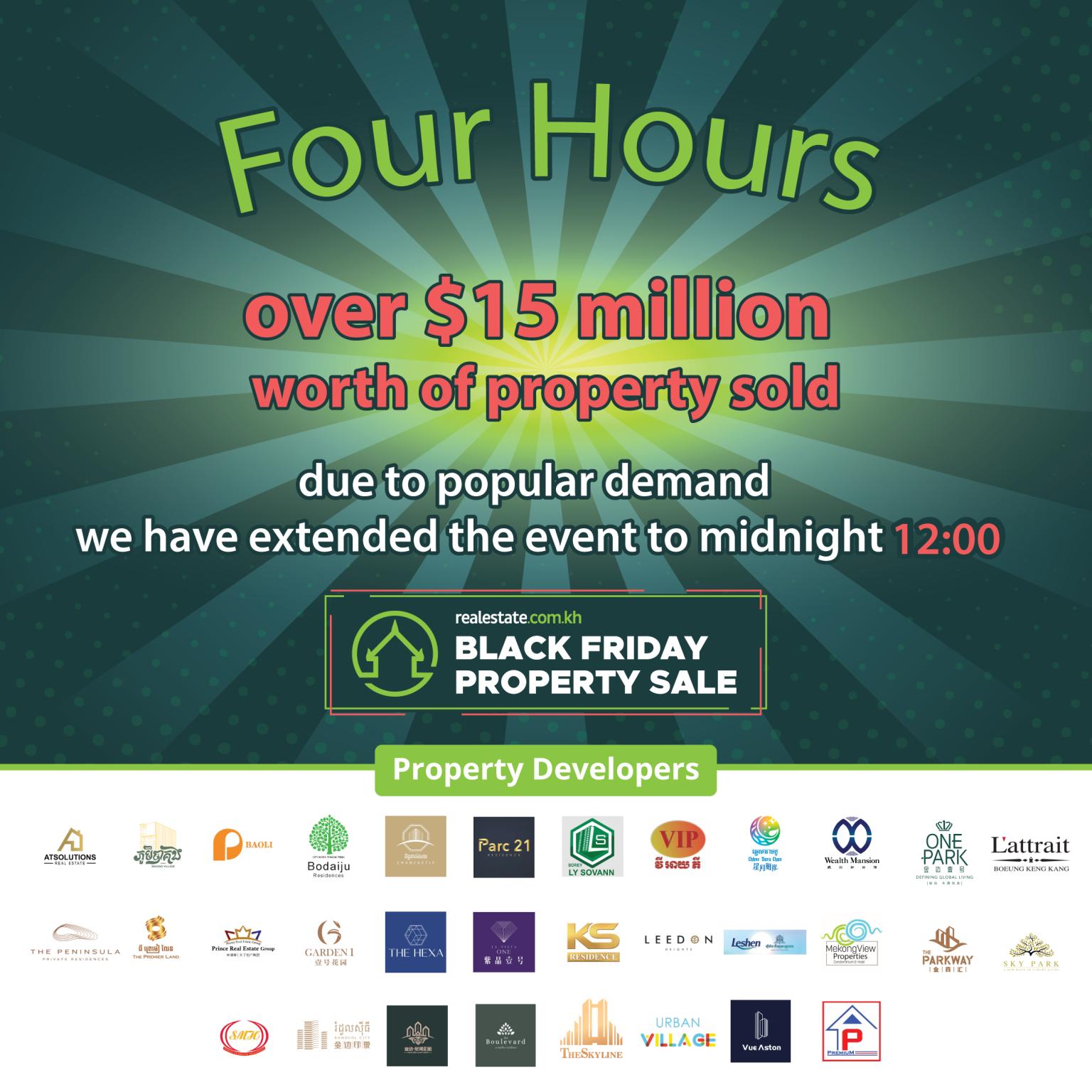 The long-awaited Black Friday Property Sale was held last Friday night (12th of June) which attracted over 20,000 interested buyers across both the website itself and the Livestream that brought the event to life during the 4-hour affair, where Realestate.com.kh linked buyers to Developers and Agents where a staggering $15 Million+ dollars' worth of property was booked.
The Black Friday Property Sale event was the first time in real estate history that an online property sales event has been held in Cambodia. The intention of the event was to galvanize the Kingdom's property industry and stimulate the real estate economy during a time where travel restrictions and other global quarantine measures limit market activity across the board.

The event brought together 30 leading condo, borey, and plot land developers and was supported by 100+ local and international real estate agencies, media platforms, law firms, banks, business chambers, and many more. The event attracted a multinational spread of attendees - with approximately 50% Khmer, 30% Chinese, and 20% mixed international visitors to the website.

One buyer, who purchased during the event, said, "I heard about the event through Century 21 Fuji, and registered straight away. I was really impressed with the communication leading up to the event and was well prepared in terms of what to expect once the event launched." The event came at the right time for him, saying, "I have been looking to invest in the Cambodian market for a while now, and was happy to buy a property at such a great price."
A few of the developers who participated also shared their take on the Black Friday Property Sale:
"It's a good event because, tt made it easier for buyers to find and purchase the property at a great price ever. The fact that they can easily view different developments at the same time through their phone or laptop certainly adds value to it.

It also helps developers significantly as we have difficulty reaching new clients during this time. The Black Friday Property Sale certainly helped us turn things around. We received 3 bookings and a whole lot of clients contacting us directly during the event for more information on the project.

We understand that it's the first big online expo in Cambodia by Realestate.com.kh, and it did encounter a few errors here and there. But we believe REAKH can solve these issues and make the next one even better."

Mrs. Nhim Pich Panha,
The Peninsula Sales Gallery Manager

"We were initially hesitant to join the Black Friday Property Sales since it was the first of its kind in Cambodia. But I'm glad we did as we are happy with the results! It was a truly productive and exceptional event; we're lucky to have partnered with REAKH and Mekong View Properties will definitely do so again!"


Felix V Calimbo
Sales and Marketing Manager
Bun Ches Groups Co Ltd
Reflecting on the event, Mr. Tom O'Sullivan, CEO of realestate.com.kh - the event organiser, said that, "We are delighted with the results, which is a great reflection on the strength of the Cambodia real estate industry. There is clearly a need for more housing in Cambodia and we were happy we could bring together the leading developers and agencies in Cambodia to offer some of the best prices the market has ever seen."
Tom O'Sullivan went on to say "We were really passionate about creating something that involved the whole industry through a pretty tough period, which has created many challenges across multiple industries, it also presented an ideal time to execute something like this. We know there are 1000's of buyers looking to get into the Cambodia real estate market - both local buyers and international investors, and everyone always loves a good deal".
Exclusive developers, handpicked by Realestate.com.kh for the event were [Union Development City, Baoli (Cambodia) Real Estate Co., Ltd, Jindi East Asia Real Estate Development Co., Ltd., The Peninsula Capital Co., JianZhong YuTong Co., Ltd. Everhealth International Investment and Development Ltd., Romdoul Overseas Co., Ltd, Leshenwe Real Estate Development (Cambodia) Co. Ltd, Urban Hub, Borey VIP, Gracticity Realestate Development Co., Ltd, Parkway Investment Co., Ltd (Cambodia) Co., JV Parc 21, SGDP Development Co., National 6A, Creed Group, SJS Group, Hunter Estate, Prince Real Estate, KW, At Solutions, The Premier Land, Borey Sambath Meanheng III, Pointer Property Co., Ltd, Natha Residence, Chan Residence, Borey Ly Sovann, Bun Ches Groups Co., Ltd, Premium Group, Yin Yi Ventures, CBRE (L'attrait Property Development Inc.), CBRE (The Leedon heights Condominium Co., Ltd.)]
Official affiliates who joined the event were [SEAPS, C21 Fuji, Amatak, CBRE, Property Area, Tnaot 柬埔寨头条, Sabay, 58.com, ATSolutions, B2B Cambodia, Beyond Design, BizKhmer, C21 Advanced, C21 Dream Property, Central Trust, Cambodian Investment Management, Coldwell Banker, CPA Realty, CPL, Dabest, Fazwaz, Grep Tech, Grobartig, HOTPROP, Huione, IPS Cambodia, ITA, Juwai IQI Cambodia, Key Real Estate, Khmer Times, Khmerload, Knight Frank Cambodia, Panasialife, RedBridge, Rentex, SKylead, Sovannphum, Towncity, YiFung億豐地產, 東旺]
About the Realestate.com.kh Black Friday Property Sale
The first of its kind in Cambodia, the Online Black Friday Property Sale brought together some of Cambodia's leading property developers as well as the best resale deals in the market, during the event property seekers were able to browse the properties and discounts that were only available for 4 hours. Buyers could then make a $500, fully refundable reservation fee to reserve the discount on the property. Proceeding the event buyers were then passed onto developers to close the deal and sign the SPA.
Sales and Marketing Contact:
Nara Tang
+855 86 644 903
nara.tang@realestate.com.kh