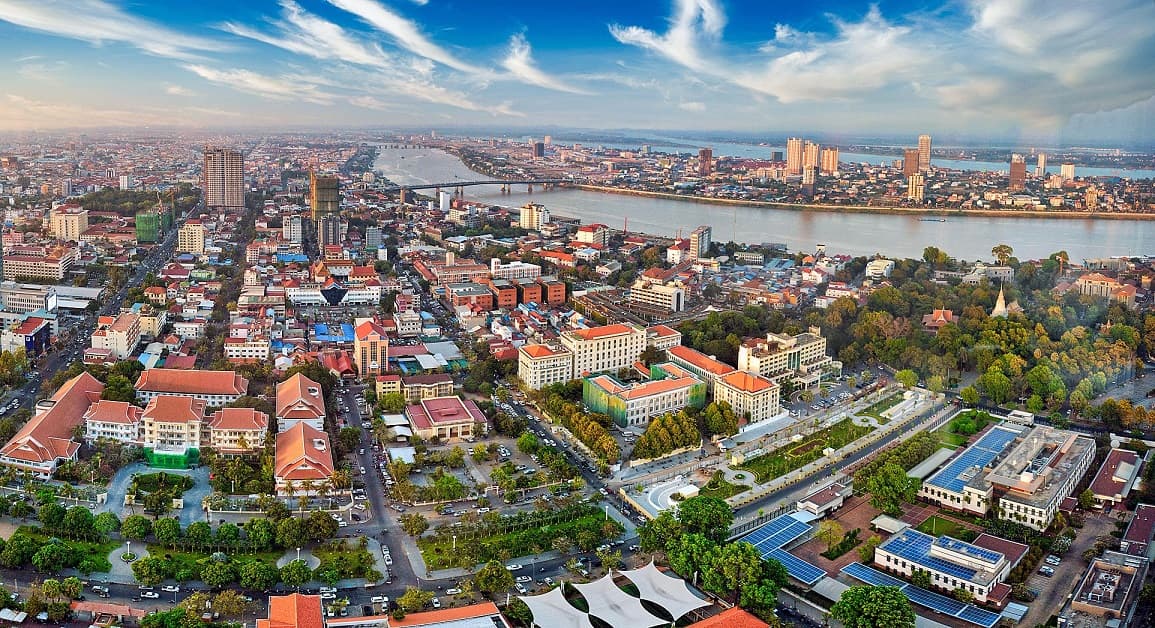 Realestate.com.kh Market Trends is designed to give property developers, investors, and buyers a bird's eye view of Phnom Penh's real estate market. Supplied.
The Kingdom's construction and property sectors have been on a slump for most of 2020. The usual foreign clientele, looking to develop and/or buy luxury properties for more attractive costs, have dwindled in the past year causing high-end projects to stall, drop prices, and even rethink marketing strategies. The outbreak of COVID-19 has certainly stymied the flow of foreign direct investments resulting in the slowdown of real estate activity. 
Cambodia's property sector is still not out of the woods almost a year later. According to Realestate.com.kh's Market Trends, median sale prices for residential properties in Phnom Penh ended the year with up to 30% lower median sale prices.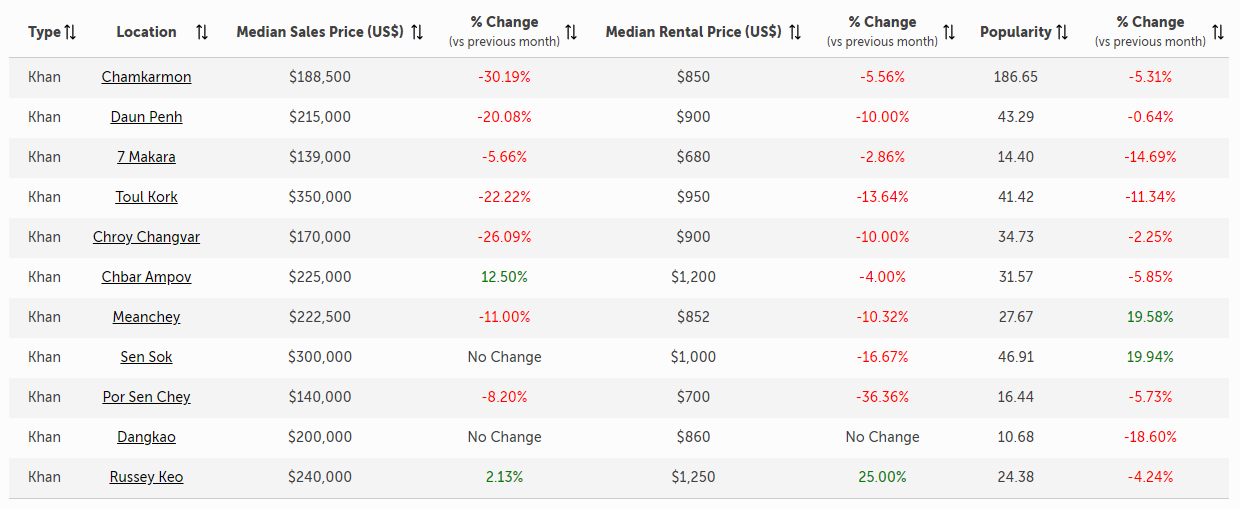 Key highlights of the sale price trend in Phnom Penh: 
November 28 incident applied additional pressure on the property market
Daun Penh, Chamkarmon, Chroy Changvar, and Toul Kork apartment/condo median sale prices down by as much as 30%
Meanchey, 7 Makara, and Por Sen Chey, apartment/condo median sale prices down by up to 11%
The new cluster of cases may apply an extended period of market pressures
Prices displayed on Market Trends are median sale prices found across Phnom Penh and are designed as a guide to navigate price ranges. Realestate.com.kh is advising interested buyers to visit the condominiums for sale in Phnom Penh page for the specific price of projects they may be interested in.
Daun Penh's median condo sale price across bedroom types was recorded at $269,000 in November 2020. This went down by 20% to $215,000 the following December 2020. Neighboring Chamkarmon was hit the hardest with a 30% decrease in median condo sale price from $270,000 in November to $188,500 the following December.
Toul Kork and Chroy Changvar also felt the pressure as their median sale prices decreased by 22% and 26%, respectively. Toul Kork's median sale price went down from $450,000 to $350,000 while Chroy Changvar saw median sale prices drop from $230,000 to $170,000.
The districts of Meanchey, 7 Makara, and Por Sen Chey saw relatively smaller downturns in median sale prices. Properties in Meanchey saw an 11% decrease in median sale price from $250,000 to $222,500. Neighboring Por Sen Chey saw an 8% decrease in median sale price from $152,500 to $140,000. The urban area of 7 Makara saw a more moderate downturn of 7% with median prices coming down from $147,340 to $139,00.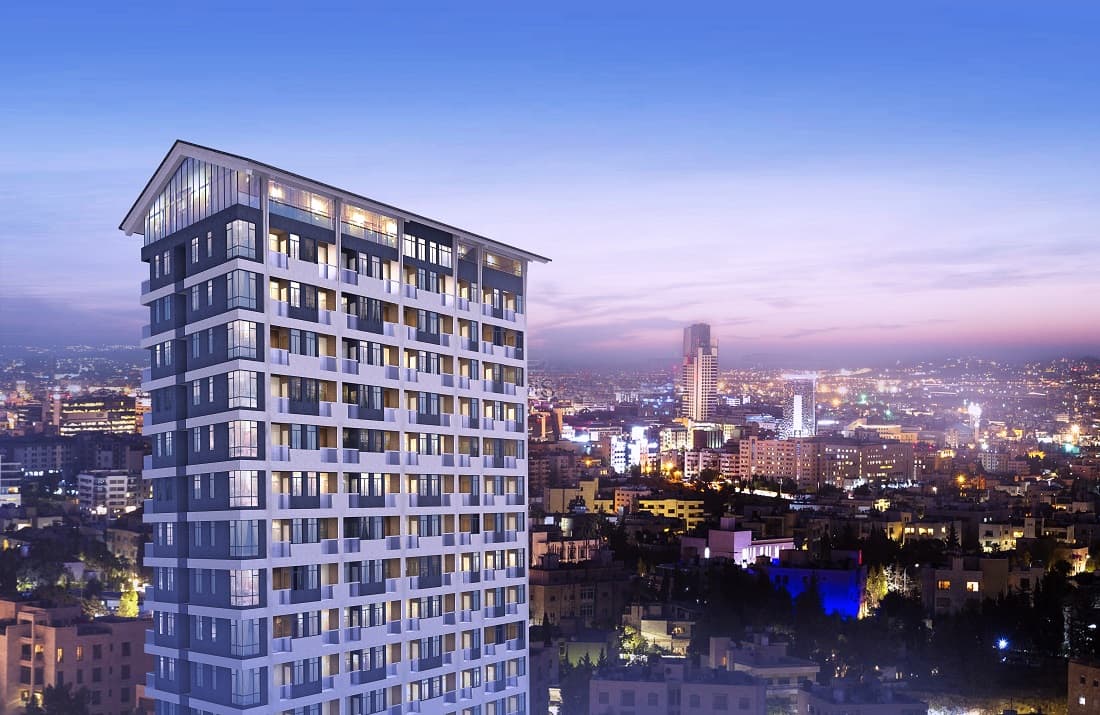 Phnom Penh's property market remains in a state where buyers can get good deals. Photo: Ratana Plaza Top Apartment in Sen Sok. Supplied.
The considerable drop in median condo sale prices can be attributed to the first local COVID-19 transmission last November 28. Cambodia only had less than 300 confirmed cases prior to the incident. Cases from then grew to 365 with 362 reportedly recovered as of posting. In a report by the Khmer Times, Prime Minister Hun Sen declared that the November 28 incident has ended with health authorities effectively tracing and placing persons of interest under quarantine.
The November 28 incident caused a new round of scares as local transmissions pose a large threat to economic recovery. The confidence built over the past months of cases trickling in was shaken almost overnight as more people chose to stay home in the weeks following the incident. Some companies, including businesses in real estate, have begun working from home once again.
A new round of recent cases stemming from migrant workers returning now number at 21, putting confirmed cases at a total of 386 as of January 8, 2021. Tracing and quarantine of this new cluster are still on-going and we may expect persistent pressure until health authorities take control.
Last December 31, the National Bank of Cambodia released a forecast that the nation's economy would grow by 4%. The report attributes the expected growth to a strong financial sector with the construction and property sectors expected to see renewed activity in line with the entry of foreign direct investments, revenue recovery, and the overall economic growth to follow. Though experts caution that without a working vaccine in circulation, prospects for growth are susceptible to further market disruptions.
Cambodia is marking close to a year of living with the threat of COVID-19. Though the Kingdom is fortunate to have no COVID-19 related deaths, the economic toll on its people has been severe. On the other hand, the time spent with the looming threat of new cases has given business owners and consumers alike a better understanding of what needs to be done to keep their businesses and well-being intact.

Article by: