The latest released 2023 land prices for Phnom Penh reveal the most valuable Sangkats in the capital but there remains strong confidence in Cambodia's economic growth and in the property sector. So what is the value of land, the buyer's confidence in the market and will new buyers be entering the local property market?
Property Development In Phnom Penh And Rise Of Land Prices
Between 2000 - November 2022, the Cambodian government approved more than 61,000 construction investment projects with a total registered capital of nearly $70 billion!
The cumulative floor area of the combined real estate projects was 173 million square metres, with 2,500+ projects categorised as "high-rise buildings". In Phnom Penh alone,  there are 1,675 high-rise properties with the second most in Preah Sihanouk (685).
The January 2023 land prices from the Ministry of Economy and Finance of Cambodia for Phnom Penh indicate ranges which are considerable, but this can be due to main roads, proximity to infrastructure, and land bordering rivers or lakes which impact price valuations and may contribute to a higher land price.
At its peak, land per square metre reached USD $13,000, while land can be as affordable as $20 p/sqm.
The 2023 land prices in Phnom Penh indicate the most valuable areas are:
Daun Penh
7 Makara
Boeung Keng Kang
Chamkarmon
Toul Kork
The most affordable three Sangkats by sqm in Phnom Penh are:
Kambol
Prek Pnov
Dangkor
Towards the end of 2022, the Residential Property Price Index (RPPI) for Phnom Penh showed a continued upward trend and the average house price was $114,164. The RPPI was introduced in June 2022 by the National Bank of Cambodia (NBC) and the National Institute of Statistics (NIS) and is used to calculate the value of an asset in the real estate market. In the banking sector, the house price index is used in providing loans to customers.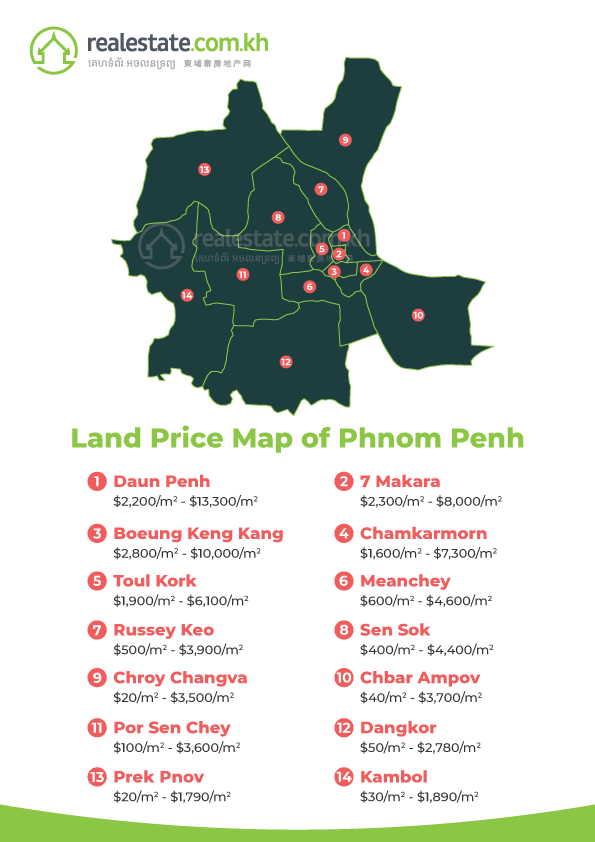 Optimism In The Cambodian Real Estate & Property Market
At the recently held Cambodian Great Real Estate Debate, the triple risk of financial headwinds (rising interest rates, inflation, and increase in non-performing loans in the Cambodian market) was a key talking point.
Property buyer trends have changed, such as the increasing move away from buying off-plan which was a pre-pandemic preference, as well as the increased general awareness and knowledge of the property market.  
There remain some concerns over the possible oversupply of condos in the Kingdom with 41,000 condominiums currently available and an estimated 34,000 due to be completed over the next five years. However, the capital continues to grow in population size and new housing will meet this demand.
Developers have also, by and large, indicated the return of interest from foreign property buyers -  from Hong Kong, Japan, Singapore, and now China.
Cambodia's recent removal from the FATF grey list should also promote increased confidence and capital investment in the Kingdom.
The soon-to-be-released Cambodia Real Estate Survey 2023 also indicates that a majority of respondents have positive views on the housing and property market for the next year.
61% feel property prices will increase over the next 12 months.
65.5% indicated they were looking for second homes or investment opportunities in Cambodia.
A third of respondents suggested they were looking to buy in the next 18 months.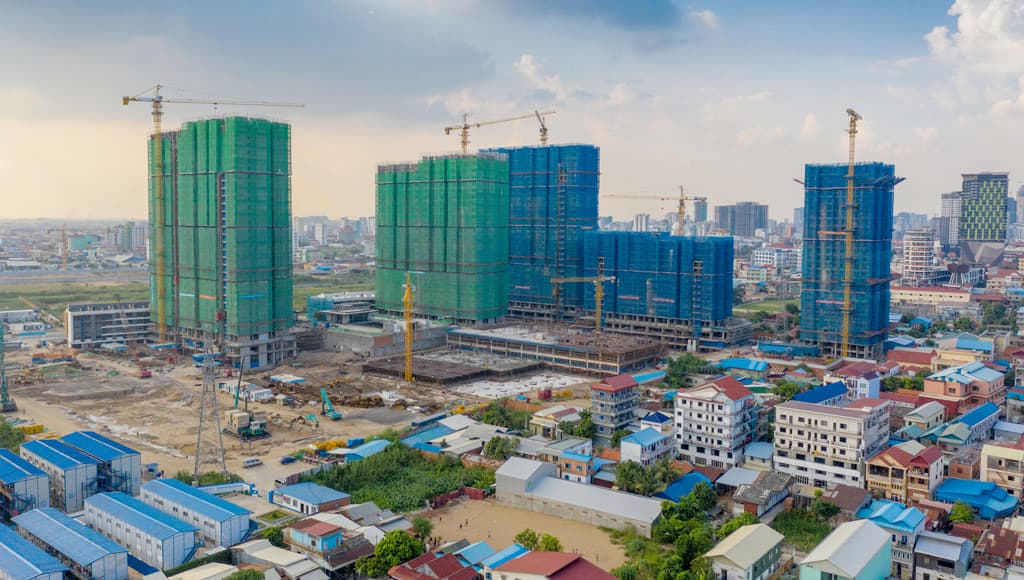 New Investors In Cambodian Property
The re-opening of the Chinese market has been seen as a major boon for the investment and potential of the property market in Cambodia (and regionally). 
Pent-up travel demand has seen more Chinese travelling again in Q1 2023 and this includes tourists as well as potential investors. 
Bloomberg interestingly reported that "since the end of Covid Zero in December, many rich Chinese have begun traveling overseas to check out real estate or firm up plans to emigrate." There is no suggestion Cambodia is highly-ranked on the exodus destination list but with an estimated minimum of $150 billion capital expected to leave China, with the Kingdom's welcome and easy immigration and investment laws, it's possible some of that financial capital reaches these shores.
Juwai IQI, a real-estate firm that helps sell the international property to customers in Asia, added that the number of mainland Chinese buyer inquiries dropped 26% in 2021 and fell 11% in 2022, but has already increased 55% in 2023.
The recent announcement from NBC that Cambodia has applied for membership in the Cross-Border Interbank Payment System (CIPS) should further facilitate and promote Cambodia-China trade, investment, and tourism - but there is no timeline for this to take place. 
Chinese visitors can also make payments in Yuan in the Kingdom through banking systems such as WeChat and Alipay at some tourist and business sites.
Rising Investment Funds In Trust Companies
Interest in landed properties such as Villas, Shophouse, Linkhouses etc., remains strong among Cambodian buyers but for foreigners has remained flat. However, trust companies in Cambodia can allow for foreign ownership of land and landed property and enable investment in land in Cambodia, indirectly, with the title of the property to be held by a trust.
In 2019, Cambodia introduced the new Trust Law and regulations. A trust is a "legal arrangement which allows a trustee to hold a property for the benefit of another person" , says legal firm DFDL. Four types of trusts exist in Cambodia; Commercial Trust, Public Trust, Social Trust, and Individual Trust.
The latest data from the Trust Regulator (TR) of Cambodia suggests that 492 trusts were registered with the TR with a combined investment pool of $735 million as of February 2023. In September 2022, Sok Dara, Director General of the Trust Regulator (TR), estimated this to reach a maximum of $600 million by the end of 2022.
The TR report indicates that Commercial trusts accounted for a combined investment fund worth $492 million, or 66 per cent of total registration, while Financial trusts and Individual trusts showed investment capital of $175 million and $2 million respectively.
The role of trustees with respect to the control and management of the immovable property is a key topic. The Non-Banking Financial Services Authority (NBFSA) has also issued guidelines for the recognition of appraisal companies and real estate appraisers in the field of trust investment, the Khmer Times reported.
How Is 2023 Shaping Up Economically?
Despite a number of challenges on the horizon, Cambodia is forecast to have the highest GDP growth rate among all Asian economies in 2023 according to the IMF (International Monetary Fund).
Some members of the Cambodian financial and business community don't anticipate Cambodia to reach the economic growth that the IMF predicts for 2023 but the views on growth, in general, are positive and more so from 2024 onward.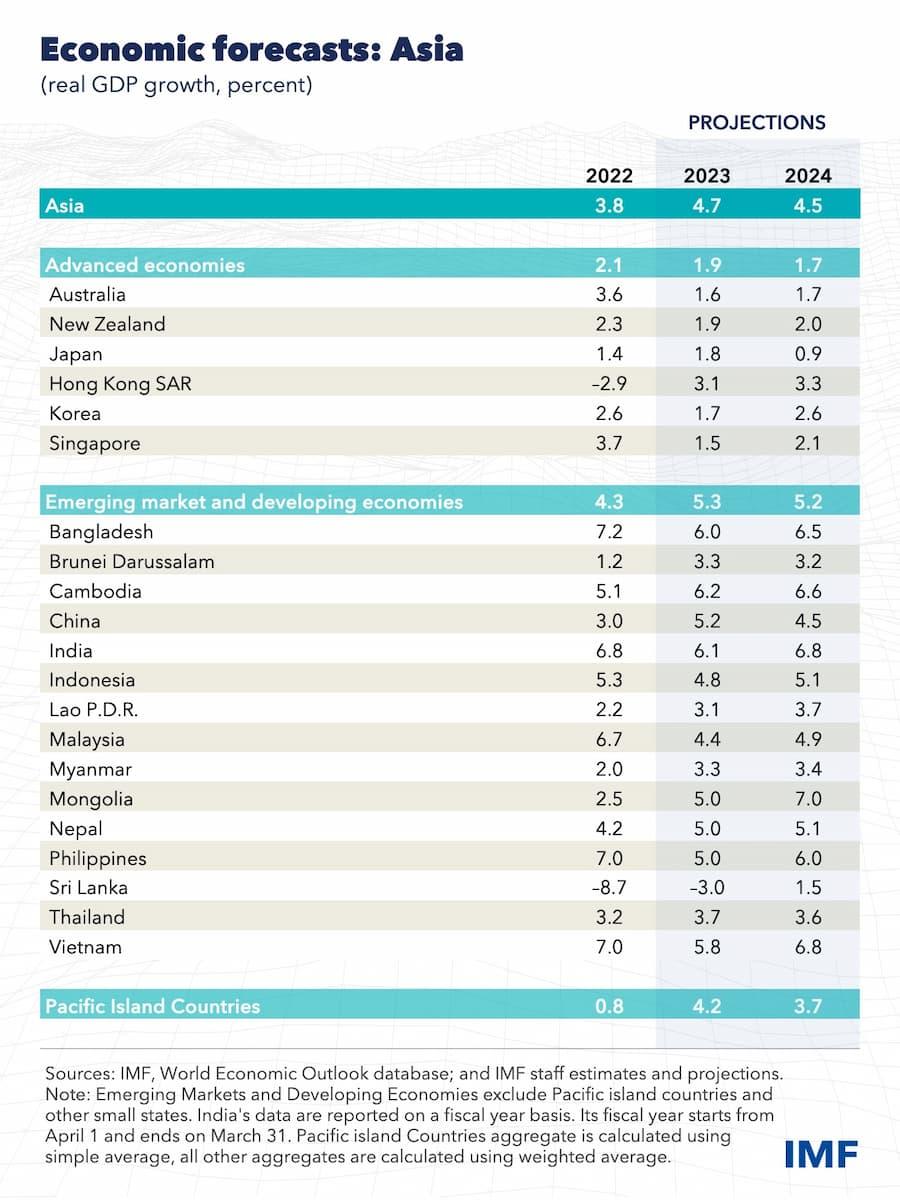 The IMF says "growth is set to accelerate to 4.7 per cent this year from 3.8 per cent in 2022 (in the Asia-Pacific). This will make it by far the most dynamic of the world's major regions and a bright spot in a slowing global economy."
Property prices have stabilised in Phnom Penh but land prices are still on the move in the most central and popular areas of the capital. Renewed local and foreign buying interest, stronger economic growth than recent pandemic-impacted years, and a buoyant mood about Cambodia's future should bode well for the property sector in the long run.