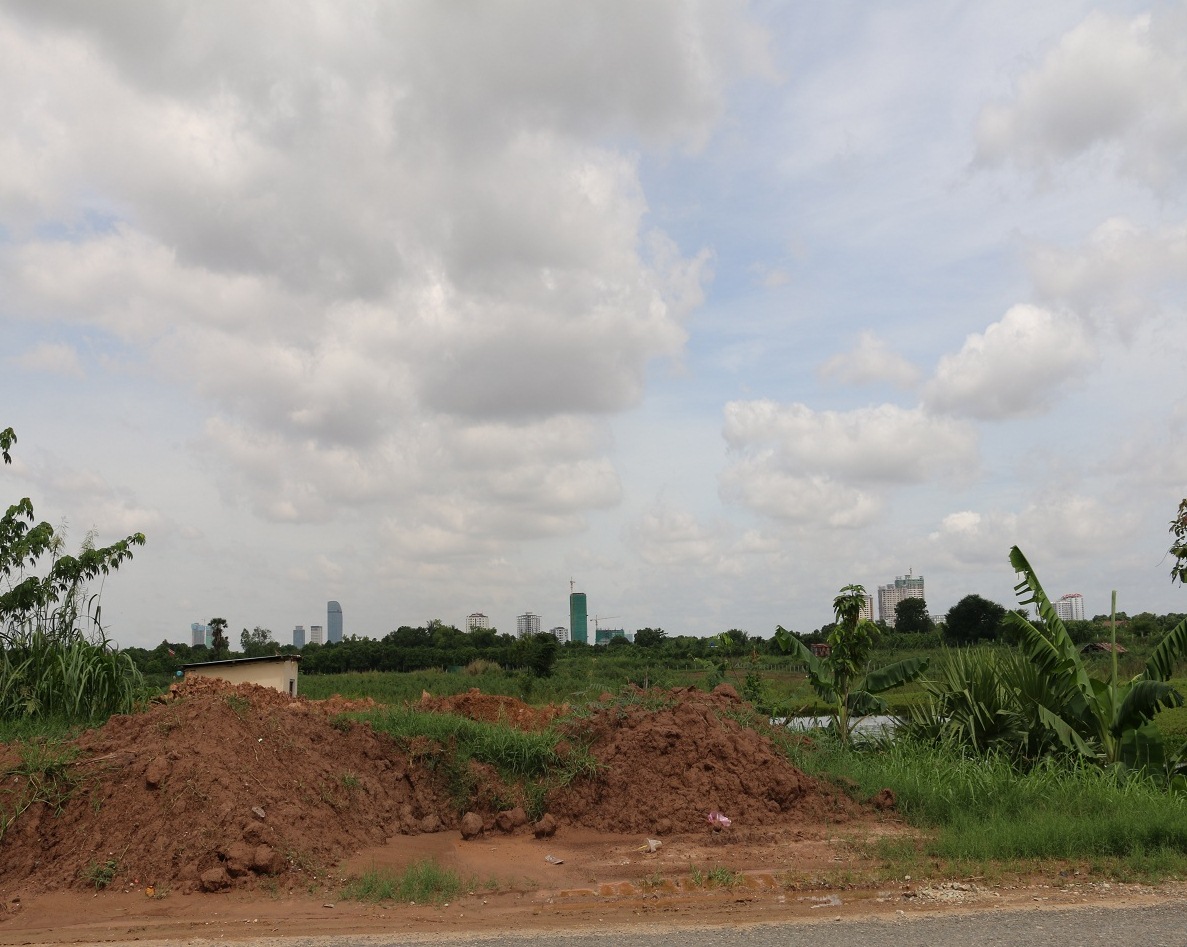 Areyksat, located in Kandal province east of Phnom Penh City and just a short ferry ride across the Chaktomuk River, is increasingly catching investors' attention – with a number of residential, industrial and amenity projects now in the pipeline. This attention begun last year after Phnom Penh Governor Pa Socheatvong revealed upcoming infrastructure development projects connecting the area to the central city; namely, three bridges connecting Phnom Penh to Koh Dach, Svay Jrom and Areyksat.
Although some are hesitant to invest in Areyksat pending the launch of these connectivity projects, many real estate experts and locals are keeping their eyes on the area thanks to the other notable developments already underway.
Mr. In Sitha, CEO of the real estate website cambodia21.com, said: "Areyksat is recently seeing notable developments in terms of housing projects such as Borey Chaktomuk, the Evergreen project, Chaktomuk View, and several plot land projects. These developments contributed to a rise in land prices compared to the past three or four years."
SkyLand, a joint venture between Jet's Group, a Cambodian company, and India-based STAR5 Development Pvt. Ltd., has also launched a $90 million affordable residential project in Vihear Sour commune.
Ms. Chea Vita, assistant general manager of Sky Land, said: "The company occupies a total land area of 7,770 hectares divided into different development projects such as sky condominium project, sky villa project, and flat house project."
"The first 1,000 hectares is used for plot land and residential houses. While the first plot land project is already completed, next month the company plans to officially announce a flat house project," she added.
Just 14 kilometers away from Phnom Penh, the Sky Land project is located in an industrial area where there are around 20 factories with nearly 40,000 workers. This offers significant appreciation potential for those buying in this area, according to Ms. Chea.
Besides this, Ms. Chea revealed the company has reached agreements with other development companies to bring more amenities and services to the area; including a water park, solar power generation for the area, a fitness center and golf club, and the first floating market along the Mekong River in the area of Vihear Sour.
Due to the various projects underway, Mr. In added Areyksat is an area of great future potential, especially for housing developments as it is located right next to the city, it offers many green areas, fresh air and a great river view.
Sharing Mr. In's view, Mr. Seng Sopheak, Chief Operating Officer at Cambodia Properties Limited (CPL), suggests Areyksat enjoys a "strategic location, just a stones away from the city. It will certainly attract a lot of interests from more developers in the near future."
In regard to land prices, Mr. Seng said: "Areyksat's land prices can be divided into residential, riverbank, lowland (lake). Prices saw a high peak in 2014 and 2015, but currently they seem to have stabilized."
"For residential land in the Areyksat Commune along road 380, starting prices are between $400 and $500 per square meter; riverbank land starts from $150 to $250 and the lowland $30 to $50 per square meter -- with guarantee of legal ownership. It is also possible to find lower land at a lower price, but there's no assurance that there's no hidden conflict," he added.
"For the land located close to borey and condominium projects, prices can range from $80 to $150 per square meter. In this area, there are also some subdivisions of plot land projects, and prices can go from $100 to $150 per square meter," according to Mr. Sopheak.
Mr. Sopheak notes that infrastructure developments in Areyksat are vital to local people looking to move there. And while basic infrastructure such as water and electricity is coming quickly, connectivity to the city remains a major impediment for the time being.
Nevertheless, for investors with time to spare before expecting a return on their investment, buying before roads and bridges are completed mean that land prices remain competitive.
Mr. Moeun, a shop vendor in Areyksat village, welcomes the government's infrastructure development plan in his area, saying: "I wish to see this area to have more roads and bridges across the river. When these infrastructures are developed, then I think companies and new development projects will also start to move in. And one more thing, having a bridge is good and convenient for villagers to travel to the city."
Despite being uncertain of the infrastructure development projects in his area, Mr. Hen Hoeun, a villager in Areyksat commune, said: "I want a housing development to launch in Areyskat commune, then I will buy one for my family; I want to live here, and not have to move to another area."
Check out property for rent or sale on Realestate.com.kh!