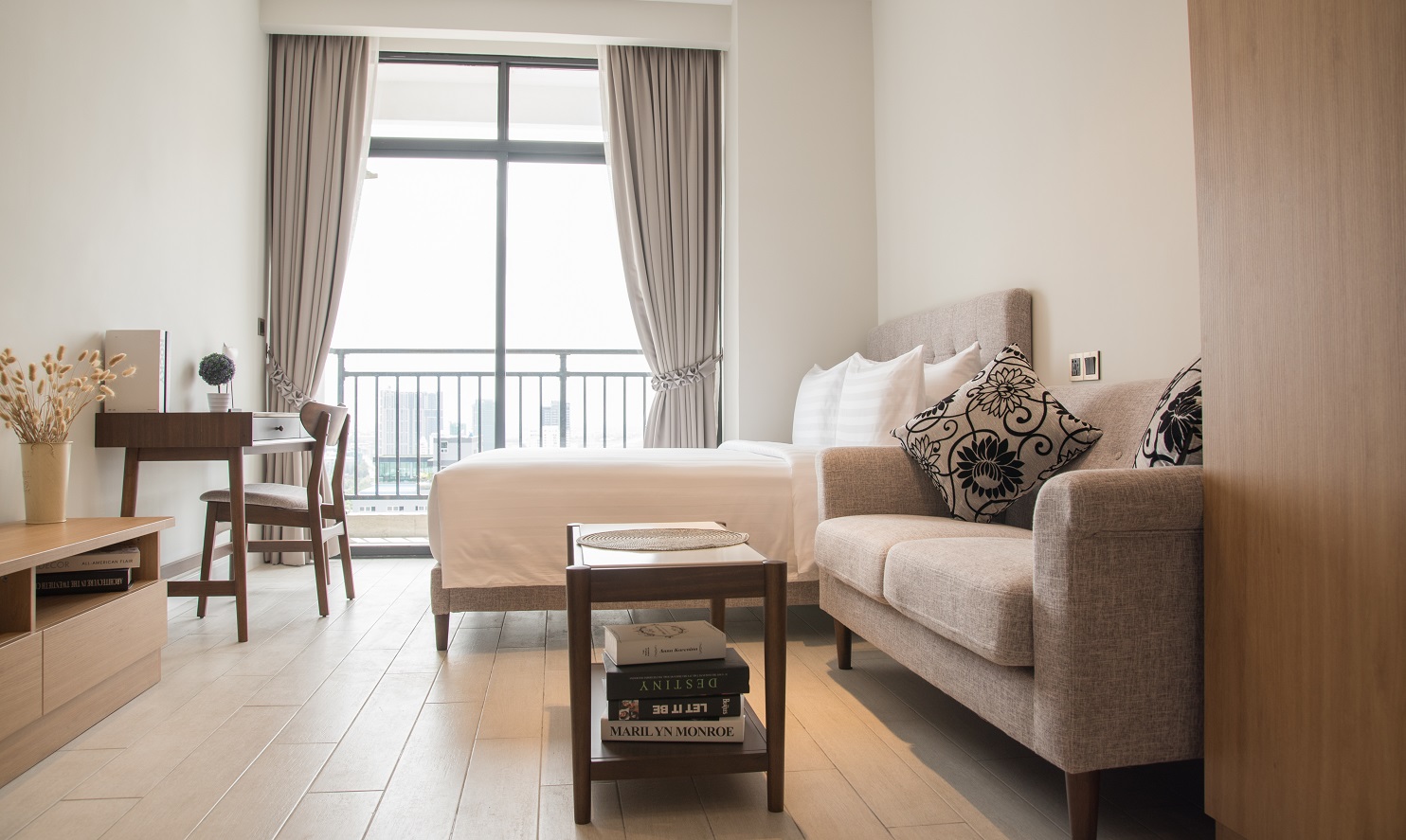 Serviced apartments in Phnom Penh often edge the competition with their service offerings and amenities, all for lower prices. Photo was taken from The View Residences in BKK1.
Khan Boeung Keng Kang (BKK) remains the top spot for serviced apartments, according to a report by Knight Frank Cambodia. As of year-end 2019, Phnom Penh's serviced apartment units totaled 5,999 units spread across 161 projects. Of these projects, 516 units across 9 projects were reportedly added by the second half of the year.
According to Knight Frank's report, the BKK district holds the most serviced apartments in the city with 36% of the total supply. It is followed by Chamkarmon district at 23%, Chroy Changvar at 9%, 7 Makara at 8%, and Sen Sok at 6%.
The report also indicates that mid-tier serviced apartments maintained its dominant share in the market with 54% of the overall supply, followed by the high-end at 23%, and Affordable at also 23%. Knight Frank has recorded an upcoming supply of an additional 1,205 units, around 40% of which are classified as mid-tier developments.
In terms of occupancy, the report indicates that the serviced apartments sector in the city enjoys an average of 73% occupancy rate as of year-end 2019. This occupancy rate can be broken down to Affordable serviced apartments having an occupancy rate of 82%, followed by Mid-Tier apartments at 79%, while High-end apartments only average 57% across all districts. The report suggests a price-sensitive market for serviced apartments.
Serviced apartments in the city mainly cater to the demand from expatriates working in Phnom Penh. Due to their additional services and facilities, serviced apartments may continue to be preferred over traditional condominiums, according to Knight Frank.
While the expected increase in the supply of serviced apartments bodes well for consumers, it may pose a new challenge to landlords of existing apartments. According to Knight Frank, the increasing supply may lead to tenants being gradually more selective due to a wider range of choices. Landlords may need to offer additional services or allow other concessions to keep a healthy occupancy rate, especially among long-term tenants.
As more projects continue to be launched, tenanted properties, landlords, and related stakeholders will be expected to provide increasingly competitive pricing and flexibility in terms of tenant requirements. According to Knight Frank, the influx of expatriate workers has been sustaining the demand for this sector. Should this market experience disruption, landlords may be faced with tighter competition against condominiums and extended-stay hotels, all for the same shrinking pool of tenants.

Article by: