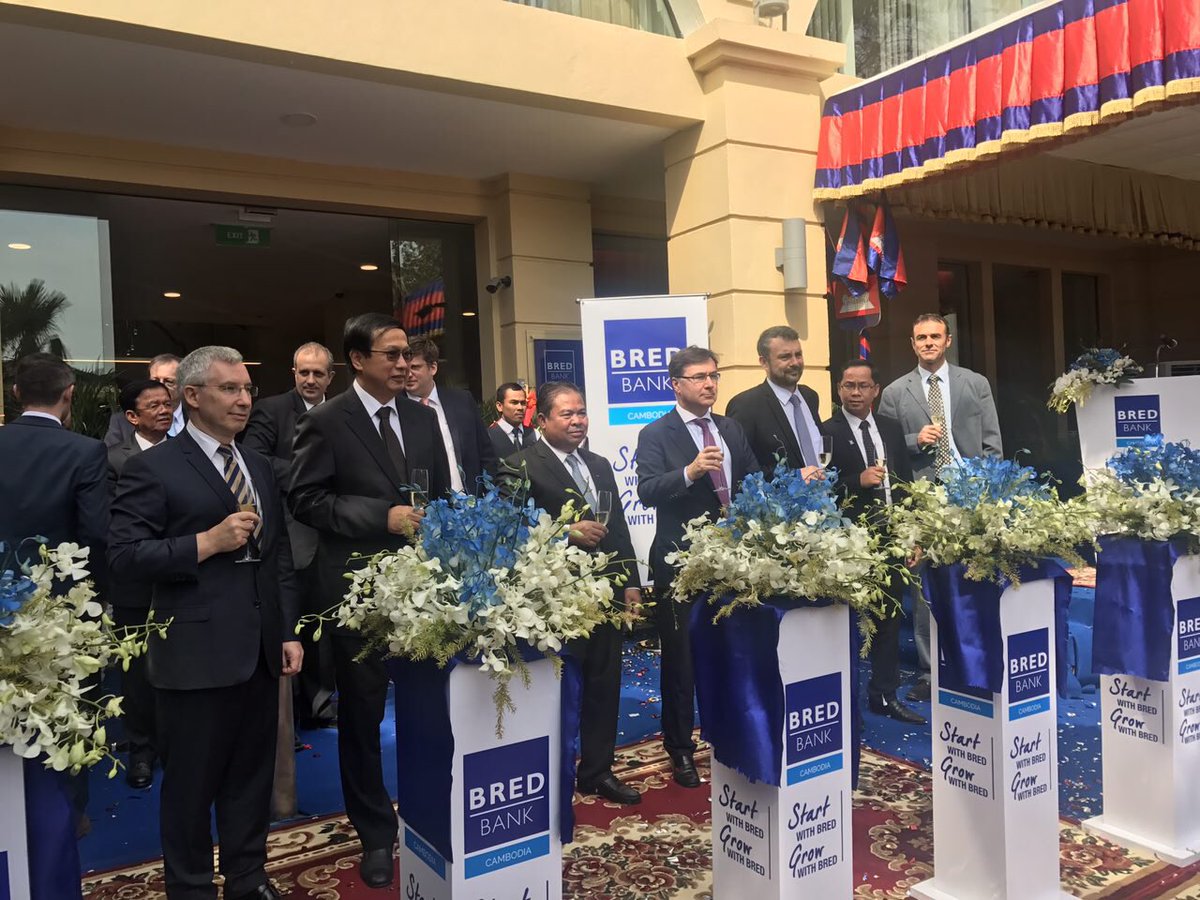 BRED Bank Cambodia, the only European bank in the Kingdom, has reported success in its first year of operations here.
BRED Bank Cambodia is a subsidiary of BRED Banque Populaire, a member of the BPCE Group. The BCPE Group is the second largest banking group in France, serving more than 31.2 million customers, employing more than 100,000 people worldwide, and counting 9 million cooperative shareholders. BPCE has an A/A+ rating.
BRED Banque Populaire is a cooperative bank with shareholders' equity of €3.2 billion (USD 3.9 billion) and 150,000 cooperative shareholders at the end of 2015. It employs 5,000 people, 20 percent of whom work abroad and in the French overseas territories. It is established worldwide with subsidiaries located in the Horn of Africa (Djibouti), the Pacific region (New Caledonia, Vanuatu and Fiji) and Southeast Asia.
After a successful first foray into Laos in 2010, the BCPE Group decided to open a subsidiary bank in Cambodia in 2017. BCPE's Laos subsidiary, which is called BFL (Banque Franco-Lao), currently operates 22 branches serving 30,000 customers.
According to company officials BRED Bank Cambodia had a resounding success in its maiden year in the Kingdom. Currently, BRED Bank Cambodia is operating from its Main branch in Phnom Penh, on Norodom Boulevard.
After one year in the very dynamic Cambodian market, BRED Bank Cambodia says it is proud to keep its offer and services growing as its customer base increases day by day.
For its Home Loan Program, BRED Bank offers a special 6.6 percent interest rate with approval fee waived. Loan can be made in foreign or local currency, payable up to 20 years, available to individual and joint borrowers, and provides for 30 percent minimum downpayment. Special offer on home loan will end on June 30, 2018.
BRED Bank's Personal Loan Program offers generous terms and conditions, including: Borrowing up to USD 15,000, tenor between 6 months and 3 years, no collateral required, loan in local and foreign currency, available to individual or joint borrowers, and interest rate subject to negotiation based on loan amount, tenure, and amortization installment.
Its Car Loan Program is very attractive for being customer-friendly, offering the following terms and conditions: Tenor up to 6 years, 20 percent minimum down payment, no mortgage required, loan in local and foreign currency, available in local or foreign currency, and interest rate subject to negotiation based on loan amount, tenure, and amortization installment.
BRED Bank caters to the local and expat population in Cambodia. Cambodia's expat population of more than 80,000 includes a substantial number of Europeans from France, United Kingdom, Germany, and other countries. The number of French people in Cambodia exceeds 5,000.
Being the only European Bank in Cambodia, BRED Bank Cambodia says one of its priorities is to facilitate international transactions for its clients. It was noted that BRED Bank's international transfer rates are very competitive, especially for customers who have an account in France and who choose to open a World Package in BRED Bank Cambodia.
The Bank says the last 12 months have been full of great experiences as they kept meeting new clients who trusted their brand and service.
It was noted that with fair and reliable services as well as fast processes, BRED Bank has been the first choice to access financing solutions such as personal, car or home loans.
"Our objective is to close the gap and offer Cambodian people a trustful interlocutor with whom to talk freely about their projects and ambitions. What matters to us is how we can serve you and help you grow. Start with BRED, Grow with BRED," said BRED Bank Cambodia CEO, Guillaume Perdon.