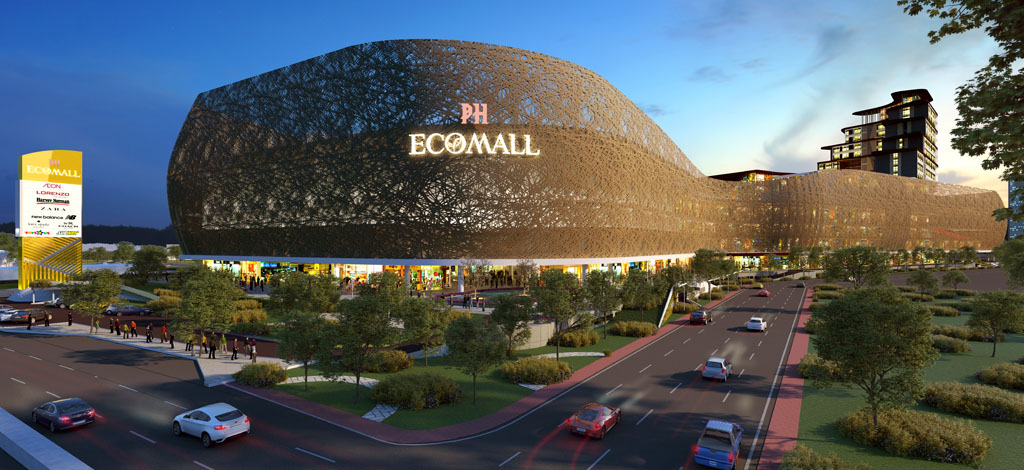 Following an announcement by Borey Peng Huoth Group in July 2017 regarding the development of a mall, namely PH Diamond Mal,  which is to be constructed in the Chak Angre Krom commune in 2019, the developers have officially announced a second, larger-scale mall project- PH Eco Mall estimated to be completed in 2021.
In comparison to PH Diamond Mall, which will span over 2.4 hectares, PH Eco Mall will span over 6 hectares of land. The new project will be built in the Grand Star Platinum Project within the Boeung Snor Area of Borey Peng Huoth along National Road Number No. 1, 2 kilometers from Preah Monivong Bridge. The project is worth an estimated total of $200 million.
Oknha Thai Mengly, CEO of Borey Peng Huoth Group, said that the PH Eco Mall project will be a groundbreaking project and will provide both national and international customers with a premium shopping experience- especially considering the shopping mall is prioritizing creating an eco-friendly and fresh environment for shoppers.
In addition, this shopping complex will incorporate the traditional Khmer style by integrating Khmer culture through popular and modern lifestyle amenities.
The mall itself will cover 26,800 square meters of land, solely dedicated to the mall building, and a further 90,000 square meters available for rent- as well as an abundance of parking space, which can hold up to 5,000 cars and motorcycles.
The PH Eco Mall will make the developer's existing Grand Platinum Project become a more modern and enriching hub, adding to international schools that have operated since the mid-2017.