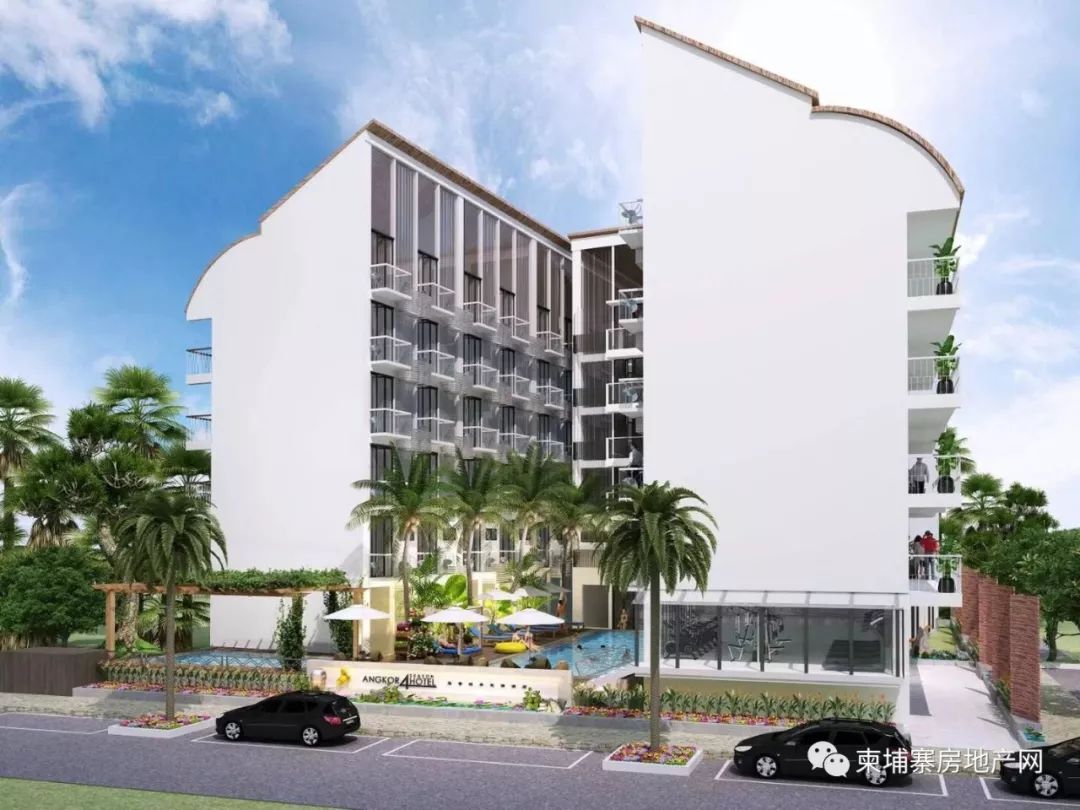 Siem Reap is Cambodia's most famous tourist city. There are many tourist attractions in the area enticing flocks of visitors every year, such as Angkor Wat, which has been rated as one of the world's best landmarks for five years. There's also the floating village of Vietnam, the mysterious floating family, and the sleepy lion of Phnom Kulen.
According to recent data out of Siem Reap, more than 2.59 million foreign tourists visited Angkor Wat in 2018. Chinese tourists accounted for 43.37% of the total, up to more than 1.1 million.

Siem Reap aims to attract two million Chinese tourists by 2020. Plans are afoot for a new $880 million international airport. The government has also spearheaded measures to bring in services especially for Chinese tourists such as RMB payment methods and online systems like WeChat and Alipay.

While tourism continues to surge, the demand for hospitality in Siem Reap has been swelling. However, accommodation supply is still lagging behind demand of the six million yearly visitors. At present, there are only about 80 five-star hotels in the region.
In the long term, Siem Reap needs more hotels and guesthouses to catch up with the demand generated by a growing tourism market. This means that investment prospects of hotel rooms are promising.
The Angkor 4 Season Hotel constructed by Cambodian developer Yuan Sheng Shi Ye Co, Ltd, is one of the most noteworthy investment projects in the downtown area of Siem Reap.
The Angkor 4 Season Hotel is only a five-minute drive from Siem Reap's famous tourist hubs, namely Pub Street and the Night Market. The project covers an area of ​​1,495 square metres and is 22.4 metres high. It hosts 108 rooms across six storeys, all of which are well decorated and fully furnished.

Key advantages:
A four-star hotel property that comes with a stable return and appreciation

A 10-year charter with 6% net inflows per year

Repurchase guaranteed by the developer with 2% increases per year

Mortgage available up to 50%

Turn-key home with grace decoration and quality furniture

Eight days of free stays per year, a VIP discount of 7% for extra stays

Property services come free of charge during the charter period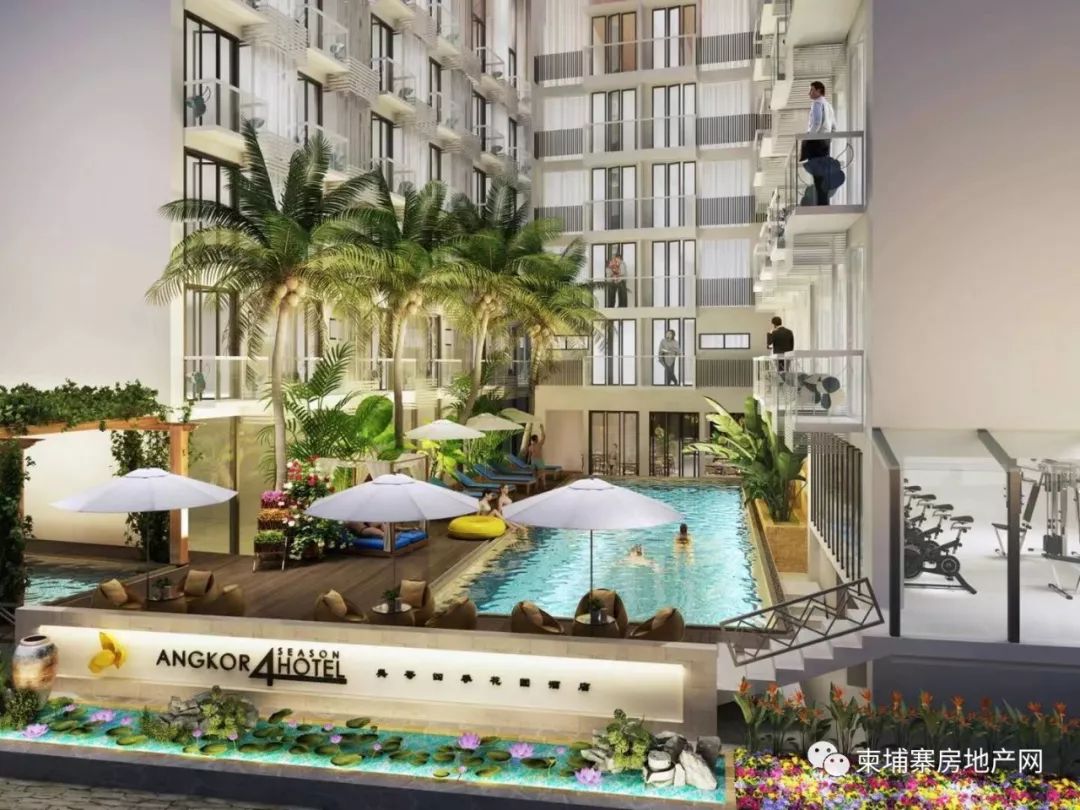 Angkor 4 Season Hotel has a unique appearance that is eye catching and emulates the rich character of Southeast Asia. There's a beautiful lotus pond and coconut trees that give shade and a breezy relaxing atmosphere. The three blocks of the building that stand in a U-pattern are adjacent to one another. Their large windows along the hallways on each level bring more transparency and brightness to the building. There is a swimming pool in the centre with lounge chairs and tables where you can take a dip or chill under an umbrella.

Angkor 4 Season Hotel is divided into blocks A, B and C, each with different floor plans. The units in Block A all face south, they range from 37.28 sqm to 37.40 sqm, and have good views of the pool. Block B has bigger units, and they overlook the pool and the garden and have great views of Siem Reap. Block C is similar to Block A, but with more variety of available units.

As far as good accommodation is concerned, the Angkor 4 Season Hotel will definitely provide a full package of facilities to residents, including a spacious reception hall, coffee bar, swimming pool, and gymnasium. Visitors to the Angkor 4 Season Hotel are promised a pleasant experience. Everything is within reach. Meanwhile, a high occupancy rate will be expected.
Let's take a good look at the facilities now.
Reception hall
The spacious reception hall allows visitors to receive a warm feeling of luxury the moment they step into the hotel, and they can take beautiful pictures at every corner thanks to its elegant design in a tranquil atmosphere perfectly matching the holiday feel.
Restaurant
A pleasant journey should be accompanied by gourmet cuisine. The hotel's restaurant will prepare a range of specialties for visitors. All dishes are paired expertly with a glass of good wine.
Swimming pool
Dipping in a pool is undeniably refreshing after a day trip around Siem Reap. It's also the perfect place to sunbathe in the fresh air and enjoy a relaxing time.
Amenities around
Located on National Road 7, the Angkor 4 Season Hotel is surrounded by restaurants, banks, and schools. The tourist attractions in Siem Reap are easily accessible from here.
It is one km from Siem Reap International Airport, which is just 20 minutes by car; 5.5 km  or 13 minutes from Angkor Wat and only a five-minute drive from Pub Street and Old Market. A duty-free shop is just 800 metres away and can be reached on foot.

To learn more about Angkor 4 Season Hotel, come talk with us at the Cambodia Home & Lifestyle Expo 2019 hosted by Realestate.com.kh. The event will be held on April 26-27 at the Diamond Island International Convention and Exhibition Center in Phnom Penh.

The Angkor 4 Season Hotel will be at booths 18 and 19. In addition to this project in Siem Reap, visitors will get a sneak peak at a large-scale resort project in the province of Mondulkiri.

Mondulkiri is the largest province in Cambodia with dense forests, rich natural landscapes, and spectacular waterfalls. It is one of the most popular tourist provinces in Cambodia and the holiday residence project is yet to be developed.
Pay a visit to the Home & Life Expo 2019 if you are interested! Free registration is open now at Realestate.com.kh.