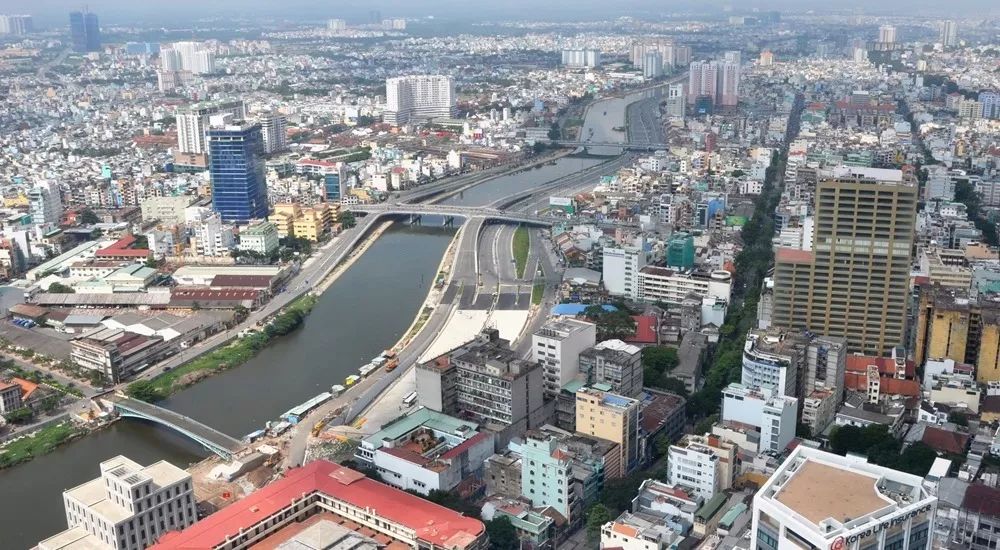 As global investment patterns are changing, Southeast Asia is becoming a new hotspot. Cambodia is a rapidly-growing area with tons of potential and a booming real estate sector. Many investors are keen to seize on the opportunity presented. However, many are unfamiliar with the environment, policies, and regulations in the Kingdom.
In fact, it is often best to have an expert consultant run you through the process so that you can close a deal safely and smoothly. This can be for anything from research to house or land buying, leasing or buying. A reliable real estate agent can take you straight through the deal and do much of the work for you.
Cambodia FDD Real Estate Co., Ltd. is a professional real estate agency, whose vast well of information can quickly guide you to the ideal situation, bring you a clearer understanding of the real estate market, and save you a lot of time and money. Furthermore, their one-stop services covering property searches, valuation, law, contracts and transactions can assure you of a clear process to achieve your goals.
Cambodia FDD Real Estate Co., Ltd., established in 2018, is a real estate transaction service agency focusing on housing sales or resales, and land sales in Cambodia. The company has a competitive data platform of local listings and leads, which is backed up by a team providing precisive data maintenance and technical analysis. The company has been satisfying its clients with authenticity, precision and the high efficiency of their unparalleled, multi-dimensional services.
Areas of expertise:
New residences

House re-sales or rentals

Shophouses and office sales or rentals

Land sales

Real estate assessments
How valuable is your real estate?
At present, many overseas real estate investment activities have been flooding into Cambodia. The potential for appreciation on both land and residences is quite high. It is these high returns that are bringing in even more interest.
If you have your own property in Cambodia, you need a professional and well-acknowledged agency that can make a comprehensive assessment. FDD Real Estate can utilise proper measurements to your property valuation and determine its real value.
It's easy to sublet or resell a house
If you want to sublet or resell a property you first need to find a good way to connect with potential buyers. If you just rely on your social circle, it will go slowly and aimlessly.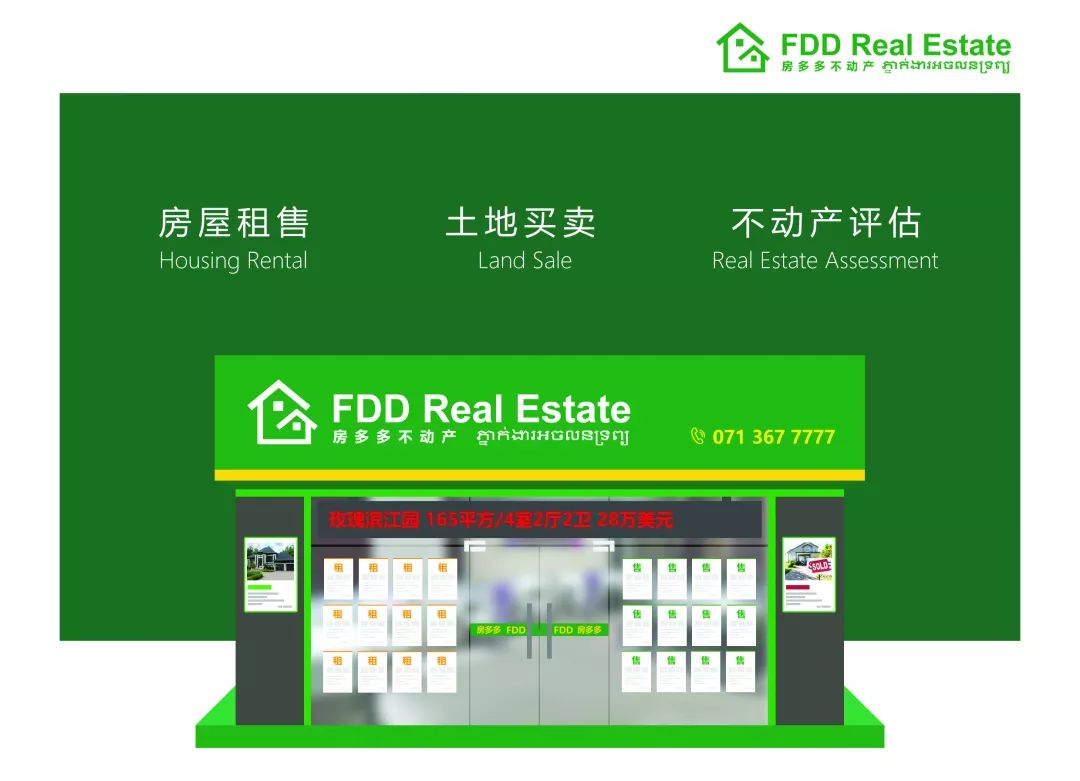 FDD Real Estate is cooperating with Tnaot app, which is a platform dedicated to data information in Cambodia, and the most prestigious real estate portal, Realestate.com.kh, to effectively disseminate information and effectively communicate between sellers and buyers.
Second, there are a ton of formalities and procedures to go through when you want to sublet a house. You have to deal with government agencies, have forms notarised, meet with banks and lawyers and communicate with renters. The process can be a major headache if you're doing it yourself.
FDD Real Estate has plenty of local market experience, and a professional team offering efficient and accurate help to address every step of the process. Everything from the listings to the client service, we are there for you. FDD allows you to keep peace in mind!
How do you avoid the risks of land trading?
The creation of large-scale infrastructures such as railways, highways, and new airports has been pushing the land prices up. News of land prices rising in cities such as Phnom Penh, Siem Reap, Sihanoukville, Kampot, and Poipet have frequently hit international headlines. In turn, land has become the most popular form of investment in the Kingdom.
Land prices have risen dramatically. But unfortunately, there are still many risks involved in land transactions in the country. These include land disputes, invalid documents or even outright scams. A reliable agency like FDD can help you avoid these risks.
FDD Real Estate will analyse the market according to your needs. We will help you by providing all the information you need and match you will the best buyers and sellers. Needless to say, risks that may exist can be effectively removed.
What makes FDD Real Estate Co., Ltd. competitive and trustworthy?
FDD has the advantage of:
1. A localised professional team
2. A powerful information platform
3. An established roster of high-profile clients
4. A reputation for providing our customers with the best service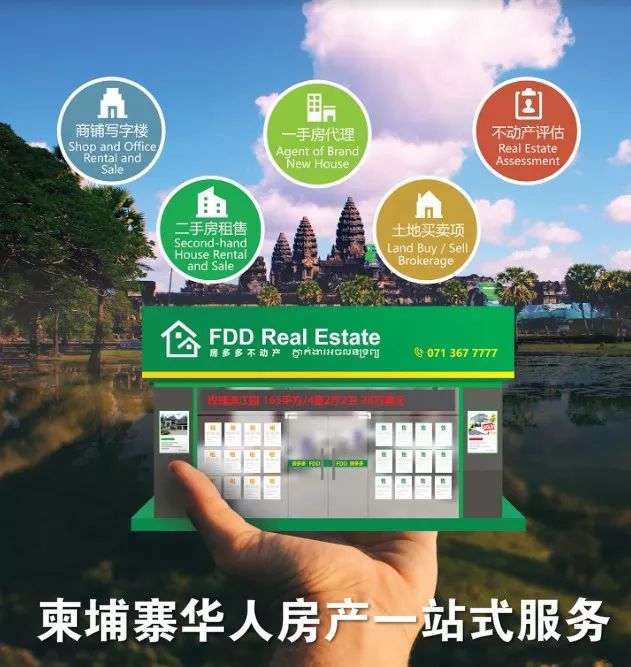 With these aces in hand, FDD Real Estate plans to become the largest real estate agency in Cambodia within three years. In the future, FDD in Cambodia will follow the trend of China's "Belt and Road" and "21st Century Maritime Silk Road" and endeavour to become the first-choice brand for Cambodians and foreigners who want to invest in property!
To hear more about FDD, please come to meet us at the Cambodia Home & Lifestyle Expo 2019. This event will be hosted by Realestate.com.kh on April 26-27 at the Diamond Island International Convention and Exhibition Center in Phnom Penh. Attended by over 100 exhibitors and over 10,000 visitors, this will be one of the biggest events of the year.
Cambodia FDD Real Estate Co., Ltd. will be there at booths 20 and 21. Come say hello and hear about what we are offering.
Free registration to the exhibition is open to everyone. Visit Realestate.com.kh to register for free and even enter to win amazing prizes.