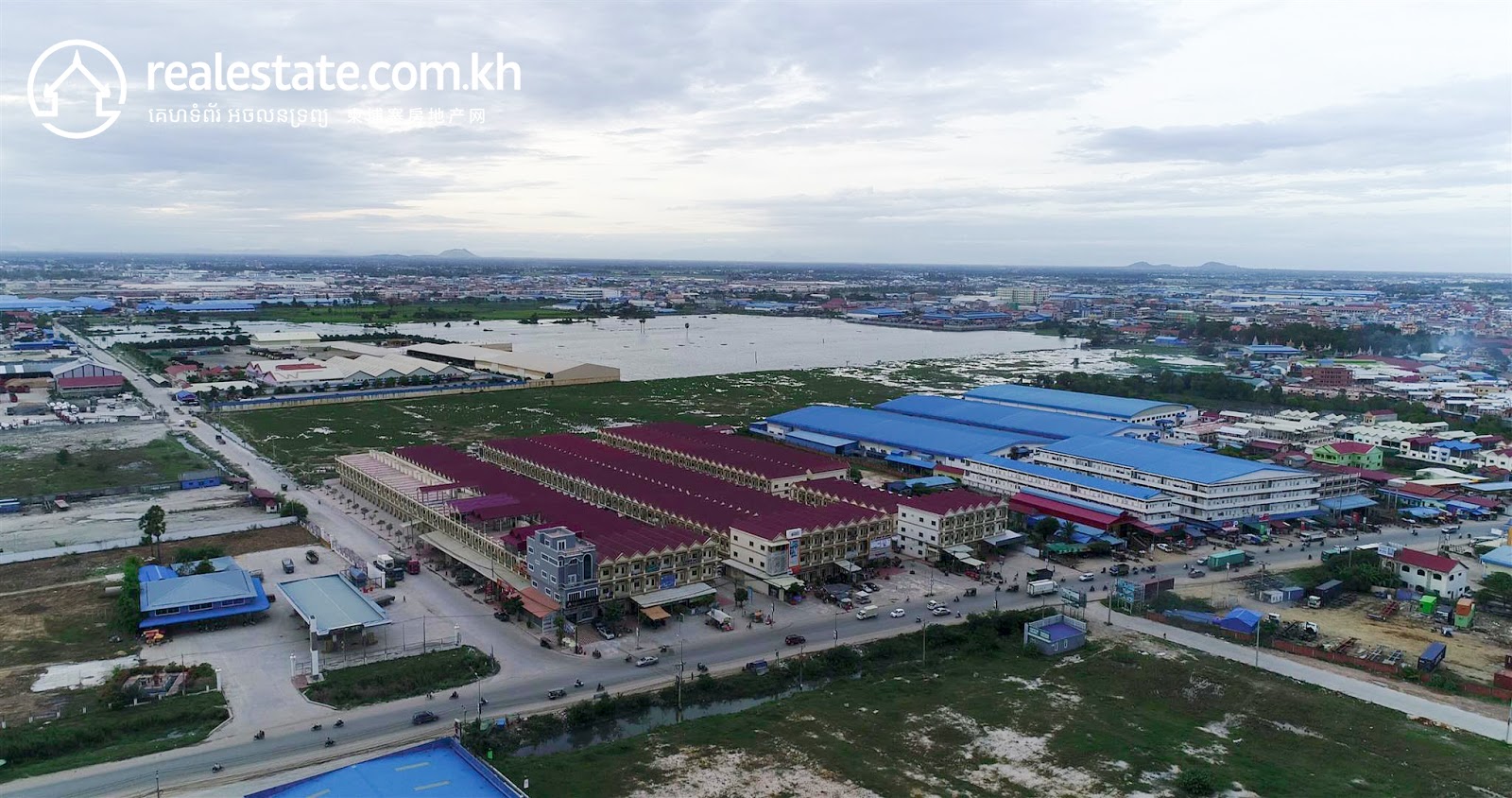 As major real estate developments flocking into central Phnom Penh drive up the value of real property, many developers have shifted their attention to new areas with cheaper land. These areas include Dangkao district, which has recently generated interests from local and foreign property developers.
Located in the southern part of Phnom Penh, Dangkao is the capital city's largest suburbs occupying 197.89 square kilometers. Dangkao district is divided into 13 sangkats (communes), namely: Dangkao, Pong Tuek, Prey Veaeng, Prey Sar, Krang Pongro, Prateah Lang, Sak Sampov, Cheung Aek, Kong Noy, Preaek Kampues, Roluos, Spean Thma, and Tien.
Kim Heang, President of the Cambodian Valuers and Estate Agents Association (CVEA), said, "The potential of Dangkao is similar to Por Sen Chey due to low land price, affordable homes and abundance of factories that have encouraged more people to move into the area."
The population of Dangkao increased from 92,461 in 1998 to more than 200,000 today. He said that compared to other up-and-coming areas like Chbar Ampov or Chroy Changvar, Dangkao has cheaper land, which is attractive to people in the low-middle and middle-income brackets.  "Dangkao is very ideal for residential and industrial development like building houses or factories," Mr Kim stressed.
Mam Sereypanha, CEO at Easy Property Investment, said development in an urban area usually moves towards the suburbs after some time.  "Dangkao is still behind Sen Sok in terms of amenities and infrastructure. But it is located very close to the city and has already become a target area for borey and plot land projects," he said. Dangkao is a mere 10 kilometers away from the city center.
According to the 2017 Housing Market and Outlook Report  by Vtrust Appraisal, Dangkao is number three housing supplier in 2017 after Por Sen Chey and Sen Sok.  The area has 26 major developments and 37 smaller-scale projects underway. Once completed, these projects will result in a combined 17,000 available units.
Hay Ravy, Marketing and Sales manager of Daily Realty Group, said the presence of cheap, readily-available land in Dangkao offers many opportunities. Mr Hay identified Prey Sar, Cheung Aek and Sangkat Dangkao as key areas for development in the district. "These areas have existing infrastructure and are the most promising in terms of property and economic development," he said.
Mr Hay  noted the increase of real property value in the area over the years. "Before, land along the main road fetches below $100 per square meter. But now, the same can be bought at $150 to $250 per square meter," he said.
According to him, land in the village areas and along less important roads are priced between $40 to $100 per square meter, dependent on its location and potential.  "But for agricultural lands, the price is only $5 to $10 per square meter," he stressed.
Dangkao is home to many garment factories and several borey development projects, including: Borey Chip Mong, Borey Piphup Thmey, Borey Chamkar Dong, Borey Lim Chheang Hor, Borey Phnom Meas, and Borey Lim Chheang Hak.
Dangkao is also host to many ongoing plot land projects that are targeted at local buyers. Seng Oudom, Sales Executive at Phnom Penh Home Land (PPHL), Dangkao has a greater potential compared to other suburb locations because of its inclusion in the government's latest development plan, among other factors.
"The area is close to the city center, well-elevated, and is served by an excellent road system that includes the Hun Sen Boulevard," he pointed out.
PPHL recently completed a plot land project in another part of Dangkao, Sangkat Spean Thmor. The project comes in two parts, occupying 15 and 8 hectares, respectively.
Mr Seng said buying a general land or plot land in Dangkao is a good investment, with an investment return of 40 percent to 60 percent after one year.
"For those who invest in general land or any plot land projects, which are well constructed according to a standard master plan, same as what PPHL doing- with adequate sewage system, quality roads, lights, and water system- their land will increase in value between 40 percent to 60 percent after one year," he stressed. Mr Seng said a subdivision plot land fetches between $15,000 to $100,000. Mr Seng said PPHL will invest in another location in Dangkao because they believe in the area's potential.
While everyone agrees on Dangkao's potential, some people think there is more to it. "The future development of the Dangkao area is unpredictable. No one knows what will happen if such a huge project as Aeon Mall 2 will officially open in nearby Sen Sok," Mr Mam said. AEON Mall 2, which is slated to become Cambodia's largest shopping and recreation center, will open sometime this year.