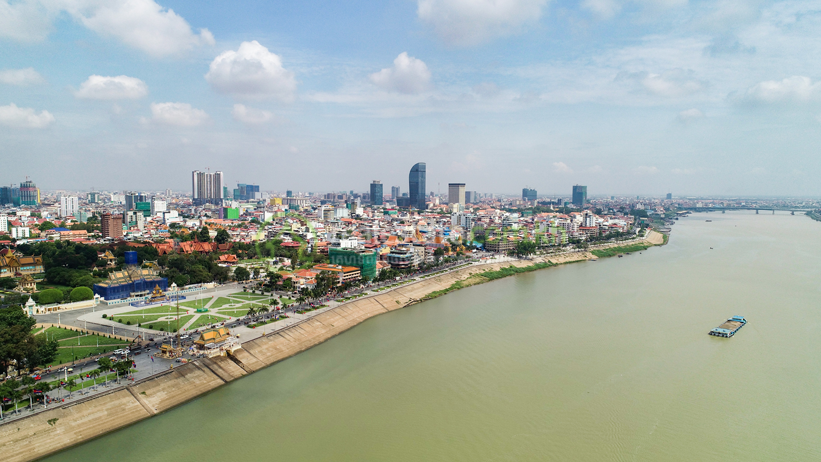 The Daun Penh, 7 Makara, and Chamkarmon Districts, all in central Phnom Penh, have the most expensive land in Cambodia's capital city.
This was according to a recently-released report of Key Real Estate. The Report covered land prices across Phnom Penh in the first half of 2018.

The Report noted that Daun Penh, a commercial hub, has the most expensive lot. Residential plots are selling at $3,500/sqm on average. For commercial land, the average price is $6,100/sqm.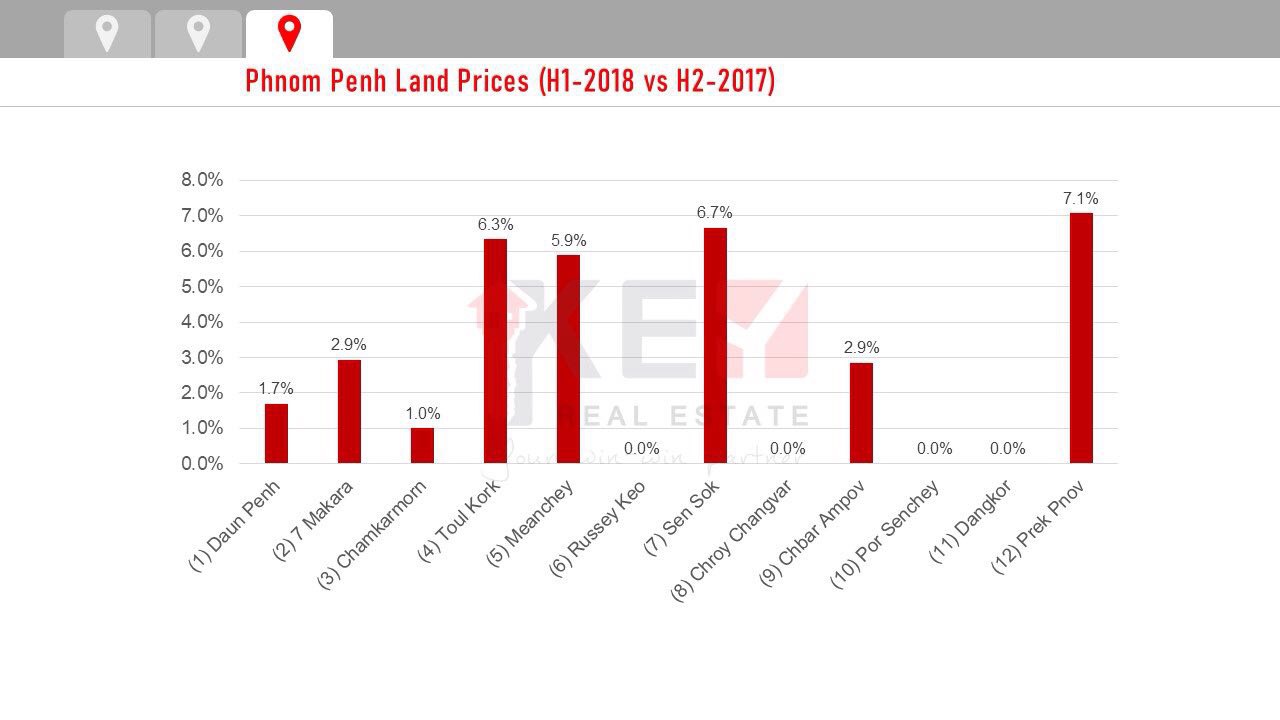 Within Daun Penh, the Sangkats of Phsar Thmey 1,2, &3 has the most expensive commercial land, selling at $9,000 per sqm on average. For residential land, Sangkat Phsar Chas registered the highest price at more than $4,000/sqm.
Sorn Seap, Founder and CEO of Key Real Estate, explained that the main reasons for this are the mature real estate market and high land prices registered in each and every Sangkat in the District.
"It is the oldest developed area and it hosts three markets," he stressed, referring Phsar Chas, Phsar Kandal, and Phsar Thmey. "Popular tourist destinations like Royal Palace and Riverside area also in the area."
7 Makara, another commercial center, has the second most expensive land in Phnom Penh. Residential plots in the area are selling at $3,300/sqm, while commercial land at $5,400/sqm.
Within 7 Makara, Sangkat Orussey 1,2,3 & 4 have the most expensive commercial land ($6,000/sqm), while Sangkat Boeung Prolit have the most expensive residential land priced close to $4,000/sqm on average.
Chamkarmon is third in rank. Average price of residential and commercial land in the District are $3,000/sqm and $5,100/sqm, respectively.
The cheapest land in Phnom Penh can be found in the suburbs. Prek Pnov District to the north has the cheapest land available, with residential land, on average, selling for $100/sqm and commercial land $340/sqm.
Dangkao District to the south, meanwhile, registered $100/sqm average selling price for residential lot and $280/sqm for commercial land.
On average, land prices in central Phnom Penh largely remained unchanged compared to the same period last year. This was in contrast to land prices in the suburbs of the capital, which are growing fast.
According to the Report, Toul Kork, Sen Sok, and Prek Pnov Districts, registered the highest land prices increase. Land prices in those areas increased by 6.3%, 6.7%, and 7.1%, respectively, compared to the same period last year.
Mr Seap said that Prek Pnov became an investment hotspot in the last few years. "Many investors and businesses have begun eyeing this location." Mr Seap said this led to abrupt increase of land prices in the area.
Compared to other urban areas in Southeast Asia, Phnom Penh is among the places with the cheapest land, with residential and commercial lots, on average, selling $1,300/sqm and $2,400/sqm, respectively.