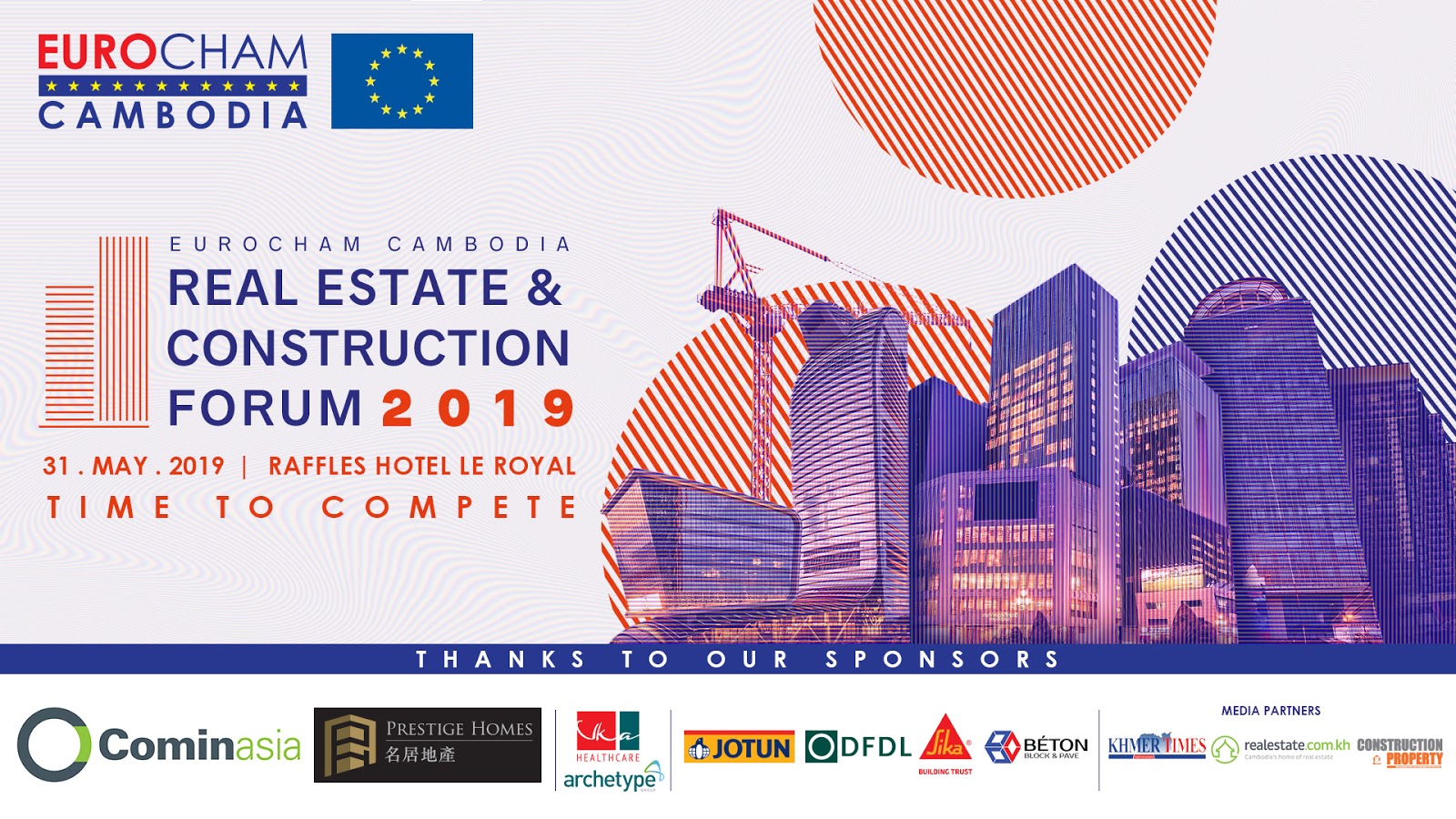 EuroCham Cambodia is preparing to host one of its biggest events of the year later this month. The fourth edition of EuroCham's Real Estate & Construction Forum is set to hit Raffles Hotel Le Royal on May 31, starting at 8am. This year's theme is "Time to Compete".
The real estate industry in the Kingdom is changing rapidly. As the country grows and modernizes, the competition gets fierce. EuroCham is hosting an event that aims to discuss and contemplate this progress. 
The Real Estate & Construction Forum 2019 will be a full day of industry-specific discussions, debates, insider analyses and conversations. There will be panel discussions led by some of the sectors top individuals from both the public and private sectors. 
Topics on the day of the event will be focused around four subjects:
Market Trends and Standards in Measurement
Investment Opportunities 
Healthcare Infrastructure Needs
Property Management
A fully-packed schedule
Opening remarks for the forum will be given by H.E Lao Tipseiha, secretary of state for the Ministry of Land Management, Urban Planning and Construction. Joining him at the start of the even will be George Edgar, ambassador of the European Union to Cambodia, and Arnaud Darc, chairman of EuroCham.
Anyone interested in investment, business, real estate, construction and other related industries in the Kingdom will find the forum truly informative and educational.
Sponsoring the forum are some of the biggest names in the Kingdom's real estate, construction and investment sectors. Backers include Comin Asia, JKA Healthcare, Archetype Group, DFDL, Sika Building Trust, Beton Block & Pave, The Khmer Times, Realestate.com.kh, Construction & Property magazine, Thalias Hospitality, Smart, Infinity Insurance, Sofitel Hotels & Resorts, Total, Australian International School Phnom Penh, Event Bank and Bred Bank.
Take notes
If you're ready to boost your competitive edge during the second half of 2019, don't hesitate to sign up for the forum. It's your chance to learn, hear from experts and network with peers in the industry. 
After all, if it is time to compete then you'll want to stay ahead of the game by being educated and knowing the market.
Read more about the forum on the dedicated event page. 
If you love keeping yourself educated you'll love our free Investment Guide 2019. It covers all areas of business in Cambodia.