Guest Contributor: Aronsakda Ses - Junior Research Fellow - Future Forum
This week we hear the first of a two-part series from Aronsakda Ses (Junior Research Fellow from Future Forum) who provides commentary on Siem Reap's urban development, exploring urban development strategies that can help 'temple town' grow without jeopardising the region's cultural, historical landmarks and ecology.
Siem Reap Can Neither Grow Tall Nor Wide, How Will It Grow?
Siem Reap holds a special place in all Cambodian's hearts. Therefore, it isn't surprising to hear varying and conflicting opinions about the future development of the area that is sacred to so many in the Kingdom and beyond its borders.
In February 2022 at a real estate workshop, a prominent real estate tycoon was critical of the strict building regulations imposed to protect the landscape surrounding Angkor Archeological Park, preventing the construction of highrise buildings which drew criticism and caused him to issue a public apology.
A different perspective and observation of this episode reveal the apparent desire among Cambodians to retain the unique characteristics of the city and the surrounding province due to the heightened cultural and symbolic significance of the temples in the Angkor Archaeological Park. But this desire does keep Siem Reap's residents in a conundrum - where all development must walk a very tricky tightrope between progress and respect for the past.
Given the government's redoubled efforts to attract more and more tourists and the needs of the city's own inhabitants, it seems inevitable that Siem Reap will grow, one way or another. It is imperative that we figure out how the city can grow without damaging its cultural sites and fragile ecological balance.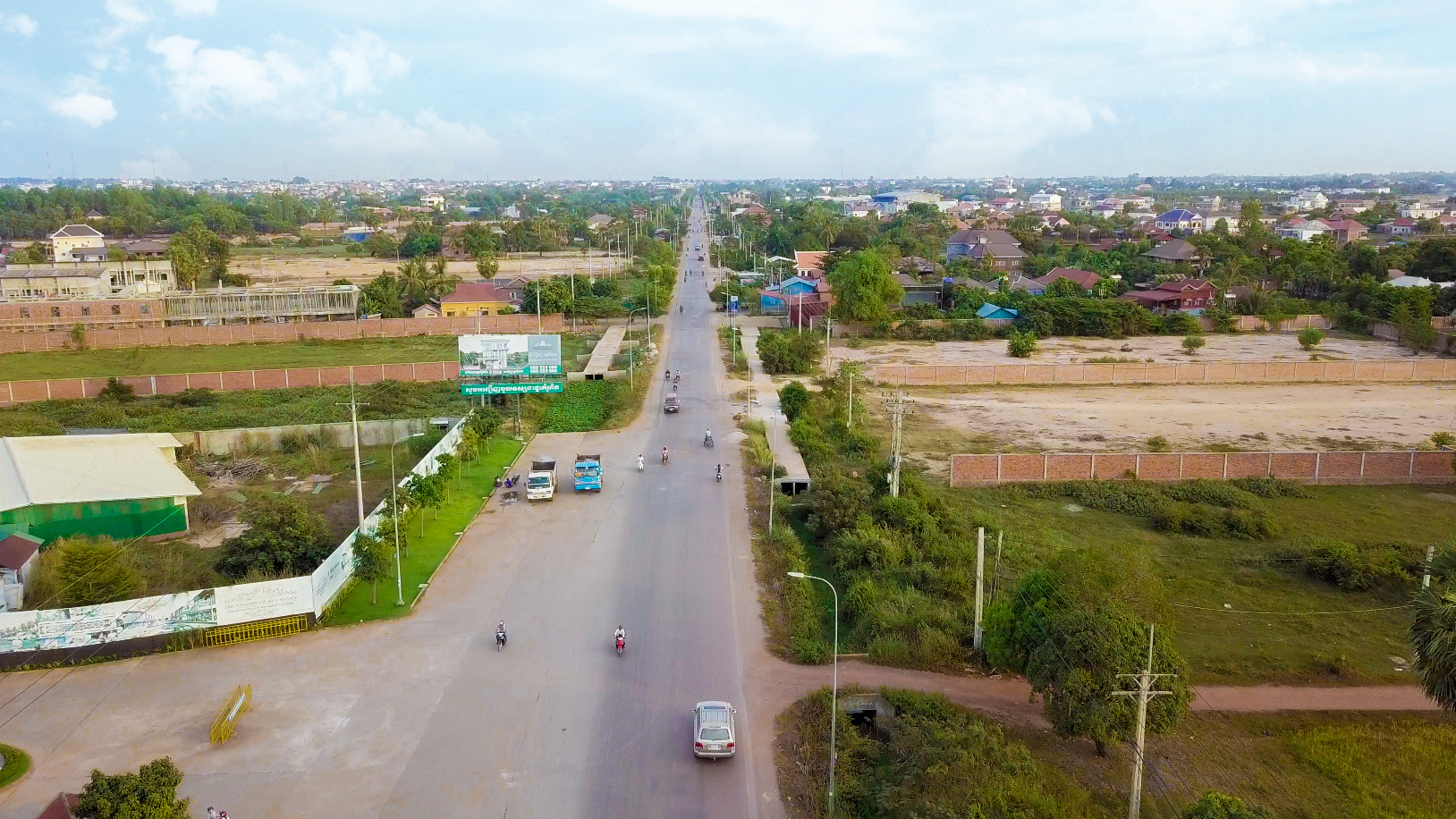 Siem Reap - Neither Tall nor Wide
Developing Siem Reap into a city replete with tall buildings - as lamented by so many - would possibly destroy the cosy and tranquil natural setting that the town is known for. But a Siem Reap which endlessly sprawls into the countryside is no better. Yet, this is the trajectory the city is currently on.
Automobile dependency is a major factor behind Siem Reap's urban sprawl. Many projects are located in Siem Reap's outskirts and along its Ring Road, placing them farther and farther away from existing amenities and services. This is compounded by the project's singular land-use focus, for example only including housing rather than mixed-use developments. This means that local neighbourhoods lack basic amenities and services, forcing residents to make many long trips by car or motorcycle.
This demand for travel manifests in larger and larger roads, like Road 60 leading to the new airport which is under construction, as well as parking lots to cater to vehicle usage. Roads with high traffic speeds and volumes create an unsafe environment for every other road user. This results in pushing more people to drive and makes them less likely to take advantage of other commuting options (although increased public transport options are also needed). Hence, the superfluous vehicle-centric infrastructure leads to congestion; necessitating even more vehicle infrastructure - a self-perpetuating cycle.
Siem Reap has undergone a major transformation of 38 major inner-city roads during the pandemic - also included was the installation of 200 security cameras, 20 traffic lights, 5000 street lights, 3000+ trees, as well as adding dedicated bicycle paths. In addition, a large roundabout at Svay Thom market and a new traffic bypass are also planned to reduce traffic congestion - however, these only really benefit the centre of the city.
Siem Reap's outer districts still face sprawling development, traffic gridlock, and poor walkability as a result private vehicles become the de-facto mode of travel, which degrades the physical quality and livability of its inhabitants.
The Case for Compactness
An alternative future for Siem Reap, in which the city aims for compactness rather than sprawl, results in urbanism that is radically different from the current car-centric model.
A comparative case study between the city of Atlanta in the United States and Spain's Barcelona aptly illustrates the differences between a city that sprawls and a city that focuses on efficient development.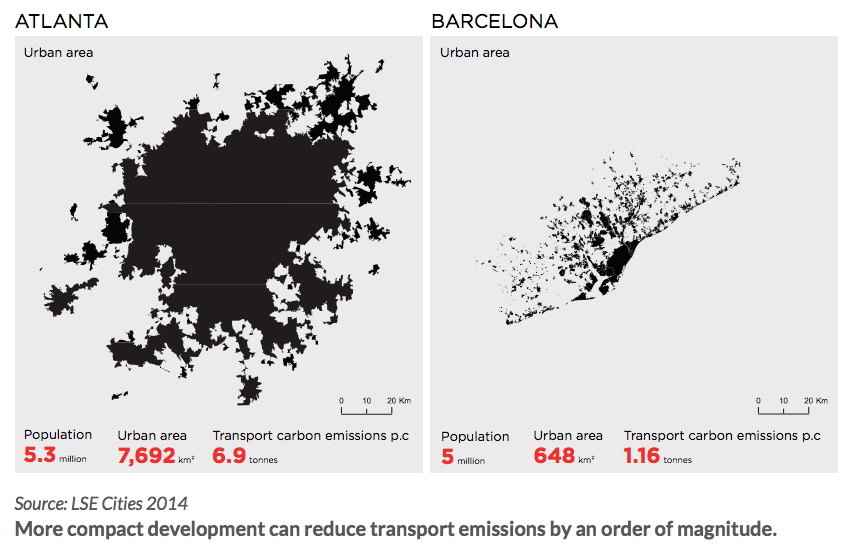 Atlanta is a typical US car-dependent city covering 7,692 square kilometres with 5.3 million inhabitants. While Barcelona, with a similar population, covers an area only one-twelfth that size.
Where Atlanta has oversized roadways, parking lots and strip malls, Barcelona has pedestrian streets, plazas, corner stores and residences - all within the same city block. Atlanta experiences gridlock traffic, poor urban mobility and excessive carbon emission, while Barcelona zips its citizens around on an efficient transit system augmented by walkable and bikeable neighbourhoods. Where Atlanta copes with an insufferable urban heat island due to an ocean of concrete and asphalt surfaces, Barcelona chills inhabitants with trees, parks and waterfronts.
The contrast could not be more apparent, especially in cities with similar populations. Furthermore, Barcelona is not a concrete jungle of endless skyscrapers. Most of its buildings are only 5-6 floors high, yet it manages to pack more housing, shops, services, and activities in each square kilometre. No doubt these characteristics help propel the city to sit high in most global liveability indexes.
The example set by Barcelona proves that compact development does not have to be claustrophobic and vertigo-inducing to be successful. In fact, optimal density and compactness are an advantage, because it brings homes, jobs, education, services, etc. closer together, it makes public transit and active commuting more viable, and the smaller urban footprint of the city helps preserve surrounding ecosystems.
The lessons from Barcelona and other compact but vibrant cities can serve to inspire Siem Reap's development path.
For Siem Reap - Compactness is the Way
You may be wondering: would prioritising compactness lead to the construction of taller buildings in Siem Reap? The answer is no in my opinion. Efforts to limit sprawl, paradoxically, do not always directly lead to skyscrapers - as evident in Barcelona.
Compactness means intensifying the usage of space in an urban area. Buildings should be mixed-use and multi-purpose, containing housing, restaurants, grocery stores, etc. Following a compact model would mean that developers avoid creating spaces which only have limited usage like garages and golf courses. Instead, public spaces, plazas, and parks that serve all manners of social, cultural, leisure and economic functions should be prioritised.
Encouragingly, several developers already embrace the value of compact and mixed-use development. There are excellent examples that demonstrate the convenience and attractiveness achieved by designing residences in human-scaled, walkable, and mixed-use developments, are: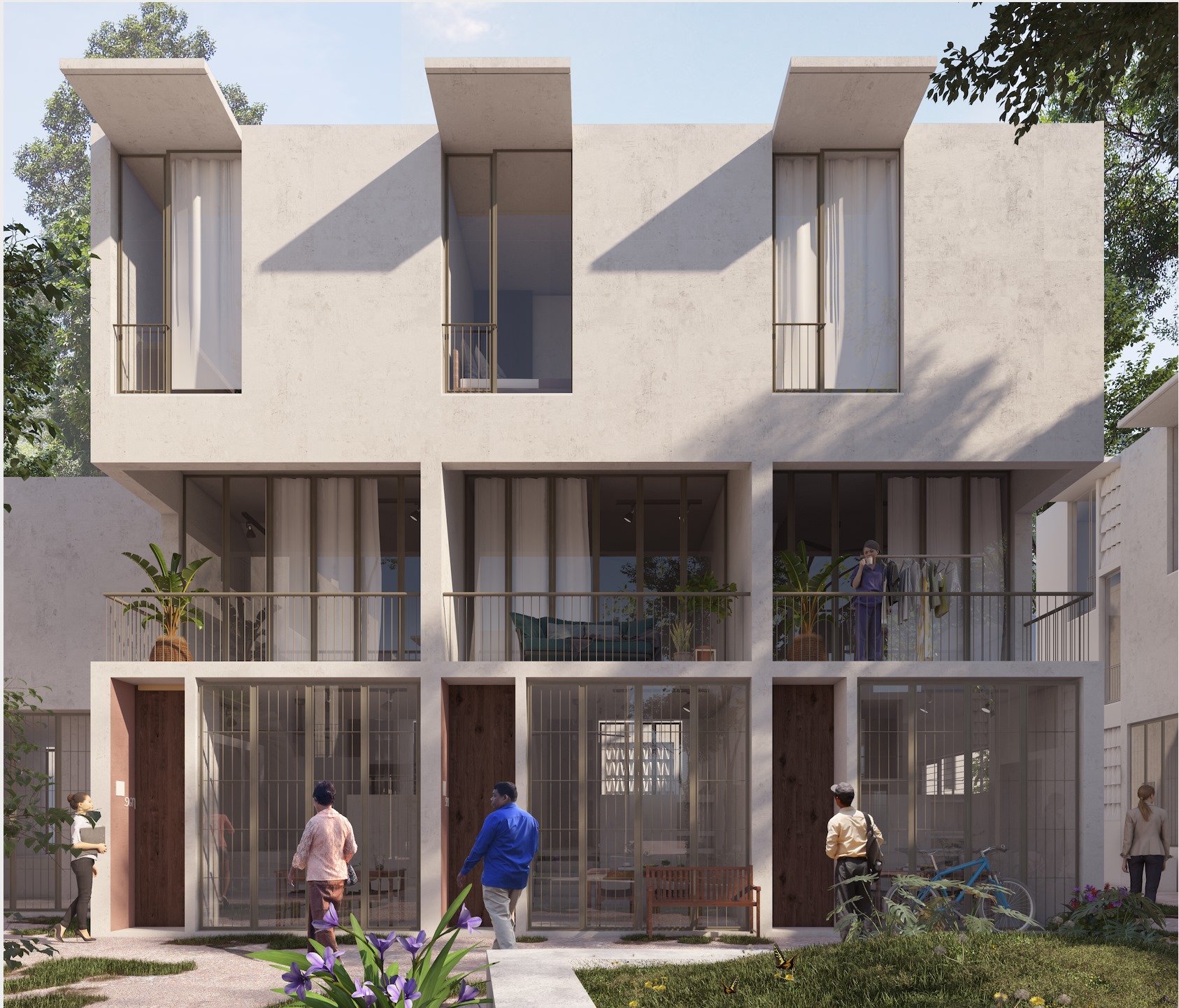 Likewise, transportation must also be condensed. The construction of endless highways, swathes of parking lots and countless garages should be avoided. Instead, space for commuting should be condensed into more efficient modes like bus transitways, cycling lanes, and pedestrian corridors which carry more traffic, are cheaper to operate and more sustainable to maintain.
Compactness simply calls for the intensification of usage of space we already occupy, which in turn decreases demand to build tall or build sprawl to begin with.
Achieving compactness in Siem Reap calls for carefully designed neighbourhoods which are mixed-use, walkable, contain a myriad of people-centred spaces and are integrated with an efficient transportation system. One critical policy tool to ensure Siem Reap develops in such a manner is a mobility-based land-use master plan.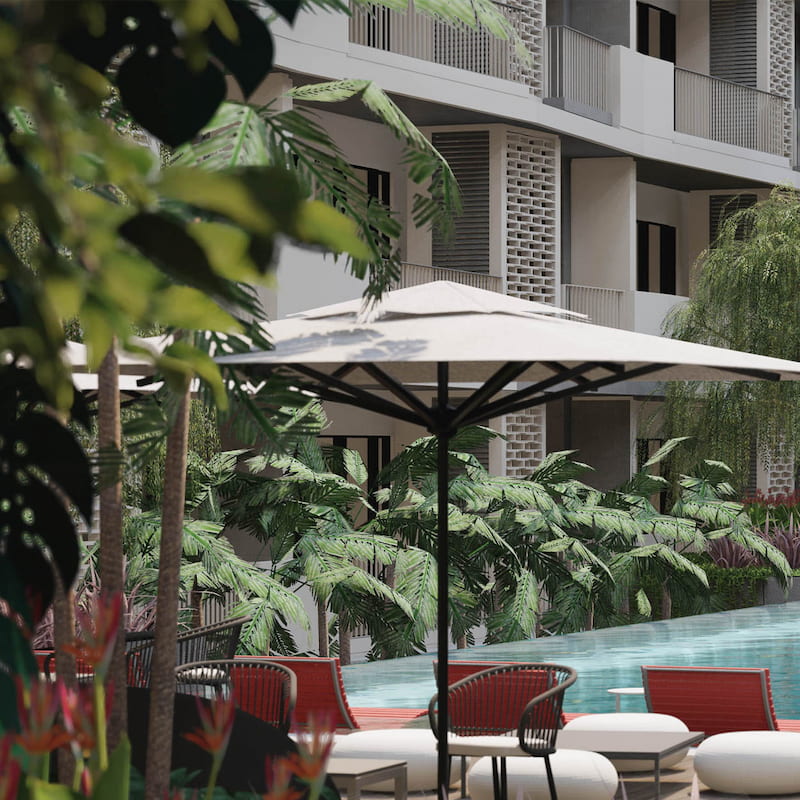 Correct Land-use Planning is Key
A planning policy where land use is based on mobility profiles means that a building's placement would take into account how users commute to and from it, and the intensity of traffic generated by users of that space. The advantage of a mobility profile allows planners to distinguish between buildings which generate different amounts and different types of traffic.
Small shops, food and beverage establishments, and retail stores where users can arrive by foot would fall into a "light" traffic zone, characterised by prioritizing public transit and active commuting. Siem Reap's centre with its many small streets like Pub Street and Sok San Road is home to many such establishments and therefore should be categorised accordingly.
Furthermore, areas along the Siem Reap River stretching from Wat Damnak to Wat Preah Enkosey should impose a "restricted" traffic zone where no vehicular traffic is allowed; except for emergency and public services vehicles. This is especially relevant in fostering social, cultural, and economic activity in the heart of the city, as well as enlarging the public space inhabitants and tourists can enjoy.
For buildings which require frequent vehicle access, Siem Reap planners can designate zones of "heavy" traffic located along major roadways. Such "heavy" traffic zones should be located away from the city centre and be limited to a few areas to avoid conflict with other zones. This planning tool also helps streamline traffic by restricting sites that generate heavy vehicle traffic from being located near intersections where they would dramatically impact traffic flow.
Making land-use decisions based on impacts on urban mobility is preferred compared to the current land-use masterplan for the city, which strictly adheres to traditional zoning practices of categorising zones by their expected function, i.e residential, commercial, industrial, etc.
In essence, a mobility profile allows planners to tailor Siem Reap's buildings to work with the local street network and its transportation plans.
For Siem Reap to Thrive
Despite sounding contradictory, it is possible for Siem Reap to grow and prosper while also preserving its unique blend of characteristics. A mobility-based land-use policy would allow planners to better adapt growth around the unique needs of Siem Reap, maximising livability, and negating negative impacts on the traditional feel of the city.
This compact form of urbanism, coupled with public transit and active commuting can minimise the need for the current levels of expansion which threaten Siem Reap's small-town atmosphere, its priceless cultural sites, as well as the fragile ecology of the province as a whole.