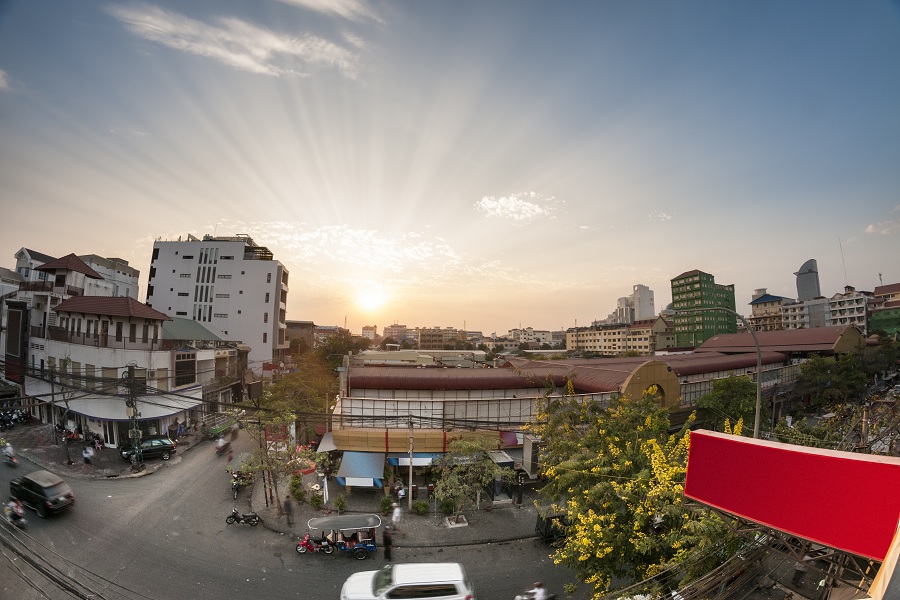 Knight Frank Cambodia, a leading independent real estate consultancy in Cambodia, released its latest half yearly commercial and residential report for 2017. The report highlights 4 main sectors: office sector, retail sector, serviced apartment sector and condominium sector.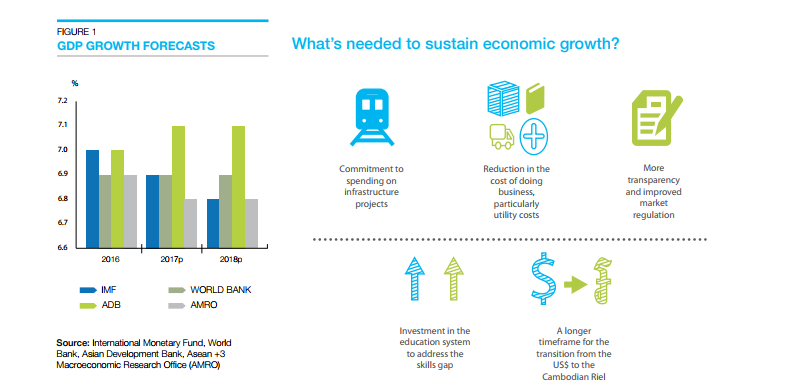 Phnom Penh office sector:
The Phnom Penh office space supply saw a 21 percent rise in the first half of 2017 compared to the same period last. Almost 50, 000 sqm of office space was delivered across 8 projects with the majority of the supply remaining Grade B and C buildings. Grade A office space represents only 16% of the total supply.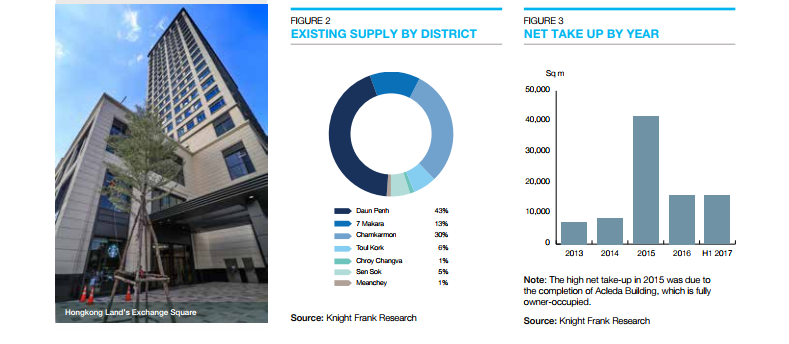 According to the Knight Frank Cambodia report, as at H1 2017 the Phnom Penh office stock was recorded at 330,085 sqm of net lettable area (NLA) showing a 21% increase in office supply when compared with 271,913 sq m of NLA recorded at H1 2016.
During H1 2017, 48,217 sqm of office space was delivered across 8 projects with Exchange Square being the only Grade A building adding approximately 18,000 sq m to the prime office supply. The new supply included City Tower Asia, Bred Bank building, Sokea International, Aston Tower, Time Tower, Ione Building and 79 Office Tower.
With the share of Grade A office space supply expected to rise up to 72 percent as developers shift focus from residential to commercial development, rental prices for Grade A office space remain flat.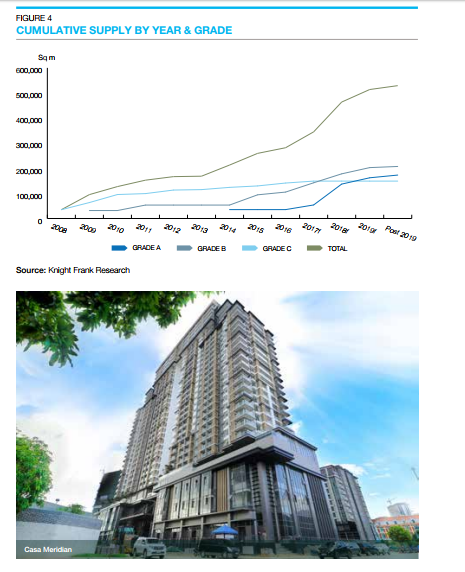 As at H1 2017, asking rents for prime office space ranged from US$19 to US$38 per sq m per month. The completion of Exchange Square during the second quarter of 2017 has resulted in a stabilisation of rental prices for Grade A offices leaving potential tenants in a stronger negotiating position, according to the report.
Regarding office sector outlook, the report predicts the office stock to reach 529,143 sqm within the next 3 years increasing the supply by 60%. Demand for office space is expected to increase over the medium term as Cambodia continues to attract foreign investment.
However, the significant Grade A incoming office supply will require suitable pricing in order to attract tenants. Grade B and Grade C office buildings are likely to maintain their occupancy levels in the region of 85%.
PHNOM PENH RETAIL SECTOR:
At present, Phnom Penh retail is the most dynamic sector with new retail formats and operators continuing to enter the market. New entrants mostly came from the United States and Europe.
According to the report, Phnom Penh's retail sector is expanding with 267,870 sqm expected to come online within the next few years bringing the total supply to 430,275 sqm.
The incoming supply will likely impact rents as landlords seek to retain existing tenants with prices and rental average asking rents for prime retail units (below 100 sqm) in prime shopping centres remaining flat. However, Vattanac Capital Tower maintained its leading position in terms of prime rents– up to US$70 per sq m per month, says the report.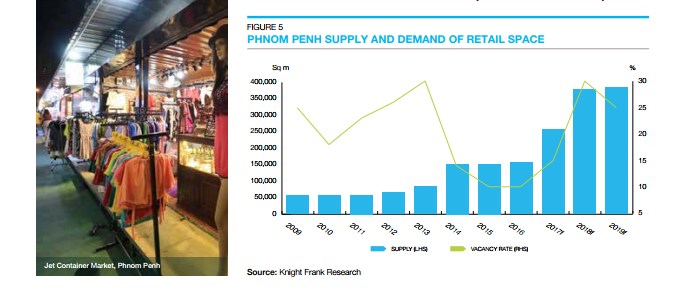 Lower rates were noted in secondary malls like Sorya Center Point and depend on a number of factors such as tenant brand, the size of the unit and its location within a project. They vary from US$10 to US$22 per sqm per month for anchor tenants while the smallest units below 10 sqm find tenants for a rent of up to US$250 per sq m per month. 
Ross Wheble, Country Director of Knight Frank Cambodia, anticipates that the remainder of 2017 will continue on this upward trend with food retailing expected to account for the largest share of the market.
Mr. Wheble points out that in addition to the incoming retail supply, the arrival of new international retailers is another sign of the potential that Phnom Penh is holding. European and American brands are gradually entering the market increasing the retail offer.
PHNOM PENH SERVICED APARTMENT SECTOR:
With new entrants to the market including one of the biggest international operators of serviced residences worldwide, The Ascott Limited, the serviced apartment sector in Phnom Penh is set to become more competitive with concern of the glut in the market.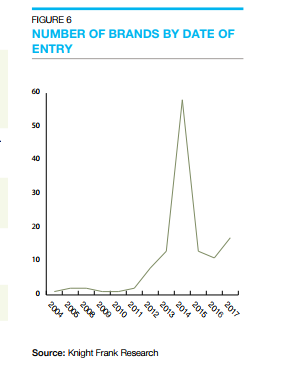 According to the report, eight serviced apartment buildings completed during H1 2017, bringing the total supply to 4,531 units being monitored in Phnom Penh, recording an increase of 6.9% compared to Q4 2016.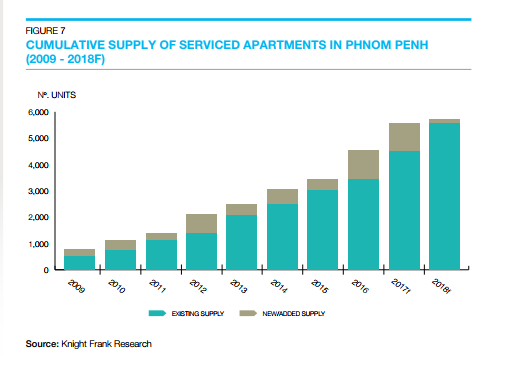 The increasing supply has placed downward pressure on monthly rental prices (figure 9) with central locations commanding an average monthly rental price between US$18 to US$30 per sq m, while average rental prices for mid-tier units fall between US$9 to US$16 per sq m per month as at H1 2017, says the report.
Despite concerns of an oversupply, the serviced apartment sector recorded an occupancy rate of 70% over H1 2017.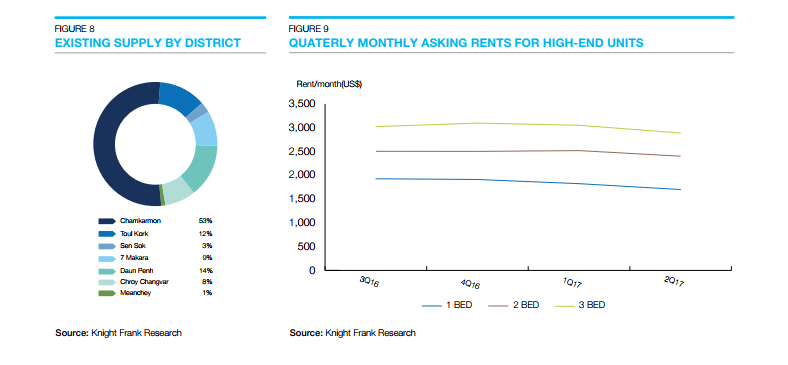 PHNOM PENH CONDOMINIUM SECTOR:
Over the last five years, Phnom Penh condominium sector has been seeing an increase in supply, especially in the high-end segment thanks to its relatively attractive rental yield.
According to the report, condominium supply was recorded at 4,794 units as at H1 2017 with an additional supply of 1,392 units. Despite an oversupply situation in the high-end segment, condominiums that are priced below $50,000 are recording strong sales.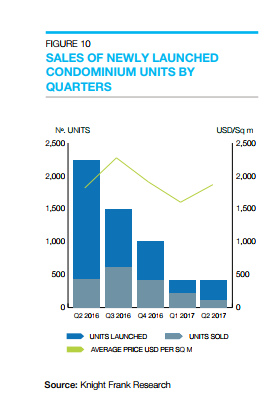 Commenting on this, Mr. Wheble said: "buyers are adopting a wait and see approach that can be partly attributed to the uncertainty surrounding the general elections in 2018. Prime locations like BKK1 and Tonle Bassac still command the highest rental rates as demand still outstrips the existing supply. In view of a slow down in the market, several developers have ceased sales and are returning buyer deposits.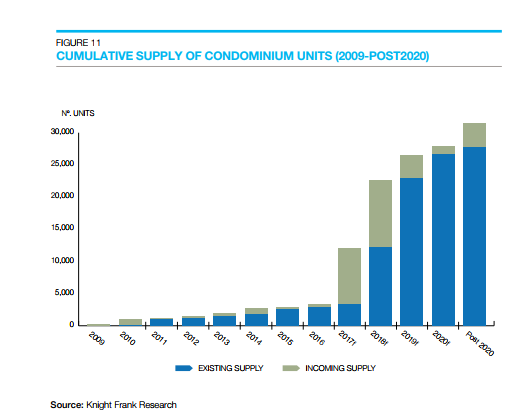 The average monthly rent in prime locations ranges between US$16 to US$26 per square metre while outer areas command rents between US$9 to US$12 per square metre.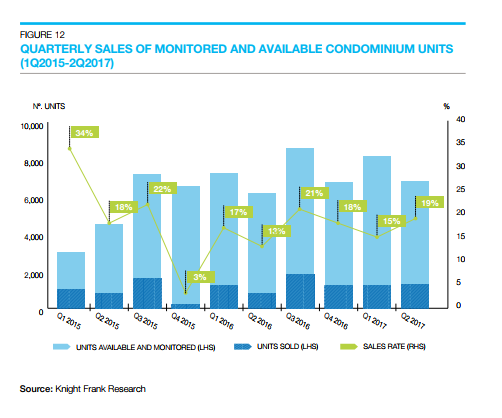 With regard to the condominium sector Outlook, Mr. WHEBLE stressed that the challenge in attracting buyers requires developers to provide better quality and well managed projects. The anticipated oversupply of high-end apartments and the uncertainty surrounding the upcoming general elections have impacted on the condominium sector.