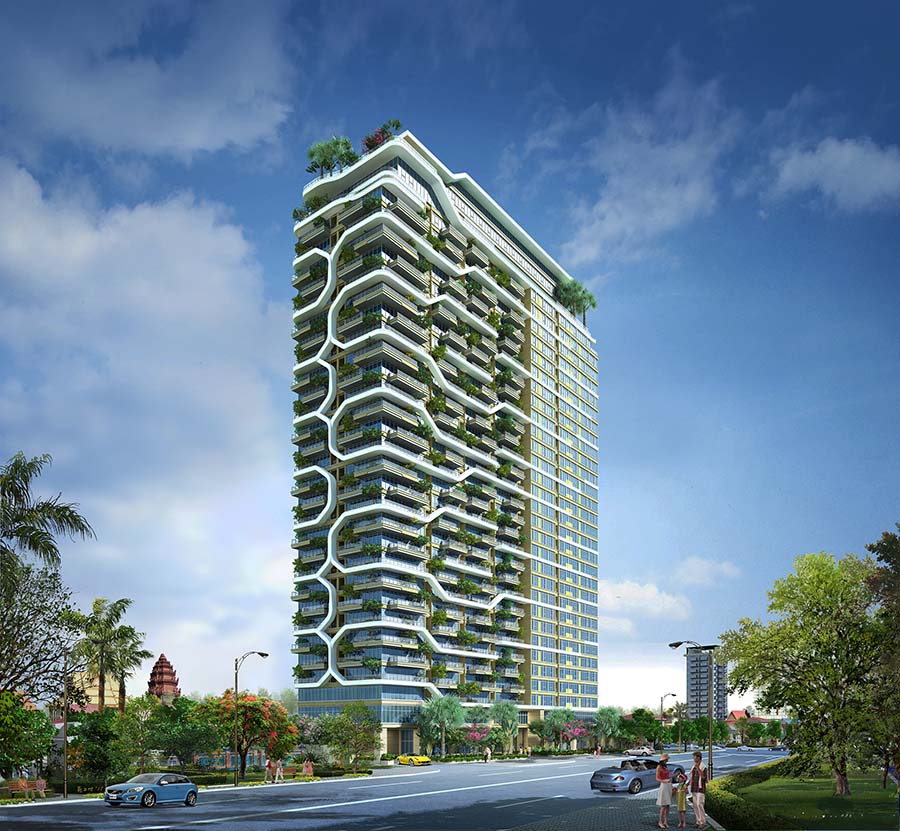 RESIDENCE OPPOSITE TO THE INDEPENDENCE MONUMENT
Situated at the heart of Phnom Penh, LE BASSAC is only 2 minutes away from the Independence Monument. Being the prime location in BKK1 and home to the city's major financial and commercial activities, the development is surrounded by world-renowned merchants and offers everything you desire.
PROJECT BY WORLD-RENOWNED ARCHITECT
LE BASSAC is a project by world-class architect C.Y. Lee, the team that designed Taipei 101. Not only does the project reflect Lee's mastery in architectural design throughout the years, it also symbolizes the architect's ambition to glorify the city by constructing a centurial building next to a century-old landmark here at the heart of Phnom Penh.
GREEN BUILDING THAT LEADS THE FUTURE OF PHNOM PENH
LE BASSAC is the only urban oasis in all of Phnom Penh, boasting a green canopy comprising more than 300 trees. It has been awarded the first green building certification in all of Cambodia, and is the only development in Phnom Penh to incorporate world-class environmental protection, energy-saving and intelligent designs.
HOST TO YOUR GUESTS
LE BASSAC offers US$30 million of common area and facilities, a grand lobby with 10-meter high ceiling, and premium conference rooms all exclusively for you. The rooftop is completed with an exquisite private garden and swimming pools where you can relax and enjoy life. Overlooking Mekong River and the beauties of Phnom Penh, LE BASSAC is the true illustration of how home can be the best vacation spot.
ENVIRONMENT THAT BUILDS SUCCESS
Choosing the right environment is more important than hard work. Situated in the heart of Phnom Penh, LE BASSAC is home to the most influential leaders and is surrounded by the best education facilities, which gives children the most ideal place to grow. Here you have easy access to a spacious green park where you can take a stroll or exercise at any time, and finish your day with a wonderful family gathering at any of the wide selection of restaurants nearby. Embrace the future and your unique, prestigious and healthy home.