With sustainable developments in the spotlight in the fast-growing urban areas of Cambodia, many local and international residents have commented on the perceived lack of greenspace in cities like Phnom Penh. New builds are trying to address this and incorporate much-needed green areas and community spaces.
Some reports suggest that as little as 1% of the capital is allotted to urban parks, and most residents of the city can name the few natural greenspaces on their fingers. A UNDP study of Phnom Penh indicated that the public space ratio in Phnom Penh has dropped from 1.1 square meters per person in 2014, to only 0.67 square meters per person in 2020. For comparison, at 7 SQM per capita, neighbouring Bangkok is considered to have a "low" rate regionally. 
Studies also indicate that access to greenery in urban areas is vital for mental and healthy well-being and even though the WHO recommends universal access to green space, even most European cities fail to meet this.
Green space can be associated with many health and social benefits, including longer life expectancy, reduced mental health issues, and even better cognitive functioning in children and the elderly. They also reduce air pollution, heat and noise levels, and provide us the chance to better enjoy physical exercise and social interaction, thus becoming a key element through which social capital is enhanced and strong communities are built.
Some new developments in Phnom Penh are addressing this, such as Chankiri​​ Palm Creek, North Park, and Odom.
Why Sustainability Matters in Cambodia's New Developments
Urban Living Solutions (ULS) is a well-known developer in the Kingdom and behind such developments as Factory Phnom Penh, Urban Village (Phase 1). Their newest announced development, Odom, will see a currently used community green space (Odom Garden) be enhanced and developed.
ULS is a Cambodian-owned real estate and lifestyle development firm which aims to build livable urban spaces that connect and nurture communities. The company has supported other initiatives that enhance communities including the 2019 Housing Phnom Penh Architectural Workshop that ULS developed for Cambodian students on affordable housing.
ULS representative and Head of Sales Mr. Ty Chea told realestate.com.kh that "people, communities, are at the very core of ULS and all its projects' values. We aim to offer a type of development that meets the needs of present generations with those of the future ones in mind."
He adds that all ULS' projects are designed to support the view that Cambodian cities can do better socially, environmentally and economically. "We try to offer homes and spaces for the Cambodian middle-class, inspired by traditional local architecture (from the Angkorian temples and village lifestyle to the shophouses), but updated to modern Cambodian needs". He adds that they want to improve the quality of life of residents but also be conscious of the Cambodian climate and lifestyle.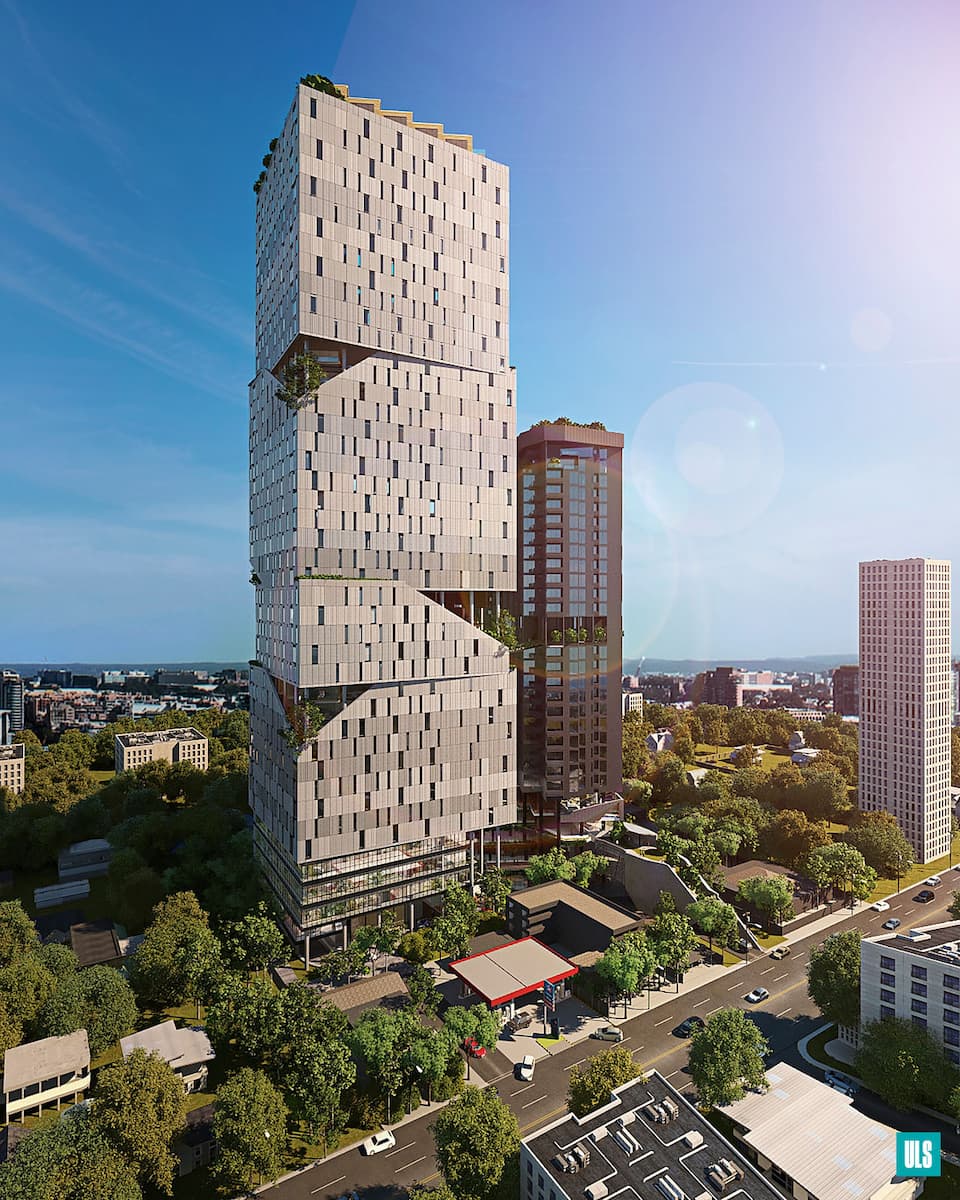 Odom - Phnom Penh
ULS believes that cities should provide green public spaces for people to connect with nature and with other citizens. They believe this is the foundation of a healthy society, and the company wants to contribute to it by sharing a rare green oasis in the city centre before anything else was built on it.
Odom Garden is located on the future site of the Odom project. "We wanted to let Phnom Penhers experience the sense of community we envision for the completed project. Our goal is to create community-focused spaces, and with Odom Garden we gave free access to 4,000 SQM of green space on Norodom Boulevard", Chea said.
ULS adds that Odom "will be one of the few buildings to hold LEED-certification allowing future residents and tenants a healthier, more sustainable way of living and working". The project will feature shared courtyards and public areas for people to meet and connect as well as walkable spaces and greenery offering a safer and healthier lifestyle.
"We design our homes with bigger living rooms and balconies for families to gather and spend time together. We believe this is how you build a healthy and happy community – by giving its people the spaces to create a healthy social fabric", they added.
On the transformation of the current Odom Garden, the developer says what was once a private garden became a popular meeting place for families and a platform for small and micro-entrepreneurs with our monthly farmers' markets. They added, "We are happy to see how many connections have organically grown out of Odom Garden, and we hope those networks will continue beyond this pop-up park."
Odom will have more space to grow when the final project is completed with more than 7,000 SQM of green space (126% the area of Odom Garden), and nearly 80% will be open to the public. "We are incredibly thankful to our partners and all the regular supporters that make up the Odom Garden community."
Development will start in 2022 and the main features include Odom Square, a five-story layered park and publicly accessible retail podium connecting the offices and residences. Six Sky Villages (pockets of outdoor spaces) are integrated into Odom Tower which also features a rooftop and resident-only space.
If more future developments like these incorporate greenspaces and embrace community living aspects into their designs, there is hope we can have a greener and more natural, vibrant, and livable capital to call home in the future.