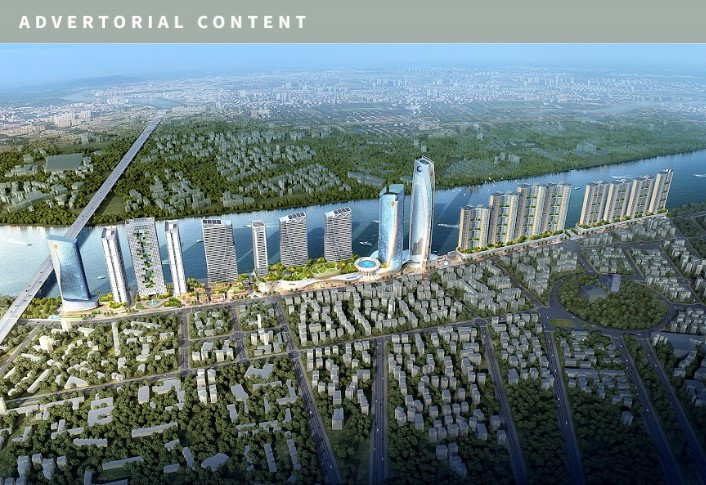 In 2001, Yuetai Group was listed on the Shanghai Stock Exchange in China, becoming one of the first listed real estate companies in the entire country. The company recorded extraordinary achievements in Cambodia that has won the gratitude and admiration of people from all walks of life. Yuetai Group has developed or has acquired a number of landmark projects in the Kingdom, including East One, East View, and East Commercial Center.
Phnom Penh Harbour- is set to become the iconic riverfront development in the country and one of the biggest mixed-use projects Cambodia will ever see, Phnom Penh Harbour will comprise of 22 buildings spread along the riverbank in Khan Daun Penh, a popular commercial and residential area in the heart of Cambodia's capital city.  

To learn more details about Phnom Penh Harbour and about Yuetai Group's successful venture into Cambodia, Realestate.com.kh CEO THOMAS O'SULLIVAN recently sat down with SAM YANG, Vice President of Yuetai Holdings. The following is an excerpt from the interview, which has been edited for length and clarity.
REAKH: When did you first come to Cambodia? And What made you choose Cambodia over other countries in Southeast Asia?
YUETAI: I came here six years ago. In the first two years I was here, I fell in love with the culture, the people and how accepting of other cultures. I found that compared to Singapore and Thailand, Cambodia has really a long rich history, Khmer history, Angkor culture. I simply fell in love with the country.
REAKH: What other things have continued to inspire you to invest in the local economy?
YUETAI: Well, I can talk all day about the economic growth, the good investment opportunities with the GDP growth, but everyone knows about that. But the truth, alongside the growth of the economy, it is the culture that I like the most.  For the past 6 years, I worked very hard and personally, I have a family, I have my kids during the time I stayed in Cambodia. I treat Cambodia as my second home. It's more love of the country to ask me to stay and invest here. We currently employ over 350 people, so it is motivating when I think about how many employment opportunities we are creating as well.  
REAKH: Can you tell me a more about the Yuetai Group?
YUETAI: Most of our operations is related to real estate. We are dedicated and focused on bringing the best real estate products to the people. In addition to real estate, we want a full coverage of services to all of the customers. That's why alongside real estate development, we developed financing, property management, and hotel management sectors to comprehensively provide service to our customers and buyers.
REAKH: We have come here this morning to do the launching of the project. We wanted to ask you a little bit more about Phnom Penh Harbour itself. Can we start by asking about the size of the project.
YUETAI: The total gross area is 1.05 million square meters. It is a high-rise building complex built along the river, and includes Grade A office buildings, 5-Star hotels, large shopping malls, more than 6,000 parking spaces, serviced apartments, and market-leading high-end apartments.
REAKH: Can you tell us what inspired the design of the project.
YUETAI: What happened is that we are not thinking about purchasing a land, develop, and sell. When we look at the land, my board, my designer, and I personally, if we feel that it is one of a kind, and you won't have another opportunity to develop something similar in Cambodia.
We just don't make it a commercial development project. We want it to become a city symbol. We want to bring what's not known of Phnom Penh or Cambodia to the world.  We want others to know Angkor culture and art through Yuetai. That's the reason who we put all these elements- cultural, touristic, artistic, and historical elements- together in the project.
Instead of making it into a purely commercial space, we actually want to make it one of the best tourist attractions in Cambodia, and even in Asian countries.
REAKH: Can you tell us when you are starting construction.
YUETAI: Construction will start in September. The actual busy time would be after the rainy season. We are waiting for the dry season to actually start the whole construction.
REAKH: I understand the project will be built in four phases. Can you tell us when individual phases can be expected until we finish the project.
YUETAI: Actually, the four phases are all open. Why we separate them into four phases is that phase 1 would be the new White Swan Hotel. Then we will help PVAP have their new, 25-floor office there. Of course, we will have duty-free shops alongside a 5-Star hotel. And then we will have Grade A offices there, as well.
The second phase is mainly serviced apartments and Grade A office buildings. We are really keen on doing office development in Cambodia. We know there is a shortage of Grade A and Grade B offices in Cambodia at the moment. Phase 2 would also consist of a shopping mall. We are already negotiating with top class brands like LV and Gucci to actually bring in the shopping experience to Cambodia, to actually let Cambodians and tourists spend money in Cambodia. I noticed that a lot of Cambodians shop in Bangkok or Singapore. Why fly to Bangkok or Singapore? Shop here and spend money in Cambodia.
Phase 3 would be our serviced apartment sector that will also include a French-style commercial street. Phase 4 would be our condominium section. We will have another French-style commercial street, alongside our condominiums. These condominiums are designed mainly for locals. A lot of condos here are designed for foreigners or foreign buyers. But we want to build something that is affordable to local buyers, for the local middle-class.
REAKH: How long the project is expected to take?
YUETAI: To finish all four phases, probably it will take around 7 years. Phases 1 and 2 will be completed in 4 years, phase 3 in 5 years, and Phase 4 will be completed in 6-7 years.
REAKH: What are the other impacts of a project of this size in terms of employment numbers for a city like Phnom Penh?
YUETAI: At the beginning, of course, the top management will be international professionals. But in the future, we want to have all or 90 percent of mall and property management to be locals. That's why we have Tourism and Property Management schools. We want to train the locals to be part of our management teams. Currently, our Chinese staff consists of 30 to 40 percent of our total staff number. In the future, we want to shrink the number to about 5 to 10 percent. We want to become a more local company run by a local management. When it is in full operation it will create roughly 4,000 to 6,000 jobs.
REAKH: When I think about this project, I think Cambodia will finally be getting its own 'Orchard Road'. But I am sure the question on everyone's lips I am sure is what the developer is doing about projected traffic congestion in the area?
YUETAI: We will set up more than what we are supposed to set up by the urban regulations to expand the current road into a four-lane one. And we will also have huge underground spaces for the internal traffic to travel inside the underground, and for the external traffic to travel outside. We will have river plazas alongside the riverside walkways. We don't want people to just walk by, we want them to gather.  We also want a plaza to promote fine arts in Cambodia. Me, my Board, and the designers, we do this project with passion. We want to make it a one of a kind. This is going to be a signature of Phnom Penh and cannot be compared to anything else.
Realestate.com.kh, Cambodia's home of real estate, has the most up to date information for buyers, sellers and property enthusiasts! Sign up for our newsletter today and stay up to date with the latest info…