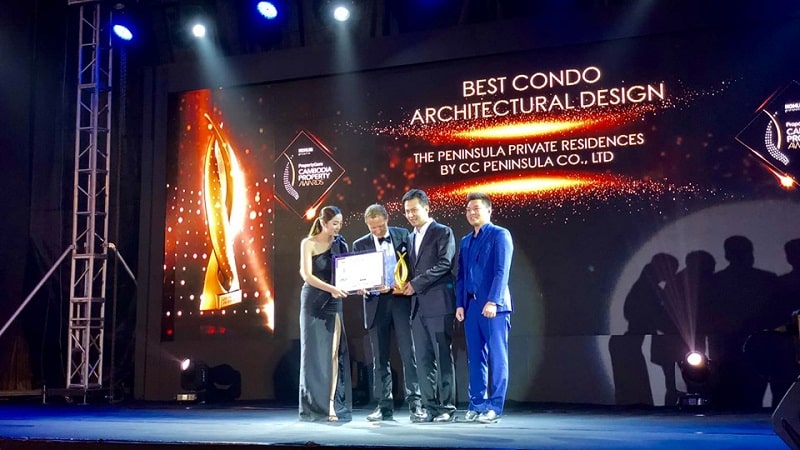 The Peninsula's status as one of the top developments in the country was solidified over the weekend when it was given trophies for Best Condo Interior Design and Best Condo Architectural Design award at the 2019 Cambodia Asia Property Awards organised by PropertyGuru. 
A follow-up message on the company's Facebook page read: 
"We would like to extend our heartfelt and sincerest gratitude to our beloved clients, our partner, Tings & Associate, and our team members. These two awards are the affirmation that our emphasis on providing an excellent lifestyle quality and experience to our residents is being acknowledged and recognized."
Indeed, these honours absolutely affirm that The Peninsula, and Chroy Changvar in general, are set to become mainstays of the capital's real estate sector for now and the future.
Find more info about at Realestate.com.kh's profile page for The Peninsula.
Luxury at every corner
When you browse through The Peninsula's list of amenities, it's not surprising they took home an award for their work. Here's just a sampling of the luxury at the complex:
The rooftop area boasts a massive sun deck, pool and jacuzzi. Taking in the city view is pure relaxation. Speaking of relaxation, there's also a sky garden which is the perfect place for a morning stretch, meditation or Tai Chi. It brings energy to the space. If you need another space to get some energy, head down to the state-of-the-art fitness centre. You can exercise and still enjoy the view.
For the little ones, there's a children's pool and play zone. And for the adults, there's a full sauna. But if you want to relax in the shade, no worries. Did we mention the juice bar terrace? Oh yes, order a shake and kick back. If you love playing games or watching movies there's also something for you. The social clubhouse has billiards, a home theater and card tables.
On top of the facilities you'll use on the weekends, The Peninsula has plenty of elements that fulfill all the day-to-day needs. The grand lobby is outfitted with comfortable furniture so you can sit for a quick meeting. If you need something more private, just head to the co-working lab. There you'll find space for projects of all kinds.
Act fast
Undoubtedly, these awards mean that more people will be lining up to buy condos at The Peninsula. How could you blame them with a list of features this long?
Yet, this complex doesn't just have to be a place you dream about. The Peninsula can be the next place you call home.
Don't wait, talk to a representative today and get a piece of this award-winning building!