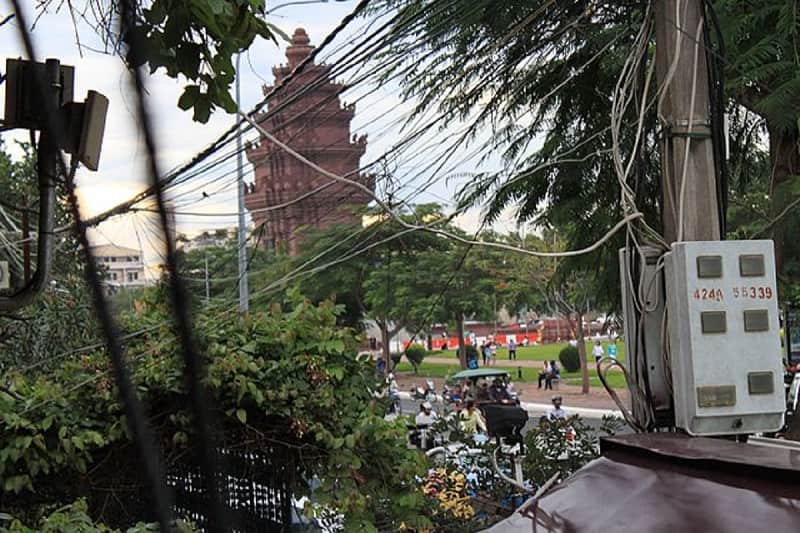 Prime Minister Hun Sen announced Monday that the blackouts are a thing of the past, explaining that Phnom Penh now has dedicated power reserves in case of droughts. 
Speaking at a graduation ceremony for university students from Royal University of Phnom Penh on Monday, the premier admitted that there had been hiccups in prior months due to the dry season sapping hydro-electric power.
According to the PM, the government will reserve 400 megawatts power in 2020 to ensure the stability of Phnom Penh's grid. 
He added that, in the event of another prolonged dry season, coal and petroleum power plants will pick up the slack.
The PM backed up his statements by saying that two new pieces of power equipment were already in the process of being purchased and installed. Each piece being able to reserve 200 megawatts of power.
"Phnom Penh needs to hold reserves of 400 megawatts. Now, [we] have already approved the budget [to buy new equipment] and have made an order to ensure that it will be completely installed in October," he said, adding that one will come from Finland and the other from Germany.
"Whenever the hydropower dam cannot produce sufficient power, the power from the engines will supply Phnom Penh. Next year there is no reason Phnom Penh will have power cuts."
Cambodia witnessed regular nationwide power cuts for nearly three months this year – from mid-March to mid-May. Many blamed dry season droughts which impacted production at hydropower dams, the main source of electricity in the Kingdom.
According to Hun Sen, Cambodia is diversifying its sources of energy to include coal as well as renewable sources. 
Currently, there are three coal power plants in the country capable of producing a combined 370 megawatts of power. An additional plant is currently under construction. When it comes online it will be able to generate 130 megawatts.
The premier's comments are sure to garner cheers from Cambodia's construction sector, which is in the midst of a massive boom.
According to data from the Ministry of Land Management, Urban Planning and Construction, 1,420 building projects were approved in the first four months of this year. That represents a 21% increase over the same period in 2018. 
The approved projects are valued at a combined $2.7 billion. This total marks a 67% increase over the value of the projects approved last year.