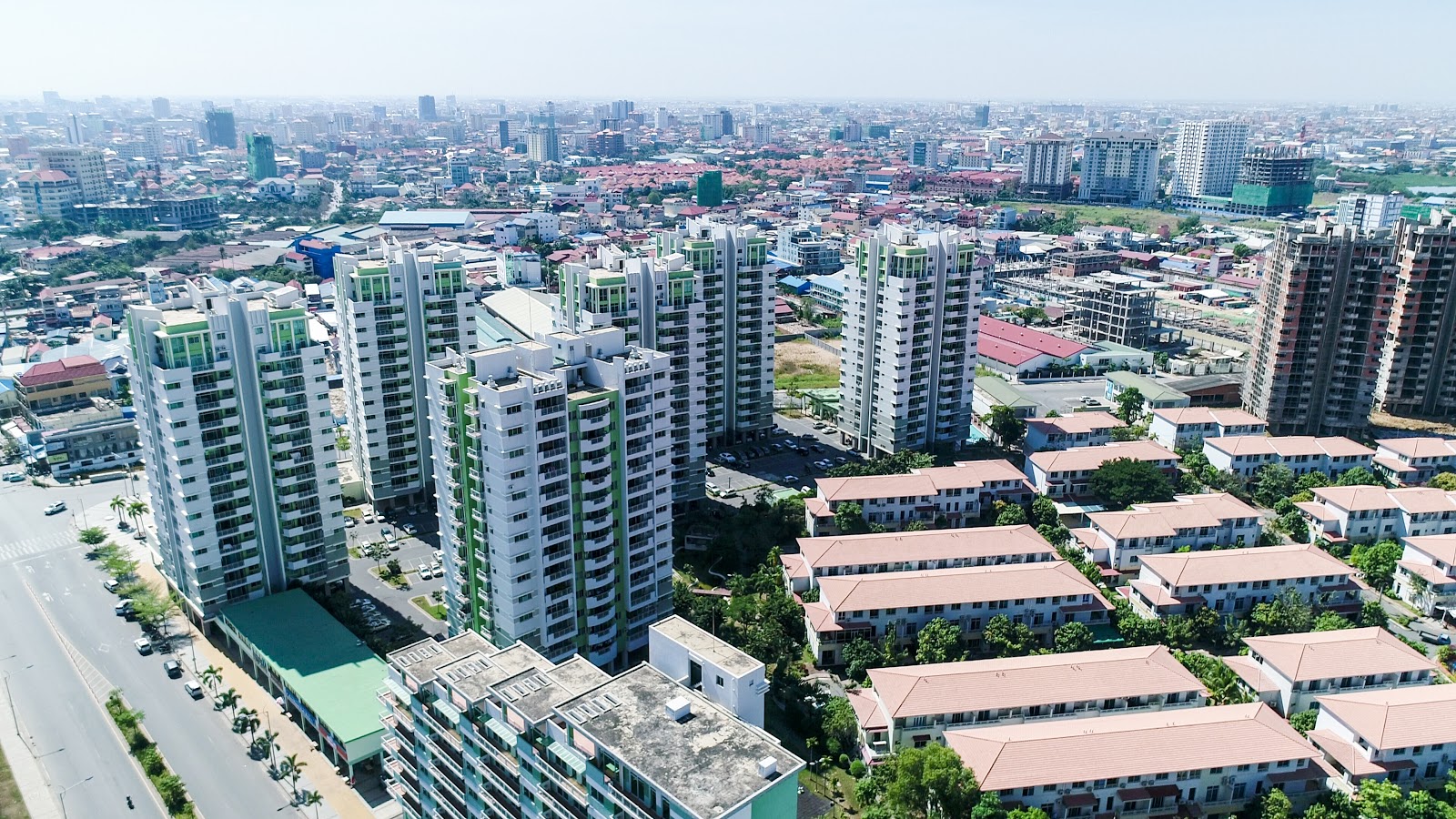 Cambodia's real estate sector saw a remarkable growth last year, with the Ministry of Land Management, Urban Planning and Construction (MLMUPC) approving a total of 3,418 projects nationwide.
The combined value of approved investments in the construction sector increased by 22% year-on-year (y-o-y) to $6.8 billion. In 2017, residential projects accounted for 82% of all approved projects, while commercial projects represented just 8% of the total.
The approved projects in 2017 will offer more residential and commercial supply this year, which is likely to have a huge impact on rental market, particularly in the Condo, Office and Retail sectors.
Condo Rental Market: Lower Occupancy, Rentals Predicted
According to 2017 CBRE Q4 report, by the end of Q4 2017 Phnom Penh condominium supply reached 8,600 units, representing an increase of 108%, compared to the end of 2016. Approximately 63% of total stock at the end of Q4 was categorized as mid-range, with more than 5,000 units having been completed.
Condominium for rent in prime locations were broadly stable over the course of 2017. Rents of high-end condominiums in prime locations ranged between $14 and $18 per sqm per month, while those in the mid-range segment were between $11 and $15 per sqm. Affordable condominiums in prime locations achieved rents in the region of $10 per sqm.
Ann Sothida, CBRE country director in Cambodia, said: "Condo market in 2017 was healthy with occupancy rate of approximately 85%; however, the market may need time to absorb new supply so we think the occupancy rate is likely to be lower in 2018." 
In 2018, according to her, there is an additional supply of 13,000 condominium units, in addition to 1,200 units of serviced apartment. "The supply by 2018 will increase by 87% from 16,300 units to 30,500 units," she stressed. Given the significant residential supply in the pipeline, she said that residential rents are likely to drop by roughly 10% in 2018. 
Office Rental Market: Rents Expected to Increase
2017 witnessed growing demand for good quality office space from both local and foreign occupiers, with large space being occupied by multinational companies. This results in vacancy in the Grade B sector falling to circa 10% over the year.
The CBRE report says by the end of Q4 2017, the supply of modern office space in Phnom Penh had increased by 11% y-o-y and 2% q-o-q. As of Q4 2017 occupancy across the sector stood at 82.7%, the highest rate since early 2009 and approximately 160,000 sqm of office space is under construction and due to be delivered during the coming 24 months.
Centrally owned offices accounted for 36% of future office supply while strata-title buildings represent the majority of under-construction office projects with a total leasable area of circa 105,000 sqm.
Regarding office rents, Ms. Ann said: "average quoting rents for modern offices across all grades rose by 1% in the year to December 2017. Quoting rents of Grade-A buildings remained at between $28/sqm and $38/sqm per month."
"Average quoting rents across all grades were broadly stable over the Q4 when compared to Q3, however, rents of Grade-B buildings in non-CBD locations appreciated by 4.4% in Q4 compared to Q3 2017," Ms. Ann added.
As the demand of commercial office space remains strong this year, in addition to current office supply pipelines, Ms. Ann expects that office rents will also slightly increase this year.
Mr. June Zeng of Tings & Associates Co., LTD said: "the outlook for the office sector is quite optimistic. Those who have done projects with professionalism such as Exchange Square will surely be rewarded. And for those who aren't so professional, it really won't do as it always would in the residential sector. I reckon, the office sector in 2018 is more of a question of professionalism than that of demand and supply." - In the meantime, office space for rent in Phnom Penh is still available.
Retail Rental Market: New Construction Will Double Current Retail Supply
By the end of Q4 2017, approximately 300,000 square meters of modern retail space is under construction or planned and when finished will double the current retail supply over the course of the coming 24 months, according to the CBRE report.
Prime retail rents were broadly stable over the course of Q4 2017 compared to the previous quarter, with no significant changes found at prime shopping malls or community malls. The highest quoting rents were due to prime retail podiums, which topped the market at $65 per sqm per month.
Ms. Ann said: "an addition of circa 200,000 sqm is going to be delivered across seven projects in 2018, which will double the figure of the current supply. This new supply is predominantly driven by a combination of new shopping complexes developed by international groups and significant retail components within residential led mixed-use schemes."
However, since the retail development that add to the market in 2018 are quite spread out to second CBD & other locations and the demand remains strong, Ms. Ann anticipates that over the course of 2018, retail rents will remain stable compared to those of 2017.