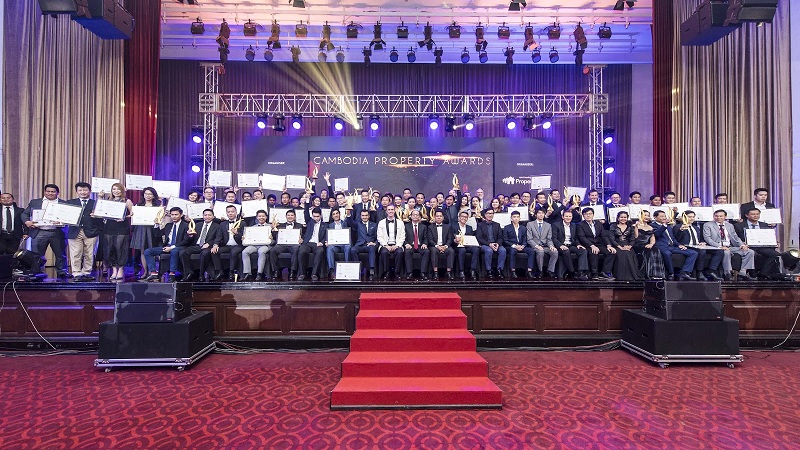 Nominations are in -- the judges have convened and everyone's preparing their tuxedos and ball gowns for the most prestigious real estate event, the PropertyGuru Cambodia Property Awards gala presentation.
The awards ceremony's main sponsor is Kohler and it is expected to be the largest to date since the inaugural event in 2016. The gala event will take place at Sofitel Phnom Penh Phokeethra on the evening of May 3.
Last year's gala was certainly a night to remember -- Peng Huoth Group was one of the biggest winners and was named Best Developer for a third consecutive year, becoming the first developer in the PropertyGuru Asia Property Awards history to earn this record. The developer is expected to make a grand return to the awards, earning 13 nominations in 2019. Will they make history again?
Creed Group was another big winner in 2018. They took home three awards, as did the team from LIXIN Construction. 
Bigger and better
Around 400 guests are expected at this year's event, which will feature an appearance by H.E. Dr. Pen Sophal, Secretary of State of the Ministry of Land Management, Urban Planning and Construction.
All the respected industry figures will be there, from real estate development, property consultancy, construction, marketing, property technology, legal, finance, and architecture and design sectors, to catch up with their peers and meet new colleagues.
With the addition of new categories, the awards gala will top the previous edition, showcasing more segments of the property market. It's safe to say that Cambodia's real estate industry event of the year will be another successful affair, with everyone gathered in one place, dressed to the nines.
And the award goes to…
Awards will be divided into four segments, covering Design Awards, Development Awards, Special Awards, and Developer Awards. The final shortlist has been determined based on judges' visits, as well as reputation, innovation and track record within the industry.
The judging panel for this year's event is the who's who of the industry. Sorn Seap, founder and CEO of Key Real Estate, returns as chairman of the judging panel. Also on the panel are David Littlejohn, Sales & Marketing Manager, Comin Khmere; Jovany Antonio, Managing Director/Founder, CMS Property Management; Michel Cassagnes, Managing Director, Archetype Cambodia; Pak Chanlino, Managing Partner & Attorney-At-Law, Vinaya Law Firm; Simon Griffiths, Managing Director, Urban Assets Solutions; Dr. Simon Vancliff, Vice Chairman of Real Estate & Construction Committee, EuroCham; Sok Siphana, Managing Partner, SokSiphana&associates; and Thida Ann, Director, CBRE Cambodia. 
In addition to getting a chance to meet everyone in the industry, this year's shortlisted nominees -- both Winners and Highly Commended awardees -- will be invited to represent their teams and be included in the class photo at the end of the evening.
Find out more about the 2019 PropertyGuru Cambodia Property Awards here.