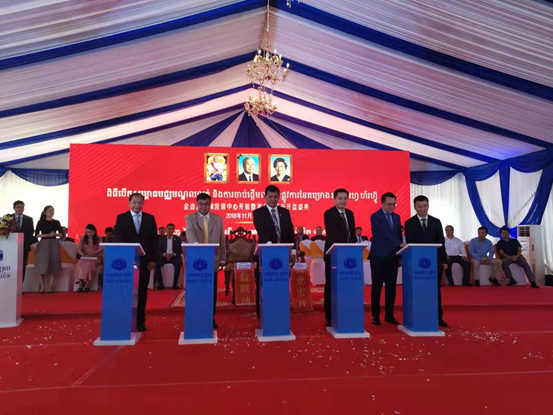 The R&F Phnom Penh City sales centre was inaugurated and R&F Glory was introduced at a ceremony held in Phnom Penh on November 18.
R&F Glory, another high-quality residential project, was introduced by R&F Group, following their last project R&F Phnom Penh City. The pattern represents a new trend in urban residences, showcasing fresh ideas and adherence to high standards. The new complex will extend the vision of creating a flourishing and multicultural community. It will truly be another masterpiece of the capital's skyline.
Phnom Penh R&F Group city sales centre opening and R&F Group Glory introduction ceremony
At 9:30am the echoes of the solemn Chinese and Cambodian national anthems rang out. This represented Phnom Penh ushering in a remarkable event. The splendour of the Phnom Penh City sales centre was opening to the public and R&F Glory was being introduced with an official ceremony.
Accompanied by a traditional Cambodian blessing dance and the majestic Chinese lion dance, the ceremony was a sight to behold. Many distinguished guests came to the podium to touch the lion's eyes for good luck. They all wished for a lasting link between R&F Group and the Cambodian people, in order to forge a prosperous future. Local superstar Aok Sokunkanha serenaded the crowd, perfectly fulfilling her role as the spokesperson for R&F Group.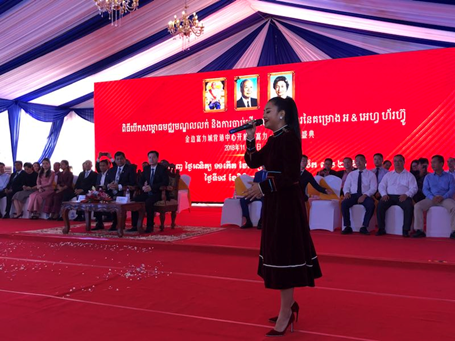 Subsequently, Mr Wang Zhihao, vice chairman of R&F Group Cambodia, delivered a speech and expressed his warmest welcome and heartfelt thanks to the guests, including the media and fans. He added that R&F Group is actively building on the Chinese government's One Belt One Road initiative, noting that the group has the honourable opportunity to contribute their efforts to Phnom Penh's construction industry.
On behalf of R&F Group, Mr Wang Zhihao sincerely thanked the Cambodian government for their full support. He said the government's guidance will help R&F Cambodia develop and succeed further. He closed by thanking all partners and associates that had helped the group move forward.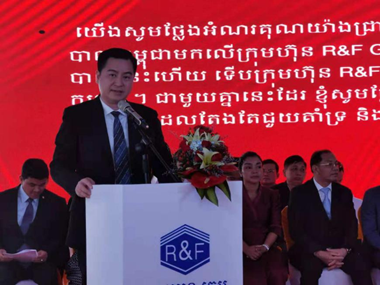 Speech by Mr Wang Zhihao, vice chairman of R&F Group group Cambodia
Phay Bunchheun, the vice minister at Cambodia's Ministry of Environment, was specially invited to deliver a speech at the grand ceremony. He said that China and Cambodia have enjoyed a profound friendship since ancient times. China and Cambodia are now in a period of rapid development and the bond is growing. Either in economic development or urban life, there have been incredible cooperative achievements.
Phay Bunchheun spoke highly of R&F Group's ceremony, which he said proves that R&F Group are riding the wave create by One Belt, One Road. The group's outstanding projects have fuelled the Cambodian property sector and brought prosperity to the country.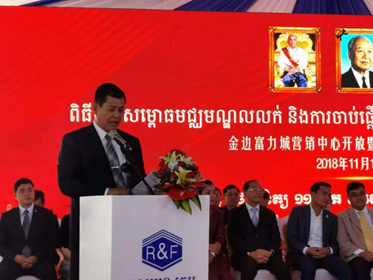 Deputy Environment Minister Phay Bunchheun delivers a speech at the ceremony.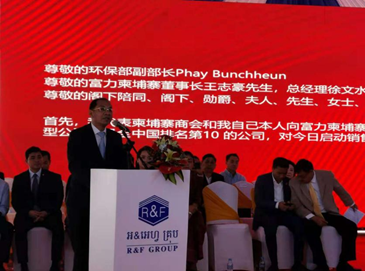 Oknha Heng Vuthy represents The Cambodian Chamber of Commerce.
Then, amid thunderous applause, Phay Bunchheun and other officers of R&F Group raised a curtain to reveal the sales centre for Phnom Penh City. All guests were then guided by a concierge to explore the brand new showroom which showcased both of R&F Groups projects.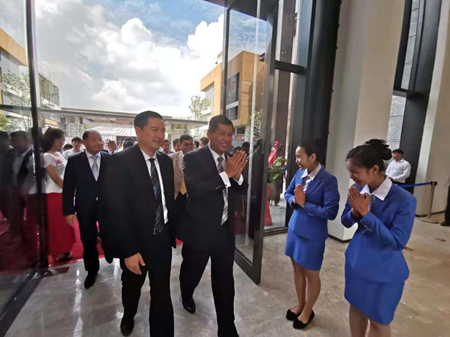 The Phnom Penh City showroom officially opens to customers.
At 11:10 am, the introduction ceremony of R&F Glory officially began. The showroom was already bustling at this point. Buyers came with their families and were eager to line up for the event. Sales of both residential and commercial spaces located along Monivong Boulevard were offered up to the first winners of a lucky draw. Streams of people queued to hear about the location, different unit types and property services. The optimism was palpable; R&F Group has a reputation for building confidence with leading developments.
R&F has always believed in the strength of quality and glory of reputation. This year, by introducing another high-end residential project in Phnom Penh, R&F Group is again contributing a treasure to the beautiful capital of Cambodia. As one of the pioneering high-rise residential buildings in Phnom Penh, R&F Glory will provide the most luxurious and wonderful experience for residents. It will truly bring excellent construction quality, high-end facilities and star-level property services to the city.