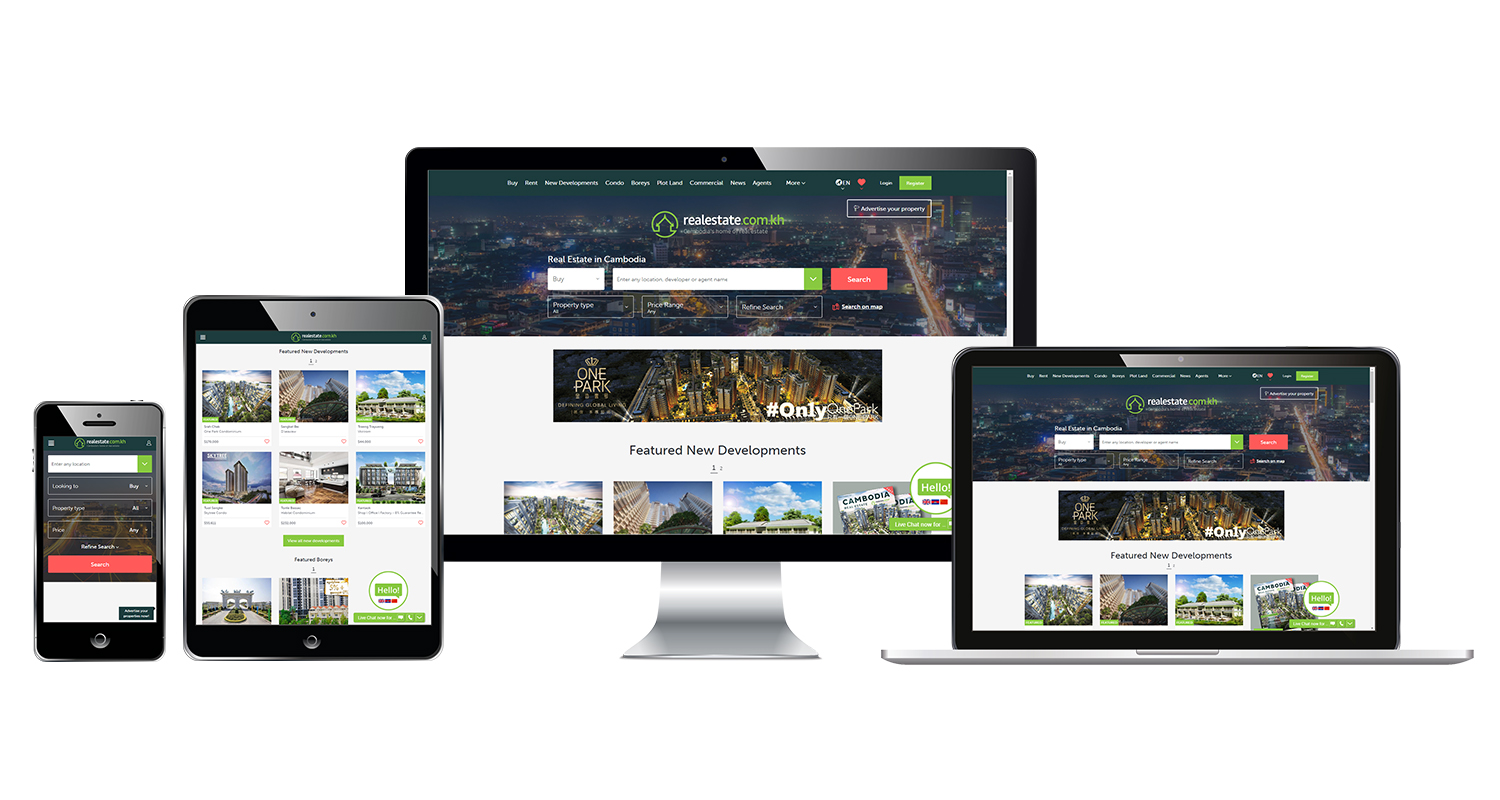 Not so long ago, those seeking a property in Cambodia had to spend their weekends driving around the streets looking for shaky old sign boards indicating if properties were open for sale or rent. Frustrated with this process, Cambodian national, Mr. Moek Chenda, decided there must be an easier way…
By 2009, Moek had launched the first version of realestate.com.kh, Cambodia's first ever specialised real estate portal website - a place where all sellers could list their property and gain the right exposure, and providing a one stop online marketplace for property buyers and renters. Moek focused on growing traffic to the website, and continually making it easier for people to find their dream home without the stress and effort of running around town.
As time went on, property buyers could spend more of their weekend relaxing with family, or enjoying a coffee at cafes in the city - all whilst being able to find their next property investment online.
Now, in 2017, with the world and much of Cambodia moving their focus online, Moek and the team at realestate.com.kh decided to once again to revolutionize the way people find property in Cambodia and set out on a mission to build one of the most user friendly search websites and mobile apps, and one that fully integrated with world leading technology solutions for property buyers sellers, including 360 degree tours and CRM systems for real estate agents in Cambodia.
In July of 2017 this dream has become a reality, with the full launch of realestate.com.kh world-class website and app.
The realestate.com.kh's website: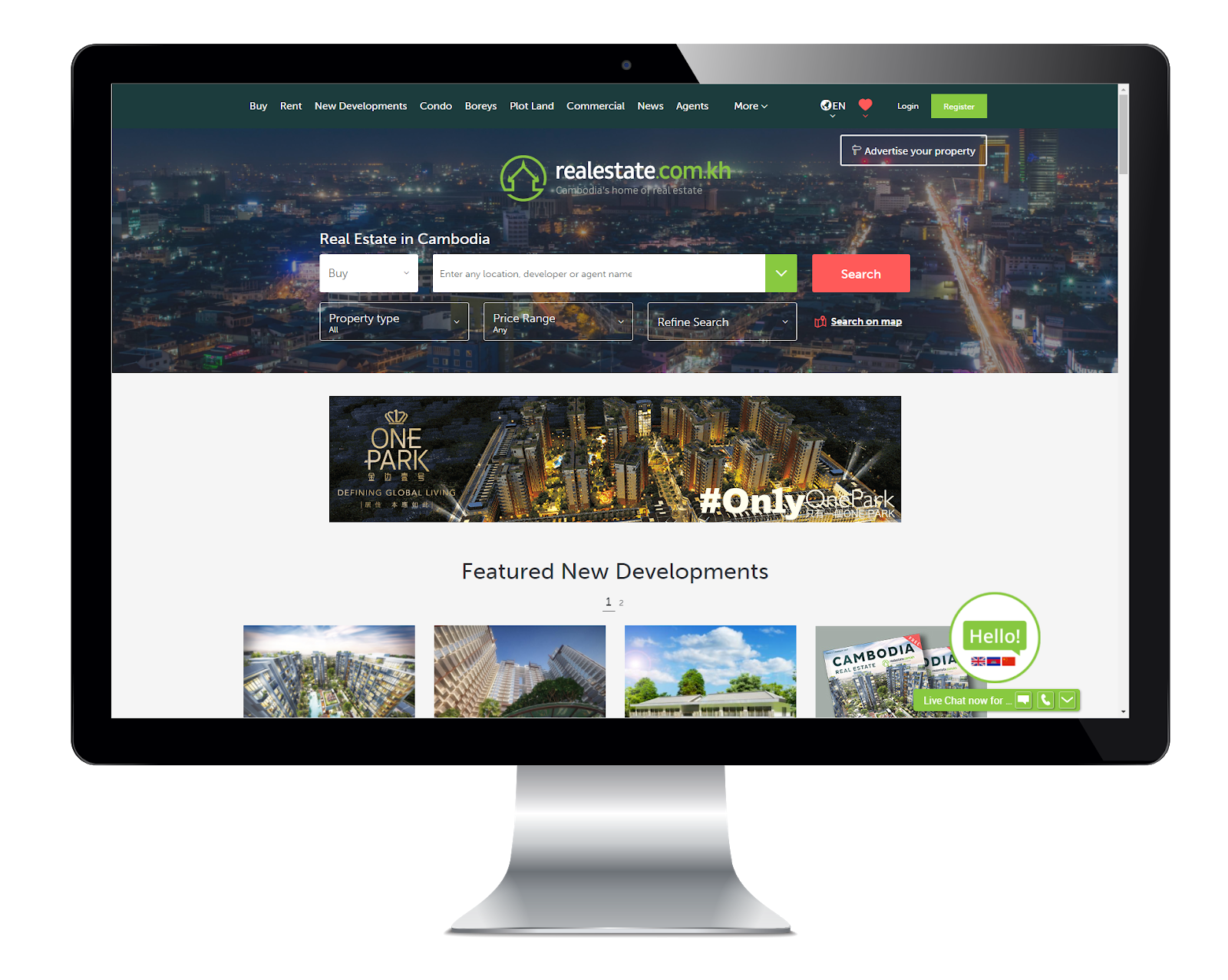 The new realestate.com.kh website platform creates a seamless search across a database of almost 50,000 property listings. With updated search criteria, users can pinpoint the exact qualities they require in their property selection, whether it be a swimming pool, main road access or a nonflooding property. The property types, locations and specific criteria on the new realestate.com.kh platform are perfectly aligned with the Cambodian real estate market and buyer's preferences in mind.
New Developments, boreys and completed office and apartment buildings can also benefit from the new platform's "Project Listings" function. This function allows 2 grades of listing: the first is the "Project Listing Page" which provide the full overview of the project, borey or building, information on the location, amenities and type of units available. The second type of listing is called the "Individual Property Pages". These sub listings sit within the project listing and allow the seller to list every
single individual unit available in the building or borey, with full information of each unit, floor plans and 360 degree tours. This new feature allows users to be even more informed about a property before making an inquiry; and therefore, increases the quality of inquiries for property for real estate agents and property developers through the website.
IT Support Manager at realestate.com.kh, Bona Chhut, notes that, "the users of the website are the most important thing in this business - so we knew we had to focus on creating the most powerful
search functionality possible." Chhut goes on to say, "we had to look at global examples - but really localize them for the Cambodian market; and we think we have done that!"
One of the most useful tools on the new platform is the map search function. This allows users to simply trace the area in which they would like to find a new home for sale and rent, and then are immediately presented with a list of properties in that search zone. Users are also able to not only search by location, but also by landmark - such as Central Market, Riverside or Aeon Mall.
This is because: "International investors and renters planning to move to Cambodia will often know the general area or landmark they want to buy or rent a property near, such as Independence Monument for example. But not everyone knows that its in Chamkarmon, for example. So we have
taken that frustration away from the buyer by introducing this powerful level of search on the new platform," Thomas O'Sullivan, ceo of realestate.com.kh, notes.
The website is now available in three languages: Khmer, English and Chinese - as "some of our clients target expat renters, some target Cambodian's looking for a property in a borey, and so many of the condo developers are targeting international investors, many of which are now Chinese speakers," O'Sullivan notes.
The realestate.com.kh App, for Android and IOS: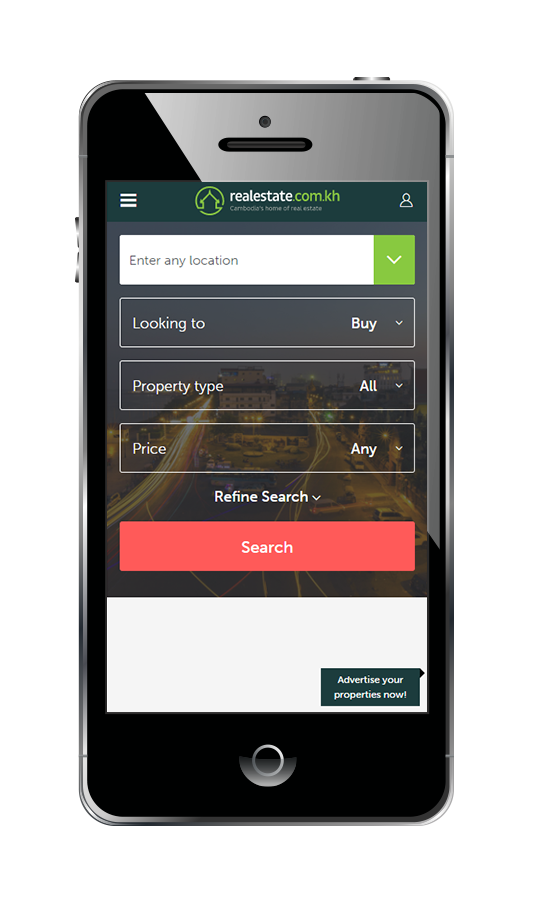 In combination with the new website, realestate.com.kh has also pioneered the first ever real estate search app, now available in both the IOS and Andriod app store for free download. The app allows a much simpler, faster-running and user-friendly interface for property seekers to find their dream home. Inquiring to the seller has also become much easier, as the app is directly linked to the users SMS channel on mobile, meaning they can contact the agent or seller direct to their mobile phone with an auto-generated text message.
Realestate.com.kh Certified Listings:
An issue with the old realestate.com.kh website was linked to the quality of listings. Many users gave feedback that some agents were listing properties no longer in the market, and wasting the
buyer's time by fielding inquiries on these outdated listings. To mitigate this issue, the new platform includes a "realestate.com.kh certified listing" criteria. Certified listings are those listings that realestate.com.kh staff have physically visited, videoed using the "realestate.com.kh walkthrough tour" application, and can confidently present to the market as available and accurately presented on the website. This allows the property seeker to have full trust when inquiring on these properties, and with the agents using this type of listing. Meanwhile, when a user searches, certified listings
will be presented above those that are not certified in the search results - meaning additional exposure and inquiries for agents and other sellers that make use of this new product.
Similar to the certified listings and walkthrough videos, the new realestate.com.kh website and app also integrate virtual reality technology with 360 degree walk through tours for property listings.
These 360 degree tours allow customers to experience your show-flat or property in a fully immersive experience from anywhere! You can use it at AEON mall, in your real estate agent's office
in Singapore or in the lounge room of your best customer. "Realestate.com.kh 360 Degree Virtual Tours" allows this freedom. Best of all we do all of the work for you and we can build these tours within 72 hours (or even 24 hours if it's a rush).
For the user on our website and app, these new multimedia tours allow you to truly experience the property before you waste anytime visiting the property or developers showroom. These are just a few advances that realestate.com.kh has brought to market since humble beginnings in 2009… Keep your eyes open for more real estate tech innovation coming soon.