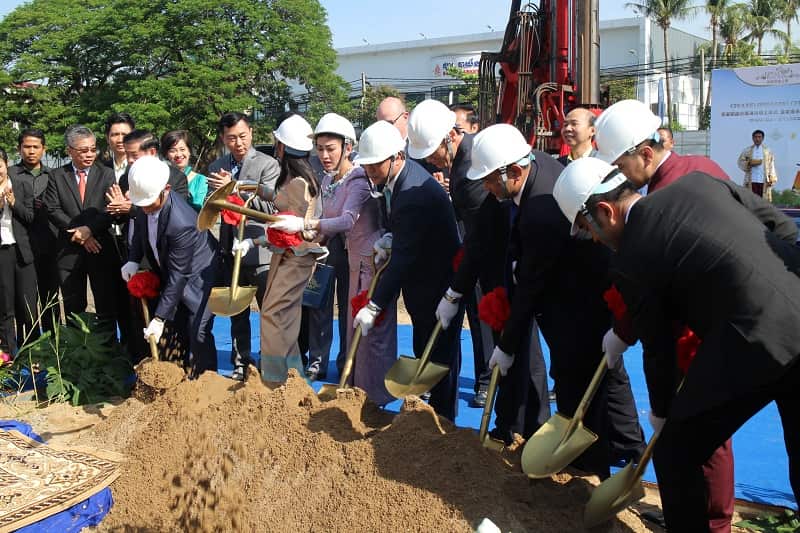 Massive Cambodian conglomerate The Royal Group earlier this week broke ground on a new mixed-use development in Phnom Penh's Toul Kork district.
The project, dubbed Royal Platinum, is a collaborative project being produced in partnership with Singapore-based property developer Hong Lai Huat Group Limited.
Royal Group Chief Financial Officer, Mark Hanna, said the development would be a significant addition to Toul Kork, an area which many contend is turning into an affluent northern suburb of Phnom Penh.
"We believe [Royal Platinum] will provide an attractive lifestyle for families and contribute to the economic vibrancy of the area with offices for small- and medium-sized businesses," Hanna said.
The groundbreaking ceremony at the construction site was officiated by Royal Group Chairman Neak Okhna Kith Meng and Hong Lai Huat Group Chief Executive Officer Dato Dr Johnny Ong.
Hong Lai Huat is the group behind the D'Seaview development in Sihanoukville, as well as many developments in Singapore.
Features of Royal Platinum Toul Kork

The 100,000 square metre development is set to offer 851 apartment units and 50 shophouse units.
Royal Platinum Toul Kork is set for completion by 2022. However, units are set to go on sale as early as next month.
The development is the latest in a list of hotly anticipated projects by Royal Group including Northbridge Communities, North Park Condominium and Southbridge International School.