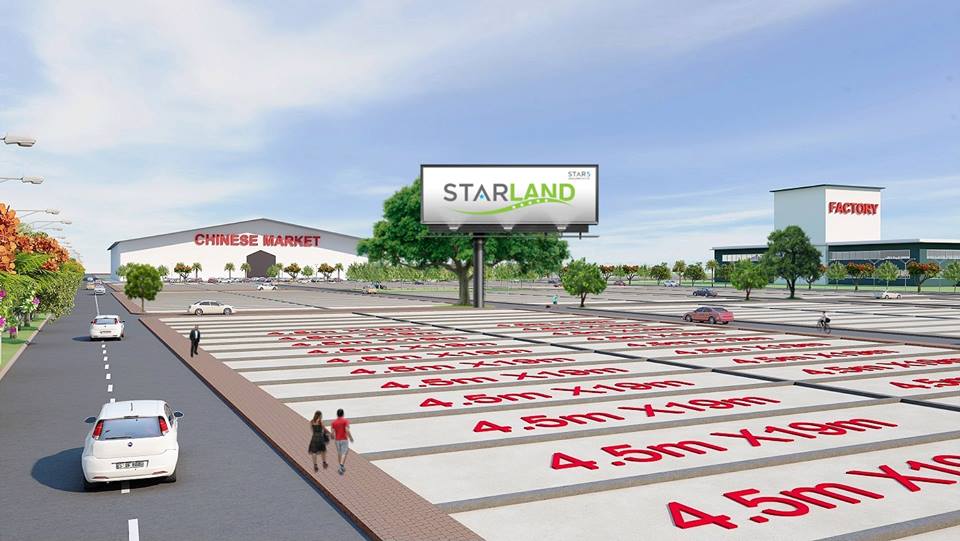 Running along key Cambodian highway National Road No. 4, StarLand project, developed by STAR5 Developers Pvt, Ltd. is located close to Phsar Prey Pdao, and about 5 kilometers away from Phsar Thnal Tutueng,  This project is a plot land developing project, and is the first big investment in an area that has recently been identified as a 'high potential area- expected to see substantial growth, both now, and in the future,
With this new development, there are two different different types of subdivisions available, within the project. The first option for a plot of land is 4.5m x 19m section with an attractive price tag of $6,413 USD  The second option is 5m x 20m at a price of only $8,100 USD.
Not only have the developers priced their sections extremely competitively, but they also offer a flexible payment scheme; whereby hat buyers need only pay $233 USD per month(first option subdivision) and $295 USD per month(second option subdivision),without any interest attached.
You will be guaranteed a hard title as an ownership right, which will enable you to use this plot of land as collateral for any prospective loan you may need. StarLand also offers a prime opportunity for capital appreciation on investment, as it is surrounded by major infrastructure including a 20 meter access road, electricity, running water, and world class sewage systems.
There are further proposed amenities in the area which include international schools, clinics & economic zoned warehousing. As it stands there are already three factories that consist of over one thousand workers working each day. Moreover, there will be a Chinese market, located right next door to the project.
These additional features, and StarLand's underlying affordability make the STAR5 developers proud to introduce their investment, which they will be doing as an exhibitor in Cambodia's Real Estate Show 2, held on 6 & 7 October, 2017. The developers will also be armed with a range of promotions and price discounts for StarLand.
Therefore, for those who are interested to take advantage of the special show only offers, or if you simply want to know more detail about the project itself, sales representatives from Star Land will be located at Booth number 26 and 27 at the event to answer any inquiries.
Beside this, you will also have chance to learn from several panel presentations and discussions in Khmer, Chinese, and English. Speakers and presenters will include local and international experts, speaking about relevant topics and trends, and the real estate climate in general. These seminars are expected to help investors choose the right opportunities and know the reality of real estate in the country.
Find the plot land on Realestate.com.kh
Considering buying property and want to join the show for free – sign up here.