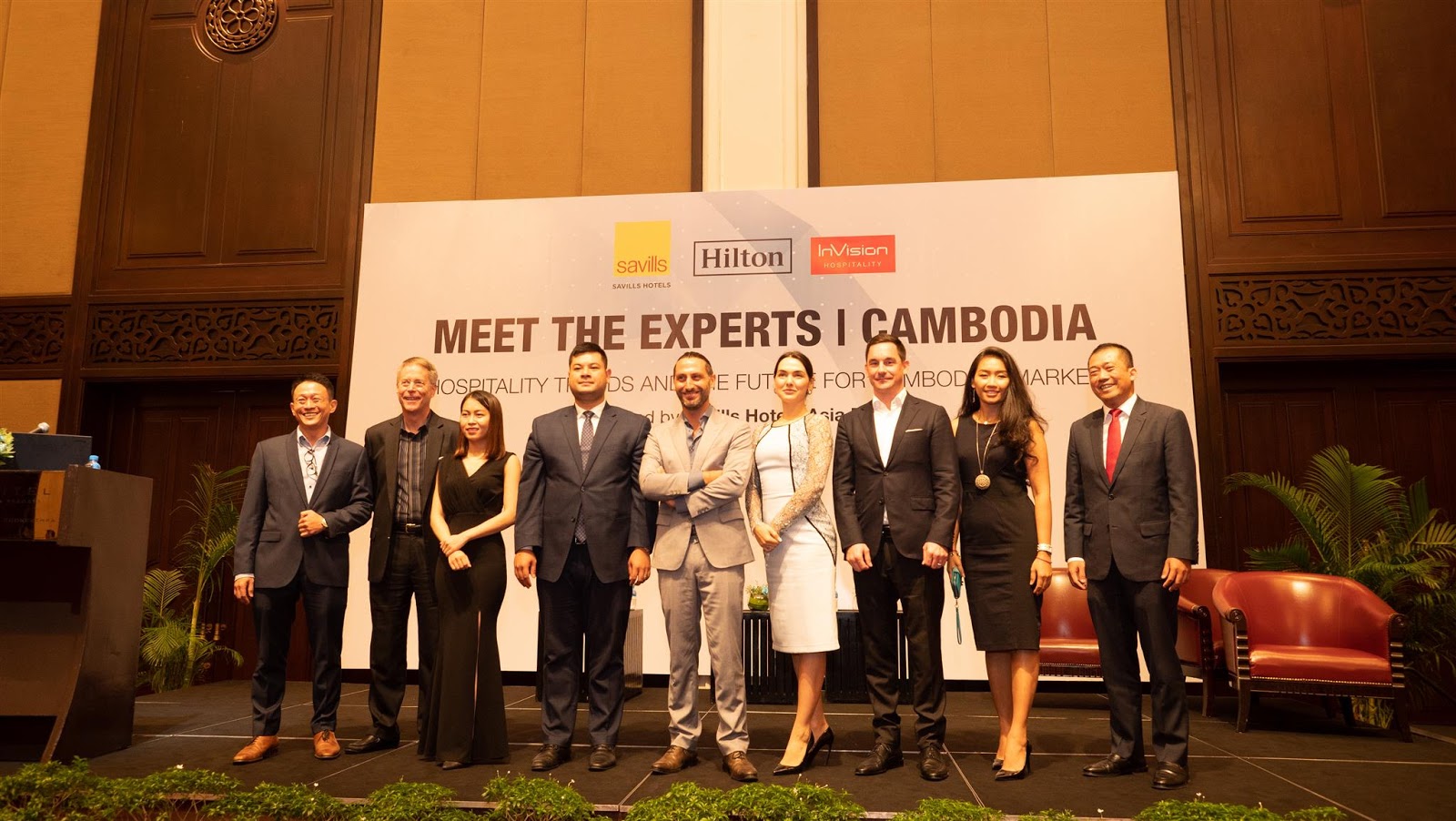 Savills Hotels Asia Pacific, one of the world's top real estate and hotel consultants, successfully hosted a seminar on "Emerging Trends and the Future of Cambodia's Hospitality Industry".
More than a hundred attendees representing the local hospitality industry and allied sectors attended the gathering held at Sofitel Phnom Penh on 29 August 2018. Savills Asia Pacific Hotels organized the event in partnership with the Ministry of Tourism, Archetype Group, Keystone Property Consultants, Hilton, InVision Hospitality, Withersworldwide, and Bun & Associates.
Most attendees described the event as a good learning experience. From the event, they got a clear glimpse and good understanding of emerging and prevailing trends in Cambodia's hospitality sector, including 1) Local and Regional Hospitality Market Updates and Megatrends; 2) Branded Residences and Condotel Products; 3) Development of Design and Boutique Hotels; 4) Traditional and Alternative Brands; and 5) Vacation Home Products
A parade of local and international experts, led by a top official from Cambodia's Ministry of Tourism, were on hand to inform and enlighten the audience about some of the most consequential changes undergone by the Kingdom's hospitality industry.
The Cambodian hospitality industry underwent a lot of changes in the last several years. It was said that never before has the hospitality industry experienced so much disruption with the advent of new breeds of travelers, leaps in technology and the emergence of new accommodation habits, tastes and approaches to travel.
Cambodia is slowly evolving back to being a high-end destination, thanks to a booming luxury accommodation sector buoyed by the entry of such famous international brands as Sofitel, Raffles, Intercontinental, Marriott, and Six Senses.
Preferences have also changed. Many visitors, especially the more wealthy ones, now prefer Condotels or Branded Residences, instead of the traditional hotel. The Chinese have also supplanted Americans and Europeans as the top customers of the Kingdom's tourism sector.  
In his talk, Thong Rathasak, Deputy Director-General of the Ministry of Tourism, laid out the current tourism statistics and what Cambodia expects in terms of foreign visitors in the next several years.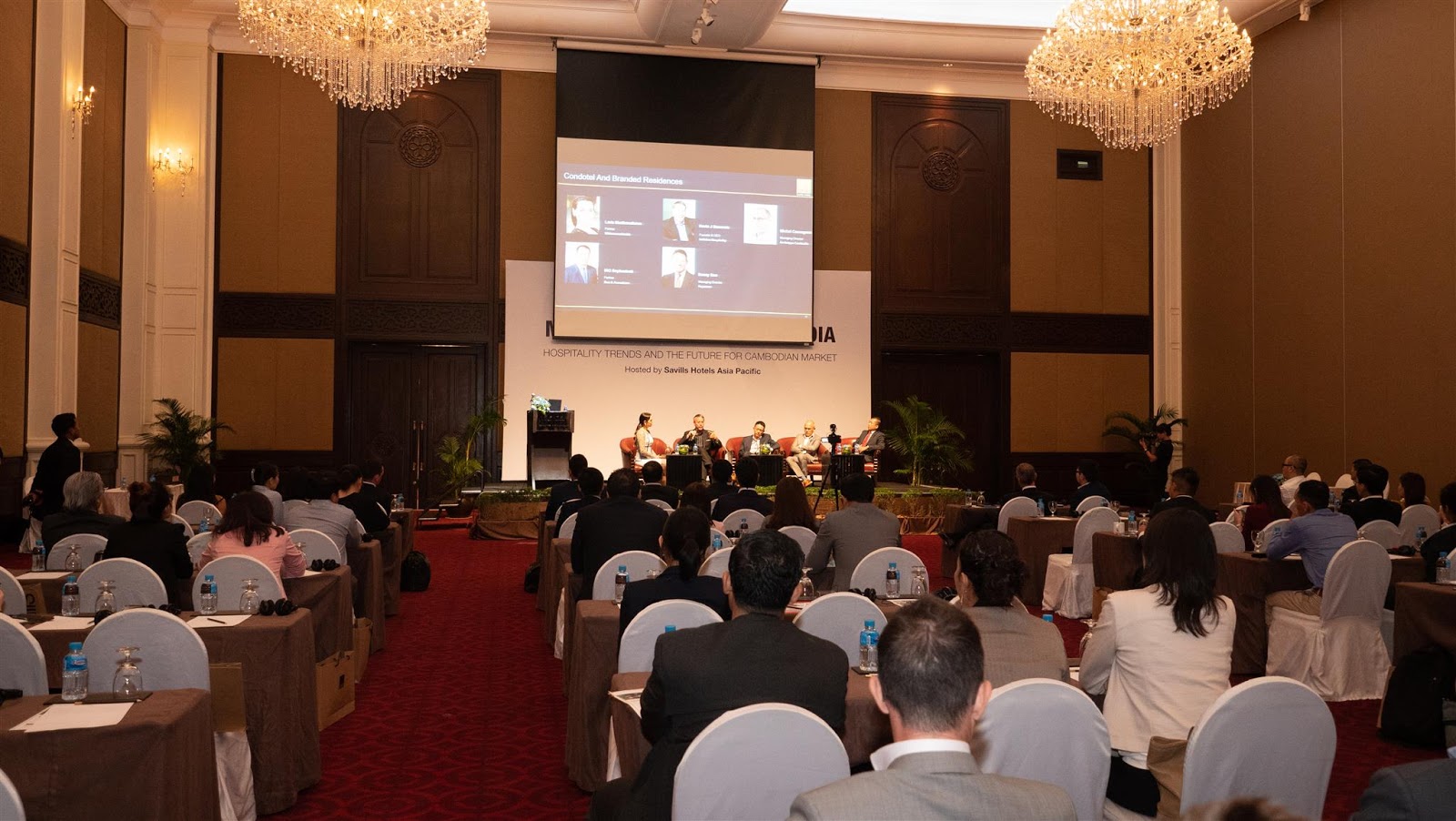 Last year, Cambodia received more than 5 million visitors, a figure that is expected to rise to 6.2 million by the end of 2018. Mr Thong said arrivals will more than double in the next 10 years. "We are expecting more than 15 million foreign visitors by 2030," he stressed.
Mauro Gasparotti, Director, Savills Hotels, Asia Pacific, who delivered a lecture entitled "Megatrends and Development Opportunities", noted that the hospitality sector plays a big role globally. "Speaking of the industry, one of ten people work in hospitality. Also, it represents 10 percent of the global GDP. Hospitality is one of the world's largest industries," he stressed.  
For their part, Christian Pucher, Director of Development Asia for Hilton Worldwide, and Kevin Beauvais, Founder and CEO of InVision Hospitality, pointed out that Cambodia has gone a long way to become a favorite destination for investors in the hospitality sector. Hilton and InVision have both expressed plans to enter the Cambodian market in the near future.
"The Government is working overtime to attract more foreign investment in the country, so we can expect to see many more hospitality projects being developed in upcoming years," Mr Pucher declared.
"Things have really improved. There is better road infrastructure and better airports, and the authorities and private sector are working together," Mr Beauvais added.
A panel discussion on "Condotels and Branded Residences" moderated by Lada Shelkovnikova, Partner, Withersworldwide, concluded the event. Leading the panel was Michel Cassagnes, Managing Director, Archetype Cambodia, who was joined by Sunny Soo, Managing Director, Keystone Property Consultants; and Ing Sophealeak , Partner, Bun & Associates.
Realestate.com.kh, Cambodia's home of real estate, has the most up to date information for buyers, sellers and property enthusiasts! Sign up for our newsletter today and stay up to date with the latest info…