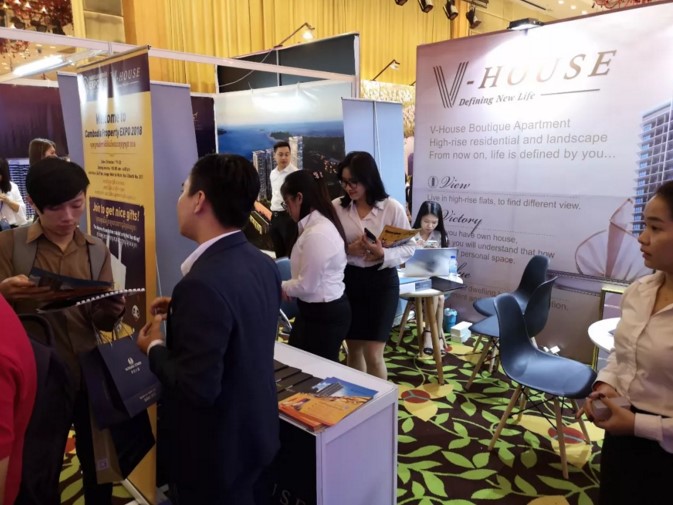 More than 50 high-quality property development projects were on display at the third Cambodia Real Estate Expo last month. This event, which showed the escalating prosperity of Kingdom real estate, was where V-House debut to the world.
V-House aims to be everything a Phnom Penh resident would want for successful urban life. Not only did the project showcase its full-service condos at the expo, but it also gave away a host of luxurious prizes.
The first 66 buyers were entered to win either an iPhone X, a full package of appliances including a Samsung 40-inch LCD digital TV, Panasonic energy-saving refrigerator and a Panasonic washing machine, or a massive discount $10,658.
Nonetheless, every attendee who stopped by V-House's booth received a unique and fashionable gift. Needless to say, the booth was bustling from the very beginning.
Project launch ceremony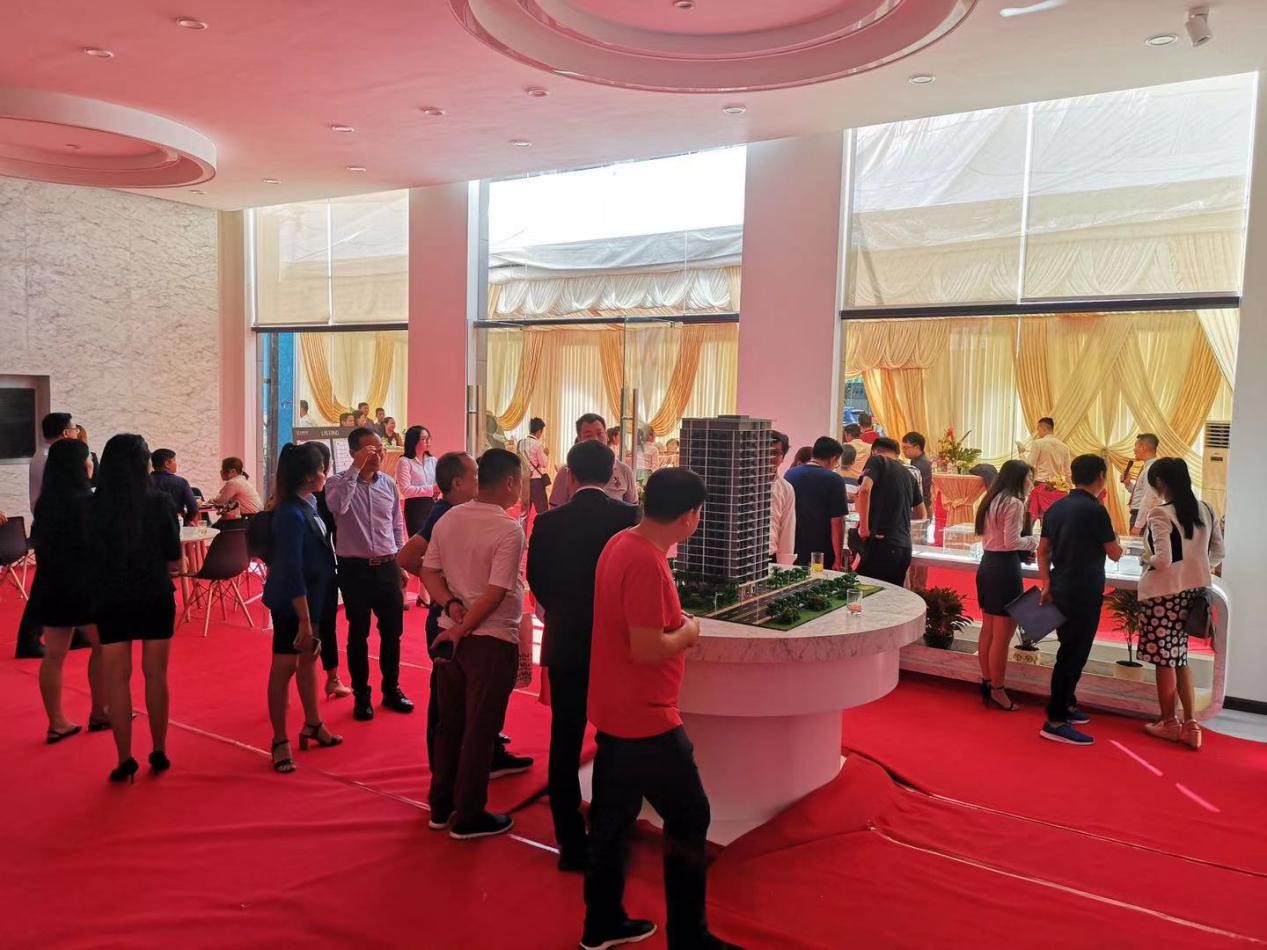 The grand opening of V-House's sales period was held on October 21 at its office along Phnom Penh's road 1986. Kicked off by a traditional Buddhist blessing, the event featured speeches, a ribbon cutting and official launch of the project.
Additionally, guests were welcomed to chat and share their insight on the V-House project. Many discussed property investment in Cambodia and the general state of the industry. The idea of the new Phnom Penh was on everyone's mind at the exciting event.
Indeed, V-House sits adjacent to two of the hottest areas of the capital. Sen Sok district has seen countless new businesses flourishing and Tuol Kork district is becoming an affluent residential hub. The project aims to be a part of this momentum that is set to send property values soaring.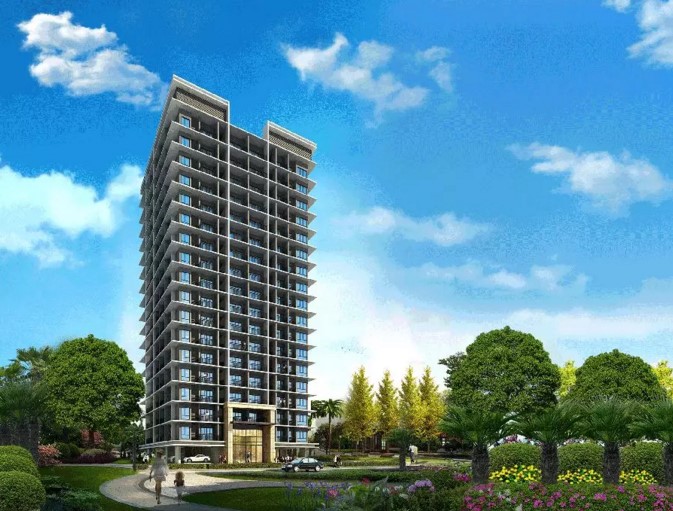 Chic styling and a wealth of unit types are two factors that make V-House stand out from the pack. The high-rise project is sure to become a defining feature of Phnom Penh's skyline. Every unit offers a stunning view of the urban landscape from a private balcony. Modern design blends with practicality here to create a unique home within an elegant community.
Construction with the highest standards in mind, V-House has a fitness room, infinity swimming pool, vast parking lot, 24-hour reception area and British butler service. Residents will be catered to with both professionalism and personality.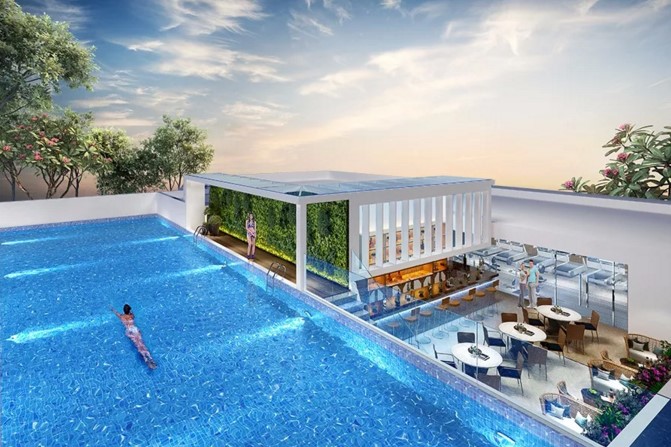 The location of V-House serves as one of its strongest features. Sitting at the centre of new Phnom Penh, the complex is in a cosmopolitan business hub. Phnom Penh International Airport is just a 12 minute drive away. TK Avenue, Aeon 2 and Makro shopping centres are just three minutes away. 
Schools are near at hand as well. Phnom Penh Art Institute, PUC Foreign Languages School, Zaman English University and Limkokwing University are within arm's reach. Urban amenities such as medical and financial institutes, cinemas and sports clubs are all nearby.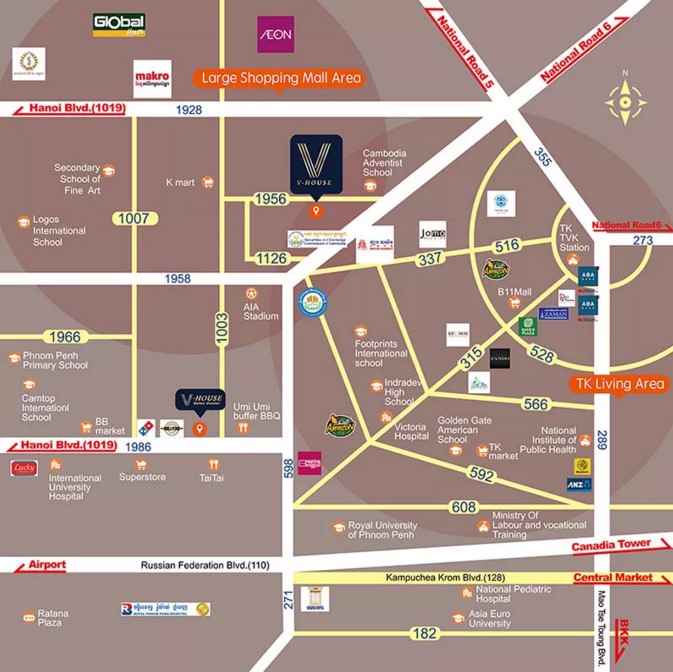 Project details
V-House serviced apartments are jointly developed with Zhonglian International Industrial Co Ltd. Founded in 2016, the project is a collaboration between a local developer and one from Macau. The project was launched last month.
Spanning 19 storeys with 235 total units, the complex offers one- and two-bedroom suites that range from $38,000 to $90,000. The first type of unit offers one bedroom, kitchen and balcony and has a gross area of up to 40.35 square metres.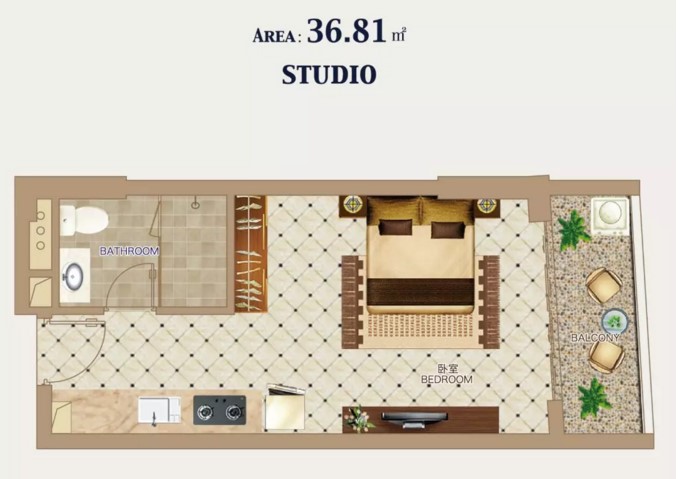 The next type offers a similar layout but has a more spacious layout and reaches up to 57.52 square metres.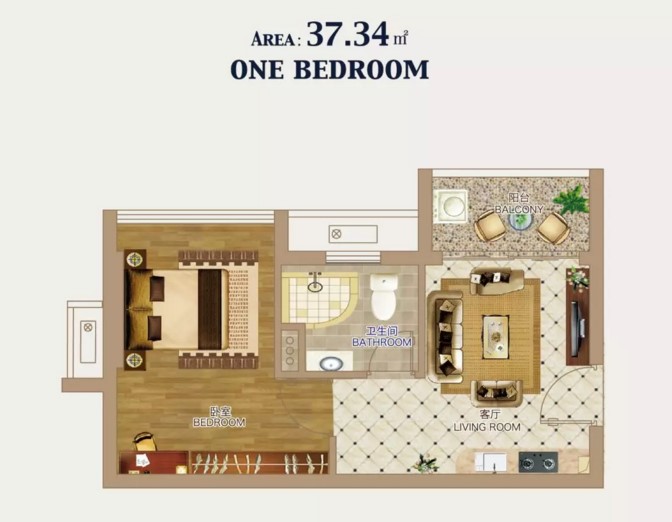 The most premium type of unit has a living room, two bedroom, a kitchen and two balconies. It has a total area of 68.08 square metres.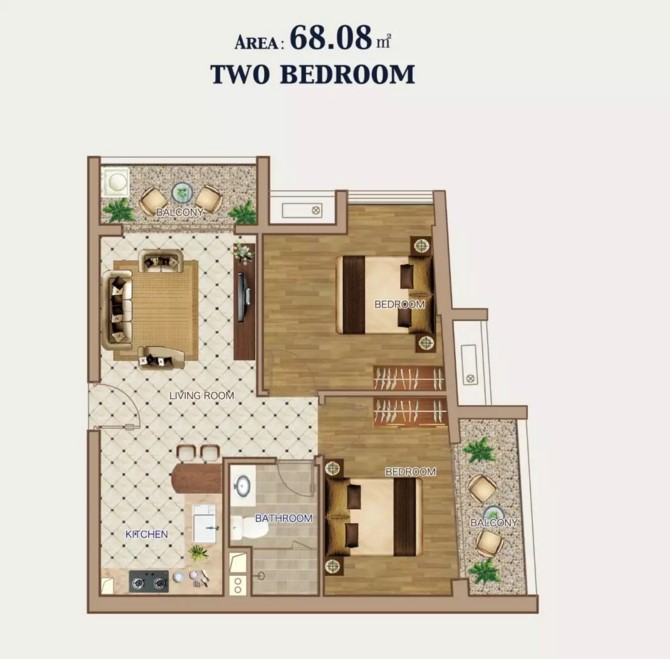 Since the launching of the sales phase, the developers of V-House have already hosted 168 visitor groups. The massive interest in the project is undeniable. Potential buyers are already signing up.
Whether you are buying a home or making an investment, there are high returns on the horizon. With a simple 10% down payment, you can get an affordable unit and set up success for your future.
China's One Belt, One Road policy is ramping up every day. The Cambodian economy is rising at a breakneck pace and now is the best time to get into the real estate market. Don't let all this progress pass you by!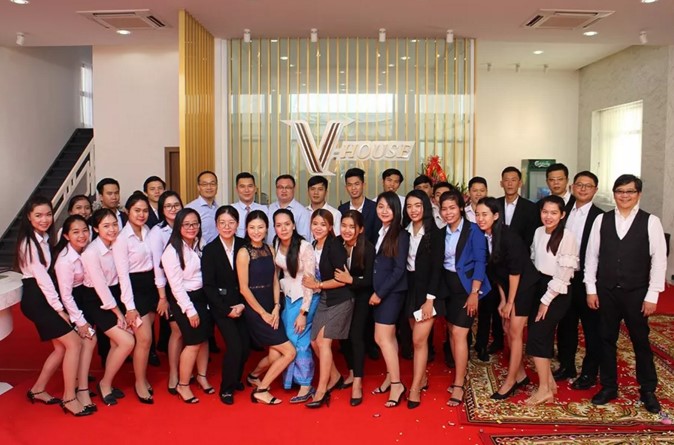 Get more information about V-House