The dramatic changes to the retail landscape of the main urban hubs in Cambodia are also seeing changing habits of the consumers, and the increase in the income and the number of HNWI (High Net Worth Individuals) are helping shape the retail planning and sprawl of the cities.
New mall developments such as the Chip Mong Sen Sok Mall, Chip Mong 271 Mega Mall, Prince International Plaza, and AEON 3 are a small snapshot of the type of new shopping mall and customer experience that are springing up in the Kingdom.
CBRE Cambodia Market Insights for Q3 2022 suggested that retail occupancy was around 70% and that brick-and-mortar retail outlets remain in strong demand, which is contrary to several developed city centres where many high street shops are in decline.
In Cambodia, competition has also been heating up with grocery retail stores too. Franchises like 7-Eleven have quickly expanded in Cambodia and even Prince Supermarket is looking to radically grow and open more than 100 franchise stores by the end of 2023 and with 150 planned by the end of 2024 in a very competitive market.
Makro has doubled down on its market capitalisation with its huge megastores, with plans to have as many as three locations in the capital (the most recently just opened in Chroy Changvar last month).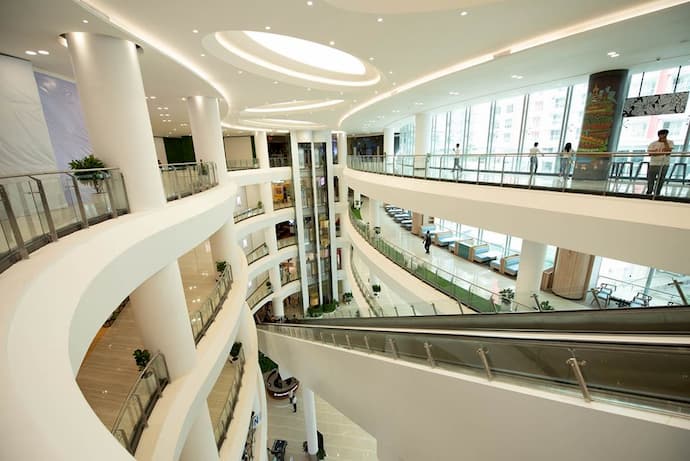 Retailment in Cambodia
The latest reports from The Mall Company shed some insights on the growth of the retailment and leisure space in Cambodia - retailment is a combination of retail and entertainment. The concept aims to drive immersive experiences at retail centres to bolster foot traffic.
In addition to standalone leisure destinations (minigolf, parks, immersive museums), there are a wide range of malls incorporating new Indoor & pool amusement parks, aquariums, or other tech-embracing amusement parks.
The November 2022 Retail Insights - The Mall Company suggests:
By Q3 2022, the existing supply of retailtainment-related trade in Phnom Penh reached 33,310 sqm.
Cinemas in the capital now account for 78.4% of the total existing supply of retailtainment by Q3 2022 (26,101 sqm).
Indoor playgrounds, indoor theme parks, arcades, and bowling centres occupied the next biggest areas of retail space in Phnom Penh.
The Mall Company report also concludes that 77% of millennials prefer to spend on experiences over goods and 40% of Gen Z's prefer to spend on experiences over goods.
Simon Griffiths said of the latest report "AEON 1 is a traditional shopping mall format. AEON 2 went much further introducing 'retailtainment' as a core concept throughout the mall. With Aeon 3 launching shortly - watch out for AEON 3 going even further with this concept and taking the idea to a new level."
Of interest was the conclusion that "new performance metrics such as experiences per square meter will become more prevalent in the future" and that this space is still in its infancy locally but there is an expectation landlords will "raise their game" with regards to innovation and diversified offerings.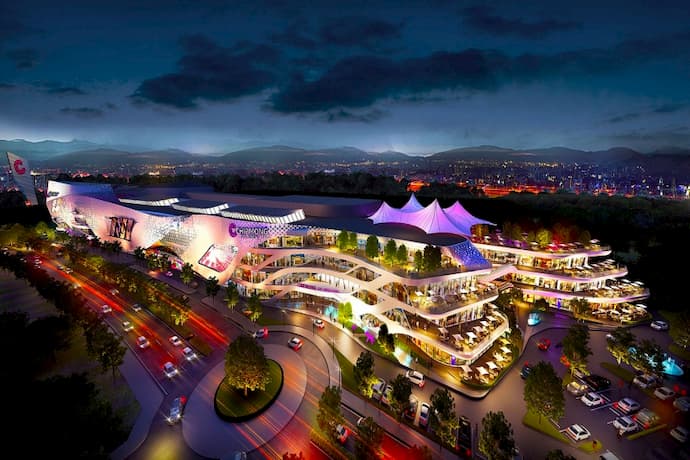 Rise of the Malls in Phnom Penh
The rise of the malls in the capital, especially congregated in certain areas of the city have forced the development of new access and transport routes (infrastructure) and even are enticing urban housing developments to spring up in the vicinity.
In the south of Phnom Penh, the Chip Mong Megamall 271 and Aeon 3 are both huge modern malls - with US$ 2.2 billion of investment being spent on public infrastructure - the area of the city is attracting large-scale real estate investments.
The Retail Insights Edition 5 provides just one snapshot of this retail growth in the south of the capital which encompasses Meancheay and Dangkao districts. In summary, the area has seen:
5 completed and open modern retail centres.
3 modern retail centres are currently under development.
1 modern retail centre is currently on hold.
In total, 9 modern retail centres are expected by 2024.
In the space of a few years, the amount of retail space has grown from around 10,000 sqm in 2019 and has reached 82,843 sqm in 2022. An expected additional 157,902 sqm of new retail supply is due to be added between 2023-2024.
On the positive future outlook of the capital's south, the report added: "Having a comparatively small supply of modern retail for many years, South Phnom Penh will see a substantial increase of modern retail space over the next two years. With the advent of major new retail centres, the Phnom Penh; south supply will increasingly outpace demand, creating a highly competitive retail landscape. With such significant increases in modern retail supply by 190.6% going forward into 2024. Downward pressures on retail rents will likely occur, especially for non-prime locations within existing and new retail projects."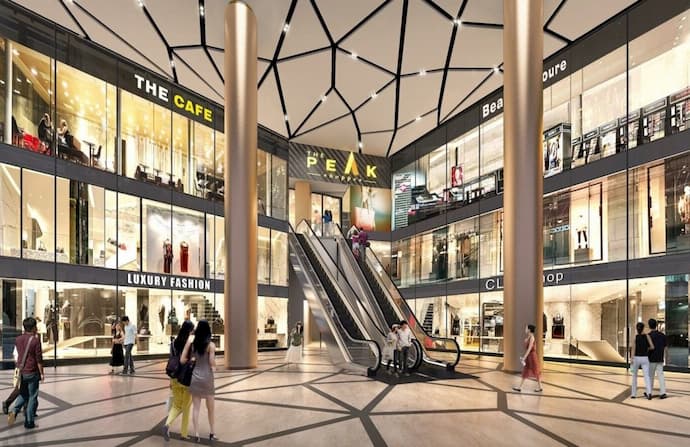 Luxury Retail Set to Expand
Throw in the government's re-assurances that the Kingdom will be a high middle-income country by 2030, as well as the enticing investment laws and good economic growth predicted, and there are also an increased number of HNWI (High Net Worth individuals). The Capgemini report in 2021 indicated Cambodia is now home to more than three thousand millionaires - retail and franchises also need to consider this shifting consumer wealth and dynamics.
Food and beverage, and fashion remain the dominant market share expansion in Cambodia's retail growth.
The Naga 3 complex continues its skyward development, but initial plans were for the site to also connect to the already existing underground and duty-free NagaCity Walk shopping mall which connects NagaWorld and NagaWorld 2 and offers several mid and luxury range brands.
Local business and market partner Confluences also announced its partnering with luxury retail giant Bluebell and the consultancy CGHP Beespoke to launch the first French luxury market in Q1 2023 at The Peak - a shopping mall covering more than 12,000 m2. "Le Beau Marché Français - In the mood for Spring" is set to launch from March 17-26, 2023 and this is expected to be a precursor to the grand opening of the shopping centre scheduled for September 2023.
Stepping outward with a view to regional headwinds and opportunities, Knight Frank in their Asia-Pacific Outlook 2023 sees the region as a bright spot and foresees that "across much of the region, growth momentum will continue to normalise".
There undoubtedly will be challenges and growing pains in Cambodia, but a more diverse, more consumer-conscious retail market, increasing expendable income, and developers and retail property owners keeping their fingers on the pulse of future tech and utilising immersive experiences all bode well for a retail scene that is expected to make massive leaps over the coming years.