Realestate.com.kh is extremely proud to sponsor and support the BritCham & IBC Luncheon and Panel Discussion on Property Valuation in Cambodia: "Addressing the Gaps."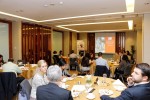 The development of the Cambodian valuation industry is a core factor is creating a sustainable real estate market.
BritCham
and
IBC
in partnership with the Royal Institution of Chartered Surveyors (RICS) and the
Cambodian Valuers and Estate Agents Association (CVEA)
would like to welcome you to a focused business luncheon on the topic of valuation of property in Cambodia:
"Addressing the Current Gaps."
Join us
on Tuesday 19th April with our panel of experts who will share their perspectives, followed by an open discussion with the audience on the state-of-play of valuation in Cambodia.