Despite recent announcements of large development projects throughout Cambodia focusing on so-called "affordable housing" for the middle class market share, there remains a massive gap in the market for quality affordable housing opportunities for the poor; especially the urban poor. As land prices rocket in Cambodia's wealth centers, those in need of lower-class housing are effectively pushed further and further from worthwhile economic livelihood opportunities.
Accordingly, Post Property spoke with two NGO's currently seeking to fill this gap in the housing market, and discovered a common theme: the need for co-operation and a culture of constructive dialogue between the private, public and NGO sectors. 
Read a related story on realestate.com.kh today
Habitat for Humanity International is present in 70 countries worldwide, seeking to eliminate poverty housing and homelessness from the world. Habitat believes that every person should have a decent, safe and affordable place to live. [caption id="attachment_79030" align="alignleft" width="300"]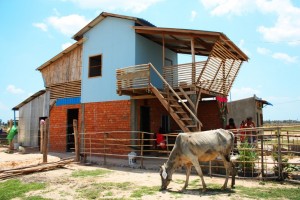 The two-story stilt "Framework House" measures a total of 80 square meters in area, and features recycled material which is used as cheap insulation. It costs just $2500 to build.[/caption]
As Kif Nguyen, national director of Habitat for Humanity Cambodia stresses, "Research shows that about 2 million houses in Cambodia do not meet minimum quality standards when it comes to design, durability, access to water / sanitation but also land tenure. Sub-standard housing is one of the key bottleneck to inclusive, sustainable development across the nation – because poor housing in not only the consequence of poverty, but also a critical root cause."
Furthermore, says Nguyen, "By 2030, according to the National Housing Policy, Cambodia will need 1.1 million more houses to fulfill demand, and the vast majority of this demand will come from the lower-class particularly in urban areas." Building Trust International, a UK registered NGO, offers building design assistance to communities and individuals in need. David Cole, CEO of Building Trust International which has offices in Cambodia, believes that "housing can be a tool to inspire family/community investment in areas long after the initial projects are complete - through incremental housing design; and in the formation of jobs and training." In Cambodia, both of these NGOs provide support for sustainable housing solutions that can meet the needs of the growing urban and rural poor. They also increasingly promote transformational community development through financing low income home loans, and encouraging support for their projects from both the private and public sector. A recent project in which Habitat and Building Trust has co-operated on in Cambodia is the design and implementation of the "Framework House" project, a highly sustainable, affordable house built from local bamboo and wood, costing the end buyer just US$2,500. Cheap, but highly innovative, these homes are designed with Cambodia's unique environment in mind. Internally operable shutters help encourage air flow, and passive ventilation throughout the house. Further, large, overhanging roofs are integrated into the design to enable each family their own rainwater collection source. The design and testing phase for the Framework House is complete, and the two organizations are turning their attention to higher-density multi-storey social housing design for urban areas. Yet, both organizations understand that to implement these affordable housing schemes on the mass-scale, assistance from the public and private sector is crucial. [caption id="attachment_79028" align="alignleft" width="300"]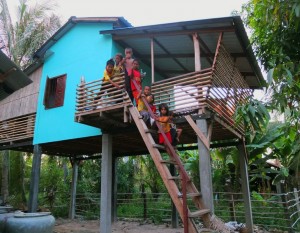 Each "Framework House" comes equipped with a small solar panel that provides sufficient energy to charge a mobile phone or power a water pump, and within the house a solar powered light provides safe and sustainable illumination inside.[/caption] The Government is helping already, says Nguyen, and there is some genuine willingness to upscale our collaboration. In Battambang, Habitat worked in partnership with local Government to facilitate the delivery of secure land tenure to families who have lived precariously for many years on a large piece of public state land. This process of gaining secure land tenure is just the first step for sustainable housing development, laments Nguyen, "and it wasn't easy. But, it can be done." After each family receives a land certificate Habitat then helps with the on-site development of quality houses and collective infrastructures such as roads or drainage system.
"Provision or subsidies of land is the key. We have the technical solutions – we can build affordable homes of high quality, as Habitat has done around the world, but as land prices soar in urban areas, we need support from the public and private sector in gaining access to land in adequate locations and at prices  which won't exclude the low income earners from the market."
Through "Land Sharing" initiatives in which the three sectors genuinely co-operate, Nguyen firmly believes all Cambodian's could have a decent standard of living. "The NGO sector has the knowledge of social housing and technical ability to design these projects; the private sector has the money; and the Government may facilitate  access to land. If we create a culture of co-operation and constructive dialogue between these three sectors, we can change the status quo – and everyone can win." Market Development is also another string on Habitat's bow in Cambodia, as the organization supports low-income families in gaining access to home loan finance. "We helped 6000 families' access home loans last year alone, but with increased support from the government, we have the potential to bring home financing to the masses. It is a viable market, and the largest share by far – but it requires more understanding and education throughout the lower-class and within the micro-financing industry." "In Cambodia's three main urban centers, namely Phnom Penh, Battambang and Siem Reap, existing communities will need a portion of subsidized land for low cost, affordable housing or else today's baby boomers will be priced out of the highly inflated, speculative land prices - which is increasingly what we are seeing," says Cole.  Currently, the rapid urbanization being seen in the city suburbs are pushing organizations like Habitat to look as far afield as Oudong when seeking affordable land to house families in need.
"Whilst it is good to hear that people are talking about investment in affordable housing without government subsidies, says Cole, "the cost of units in these projects will still exclude many key workers and service professionals, or indeed lead to unsustainable debts and the social problems that follow."
"If real affordable housing of a good quality is to be achieved in urban centers such as Phnom Penh, we believe that the government must either provide land at a subsidized rate for building, or allocate land and build municipal housing with the support of organizations like Building Trust and Habitat - with fixed rents being paid to the government to recoup costs, maintain and build further affordable housing projects," confirms Cole.
If the Government makes this a priority, says Cole, "this will set the bar for foreign investment firms and public/private partnerships."
Read a related story on realestate.com.kh today