Plans have been submitted for a super skyscraper to be built in Phnom Penh which would make it home to the tallest building in Southeast Asia (ASEAN) in 2019 should it be completed.
The Thai Boon Roong Twin Tower Trade Center is being jointly developed by local firm Thai Boon Roong Co., Ltd and Chinese giant contractor Kia Nip Group. The development has been revised upwards from a proposal submitted to City Hall in June 2015 of 111 floors worth $3 billion to a new design of 133 floors worth over $1 billion.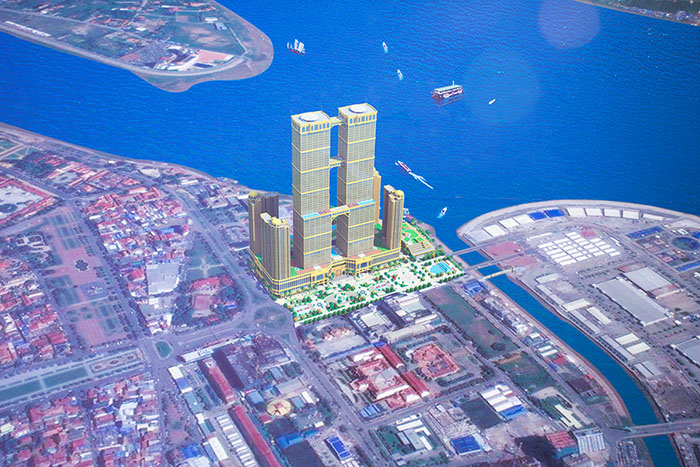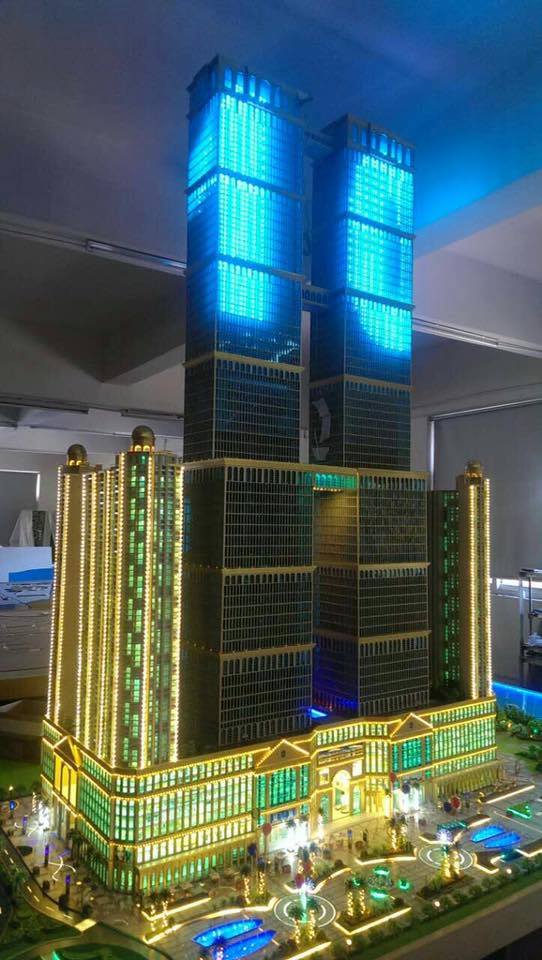 The capital's Land Management Urban Planning and Construction department and the Phnom Penh municipality consecutively endorsed the revised master plan in mid-February. The plan has already been submitted to the Ministry of Land Management Urban Planning and Construction for a final study that is expected to take at least 45 working days before a final decision is released.  If final permission is granted, construction is planned to kick off later in 2016 with completion scheduled for 2019. The project is expected to become ASEAN's Tallest Tower
The Thai Boon Roong Twin Tower Trade Center is to be situated on the five-hectare Dream Land plot in Tonle Bassac commune and will feature commercial office space, a cultural centre, hotel, retail and shopping centres and many more entertainment facilities.  
If completed, the structure will be ASEAN's Tallest Tower ahead of Malaysia's Petronas Twin Towers (452 metres with 88 floors), Vietnam's
Keangnam Hanoi Landmark Tower (345 metres and 77 floors), Malaysia's Menara Telekom Towers (310 metres and 55 floors) and the 304-metre
Baiyoke Tower II in Thailand with 84 floors.  
It will also be the 5
th
tallest high-rise in Asia as well as in the world following the UAE's Burj Khalifa (828 meters), China's Shanghai Tower (632 meters), Saudi Arabia's Makkah Royal Clock Tower Hotel (601 meters) and Taiwan's Taipei 101 (509 meters).
However, if the 555-metre Diamond Tower proposed by Overseas Cambodian Investment Corporation (OCIC) in 2010 is successfully built on Diamond Island, the tower will rank only second in Phnom Penh.  
While such high-rises are usually welcomed by the public, building safety systems - especially related to fire prevention - are usually the main concerns due to the fact that the Cambodian authorities still have limited capacity and legal regulation in dealing with safety issues on tall buildings, let alone super-skyscrapers.
Prof. Tous Saphouen, Secretary General of Board of Architects Cambodia and also the Dean of Pannasastra University of Cambodia's Architecture Faculty was involved in the architectural design of this project. He told local media that the development was the result of a very detail architectural study done by experienced Cambodian and Chinese architects.
According to Prof. Tous, giant Chinese constructor and main contractor Kia Nip Group has developed many high structures especially in China. Since it is the first super-tall building in Cambodia, the developer it is not sure whether local firms can be sub-contracted to parts of the building works.
According to data from the Ministry of Land Management Urban Planning and Construction, 628 buildings ranging between 5 and 40+ floors have been erected in Cambodia so far. Among them, 407 buildings are between 5 and 9 floors, 187 buildings are between 10 and 19 floors, and 22 are between 20 and 29 floors. Only four towers surpass 40 floors.
Phnom Penh Governor Pa Socheatevong has indicated that Phnom Penh will attract more high-rises in the next few years, especially in the area surrounding Diamond Island, and in Chamkar Morn and Daun Pinh districts.
Despite general industry enthusiasm for the project, questions continue to be raised about not only the viability of the project for the Cambodian market but also about whether due diligence will be followed in the approval, investment and construction of the project.
This article was submitted by: Tim Vutha,
Construction and Property Magazine