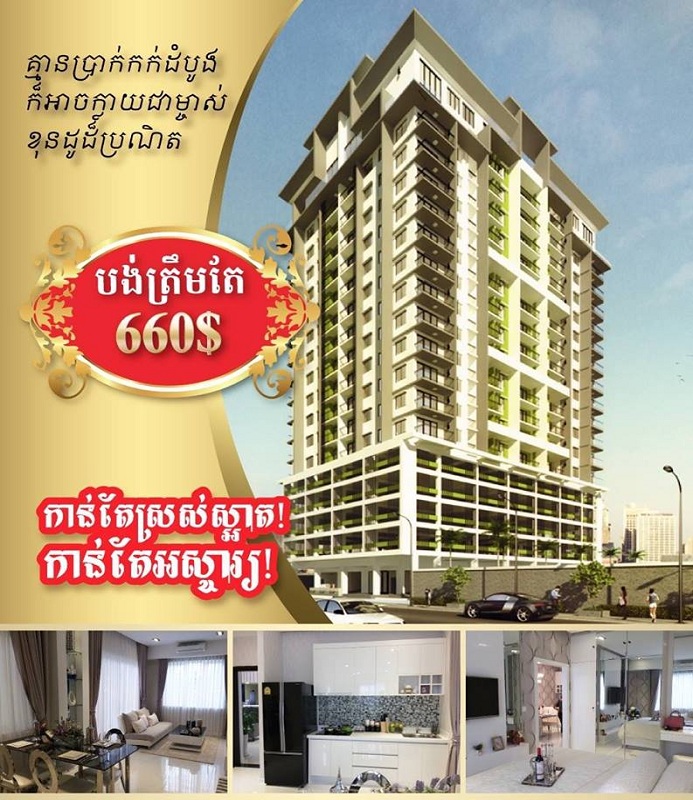 Realestate.com.kh caught up with Mr. Ouk Chandaravuth recently at the B.T.S Condominium showroom at the Russey Keo district to talk about the condominium project in detail.
Chandaravuth is the Marketing and Sale Director of the Borey Villa Toul Sangke Group. He discusses the current state of the development and why it's an attractive choice for both personal and investment purposes.
Here's what he had to say:

1. Tell us about the location of Borey Toul Sangke Condominium?
The B.T.S Condominium development project has gained popularity, mainly due to the developer's success in selling its past projects. It is strategically located in the Russey Keo district in Phnom Penh. Residential units such as condominiums are offered in this area.
The Borey Villa Toul Sangke project also includes a variety of villas and condominiums that come in different sizes. Each and every home has been designed by construction professionals, with quality and beauty in mind. Attention to detail is also obvious. Some of the villas that are available are the Single Villa, Link House, Twins Villa, and Flat houses. Families will also have the option to choose the City Sangkeo Villa type, as they see fit.
2. What types of units are available and at what price ranges in the Borey Toul Sangke Condominium project?
174 residential units with a variety of sizes are available. The interiors have been uniquely designed by a team of experts, and finished with high quality construction materials. Units at the B.T.S Condominium development start from $40,000 per unit. All units are packaged as one-bedroom spaces, beginning at 50 square meters up.... (We have different size). It also has a smart design, with fittings that allow a unique, spacious, and modern layout throughout each unit.
3. How are the sales to date?
Around 3 months after the launch date, about 30 percent of the units had already sold. We have proven to the market that the local project has gained the trust of both international and local buyers.
4. What is the parking situation like?
The B.T.S condominium provides comfort for every resident. The number of parking spaces add up to about 85 percent of all the units and also have security features in place. This is the highest parking space ratio, compared to other recent high-rise buildings in the area.
6. Do you have bank loans available or other payment methods?
We don't have any loan schemes in place with a bank, but we have a special method in place for people interested in the B.T.S condominium. The developer provides the ultimate offer by asking customers to only pay $660 per month, with no interest and no deposit.
7. Tell us about the unique features of this project?
The B.T.S condominium is on a great location, in Russey Keo. It is situated in the business district and sits close to main roads, government institutions, shopping malls, sports clubs, banks, hospitals, schools, and entertainment facilities. More importantly, it's also located close to the Toul Sangke Market.
It promotes a high standard of living through its fully furnished units – comparable to a 5-star hotel. The B.T.S condominium project also provides a range of amenities such as swimming pools, a sauna, a gym, a small market, and a golfing club. So, families will never run out of things to do in this project.
8. Why is the Borey Toul Sangke Condominium project better than the others?
When people visited the B.T.S. Condominium showroom, they were surprised to see the quality and the workmanship of the unit. We focused on the quality and the best standards of living for families. This is the 3rd project after two successful ones that the Borey Villa Toul Sangke did. People will find interest in it because it offers better standards.
A home is important for everyone. So, if you decide to buy one, it must be done carefully. So, if you're considering to live in a luxury residence with a high standard of living, surrounded by a secure and peaceful community, take a look at the B.T.S. Condominium project.
Check out the full B.T.S. Condominium listing on realestate.com.kh