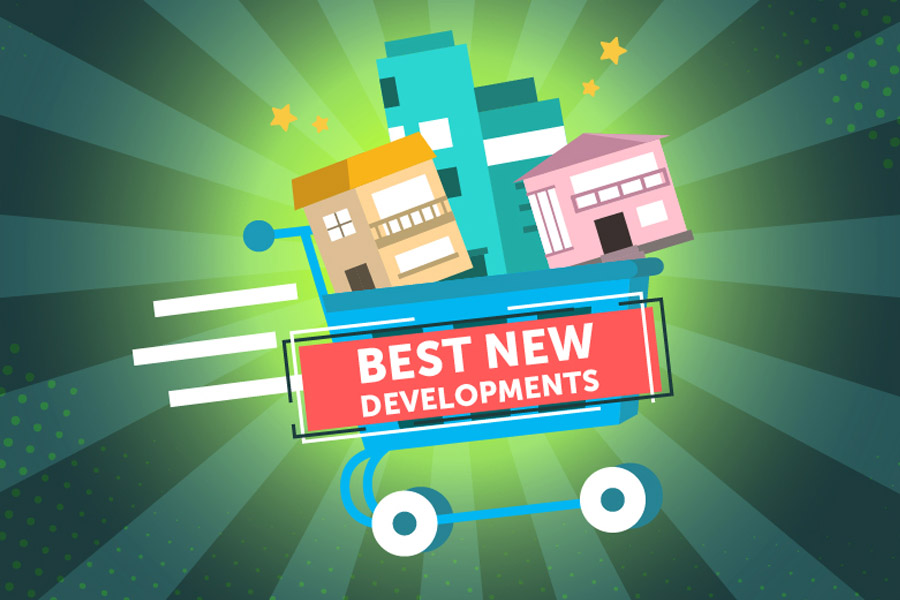 Looking for a home is a lot easier and definitely more affordable now than ever.
And Realestate.com.kh's Black Friday Property Sale is where you can find the top developments in Cambodia at the best possible prices. These are the first of many other top developers from across the Kingdom that have signed on and you're an exclusive preview of your possible dream home!
1 Chhne Dara Chan 
Chhne Dara Chan is the first large-scale property development on sale located in the central area of the Stardream Coast in Koh Kong. Its developer, Union City Development, designed Chhne Dara Chan after a holiday lifestyle and will become an icon of Southeast Asian community living consisting of low-density private real estate, hotel & resort, international commercial complexes, and leisure establishments surrounded by lush greeneries - almost sounds like a paradise, doesn't it?
Chhne Dara Chan is set to finish construction in 2021 just in time to ride Cambodia's increasing appeal as a tourist destination. Investors interested in the property are given a 7% Guaranteed Rental Return by the developer.
2 Baoli Mansion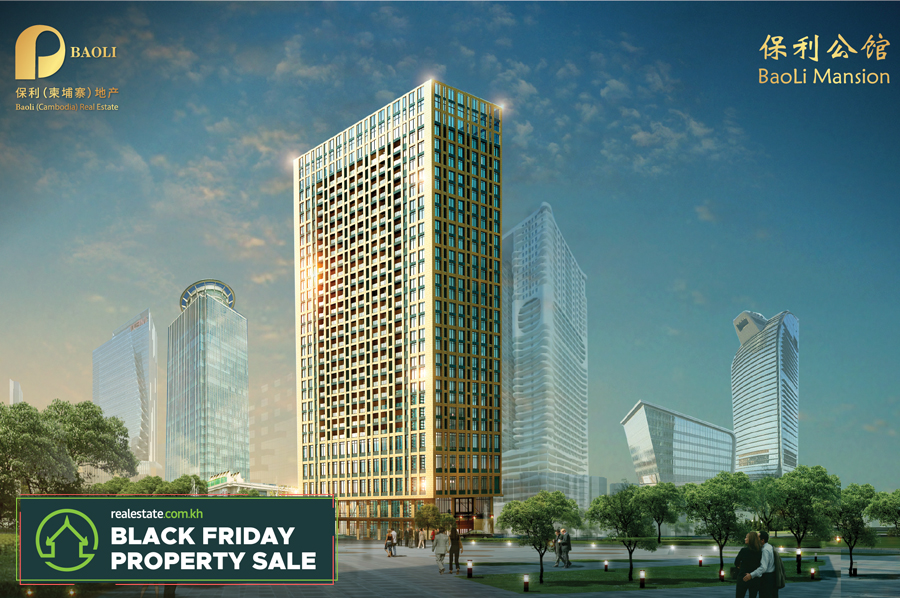 Baoli Mansion is an iconic development located at the center of Phnom Penh. Its developer, Baoli (Cambodia) Real Estate Co., Ltd., is a major Chinese developer rolling luxury, comfort, and beauty into one development. Its home features are complemented by many of the city's offerings perfect for families and young professionals looking to be at the heart of everything - an opportunity that makes Baoli Mansion an enviable place to be.
Baoli Mansion has luxury units with spaces up to 55sqm. It's also a one-stop-shop for all paperwork required by tenants and investors alike - the latter of which can get a 15% Guaranteed Rental Return!
3 Phnom Penh Galaxy Garden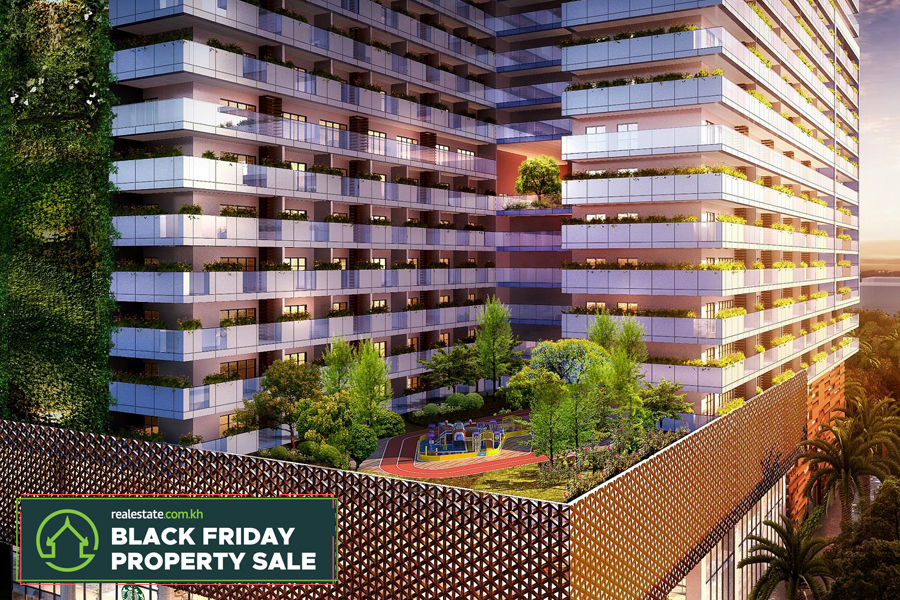 The Phnom Penh Galaxy Garden is a modern-inspired development located in the Sen Sok district. Developed by Jingdi Group, Phnom Penh Galaxy Garden focuses on amenities and facilities designed to transform your lifestyle into an even more comfortable one - with up to 48sqm units available! Sen Sok is a newly developed area ideal for families, businessmen, and even young professionals looking to live all the city has to offer.
The Phnom Penh Galaxy Garden is expected to finish by 2023 and its developer guarantees a rental return of 6% to investors.
4 Vue Aston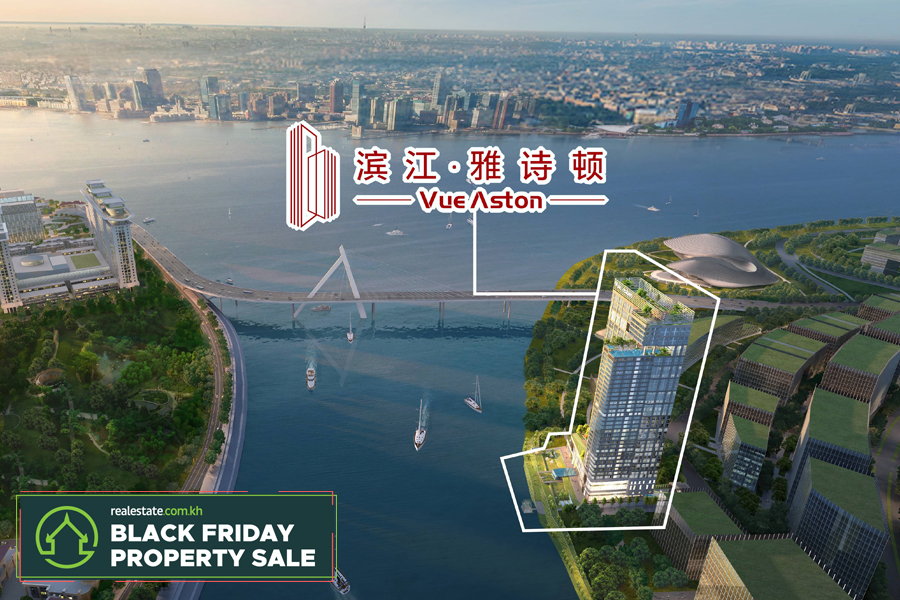 Vue Aston is a high-rise residential project in Chbar Ampov district with a great view of the mighty Mekong River. While away from the city center, it does still offer the same comforts without the hustle-and-bustle associated with the booming capital city. Vue Aston offers a variety of units in different sizes that could meet the requirements of people from all walks of life. They are complemented by facilities meant to complement your style of living.
Vue Aston is a peaceful area surrounded by cafes, shops, banks, and enviable vistas afforded to those lucky enough to get a deal here! Vue Aston offers great value for money you should definitely check out.
5 Garden One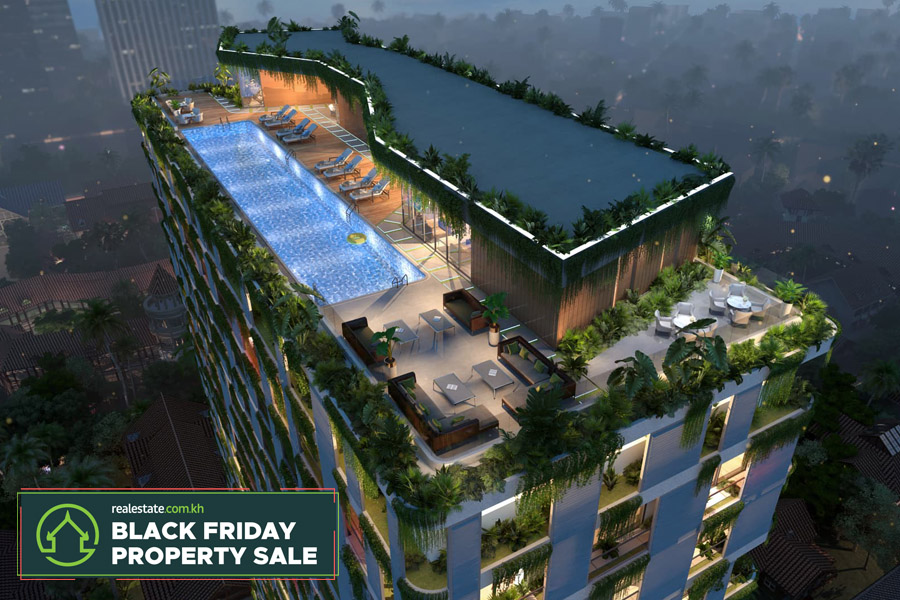 Garden One is the premiere eco-focused development within the expanding concrete jungle of Phnom Penh. Cool breezes with lush greenies surround residents of Garden One and provide them with a sense of relaxation so treasured by many city-dwellers. Amazingly, it's able to maintain this serenity even by being located in Toul Kork! A known busy district with no lack of commercial and entertainment options.
Garden One is expected to be completed in 2022 with its developer, JianZhong YuTong Co.,Ltd, offering investors a 6% guaranteed rental return.
6 Wealth Mansion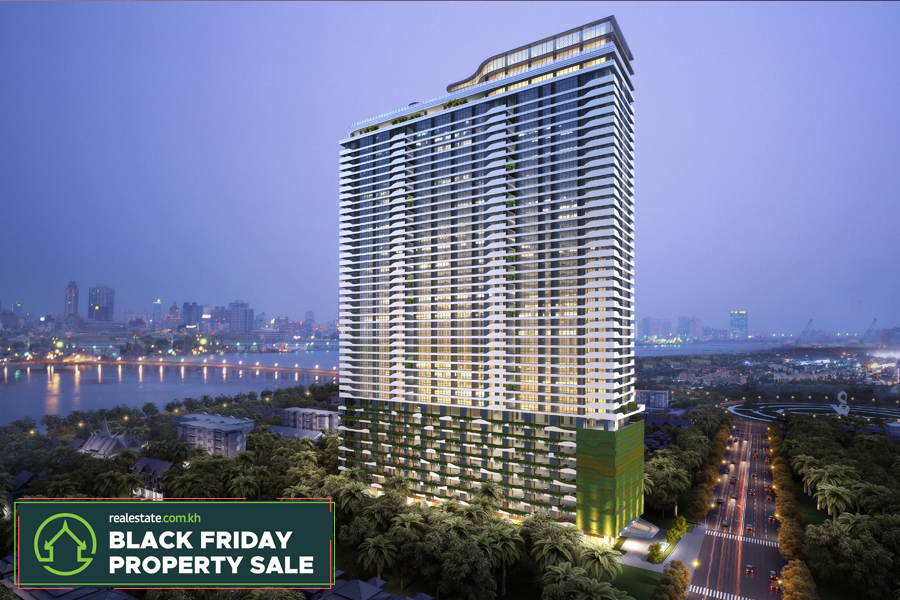 Stores of wealth have become a recently important topic these past few months. And if you're looking to protect yours, property in Wealth Mansion offers shelter for both you, your family, and their future. Wealth Mansion, as a residential property, offers a simple approach to modern living by making good use of sprawling spaces of up to 139sqm for a single unit. Amenities and facilities are elegantly designed yet very practical in everyday use.
Wealth Mansion offers savvy investors a guaranteed rental return of 6% over 3 years. Garden One will soon be handed over to buyers in December 2021.
7 Romdoul City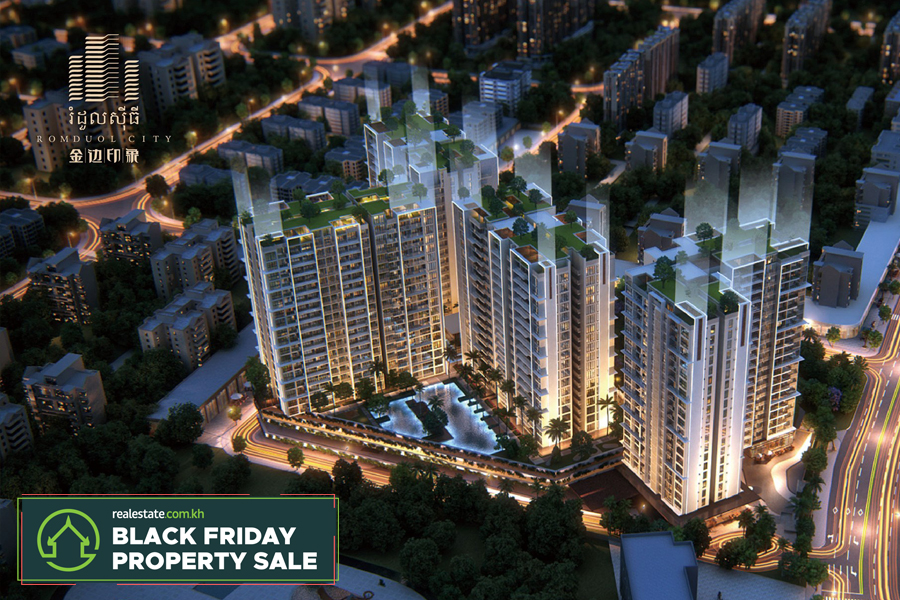 Romdoul City is a multi-tower condominium development in Sen Sok right along the Russian Federation Boulevard. Its developer, Romdoul Development, designed the project with families in mind as it is surrounded by markets, schools, hospitals, and shopping centers. Luxury living is well within reach in Sen Sok, all without breaking the bank.
Romdoul City's units are flexible when it comes to the needs of its buyers and are provided with basic equipment that can accommodate various lifestyles and family sizes.
8 Leshen the Lord Garden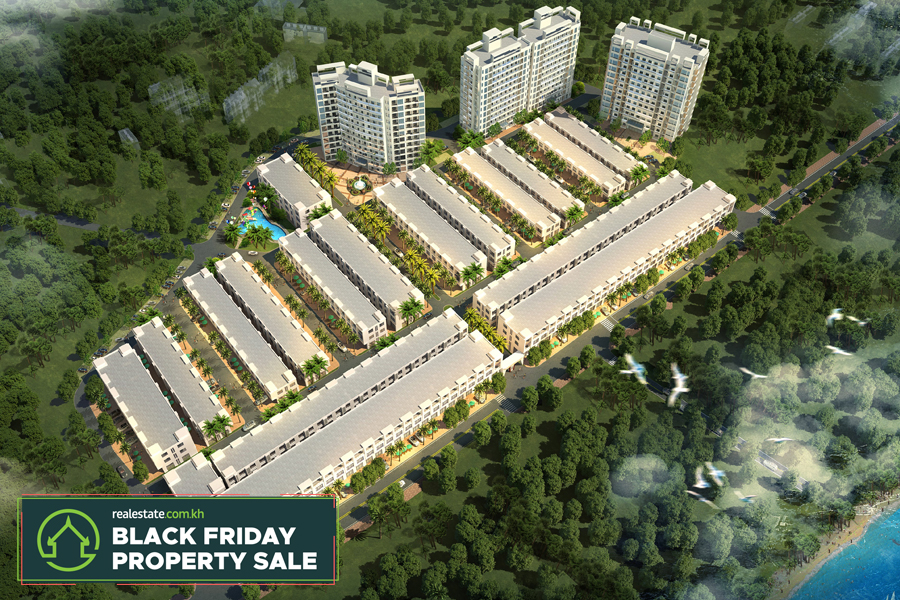 Rapid developments in Sihanoukville have made it a hotspot for new and savvy investors in South East Asia. Leshen the Lord Garden, developed by Leshenwe Real Estate Development, is a new residential project consisting of boreys and low-rise apartments - signifying Cambodia's growing property market. It is surrounded by schools and markets, with the added bonus of being near Cambodia's premier beachfront!
Leshen the Lord Garden is set to be completed by 2020, further adding to Sihanoukville's increasingly impressive collection of residential and commercial investment opportunities.
9 Urban Village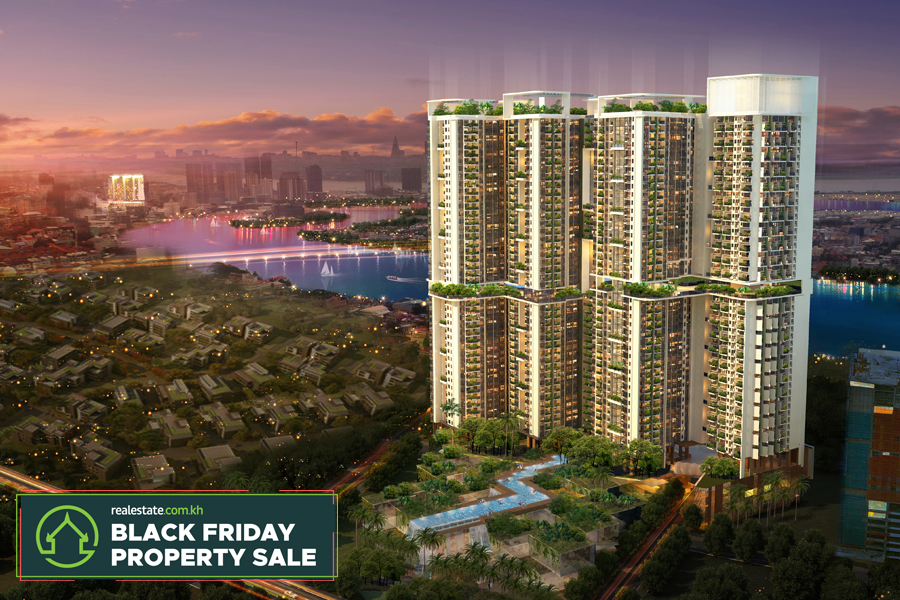 Affordability and luxury, two words you wouldn't see in one sentence. But Urban Village, co-developed by Urban Living Solutions and Goldfame Group, has brought this new brand to Phnom Penh's vast residential market. It is located in Meanchey district, towards the south of the capital city's center. Its in-house comforts are complemented by the many establishments that surround it such as the AEON Mall, Sofitel, and of course, the modern conveniences of being close to a CBD.
Urban Village has begun its handover operations but there are still units with sizes up to 148sqm. Families and young professionals, looking to establish a good life are bound to see success in Urban Village.
10 Bodaiju Residences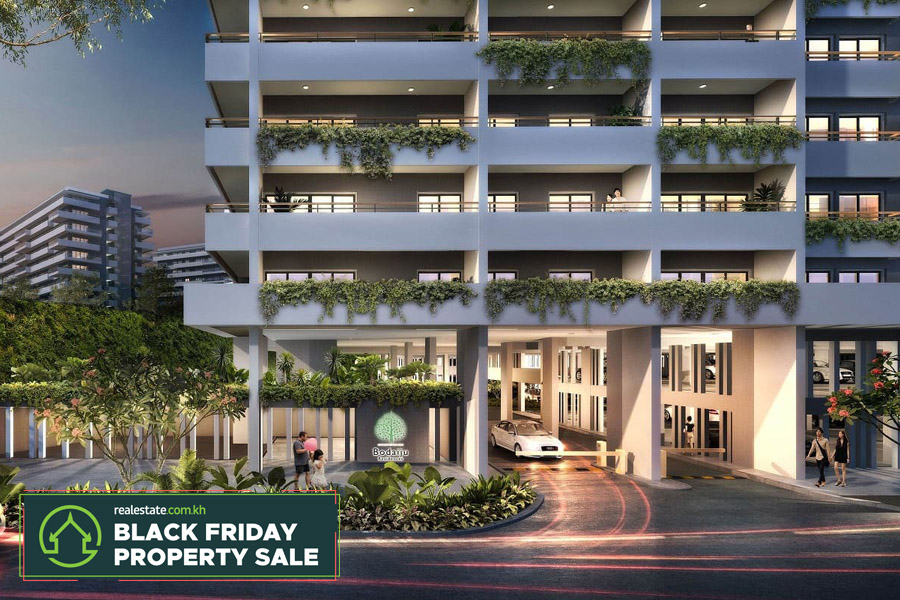 The Bodaiju Residence is the first and biggest Japanese residential development in Cambodia. Located in Por Sen Chey district, it is close to many of Phnom Penh's top schools and is surrounded by many dining and shopping options - a combination ideal for many families and would-be ones! Bodaiju was completed in 2018 and was designed by a team of Japanese and French architects.
Family comforts and amenities can be found all throughout the property. And with Cambodia's continued growth, Por Sen Chey is set to be one of the upcoming residential picks of both local and foreign buyers.
11 One Park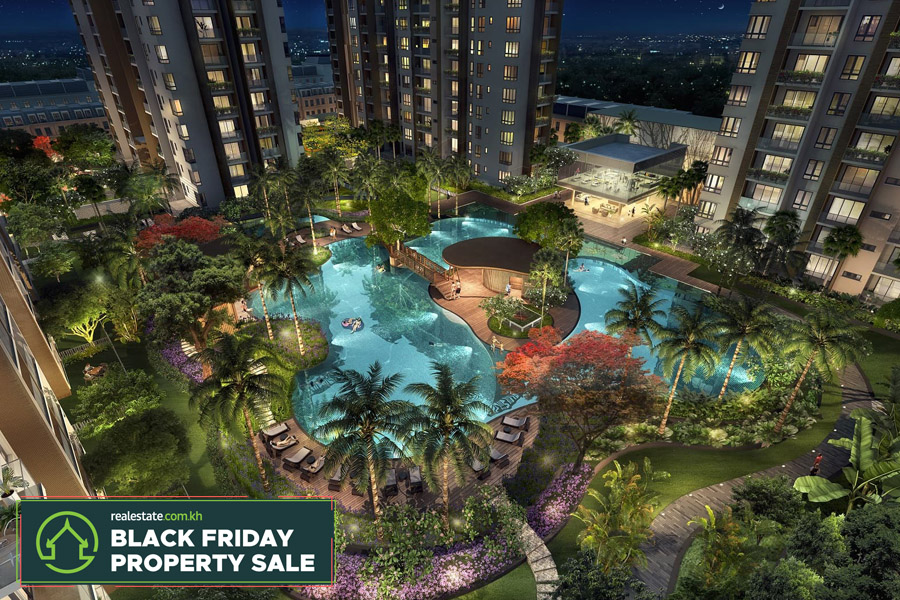 One Park is a residential development located within the Daun Penh, the de facto Central Business District of Phnom Penh. One Park was developed by Graticity Real Estate Development Co.,Ltd. One Park is a large residential community enclosed by a 33,000-sqm green zone with garden-style residences with an accompanying commercial area. This development puts emphasis on natural beauty and open spaces.
One Park, considering its location, would meet the needs of anyone looking to move-in with everything they need right at their doorstep. One Park was finished in 2019 and its property management offers an expected rental return to 10%.
12 Borey VIP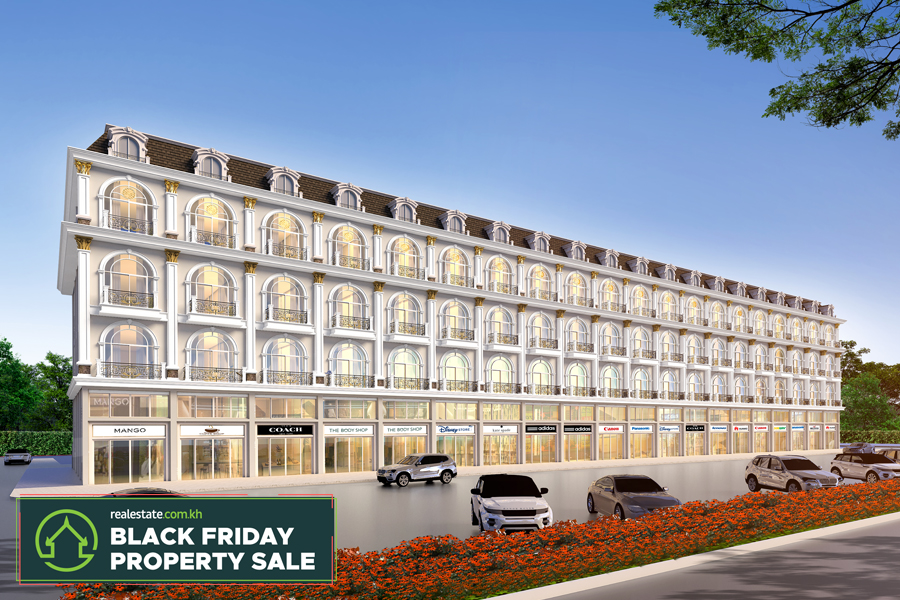 Borey VIP is among the many modern housing projects in Khan Dangkao, a fast-developing area in the suburbs of Phnom Penh. The best and the most interesting things about Borey VIP is its ideal location, reasonable rates, and generous payment terms that make it accessible and affordable to people across different markets.
Borey VIP is ideal for families as it is close to banks, schools, restaurants, cafes, recreation/sports facilities, and entertainment centers, and is only 20 minutes away from Phnom Penh City Center.
13 The Peninsula Private Residences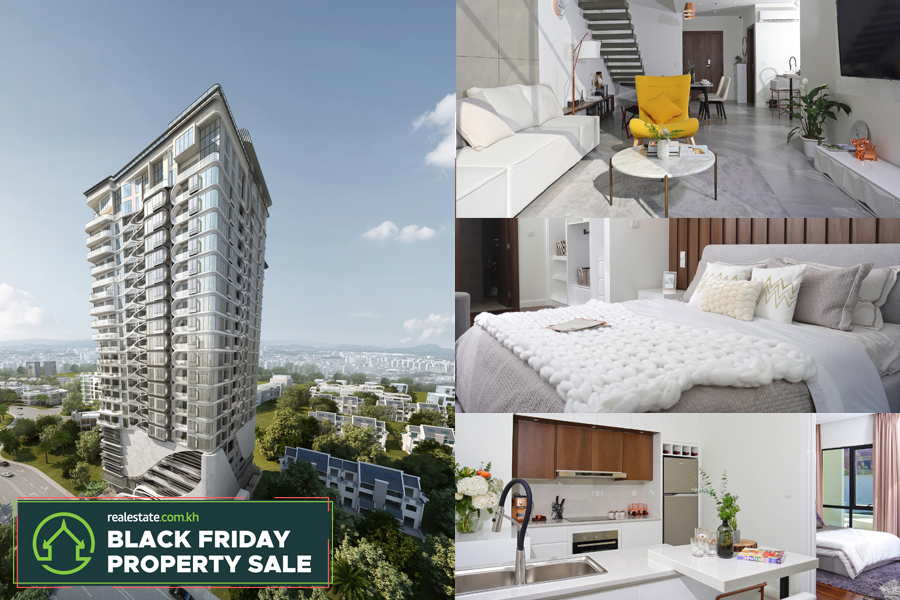 The 25-storey Peninsula Private Residences is located in Chroy Changvar, a fast-developing district of Phnom Penh. The Peninsula Private Residences has 161 residential units each with a balcony, with studio to 3 bedrooms, sizes ranging up to spacious 237 sqm. These modern-style units are beautifully designed and built, fully-furnished with internationally-branded furniture and appliances. The Peninsula Residences complements these comforts with great views of the city, a fully-equipped gym, rooftop pool, and so much more. All of these combined put The Peninsula on top of the residential choice in the up-and-coming district of Chroy Changvar.
14 Parc 21 Residence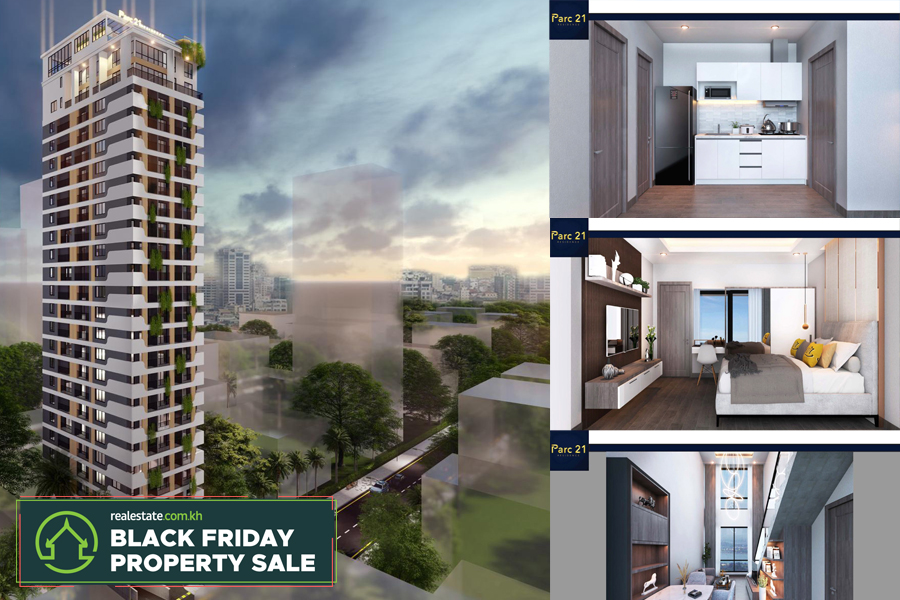 Parc 21 Residence is located in the cosmopolitan district of Chamkarmon. Parc 21 offers a range of compact to spacious units, perfect for individuals and families looking for good value while being close to everything Phnom Penh has to offer such as banks, retail shops, cafes, restaurants, and even shopping malls. Additionally, Parc 21 complements their mid-priced units with a gym and even an infinity pool. Parc 21 is definitely one of the top-choices when it comes to accessibility and comfort without breaking the bank.
15 The Parkway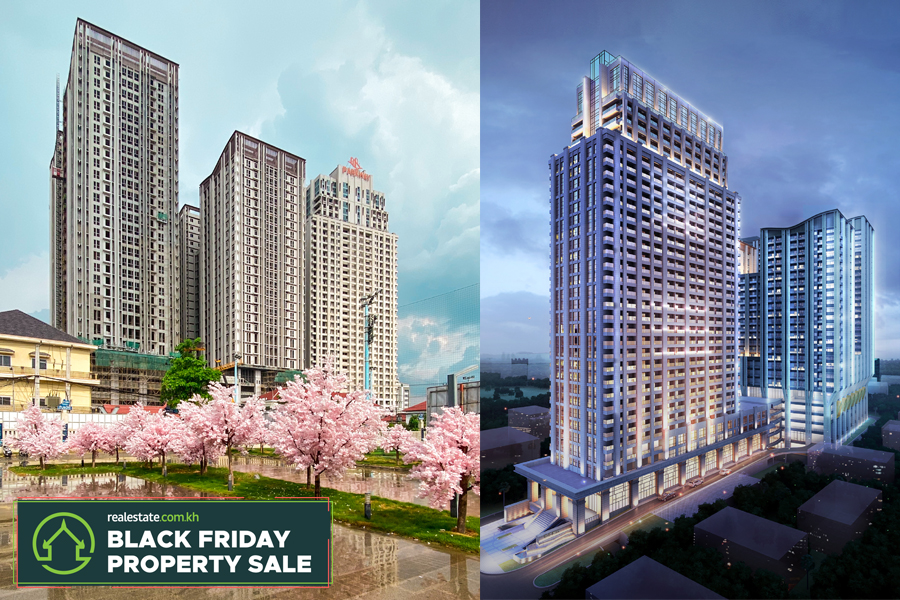 The Parkway is one of the latest developments in Phnom Penh and should be on your shortlist. The Parkway is located in the highly urbanized district of Toul Kork while giving residents a home that satisfies the luxurious comfort they deserve. The Parkway is also conveniently at the mid-point of many commercial landmarks such as TK Avenue and AEON Mall 2. International schools, hospitals, and other retail outlets also dot the immediate surrounding of The Parkway. These city staples are easily accessible by the same roads that lead to other parts of the city. If simple elegance with a great location are your priorities, then definitely check out The Parkway!
16 The Skyline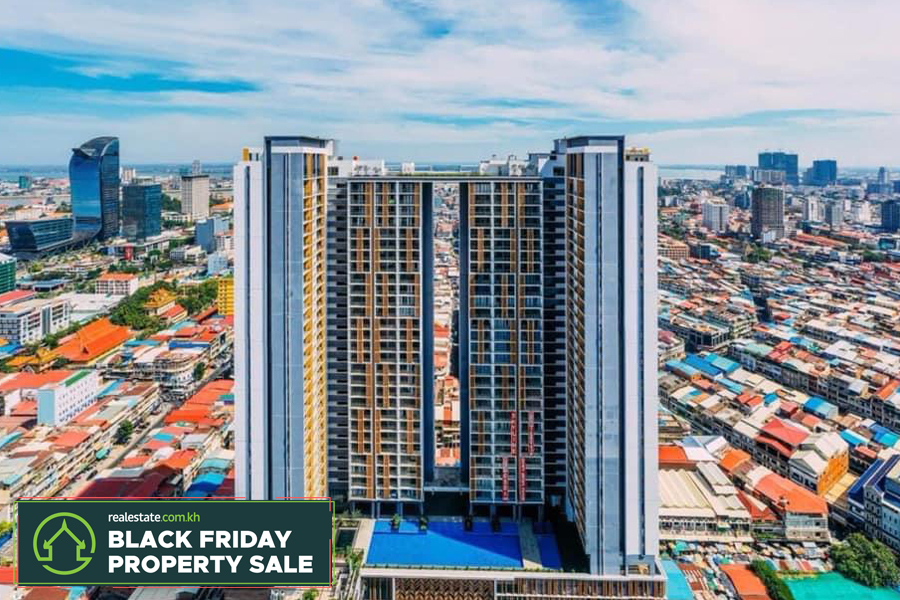 The Skyline is an iconic development in the 7 Makara district offering freehold property ownership. It is a mixed-use development that combines luxury and practicality for residents looking to simplify their lives. Units of the Skyline are carefully designed to provide the utmost comfort of urban living. Living at the Skyline also gives residents the enviable opportunity to get to anywhere in the city; from tourist attractions such as Wat Phnom and Riverside, to more business-oriented locations such as the CBD of Daun Penh and BKK1. The Skyline makes itself a great home for both locals and foreigners looking to live at the very heart of the Phnom Penh.
17 The Sky Park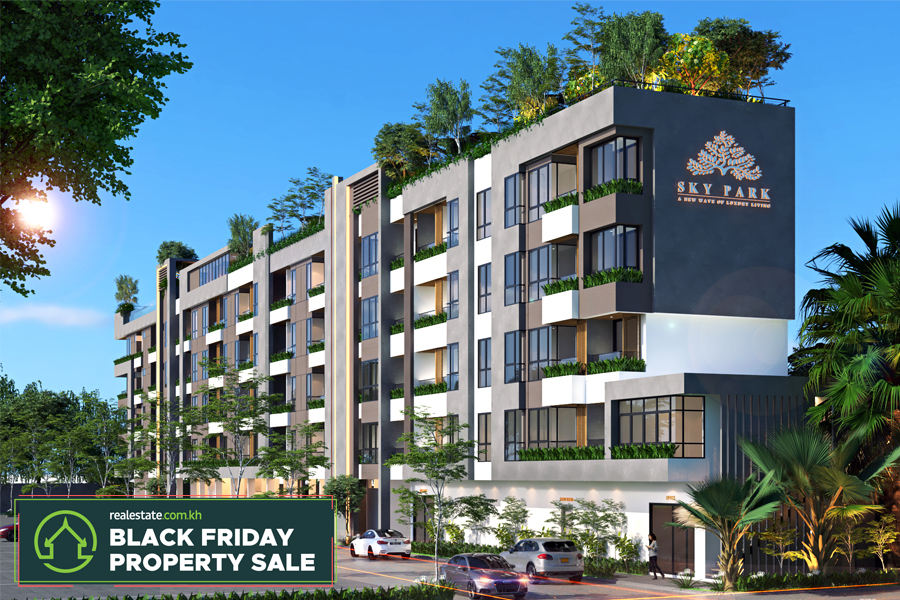 The Sky Park is a luxury condominium project sitting on a total area of 5,600 sqm of a prime site. The Sky Park is the first high-rise development in Siem Reap city, a famous Cambodian town known for being home to the world's biggest religious site, Angkor Wat​. The Sky Park is the only project from Siem Reap province to join the country's first Black Friday Property Sale and there will be a huge discount offered during this limited-time sale.
While enjoying the country's ancient city vibe, residents at the Sky Park can also indulge themselves with a new lifestyle and a new housing option that has never been available before that comes with modern amenities and services.
The Sky Park is situated in a great location close to shopping malls, restaurants, bars, marts, and more. For instance, It takes only five minutes to go to the city's biggest mall, Heritage Walk Shopping Center and 10 minutes from Siem Reap International Airport. All the units at the Sky Park range from 55 to 121 sqm and come fully-furnished with high-quality products and equipment.
18 The Hexa Condo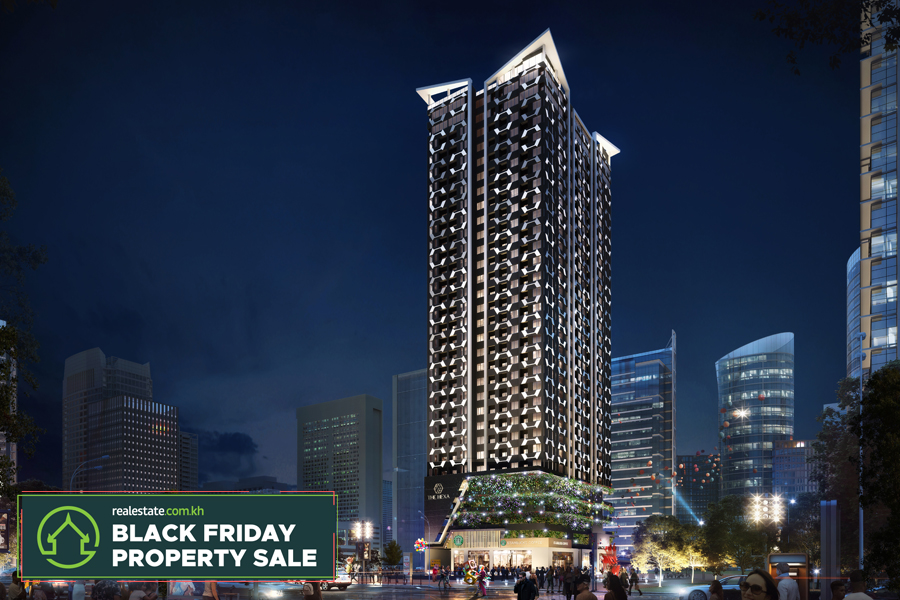 The Hexa Condo is a 31-storey condominium project in Russey Keo developed by SJS Construction & Development, a Taiwan-based developer. Its location in Russey Keo puts it just north of Daun Penh CBD while being an arm's length away from largely commercialized suburbs like that of Sen Sok and Toul Kork. High-quality yet affordable, the Hexa's residential units provide Phnom Penh's property hunters a rare opportunity to acquire luxury properties with 5-star amenities such as rooftop bars and pools, at the best prices possible. And with the Hexa joining Black Friday Property Sale, the prices on these top-tier developments are getting even better!
19 La Vista One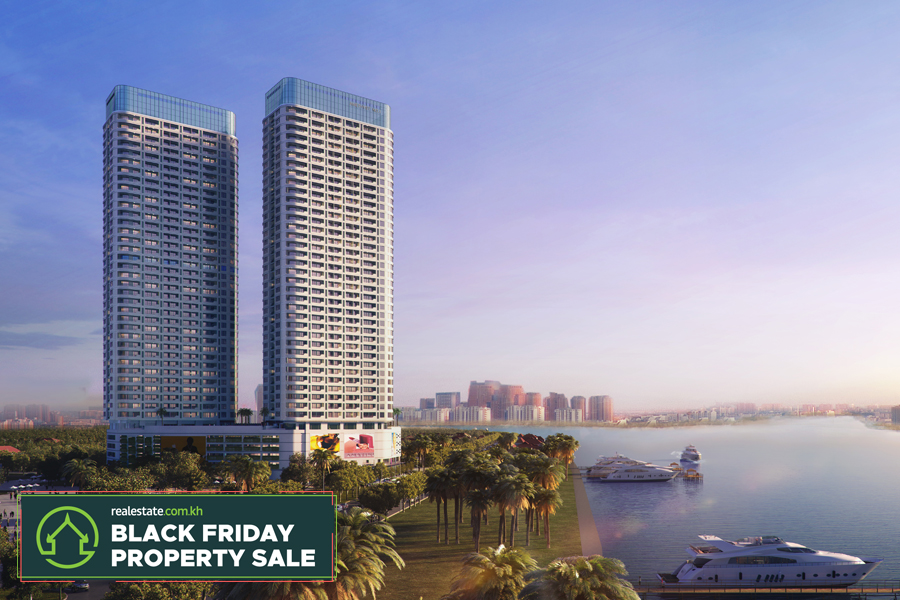 La Vista One stands at 41-stories in the up-and-coming Chroy Changvar district, an area with grand developments in both residential and commercial offerings. La Vista One, much like its name, offers a spectacular view of both the Mekong River and Tonle Sap River, the two major bodies of water passing through Phnom Penh. La Vista One is one of the few residential developments with comforts truly blessed by nature's touch.
20 Prince International Plaza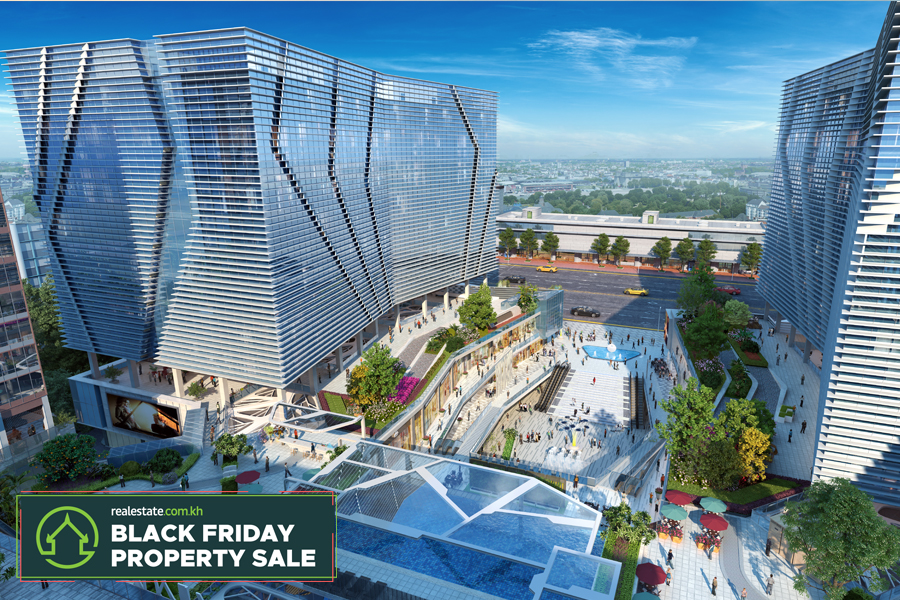 Prince International Plaza is an upcoming landmark development along the famed Russian Federation Boulevard. It integrates residential, business, shopping, and entertainment options into one mixed-use development. Residents will be living in a city of their own with residential, office, and other commercial towers right at their doorstep. The wider Phnom Penh is also accessible to Prince International Plaza's convenient position within the city's busiest areas. The Prince International Plaza is set to open this year, and this is your chance to gain residence here at the best price possible!
21 Udong 70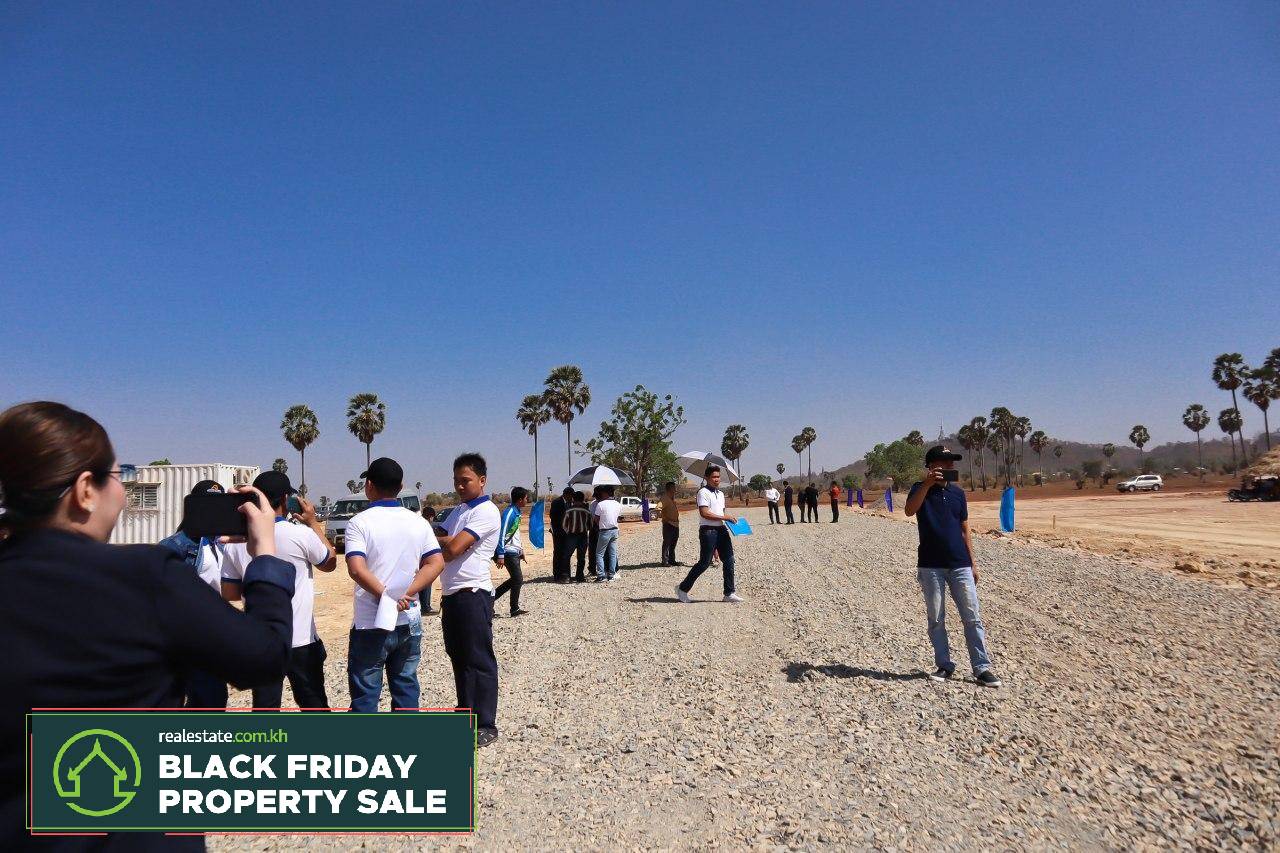 Out of all developers on this list, none have yet to offer the very basics of real estate: bare plots of land. Udong 70 joins the Black Friday Property Sale to offer property hunters the opportunity to own land plots - with an exclusive discount! Cambodia's growing appeal as the next investment destination has led to developments springing up left and right. Udong 70's portfolio during the Black Friday Property sale could be the big break investment gold mine you need!
22 The Premier Land Sen Sok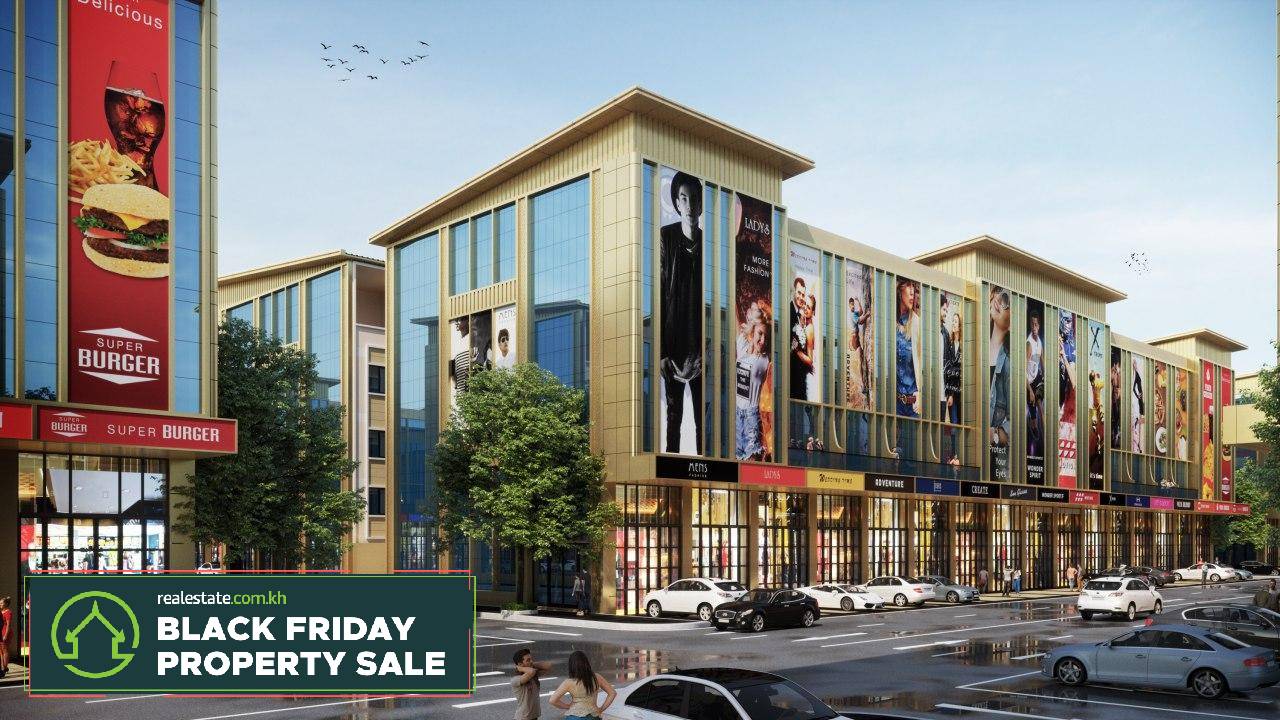 The Premier Land Sen Sok is a borey developer bringing their wide selection of landed property to the Black Friday Property Sale! The Sen Sok district is known for its wide range of current generation residential options, namely, The Premier Land. This borey is well-known for its enviable proximity to the renowned AEON Mall 2, the biggest mall in Cambodia as of date. While it's close to a prominent shopping center, The Premier Land Sen Sok also boasts its own array of commercial establishments well within its property. And given its illustrious retail and entertainment options, it's worth saying its residential options are no slouch as well! This borey features multi-bedroom shophouses of up to 6 bedrooms and bathrooms!
Its location is definitely a prized area which only sees its price increase every year. However, a good number of properties here would be getting a big discount, exclusively for the Black Friday Property Sale.
23 Borey Sambath Meanheng III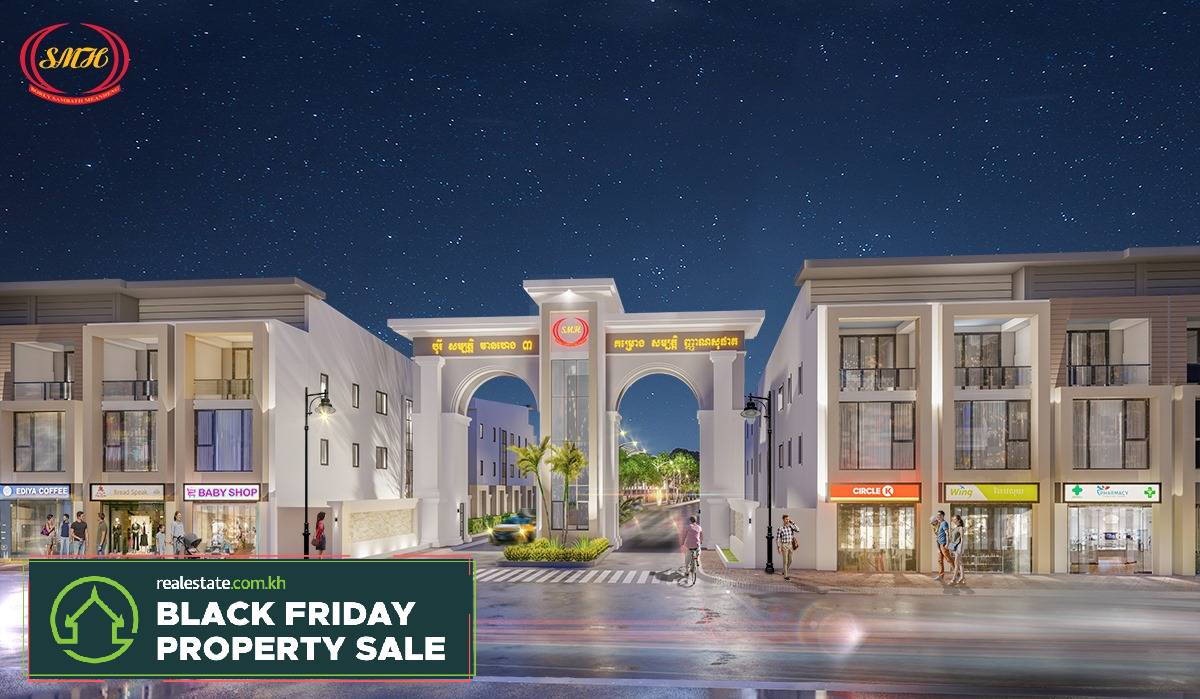 Borey developments have come a long way in terms of modern aesthetics and interior design. Borey Sambath Meanheng III, located in Sangkat Niroth, is a great example of the many leaps and bounds landed property developers in Cambodia have put into their current portfolio of properties; wide living spaces, clean facades for both residential and commercial units, and a secure gated commune with a great sense of community are hallmarks of this borey's primary offerings. And with the Black Friday Property Sale around the corner, Borey Sambath Meanheng III is offering its units up for the biggest discounts the Cambodian real estate market is going to see in a long time!
24 Borey Bakong Village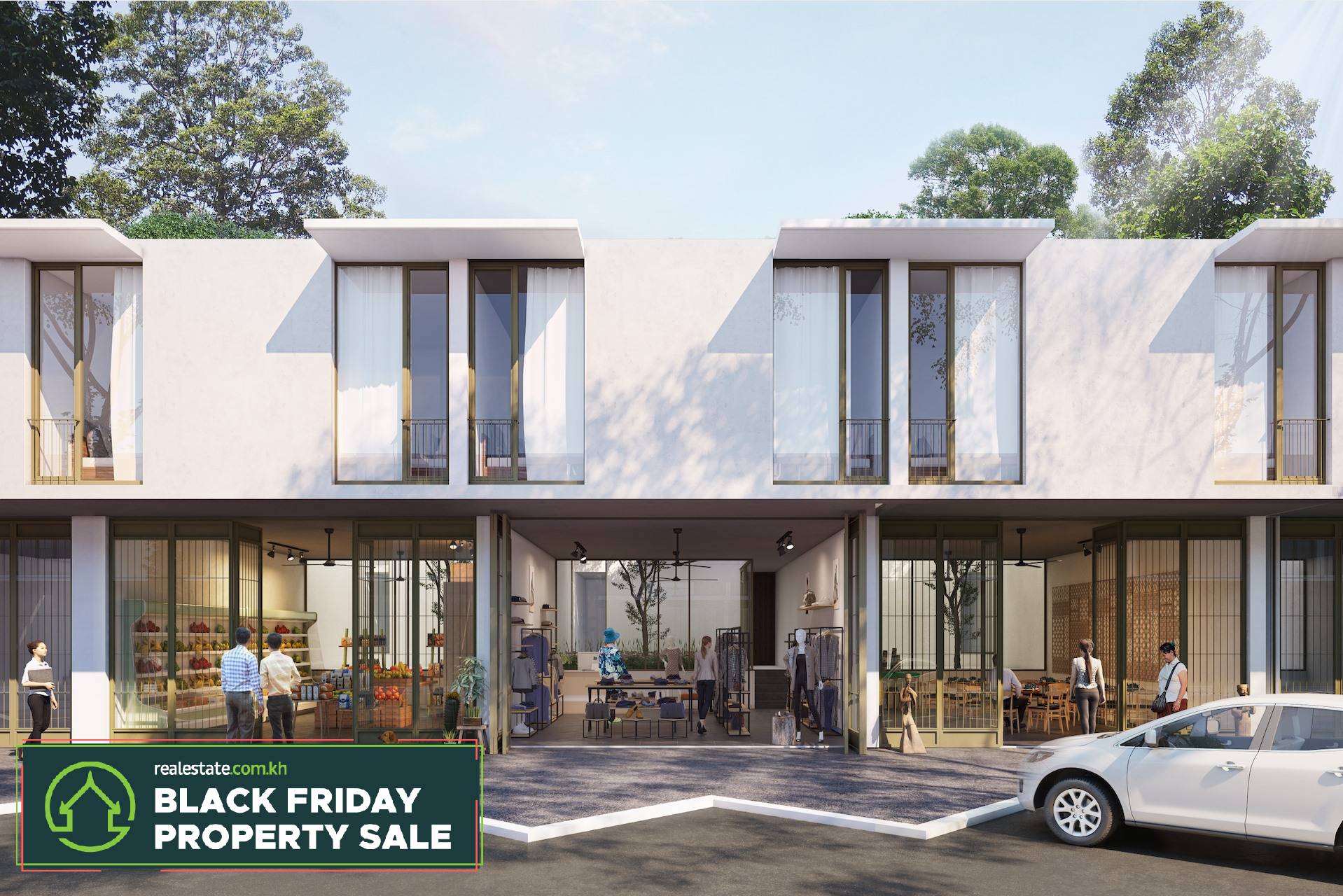 Siem Reap is more than just a tourist destination, it has also become a prime destination for new borey developments. The city's growth has spurred a change in residential preferences, and Borey Bakong Village has created a suburban haven for the next generation of Siem Reap's residents. Contemporary design, sleek aesthetics, and a minimalist approach that defines modern-day living are this development's highlights. Fortunately, the Black Friday Property Sale is just around the corner - where you can get a big discount on shophouses and villas from Borey Bakong Village.
25 The Boulevard by Natha Residence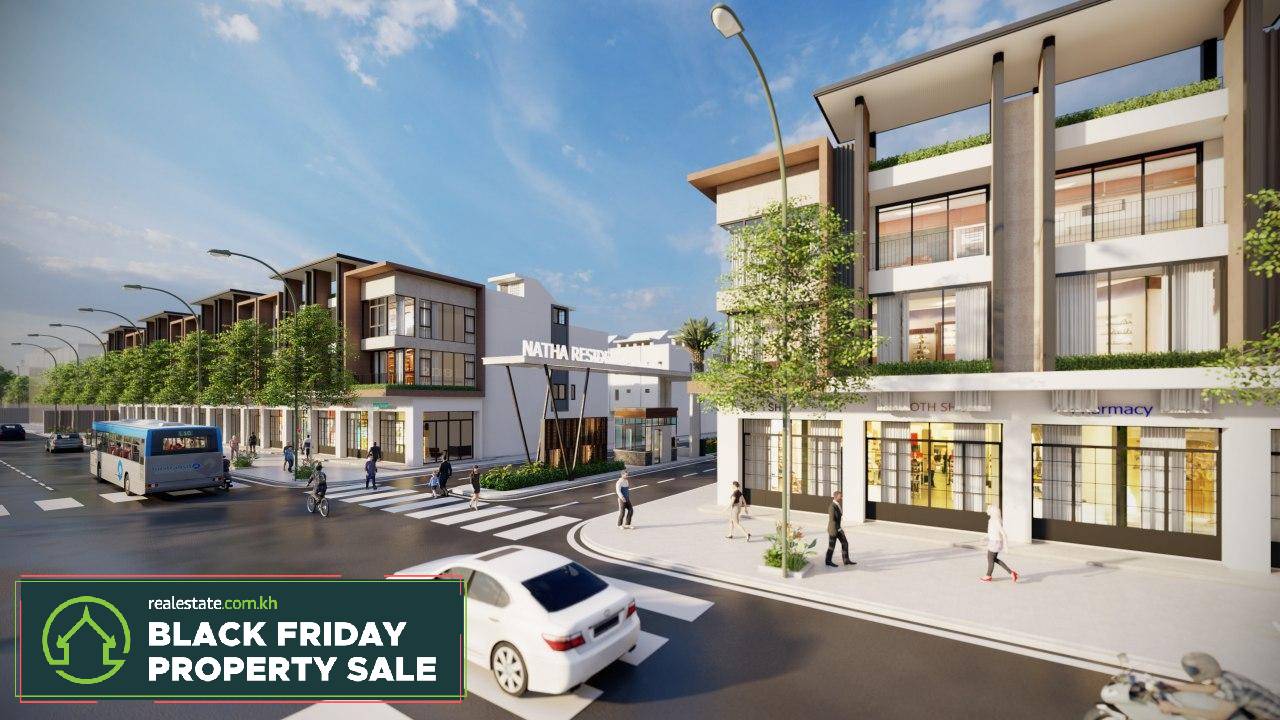 The Boulevard by Natha Residence is a borey development soon opening right along National Road 2 close to Hun Sen Boulevard. While boreys have certainly formed an identity to be gated communities, The Boulevard by Natha Residence takes it a step further by constructing a commune similar to the feeling of a small town; complete with beautiful shophouses and plenty of amenities that make the Cambodian suburban life all the more comfortable. Find yourself a new home - with a big discount - in The Boulevard by Natha Residence during the Black Friday Property Sale.
26 Borey Ly Sovann

Borey Ly Sovann is a community development in Chbar Ampov that features linked houses/shophouses. The Chbar Ampov district itself has seen significant improvements and has become a contender as a destination for borey properties in the market. A number of schools, markets, restaurants, and entertainment venues dot the surroundings of Borey Ly Sovann, with more amenities to be built as the district's potential flourishes. Borey Ly Sovann is definitely a contender in the Black Friday Property Sale as its incredibly reasonable price is getting even better!
27 Mekong View Tower 6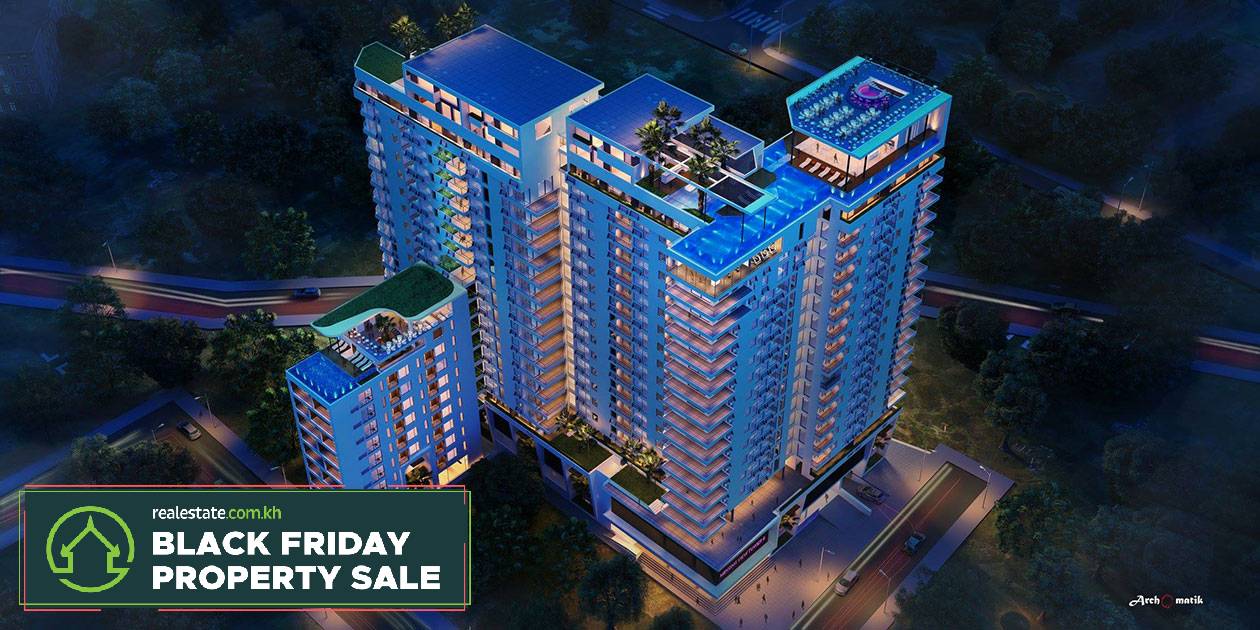 Mekong View Tower 6 is a luxury condo and serviced apartment located in Chroy Changvar, providing spectacular views of the Tonle Sap, and Bassac Rivers. Equipped with high-end amenities and facilities, starting from the top roof bar and lounge, pool, and club, to a business center and a restaurant with banqueting and catering facilities. The accommodation is unrivaled, every spacious apartment having a wide range of creature comforts such as cable tv, broadband internet, and Wi-Fi facilities. You can get a great deal on this luxury condo during the Black Friday Property Sale.
28 Premium Group Flat Houses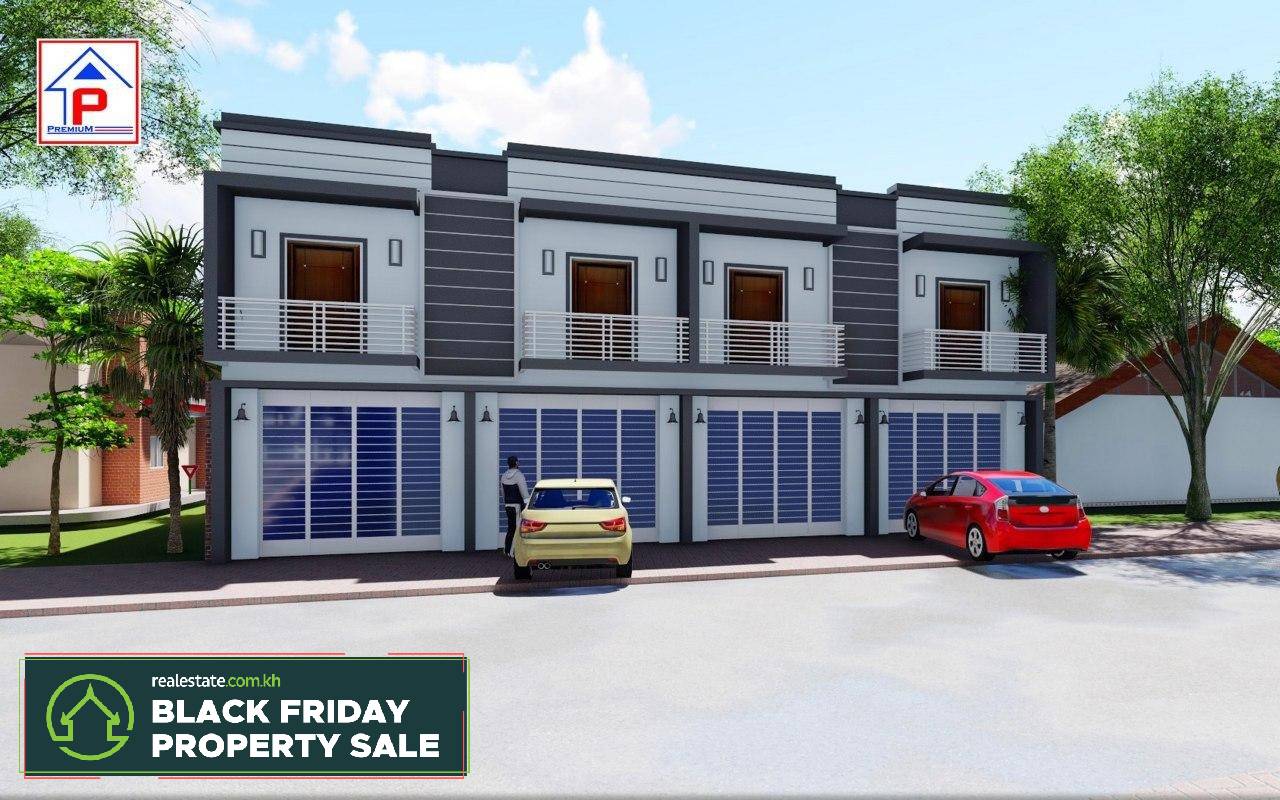 Reasonably priced homes are getting easier to come by almost every year. And with Black Friday Property Sale, great value properties are even getting better! The Premium Group Flat Houses are one such development that delivers good home quality at a good price. Spacious and practical, flat houses in its portfolio are ideal for small families who want to enjoy the perks of modern residential comforts without breaking the bank.
29 Borey KS Residence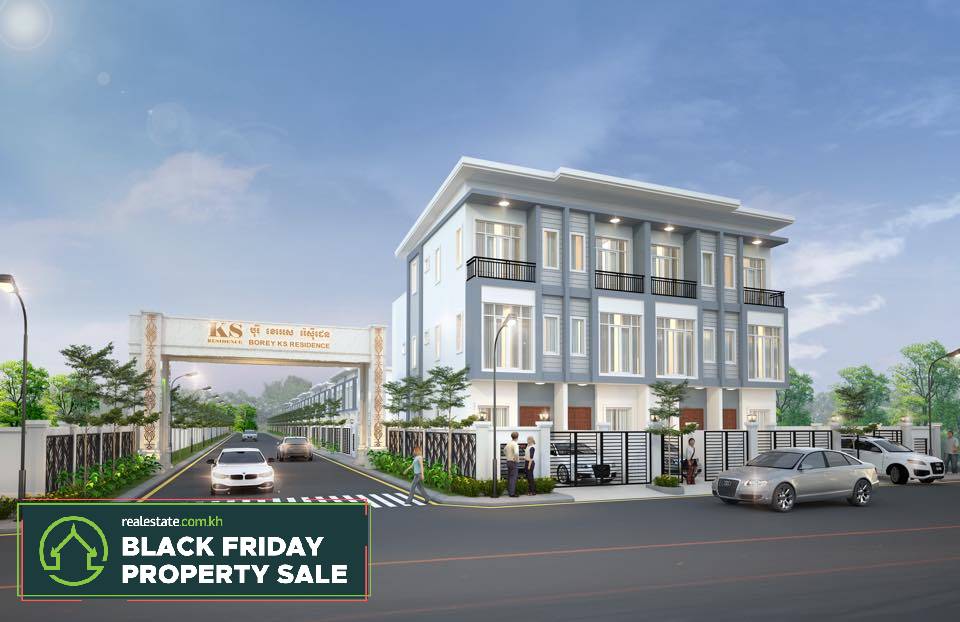 Borey KS Residence is a development located southeast of Phnom Penh within the Kandal province. It focuses on constructing beautiful shophouses and linked villas to meet the high demand for these types of properties. A total of 200 units will be available, spreading across a sprawling area of 34,097 sqm. Commercial areas such as restaurants, bars, convenience stores, and coffee shops surround the area, giving residents plenty of space to enjoy themselves with, regardless of whether they're families or living by themselves. Borey KS Residence is definitely worth checking if a serene life outside the city limits is what you're looking for!
This is just a taste of the many developers who have signed up for the upcoming Black Friday Property Sale. Realestate.com.kh will be revealing more developers in the weeks leading up to the event itself in June.
Realestate.com.kh created the Black Friday Property Sale to give property buyers, especially Cambodians, a chance to buy their dream home at more affordable prices. This is a once-in-a-decade opportunity any decent home buyer should not miss out on!
Registration for the Black Friday Property Sale is free and easy. Simply visit our registration website and sign-up in under 3 minutes.

If you are a developer and want more information about this event please contact:
Nin Kang
+855 78 637 323
+855 93 552 305
nin.kang@realestate.com.kh
Soun Sumey
+855 77 241 285
mey.soun@realestate.com.kh
If you are a real estate agency, media platform, bank or related business and want to join as an affiliate please contact:
Chen Huyhong
+855 98 526 671
cheng.huyhong@realestate.com.kh
Trixia General
+855 17 870 064
trixia.general@realestate.com.kh
Alexander Sing
+855 15 583420
+61 434 644 957 (WhatsApp)
Alex.sing@realestate.com.kh
Sun Rattanak
+855 17 884 161
rattanak.sun@realestate.com.kh
Article by: