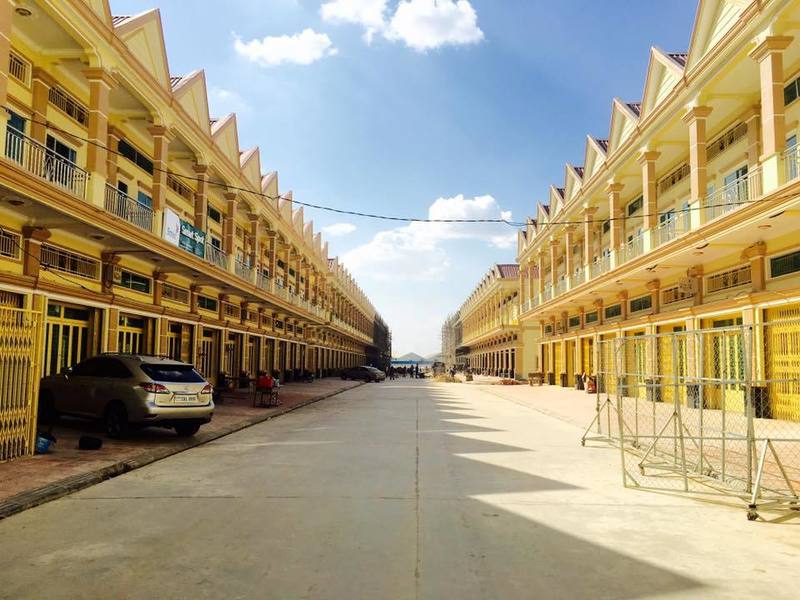 This is an extract from "Cambodia's Real Estate: A Silent Boom," a book authored by Mr Sovan Nop - Chapter 6; "Borei Market History & Future Forecast".
In 1929, the "concept of borei started out as a form of affordable houses" to accommodate families of workers to live near the place where their family members worked (Phnom Penh Post's Borei History…). Borei truly transforms Phnom Penh's landscapes. The development is too quick and too strong. Imagine within two years, huge amounts of parcels of empty land plots located in the middle of nowhere suddenly became developed areas with paved roads, electricity, sewage, and rows and rows of houses.
Borei refers to a cluster of low rise residential housing, mostly flats and villas, in a gated community. The Borei market is exploding. It is the flagship of the real estate sector in Cambodia. It is the most popular product in real estate mainly because, culturally, Cambodians prefer to live in buildings which are attached to the land itself. And it provides a sense of peace and security. The "biggest appeal of living in borei townhouse is the security" and "another great factor is the peaceful environment," Sonina Thon -- a resident in Camko City -- reported in the Phnom Penh Post's Borei History: Residential Collective to Gated Community. Borei provides all the lovable criteria that Cambodian home buyers are looking for: home attached to land, security, and a peaceful environment.
"Cambodia needs 10,000 houses per year and a total of 1,000,000 house from now until 2023," according to the Ministry of Land Management, Urban Planning, and Construction. The demand for new homes is strong and clear. However, the supply of housing is much clearer and stronger.  Every day, headlines in newspapers and TV advertisements grab people's attention with their "Special Discount" and "Big Promotion". Giant billboards displaying new borei developments are displayed in every main boulevard throughout Phnom Penh. On top of the giant billboard advertisements, borei development advertisement have dominated advertisement spaces in TVs, radios, newspapers, magazines, and even on the sides of public buses. It seems there are endless new borei developments.
The Rise of Home Price:
Even though there seems to be an endless supply of borei developments, home prices always go up. Since 1993, land and home prices go up. After all, God doesn't create any more land. The increase in price is due to a combination of factors such as the increase in population, limited urban area, and the inevitable rise of inflation (costs of construction materials and labor). Logically, the price of real estate goes up. For example, "prices for borei homes have increased around 10 to 20 per cent" in 2015, according to a study conducted by World Trust Estate, a well-known real estate company. Home prices in Phnom Penh in general increase 5 to 10 percent on average per year, while land prices on average jump between 10 to 20 per cent annually.
The unverified news that people get rich quickly and easily through land and homes are spreading like a virus. Even for the same piece of property which has been on the market for ages and has not been sold, the asking price of that property still goes up year after year. In Cambodia, property owners ask for even higher prices. Even they cannot sell their properties at a lower price years before. This creates a herding mentality which perpetuates the demand of even higher prices. For example, if your neighbors is rumored to sell their land for $500,000, the owners of surrounding areas will ask for the same or even a higher price without even considering the size or location of the land. In Cambodia, the asking price, especially for land, seem to go beyond the "market value" which is described in the Red Book -- professional valuation standards -- of the Royal Institution Chartered Surveyors as "the estimated amount for which an asset or liability should exchange between a willing buyer and a willing seller in an arm's length transaction after proper marketing and where the parties had each acted knowledgeably, prudently, and without compulsion." Despite all of that, people are still willing to pay more. Cambodia's real estate, obviously, is booming.
Home Loans:
Of course, potential buyers still need to have a lot money to buy a house. Some people turn to banks for home loans. In terms of required documents, bank borrowers have to go through a stricter process and have to submit all of the important documents such as proofs of monthly income, letter of employments, proofs of monthly or yearly taxation, and a valid government-issued identity such as an ID or Passport.  Through banks, potential home buyers are required to have 30 per cent at minimum of the value of the home. They are welcome to borrow up to the remaining 70 per cent. For instance, if a home is valued at $100,000, potential buyers need to gather $30,000 on their own and can borrow the remaining $70,000 from the bank. This is considered as a good requirement since Cambodia's housing market and economy are considered riskier than that of developed countries. To compensate for higher risks, banks demand higher initial deposit and even higher interest, between 9 to 13 per cent annually. Most people are turned down by the banks, while other potential borrowers find other ways to finance their homes. There is an easier and simpler way to get home loans. Borei developers are willing to step in and act as bankers for those who are interested in living in their borei developments.  
Easier Home Loans:
The house price in boreis has not gotten cheaper. However, the buying process, such as payment plans and required documents, has gone a lot easier. Mortgages from borei developers are a lot easier to obtain and require less down payment and less paperwork. For many people who are not qualified for bank mortgages, they turn to borei developers to finance their dream homes. This is an easier way to get a home loan. Borei developers are more than happy to step in to fill the gap. Potential homeowners can borrow directly from borei developments. In this way, borei developers are both sellers and bankers. The only restriction is buyers need to buy their homes from the same developers who finance their mortgage. Potential buyers cannot borrow money from one developer and buy property from a different developer.  Potential buyers don't need to have proof of income whatsoever. The one and only required official document is Cambodian National Identity. The initial down payment has been lowered significantly.
Two giant borei developers such as Borei Piphup Thmey and Borei Peng Houth lowered their required down payment to 10 per cent. On some special occasions, the initial down payment is lowered to only 1 per cent or even nothing at all. In this special occasion, one needs only a Cambodian National ID to buy a home and a small amount of security deposit, between $500 and $2,000 to sign a Sales and Purchase Agreement which stipulates how much buyers will pay for monthly payment, such as $625 per month, for a certain period of time. Maybe 15 years. The same contract which also stipulates that the house which buyers purchased will be completed and ready to be handed over in the near future, maybe in the next 18 months.
In a sense, most easy home loans are applied to only houses which have not built yet. On top of that, in case that home buyers miss their monthly payments as written in contracts, borei developers have the right to take back their houses and resell them on the open market. The same contract that buyers signed also states that buyers had agreed to put their home's title as collaterals. In the event that buyers didn't fulfill their agreements such as making monthly payments on time, Borei developers have the legal right to sell those houses back on the open market.
10 Million Cambodians Need Homes:
Most Cambodian home buyers can be separated into two groups: the first time home buyers and existing homeowners. The first time home buyers, mostly, are people who soon or recently got married and never owned a home before, while the existing homeowners, obviously, already have owned a home. Existing homeowners are looking to buy a second or third home merely for investment purpose only. The first time home buyers are in much stronger need to buy a home. And the good news is Cambodia has around 10 million who never owned a home before. These new 10 million people will fuel Cambodia's real estate boom for the next 20 years.
Ten million Cambodians are under the age of 29, and most 29-year-olds have never owned their home before. Ten million Cambodians are first-time home buyers. "Cambodia has around 5 million young people between 15 and 25 years old," confirmed Samdech Techo Hun Sen, Prime Minister of Cambodia, during the closing ceremony of the 5th University Scholars Leadership Symposium 2014. The other 5 million Cambodians, about 31% of the whole population, are between the ages zero to 14, claimed the Central Intelligence Agency (CIA). These 10 million prospective clients will perpetuate Cambodia's real estate boom in the near future. In addition to that, Cambodia's population will continue to boom. Cambodia's population is expected to hit "19 million by 2030", according to the 2015 Revision of World Population Prospects by the United Nations' Department of Economic and Social Affairs (DESA). Which means 4 more million are coming. This is a very good condition for borei developments. There are 5 million people currently at the age of needing to buy a home, and 5 more million will reach the age of getting married and will need to buy a home, and 4 more million will arrive in 2030.
No wonder the borei market is exploding. The current boom is not enough to satisfy the new 14 million people who sooner or later will need to buy a home. 14 million people is almost equivalent to the entire current (15 millions) population. What an exciting period for real estate development. Almost an entire population will need to buy a home.
Find the best real estate news on Realestate.com.kh