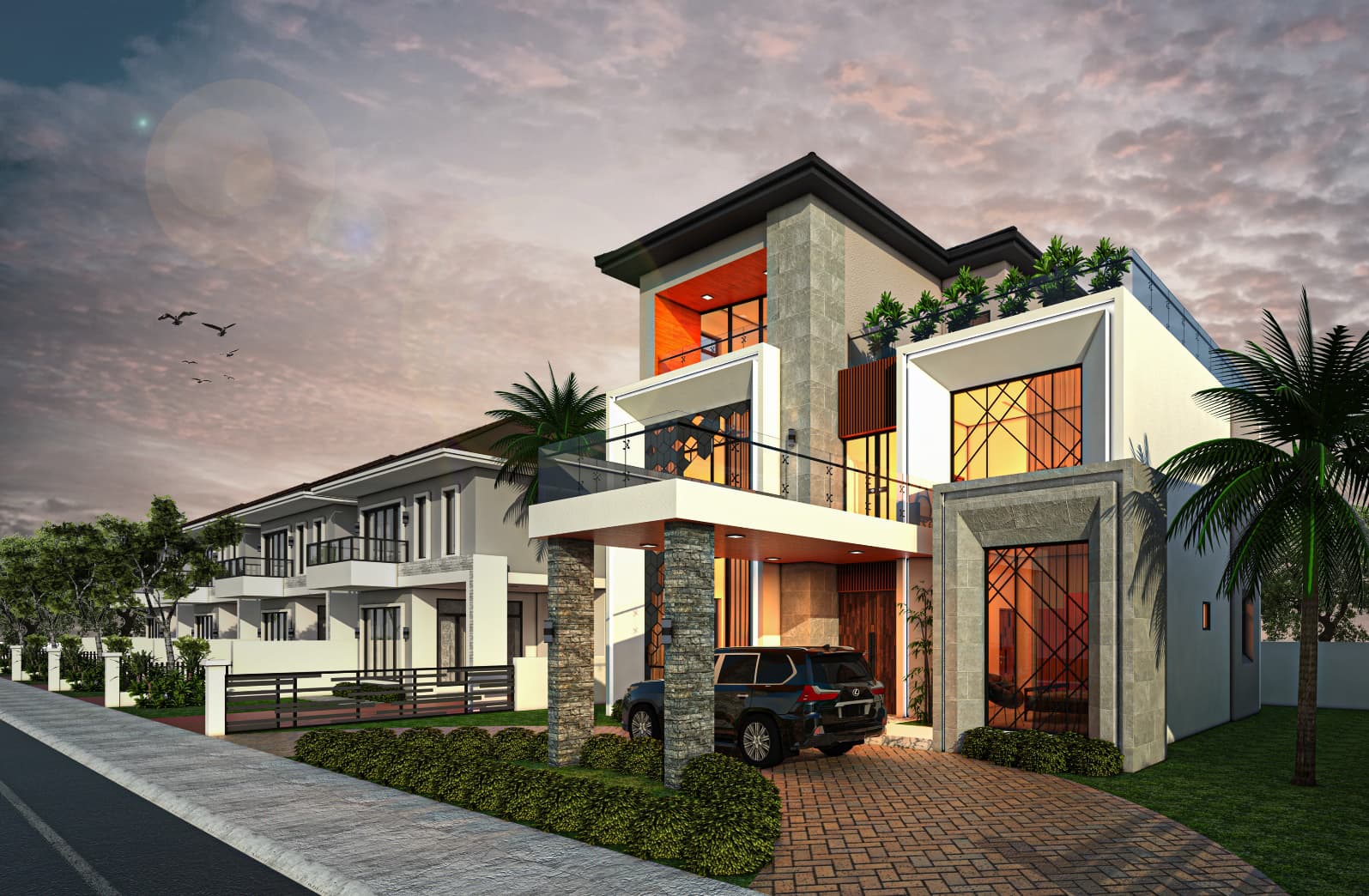 Key Features of an Oasis Villa
The Oasis Villa is the newest flagship model home in Borey Williams family of homes. This house has many awesome features that you don't want to miss.
Massive lot size – Each Oasis comes with a standard land size of 400 square meters! This is our largest size home yet which appropriately has the largest size lot also. Plenty of room for gardens, a pool, extra parking, or just enjoy the green space surrounding your home. You can expand your lot size to make it even bigger if you want.
A curved driveway! - The Oasis driveway is curved! It can easily park up to 3 or 4 vehicles which makes it easy when you have lots of friends visiting. Since the driveway is curved you can easily enter or exit from either side which means you don't have to put your car in reverse. This is actually safer because you don't risk backing into a low object (or person) behind your car which is out of view. The driveway is also covered by a massive balcony so there is cover from the rain or sunshine when entering and exiting your car… just like a hotel.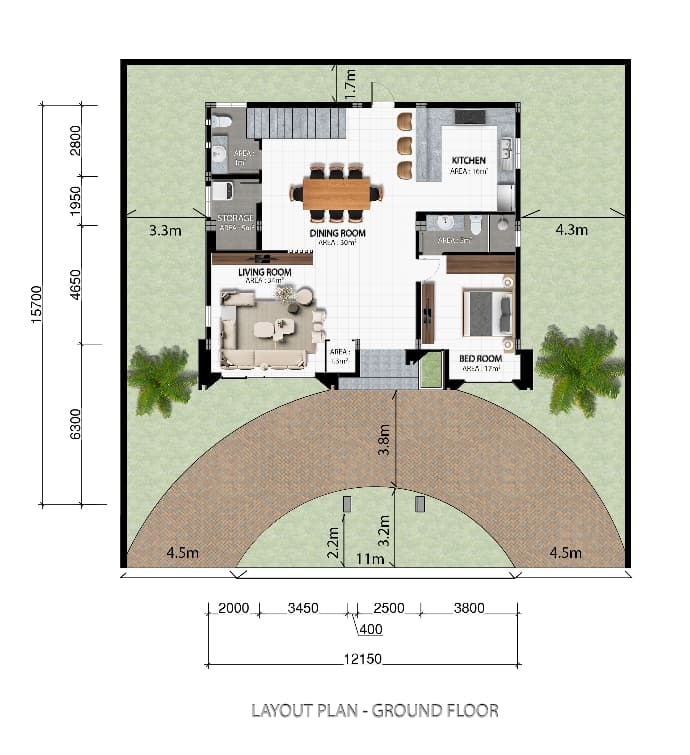 Huge windows - Looking at the front of the Oasis Villa, your eyes are immediately drawn to the gigantic box-style windows on either side of the home. The largest window is over 6 meters tall! At night you will see the glow from around each window as there is offset LED accent lighting around each window. The concept with the Oasis design was to allow lots of light into the home while offering an ultra-contemporary design pleasing to the eyes. The oversize windows provide a great view of your gardens and lawn as well so you can enjoy your green space. Be prepared, as you may have many neighbors just stand outside and look at your home's unique style, as they will want an Oasis too if they don't already have one.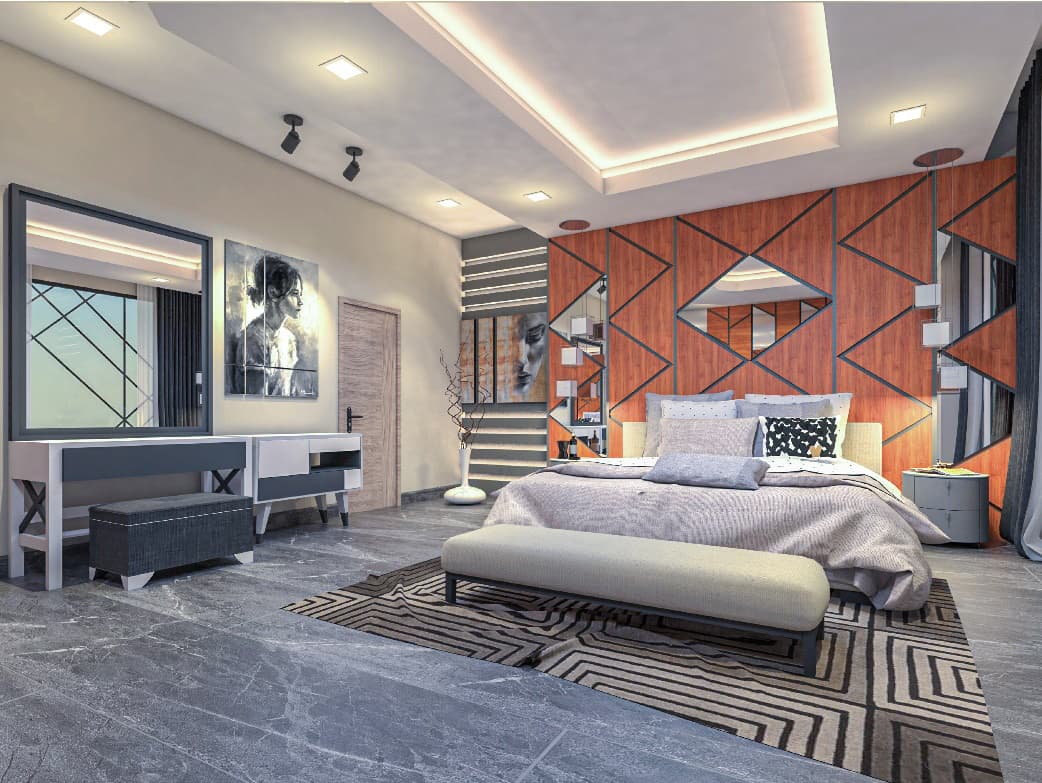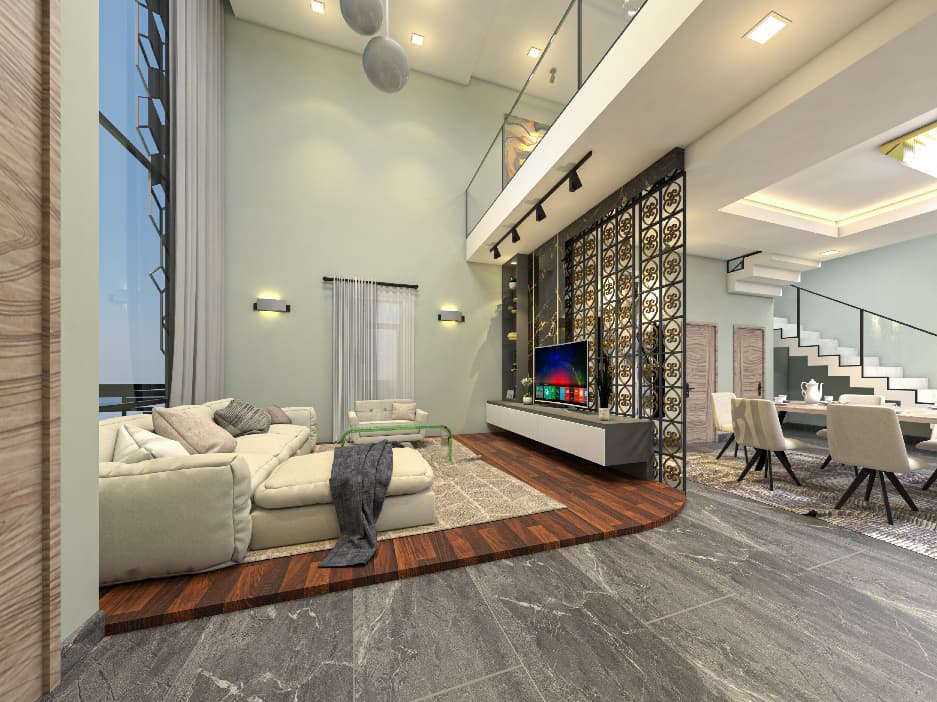 Ground floor – The main living room has many unique choices of texture and color. There are matte finish wood tiles, white granite accent, and dry-stone wall accent which make a warmer feeling in the main sitting room. There is a wrought iron partition separating the living room from the dining room. The dining room can easily fit a table for 8-10 guests. With 3-meter-tall ceilings, you will not feel cramped at all in this large home. There is also a minibar between the dining room and the kitchen which can be used for enjoying each other's company with someone preparing food in the kitchen and is perfect for parties. The ground floor also has 1 bedroom, 2 bathrooms, and 2 storage closets.
First floor. - Walk upstairs and you come to a second living room, also called a loft. This spacious area can be used as a game room, a place to lounge, or a movie room. There is a glass handrail and a view through the main window in the front of the home. This floor also has the master bedroom. This main bedroom features a large private bathroom with double sinks, a grand size walk-in closet, and a private 22 square meter balcony. The Oasis was designed to make the owner feel the most special, have the most beautiful living space, and also more privacy from the other rooms in the house.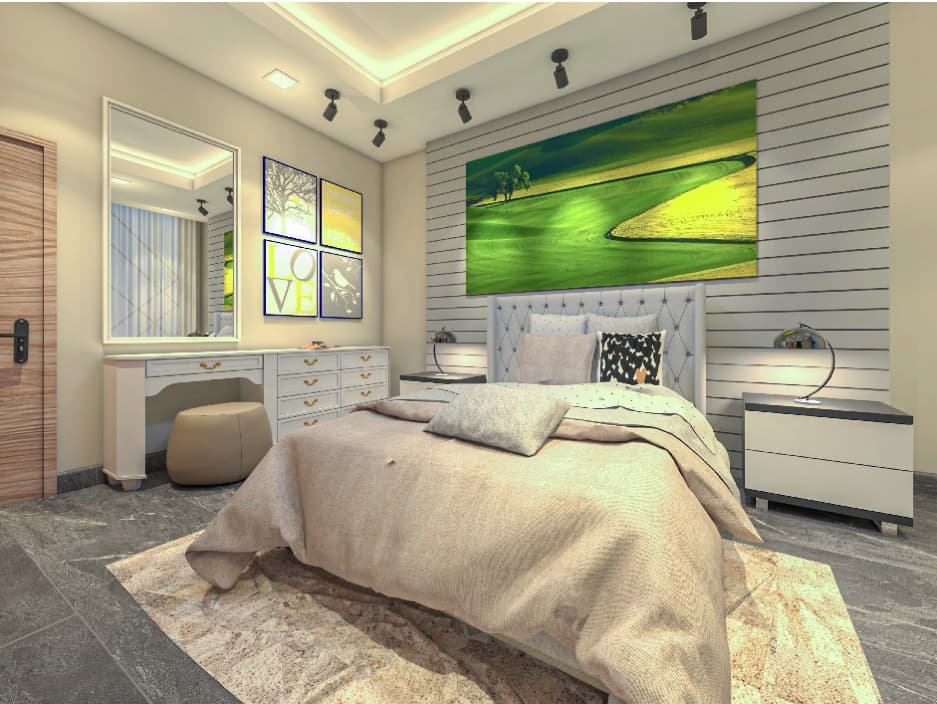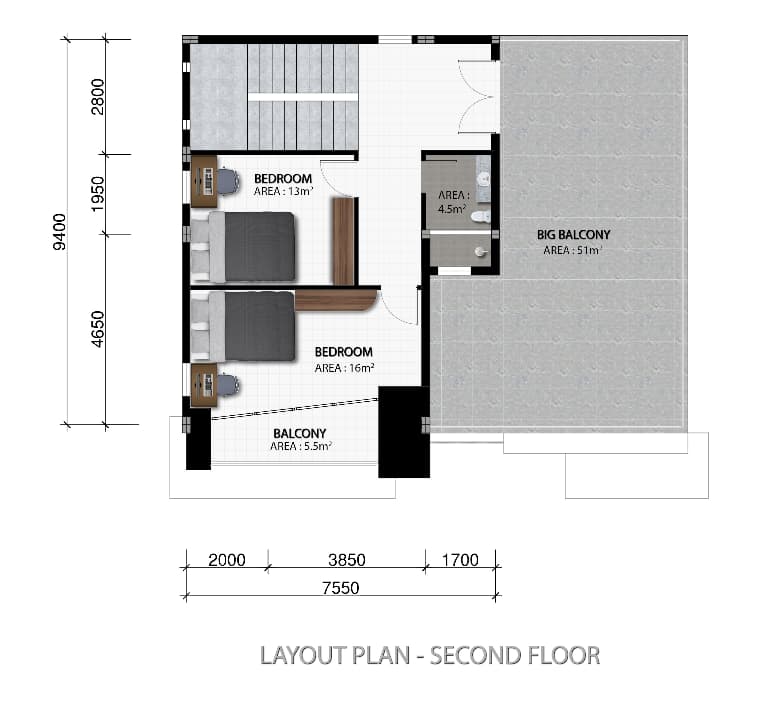 The second floor – Walk up to the second floor and you have glass doors leading out to an enormous patio balcony which is 51 square meters in size! This is the PERFECT place to have outdoor parties in the evening, sit and enjoy a breeze, exercise in the morning, or just enjoy the view. This oversized patio can be customized to additional bedrooms at customers' request. This floor also features 2 bedrooms, 1 bathroom, 1 closet, and 1 more balcony. The forward-placed bedroom has sliding glass doors leading out to the second balcony which features a sandstone accent, and wood-paneled ceilings to give warm vibes and unique textures.
This Oasis Villa is our latest model which was just released in early 2021 and already has dozens of customer pre-orders. This house was an American-inspired design and only uses premium materials all throughout each section of the home. In the Oasis you will find Cotto fixtures, Rinnai water heaters, Midea air-conditioners, 10-year Jotun paint, and SCG products throughout the home. These are just some of the main brand names our customers have come to expect from Borey Williams homes, and the Oasis will not disappoint.
Oasis homes start at $275,500 and monthly payments of only $1,272/month with our partner lenders.
Contact us today to book your own Oasis Villa.
Phone: 092 92 1000
Google Map: http://bit.ly/bwilliam
Start Owning Today with Borey Williams!