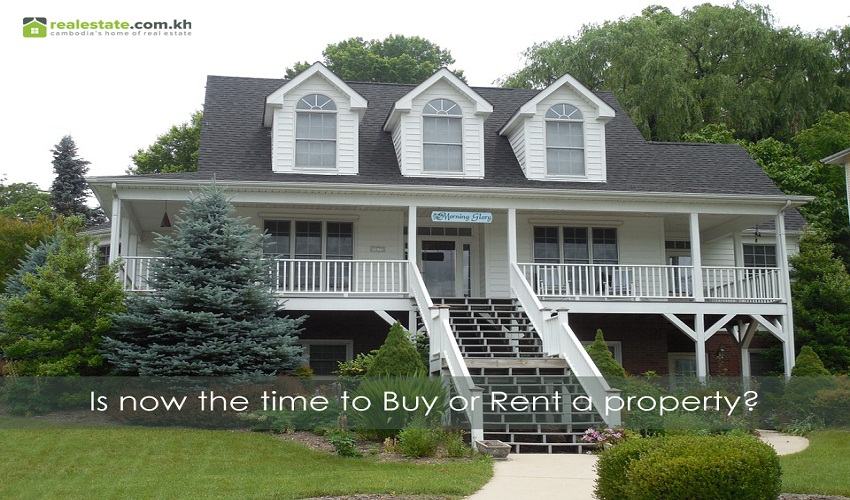 Many Cambodians are faced with the question of whether it makes most financial sense to buy or rent a property, whether it be an apartment or condominium in downtown Phnom Penh, or a villa or shop house around the border city limits.
Others are looking for purely business purposes, and some want a piece of property fit for both living and commerce.
Realestate.com.kh spoke with real estate industry insiders and a range of buyers and renters to get their opinions on what is the best option for those seeking a property now, but not sure whether they need to buy or rent a property…
Buy or rent a home for living?
Home ownership is very common in Cambodia, and most local families aspire to owning their own home and having total control over that property. Yet, despite this desire to have a place that is truly yours, for some purposes renting may make more sense in terms of you and your families long term financial health.
Advisor of VTrust Appraisal, Mr In Setha comments that, "buying a house to live in is better than renting one." The reason being, as the price of property continues to rise in the Cambodian market currently, your purchase now should become a more valuable asset in the future.
"As the population grows in Cambodia, through both local increases and immigration, more businesses will start. This will lead to more demand in the market overall, and the price of property will generally increase too. When the home buyer of today wants to sell that home in a few years, they will come out with a profit," says Setha.
He continued to say, "if renting a house, you need to pay the rental price and other operational costs every month, and these costs can become quite expensive. If you can afford to purchase a home outright, instead of paying your landlord, why don't you choose to buy a home and pay part of your own money and some via a home loan paid back in affordable installments."
That way, "Ten to fifteen years later you possess a residential asset."
Mr. Va Vireak, chairman of Century 21 Fortuna Investment, agrees that if you need a house to live in, buying is a good choice, whether or not you have enough money to buy now.
"You can manage the costs with a bank loan and then you have your own asset on 10-15 years," says Vireak.
He adds one warning, however, "you must make sure you have a safe income every month to pay the installments for the bank loan, or else it is very risky to take a home loan. Only borrow what you can afford to pay in installments and don't be greedy."
Mr. La Sithol, a recent homebuyer in Phnom Penh, said that, "When asked if I should buy or rent a home, I prefered to buy a house. Buying a house is good because in the future the price of this property will only increase. Even if it puts you in debt now, you can profit in the future."
"Personally, i believe by buying a home you are investing in the future," said La.
La also mentioned that "if you don't have enough cash to buy upfront now, or are unable to borrow from a bank, rent an affordable house for the time being, and save your extra money to invest down the track. Don't waste your money renting the perfect house - instead, live cheap now and save for your perfect home in the future." 
However, Mr. Ky Sophoeun, a teacher in Phnom Penh said that, "I think that renting a house is a better option for those in business, because by not committing to a home loan or large upfront payment, we have more capital to inject into our growing business.
Sopheourn continues, "It is even better if you can use that rental house for dual purposes, living and running a business: If you can lease a house at the right place and the right location, it is not only a convenient place for you to live with your family, it is concurrently available for doing business to generate more money. This will soon legitimise your rental rates."
Sopheourn says, "Renting a house allows us to have some extra capital to operate the business. If we spend all our savings purchasing a house outright, all money saved will flow into that payment or into supplementing the home loan, and there will be no money left for trading, and that means no money coming back either!"
However, Sopheourn does say, "But, if we have enough money for a house, let's buy - but always make sure we still have money do business!"
What about when purchasing a business property?
Mr. Chhim Saolim, staff of a financial institution in Phnom Penh said, "The situation is different depending on what you need the property for: if it is the place to live, buying a home is better. But if it is for commercial uses, renting is always better."
He explained that, "for business purposes, renting is always the best option. Why? Because a business is always changing… When you are just renting, you are able to be flexible to this natural change when it occurs. If your business grows, you can change your property - and the same if it shrinks or changes its purpose."
However, Va notes that, "While renting a place is generally the best option for a business, for an established business buying may be the right choice. For example - your company has a very good brand and everybody knows where it is, and it is perfectly set up for your business operations; If you are renting and then the contract for your office ends and you cannot renew, nobody knows where you are anymore and you lose the setup you have. Meanwhile, someone else can use your business property if they take the rent, which is already perfectly set up for your kind of business, and start to do the same business. What happens for your business then?"
Want to learn more about investing your money in property? Get in touch with the leading real estate agents in Cambodia today!