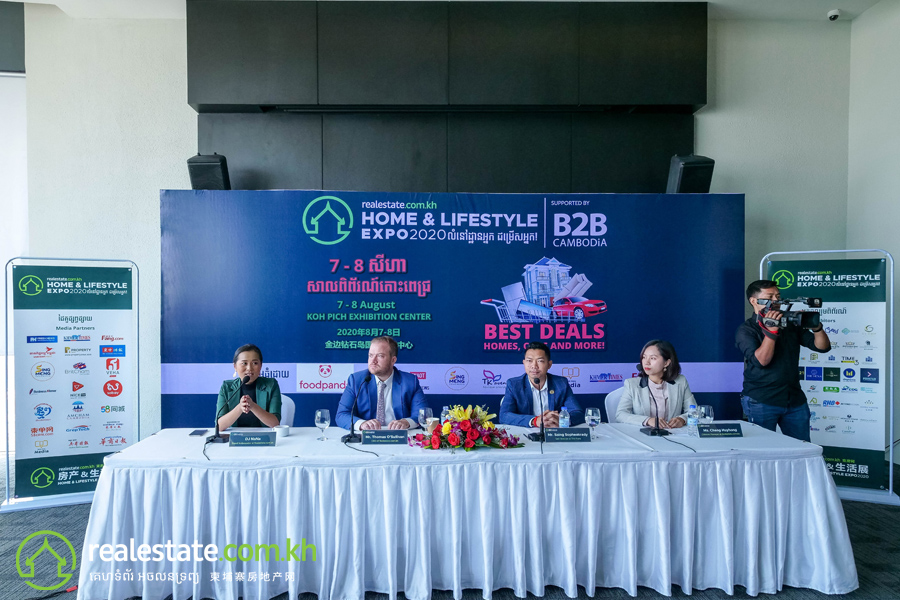 Realestate.com.kh kicked off the sixth iteration of its massively popular expo series on Tuesday morning at Lyve Inc Hotel & Residence, pushing the real estate and related industries to new heights with its latest event, the Home & Lifestyle Expo 2020.
The Home & Lifestyle Expo series was first launched last year by Realestate.com.kh's founder Moek Chenda and the company's CEO Thomas O'Sullivan with the vision of creating an event where buyers secure some of the best deals in real estate, automotive, retail and more- targeting middle to affluent locals and expats based in Cambodia.
The first, Home & Lifestyle Expo 2019 was a major success that broke the country's biggest property sales event ever in Cambodia with a whopping $ 30 million in sales and attracted over 20,000 visitors.
Home & Lifestyle Expo 2020 is more than just real estate
"After surpassing everyone's expectations last year, we are confident the Home & Lifestyle Expo 2020 will once again be the country's biggest property & lifestyle event of the year with even more exhibitors, visitors and sales than ever before. We are really excited to bring back the Home & Lifestyle Expo to the Cambodian market, especially to those who are considering purchasing their first homes, investment property, cars, jewelry and more," said Thomas O'Sullivan, Realestate.com.kh CEO.
"Ultimately, our goal is to give Cambodian families an opportunity to get the best deals of the year, and to create a space - or experience of sorts where they can have a great day out together," Mr Thomas said.
"Picture yourselves and your family at an event where you can not only come and buy your first home or investment property, at The Flora for example, but also take part in one of the workshops, speak to the leading schools in Cambodia, entertain the kids in one of the children-friendly zones, have some lunch in the food section powered by foodpanda, buy some exclusive jewellery from Lukfook Jewellery Cambodia and finish the day test driving a potential new car from MG. This event gives any local or international an in-depth overview of what Cambodia has to offer, not only in housing but also in tech, retail, lifestyle and more," he added.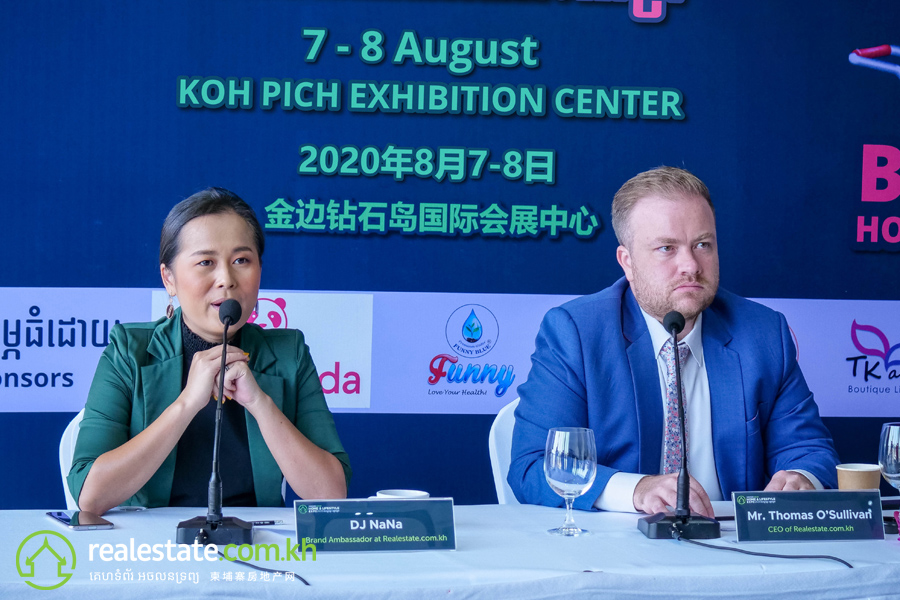 Home & Lifestyle Expo 2020 will be taking place on the 7th and 8th August 2020 at Koh Pich Exhibition Center with each day starting at 10:00 am and finishing at 7:00 pm on Friday to allow people to come after work and 6:00 pm on Saturday.
Besides real estate, there will be exhibitors from ancillary businesses including banks, microfinance institutions, design, construction and insurance firms. As well as cars, motorcycles, mobile phones, appliances, furniture, devices, jewellery, sportswear, fashion and more.
Better yet, attendees to the Home & Lifestyle Expo 2020 will also have chances to talk with representatives from some of the country's leading financial providers to find out more regarding loan requirements and procedures for homes, cars and more.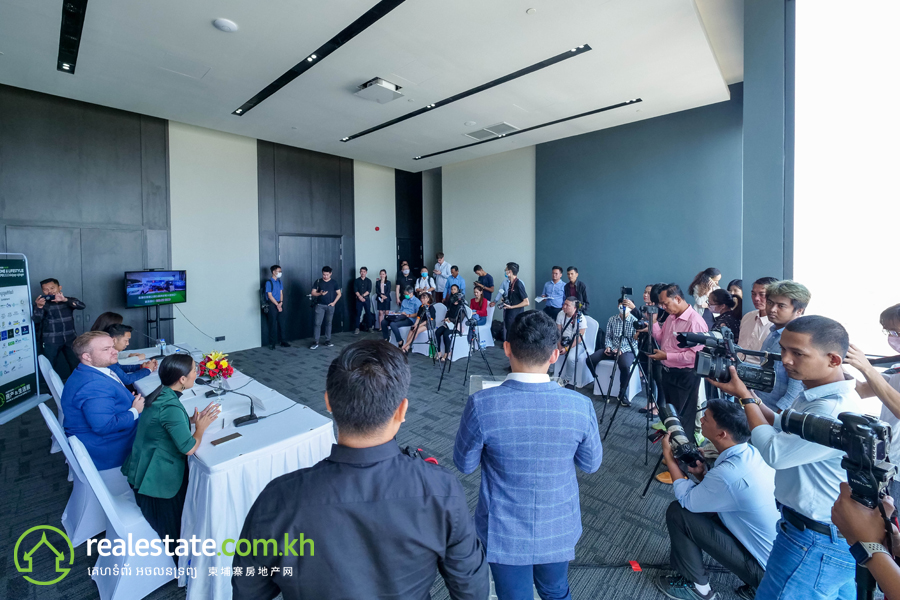 Visiting the Home & Lifestyle Expo 2020 is a perfect family day out together and also includes food and drink vendors powered by foodpanda Cambodia as well as fun activities for family and kids to enjoy together such as the bouncy castle and face painting.
Realestate.com.kh's recent acquisition of B2B Cambodia also means that the event will now be opened up to a whole new database of Cambodian and international business professionals looking for services in the Cambodian market including legal, accounting, audit and others as well as products including commercial real estate, loans, cars, high-end retail brands and more.
Strategic partners key to making this event possible include: global online food delivery - foodpanda, The Brand of Hong Kong, Sparkling the World, Including Cambodia - Lukfook Jewelry, FUNNY Water, as well as media heavyweights Tnoat News, Khmer Times, Sing Meng Media, Fang.com and Panasia Life
Win big at the Realestate.com.kh Home & Lifestyle 2020
Apart from securing the best deals in real estate and other high ticket items, attendees will all go into the draw to win some of the biggest prizes ever seen at similar events, including speakers, phones and merchandise with the biggest winners taking home 100% genuine jewelry, courtesy of Lukfook Cambodia.
Sponsors 
 B2B Cambodia, EZECOM, Lukfook Jewellery Cambodia, Foodpanda & FUNNY Water.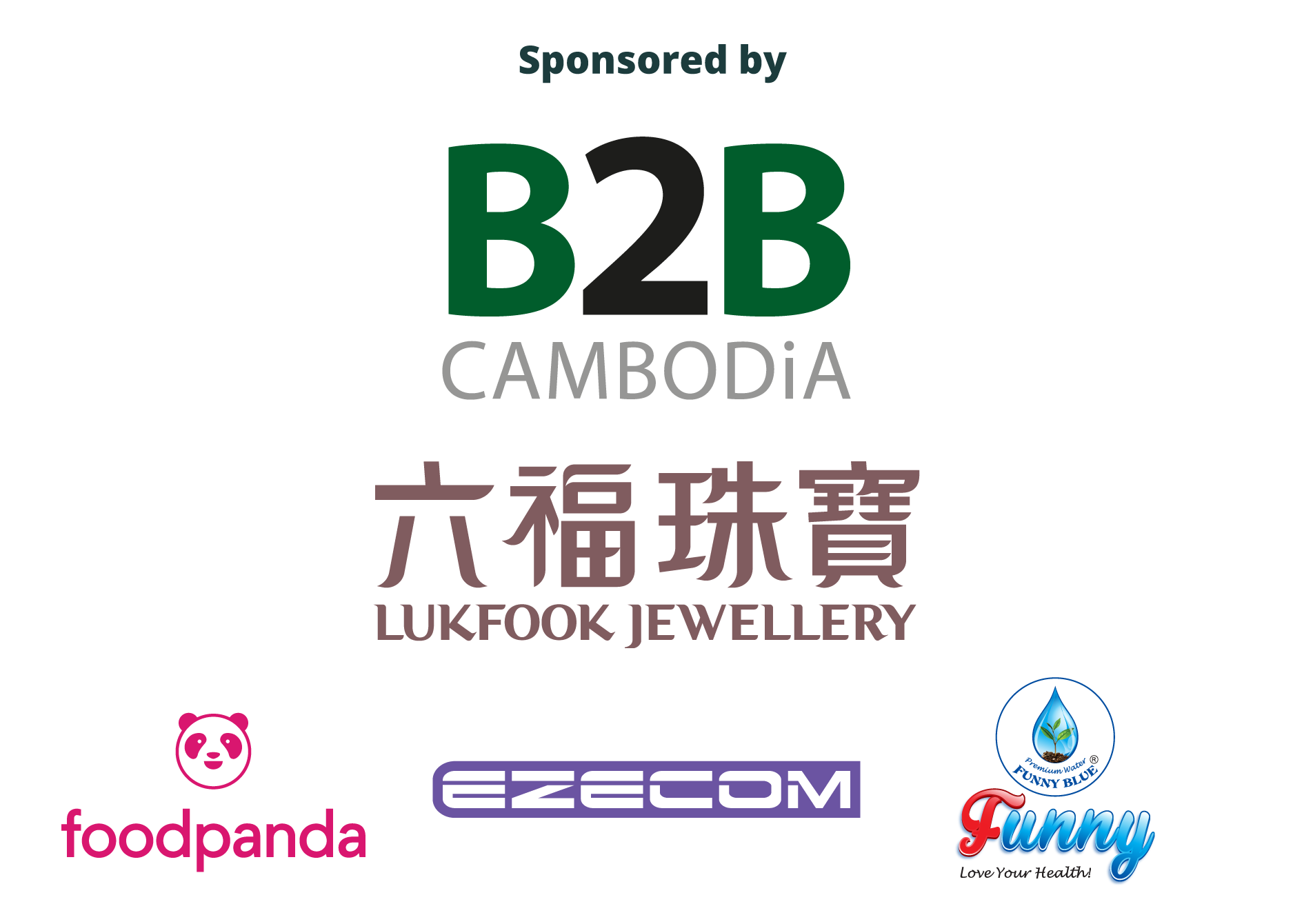 Cambodia's leading companies and developers already onboard 
Tnaot News, Sing Meng Media, Morganford Investment (Cambodia) Co., Ltd, Urban Village, La Vista One, Garden One, Huibang International Real Estate Co.,Ltd, Prince Huan Yu Real Estate (Cambodia) Group, Creed Development Group, JV Parc 21 Residence, The Peninsula Private Residences, The Hexa Condo, Golden Century, Dara Sakor, E City, Borey VIP, Borey Lorn City, Borey The Flora, Borey Mongkul Phnom Penh, Borey Eden Garden, Aristo Developers, CBRE Cambodia, Pointer Real Estate, LL Property Services,Urban Living Solutions, MZ Design, ACMA Hitachi, Lotus Broadcasting Services, E&A Consultant Co., Ltd, At Solutions, Camprof Properties, Leedon Heights, LE CONDÉ BKK1, AIMSCambodia, Modern House 01, Beyond Design, KH Land, Modern Condo, Yue Aston, Monet & Go Home Condo, Romdual City, Rest & Go, CAR 4 you bringing LEVDEO, E-GREEN & FOTO Brands and TF Motors (Cambodia) with the brand MG.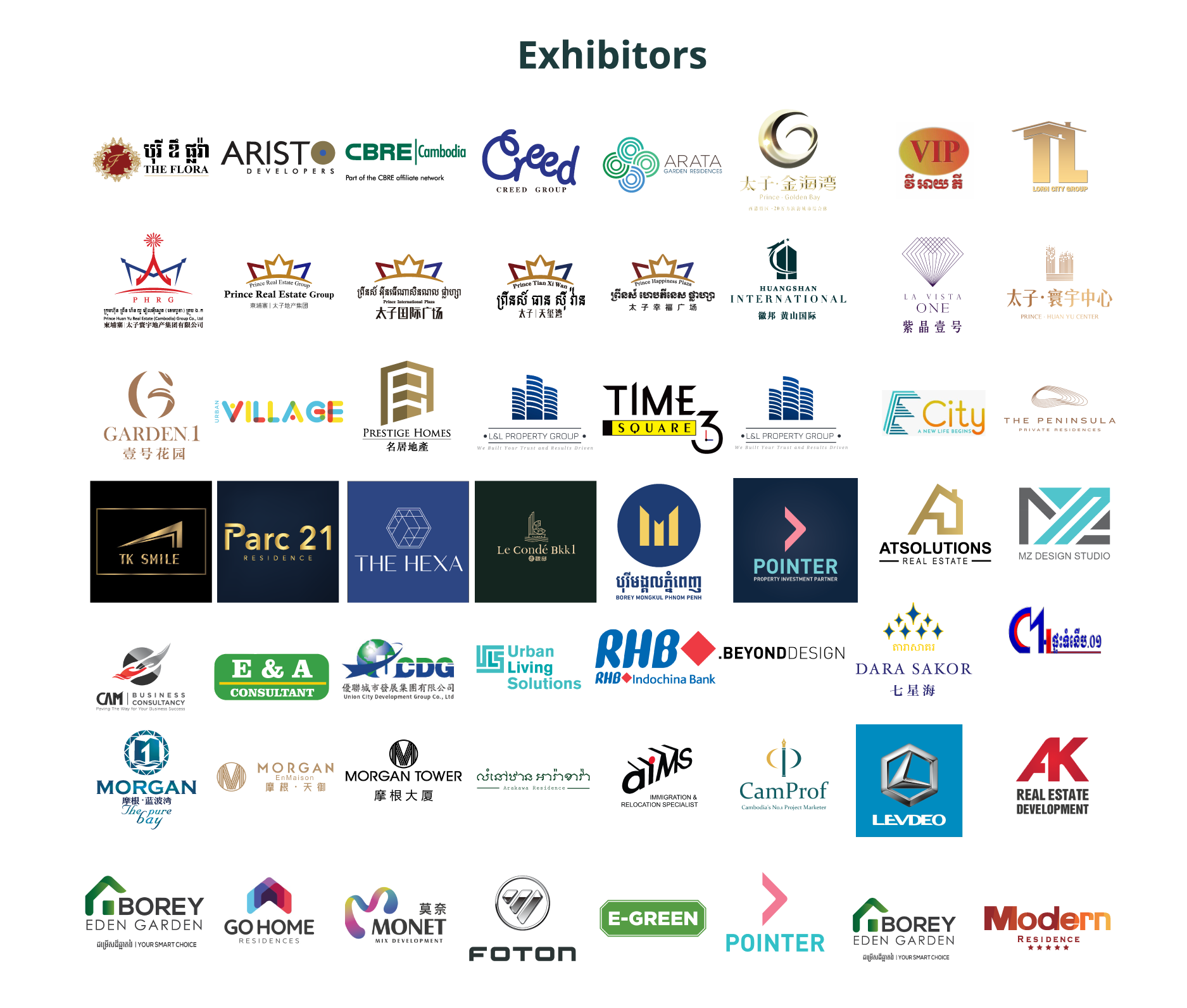 Media partners
Khmer Times, B2B Cambodia, Sabay, Nice TV, Property Area Asia, Fresh News, Sing Meng, Panasia Life, Thmey Thmey, Business Khmer, Business Cambodia, Grep Tech, 58.com, Enjoy Cambodia, Veha, BritCham, EuroCham, AmCham, and many more.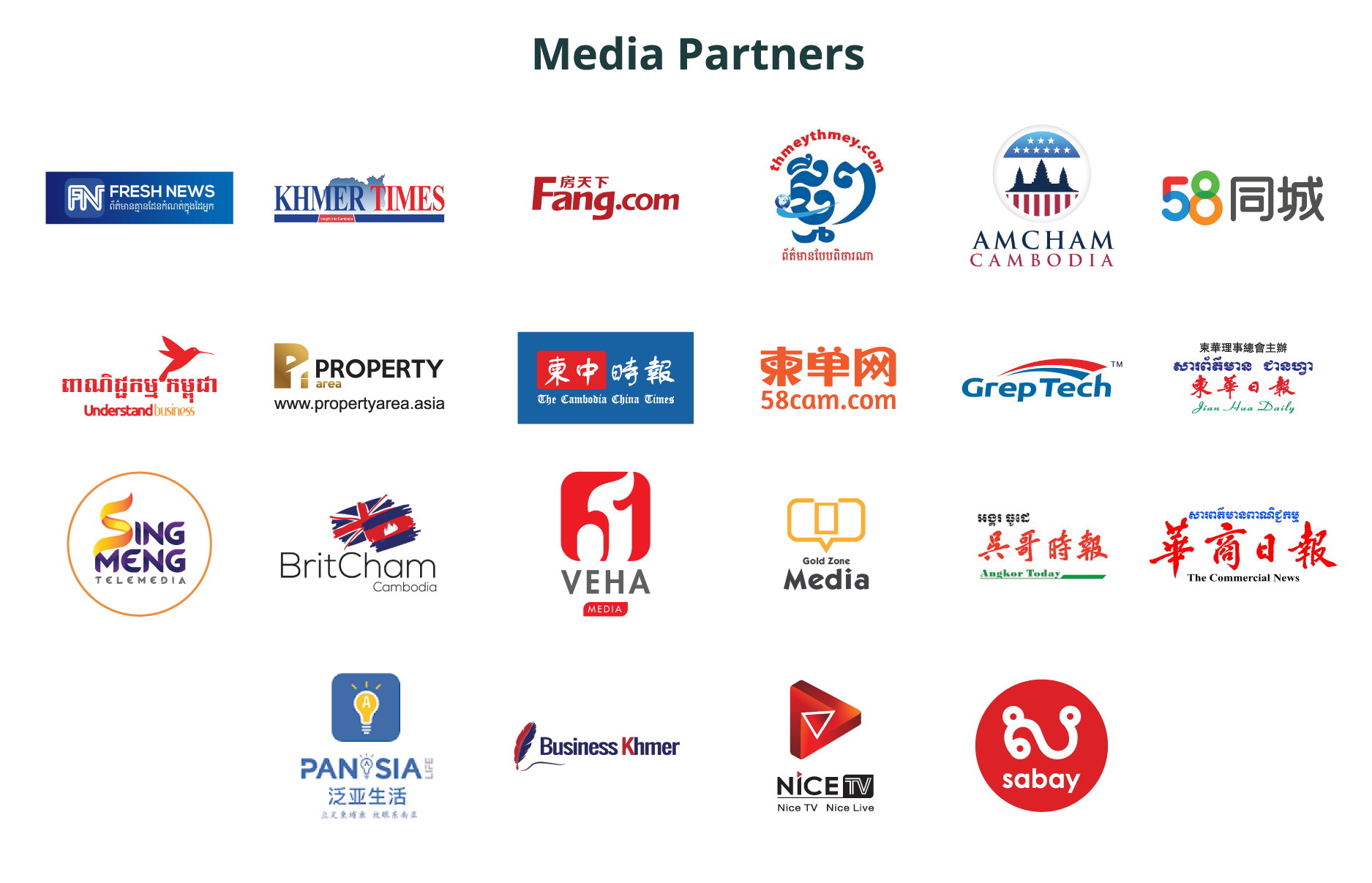 Register now for express entry!

Article by: