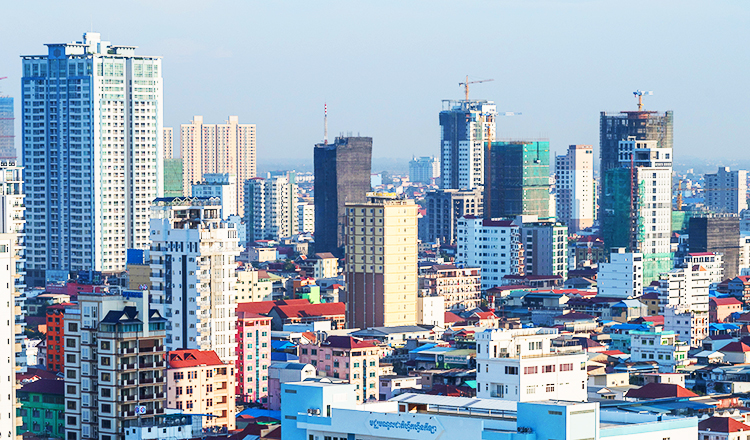 Cambodia is expected to see a rebound of ~5% according to Knight Frank's APAC 2022 Outlook Report. Photo from Khmer Times.
Cambodia's reopening has been well underway since October-November 2021. Multiple sectors, especially real estate, are already positioning themselves for the Kingdom's economic rebound. In late November, Realestate.com.kh reported property developers are looking at price increases over the next 12 months. This begs the question: "Is now a good time to buy before property prices rise?"
"Over the past six months, condominium prices in all positions: Affordable, Mid-range, and High-end, have corrected downward by an average of -4.6%. Mid-range and High-end experienced the greatest correction, partly due to developers having marginally more room for price adjustment compared to Affordable," said Lawrence Lennon, the newly-appointed Managing Director of CBRE Cambodia, an international real estate service provider.
Lawrence reminds us of the importance of assessing investments on a case-by-case basis despite the expected growth, saying "Consider a range of factors such as location, project positioning, developer profile, construction quality, unit density, age, price, etc. Put simply, do your homework before acquiring any property."
Ross Wheble, Country Head of Knight Frank Cambodia, a global real estate consultancy, similarly recommends foreign buyers observe the market before making decisions.
"Whilst we are certainly bullish for 2020 and expecting a strong rebound in the economy in 2022," said Ross. "We would recommend still holding off over the short-term as uncertainty remains over global travel restrictions which will impact on foreign investors traveling to Cambodia. With the available stock in the market, we do not foresee price increases over the short-term."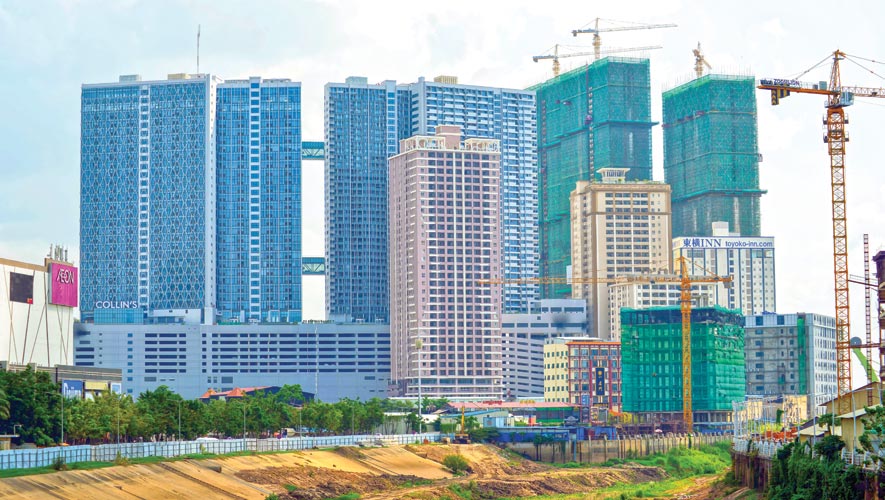 Construction around Phnom Penh has resumed with some projects running 24 hours. Photo from Khmer Times.
Prior to COVID-19, Phnom Penh became a hub for investors as many of the new developments in Cambodia are found in the capital city. The pandemic, however, upended the boom and left many developers shifting strategies. But as with any door that closes, another opens.
"This is very much dependent on an individual investor's investment strategy, asset type, timeframe, and risk appetite" cautioned Ross, "But we are certainly seeing a lot more activity in the coastal provinces of Kampot and Kep, which will benefit from the investment into the area in preparation for the Southeast Asian games in 2023"
Ross highlights that while other areas are seeing promising developments, Phnom Penh will always have opportunities across all sectors given it's the capital city and the economic hub of Cambodia.
"We are now seeing notably higher demand from Cambodian tenants for condominium rentals. We believe there is now a level of support in the rental market at between (US) $300 to $400 per month for one-bedroom units catering to many domestic occupiers," he said. Ross notes that ASEAN-Expatriates are also contributing to this market demand.
Cambodia recently reopened commercial flights from neighbouring countries such as Thailand, Malaysia, and the Philippines following new travel rules for foreigners issued in November 2021.
"Where condominium prices go over the next 12 months will heavily depend on overseas buyers' ability to purchase and travel," said CBRE's Lawrence Lennon. "Conversely, Q3 '21 witnessed more positive activity in the landed property market, with most sub-categories correcting upward on average price by 11% during Q2 & Q3 - a reflection of Cambodian buyer's preference for landed property over more high-rise formats, though a trend bolstered by the high number of new launches."
"If an investor is looking at Phnom Penh, land prices coming at around US $30 per sqm at the outskirts of the city are definitely worth checking," said Malay Nop, Branch Manager for IPS Cambodia, a premier real estate agency servicing expatriates and Khmer buyers. She adds that work on national roads across the country is driving prices up. "Land close to the National Road 4 also offers high potential returns, especially around Kampong Speu which can be had for US $5 to $10 per sqm."
"The old adage of 'location, location, location' still holds true but so does 'price, price, price'." said Ross. "With support in the rental markets at circa $400 per month, there are still opportunities in the condominium sector to generate net returns of 7% but the projects need to be well-located and at a competitive price."
IPS' Malay Nop agrees, "There are a lot of opportunities now that Cambodia has largely reopened. It's advisable, especially for new investors, to consult real estate professionals before making decisions".
Article by: