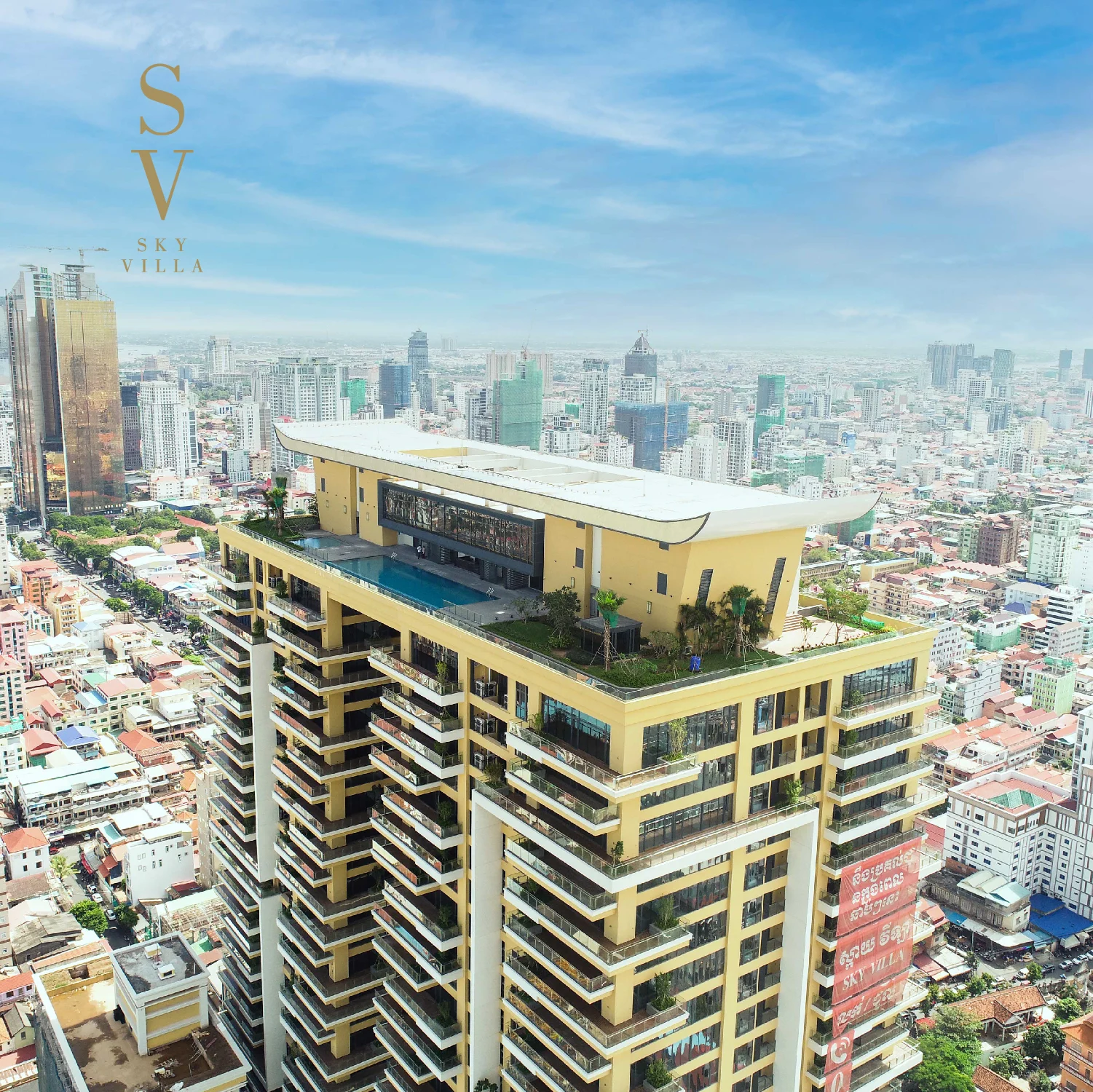 Large and expansive landed properties are the ideal properties to own for most Cambodians. But in the last decade, big flats in the city center have become more popular in the Kingdom's property market. Sky Villa, the premier luxury development in Phnom Penh, is emerging with two of these realities in mind and is delivering the future of luxury living today.
The premier large flat choice in Phnom Penh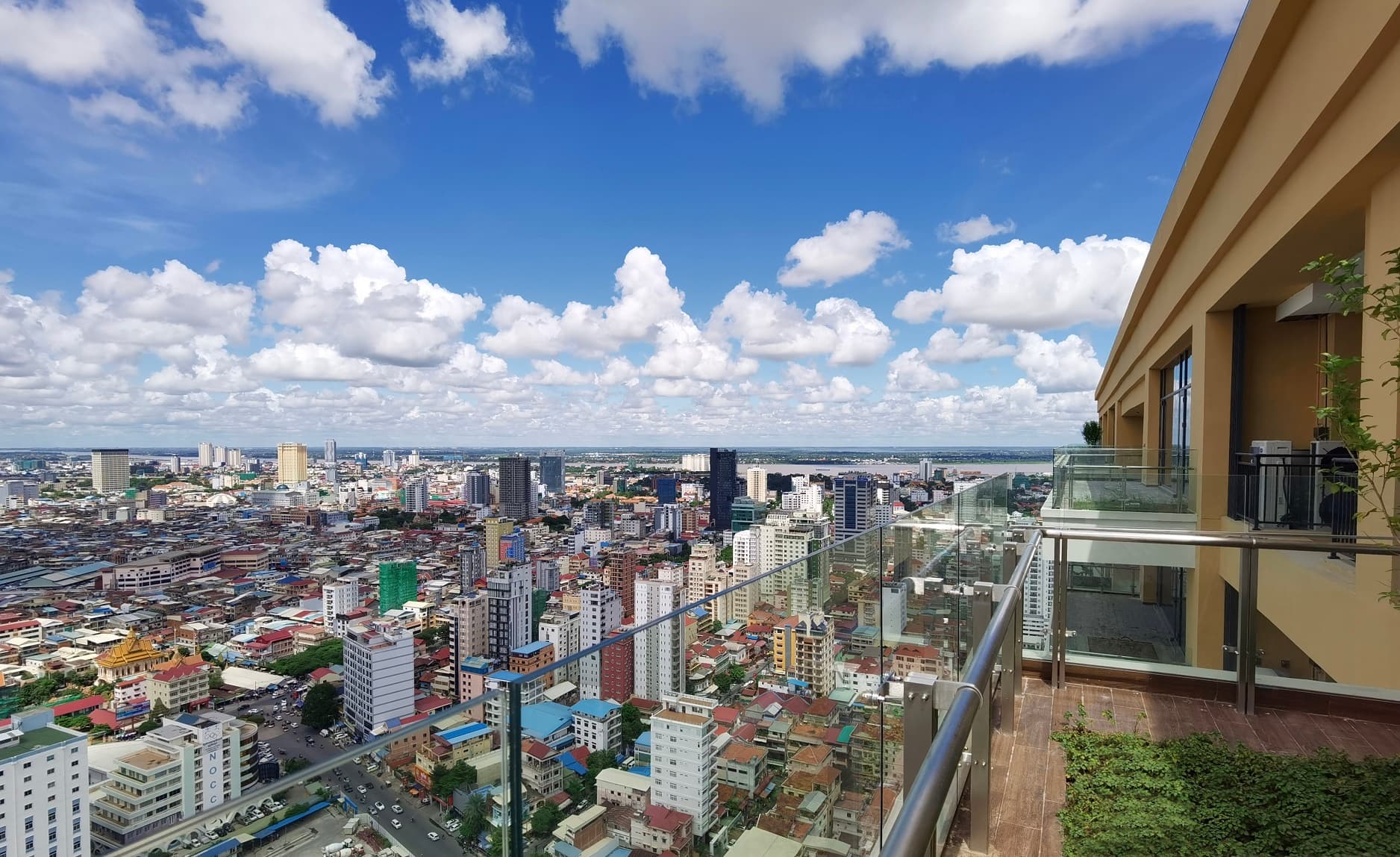 Sky Villa is a sky garden-style mansion made up of two 35-storey twin towers, measuring a total height of 140m. It is adjoined at the top with a unique structure for a special amenity, something we'll get to later. A beautiful vista of Phnom Penh's growing cityscape from this new urban landmark in the capital.
Sky Villa does not only stand out by height but also through its design that showcases a timeless elegance and artistic inspiration in the pursuit of a refined lifestyle. Some even say Sky Villa is more than just a residential product building, but more of a masterpiece of artistic style and luxury design.
Since we're on the topic of artistic style, it's worth mentioning that Sky Villa was created by CY Lee, the internationally renowned Taiwanese chief architect of the iconic Taipei 101.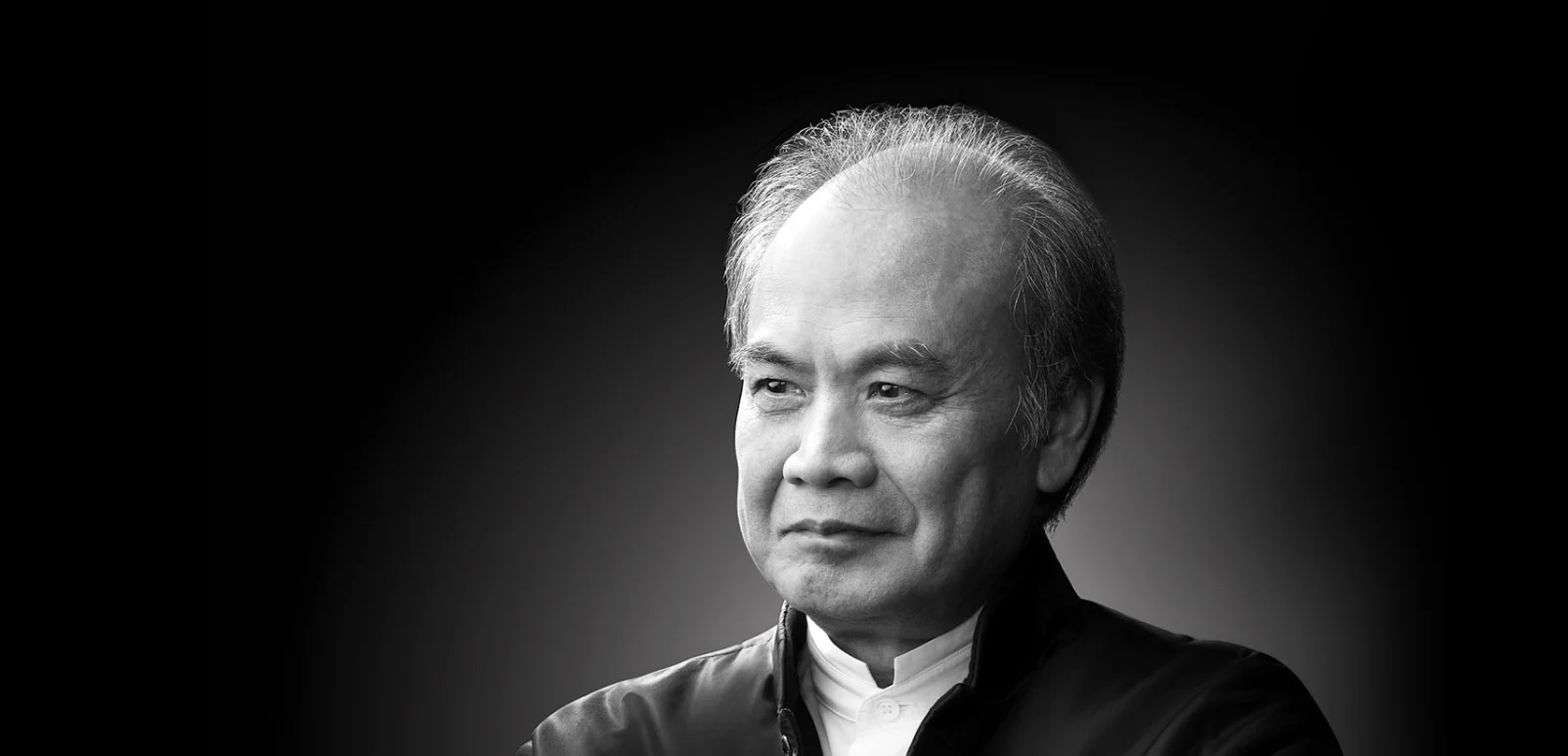 SKY VILLA lead architect——Li Zuyuan
Bachelor of Architectural Engineering, National Cheng Kung University,
Master of Architecture, Princeton University, USA
1978 Founded Li Zuyuan Architects Office
1995 Won the First Outstanding Architect Award
2003-2006 Waseda University, Japan-Professor of Architectural Research Institute
2008 Won the 12th National Art Award
The Taipei 101 is iconic but not the only project under CY Lee's belt. The Kaohsiung 85 Sky Tower (Kaohsiung 85 Sky Tower) and Chung Tai Chan Monastery (Chung Tai Chan Monastery), are a few more testaments to his talent as an architect.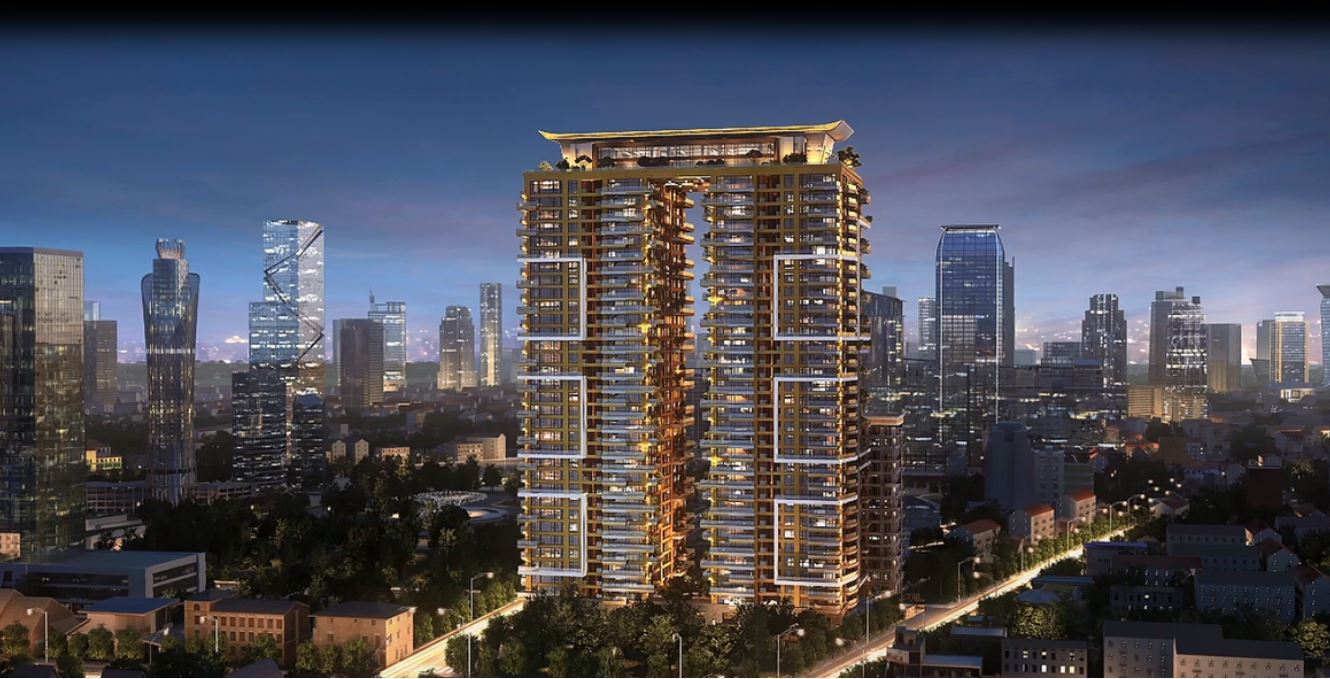 Sky Villa is the latest iteration of Li Zuyuan's talent and professional experience, breaking through the original artistic height of residential buildings, and is the pinnacle of luxury mansions in Phnom Penh. It has an exclusive style and extraordinary temperament in the city.
Walking into this building, you will find that every grass and wood, brick and tile, and even a mouthful of air, all demonstrate health, comfort, and the pinnacle of modern luxury residences should have. An exquisite reception hall will introduce you to all these elements to create a warm sense of home. This is complemented by the abundance of large gardens, spacious terraces, and even complete sports facilities for a truly healthy and relaxing time at home. 
Sky Villa has an excellent location, bright space, precious materials, exquisite craftsmanship, and unique design, capturing the essence of modern life. Its interior design is seen through its magnificent welcome hall, the atrium sky is 10 meters high, and full natural lighting. The classic butterfly spiral staircase of European aristocracy can move to the mezzanine banquet hall. It is specially customized for high-standard banquets and private parties.
On the 35th floor, a sky courtyard can be found that tops off of the overall design of Sky Villa. The sky courtyard creates an alluring environment for harmonious urban life.This sky courtyard is the best choice for those who want to have a private space at the top of Phnom Penh's growing city skyline.
High-end urban facilities, the leading vertical living community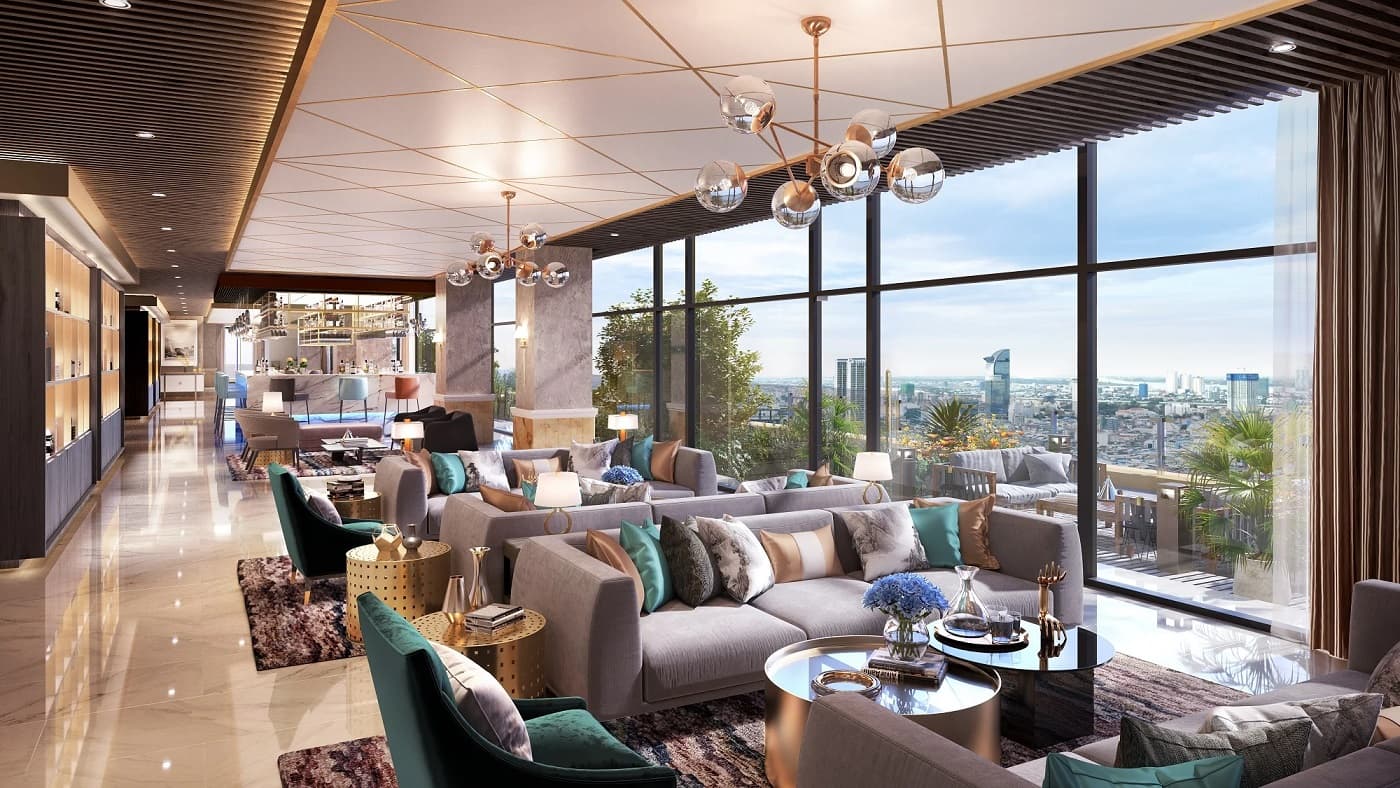 The city is blessed with large flatlands and low-density luxury products despite the city's quickly developing urban lifestyle. Sky Villa's residential units all adopt high-end designs and materials, making it the premier luxury residential product across Phnom Penh.
Sky Villa has 256 units and eight types of units, all of which are high-taste luxury units, ideal for individual elites and luxury families. Its large flats range from 272 square meters up to 509 square meters, easily surpassing (by a lot!) any second luxury development in the city. A good portion of this space goes to its wide living areas which is filled with natural light illuminating a magnificent scenery of a wide, comfortable, and beautiful designed home.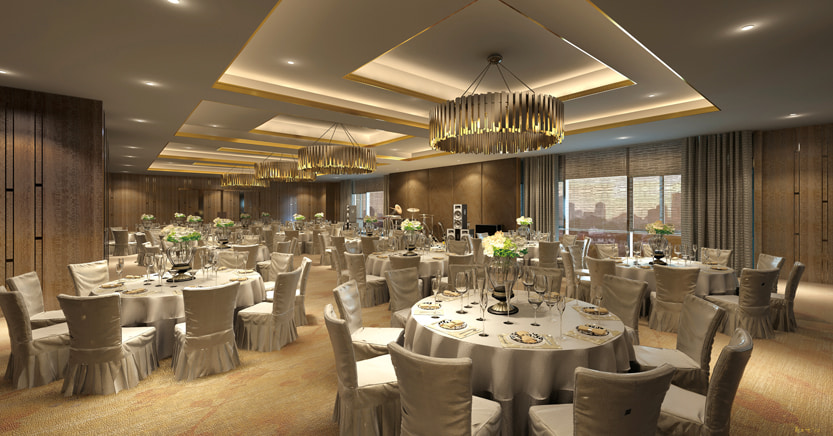 Additionally, each unit has a ceiling height of 3.6 to 4.1 meters - a more than ideal ceiling height to keep your home cool even in the Cambodian summer months.
In addition to the spacious living area, each apartment of Sky Villa has a well-designed large viewing balcony, which can be directly accessed through the glass door of the living room. This is a blank canvass on its own right where you can build a private garden, or use it as a barbecue area or a tea area.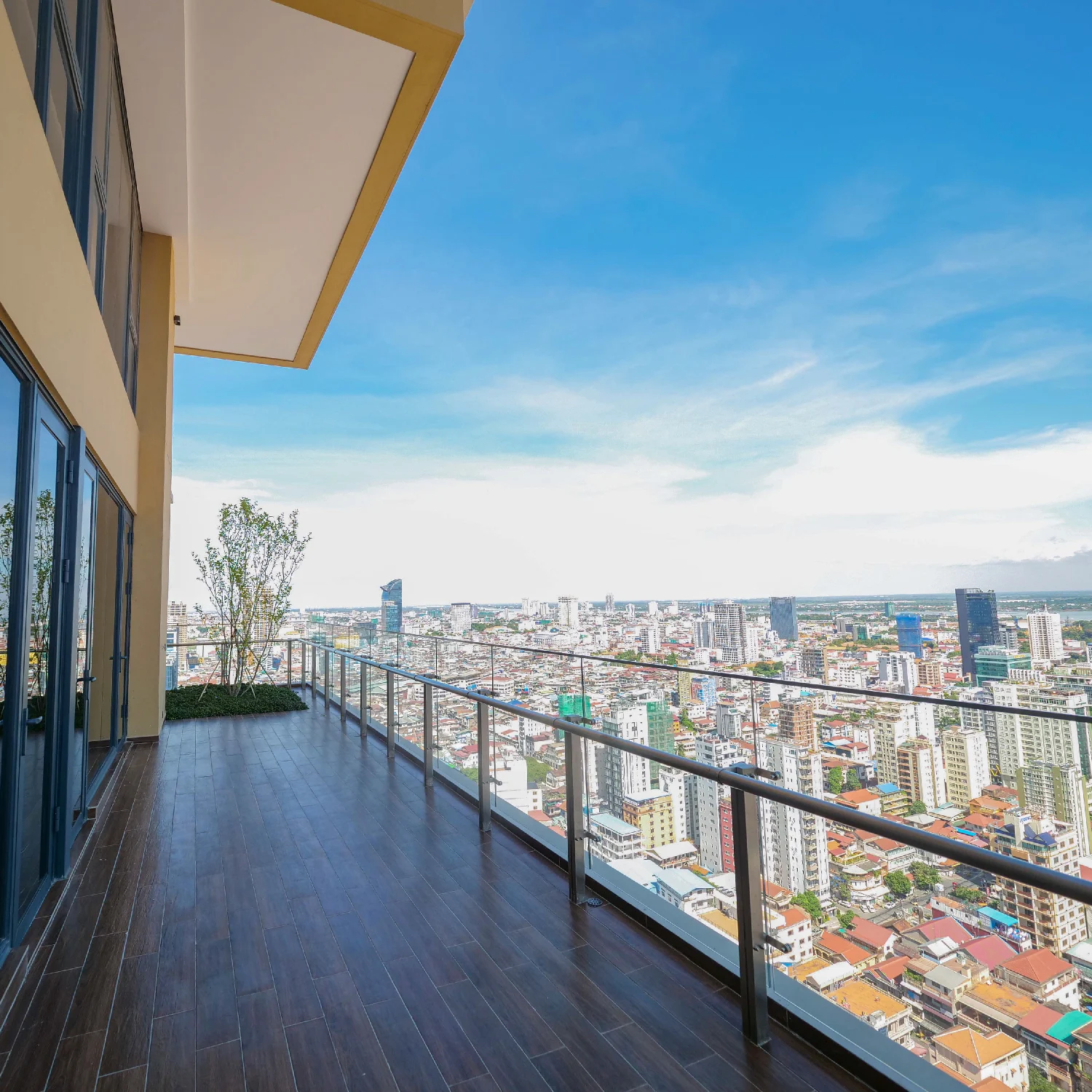 If you want to live in a busy city but still enjoy the tranquility of the suburbs, the soundproofing design of the room is particularly important. Sky Villa considers the use of double-layer sound insulation glass, which can effectively block 90% of noise in adjacent rooms and hallways.
Given that Phnom Penh is in the tropics turning on the air conditioner with the doors and windows closed for a long time will cause the indoor air to be very dry. Sky Villa avoids this inconvenience by using independent central air-conditioning, effectively facilitating a proper circulation of indoor and outdoor air for better quality.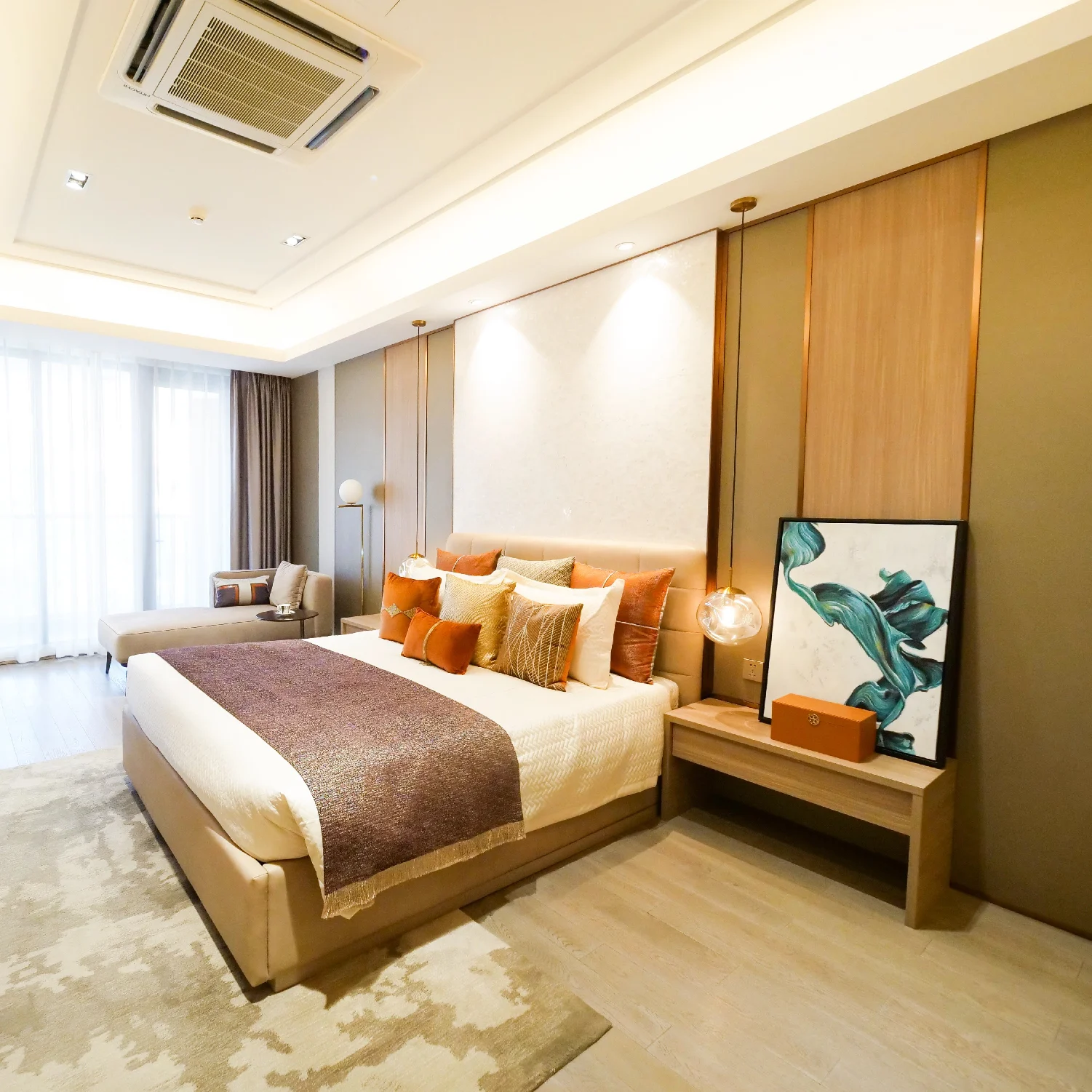 Each apartment type in Sky Villa is designed with more than 2 rooms. Both the master bedroom and the second bedroom have a large space emphasizing on comfort. The bedroom easily accommodates more than 1 large bed of more than 2 meters. These also have a dressing room and cloakroom with no space spared for the type of resident Sky Villa is meant for.
The toilet is designed with a separate wet and dry partition for an organized layout. The master bathroom is equipped with a bathtub. The bathroom products are all made of Hansgrohe and Duravit brands, which are beautiful, durable, and easy to clean.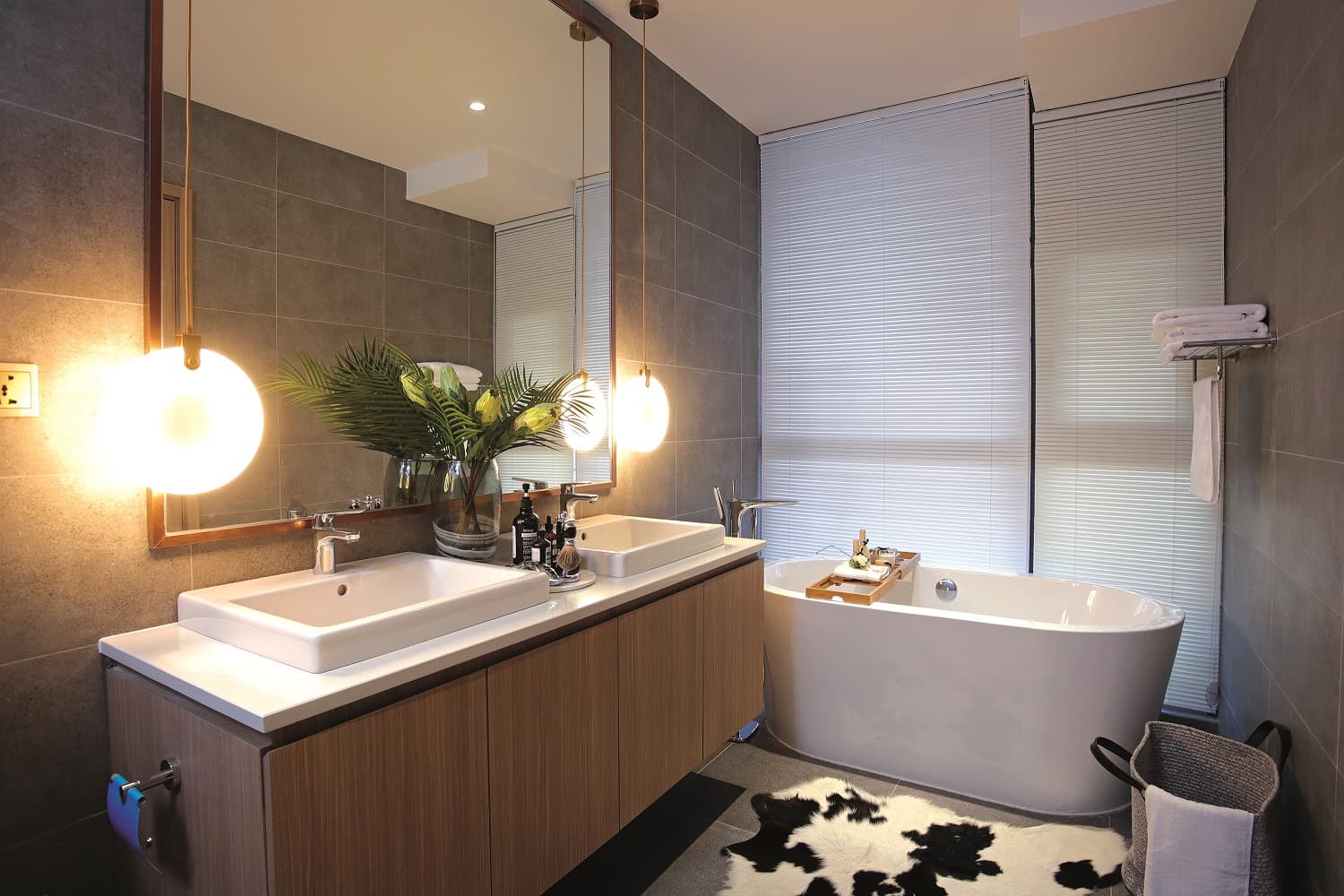 The storage cabinets in the bathroom are all suspended and fully enclosed, moisture-proof and dust-proof, and not easy to be messy. The invisible handles ensure safety while maintaining a beautiful appearance. Selected bronze framed mirrors can stretch the visual effect and make the space more open.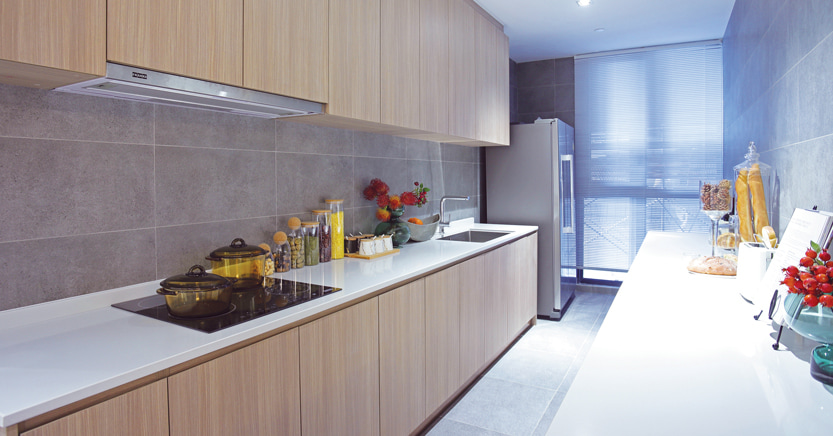 When it comes to the kitchen, it has a double-row design layout for an optimal refrigerator position. Cabinets are neat and are adequately spaced against a table which can sit 4-6 people at the same time. Whatever the occasion may be, Sky Villa's kitchen area can accommodate everyone in the family.
Sky Villa has a four-story underground parking lot, safe passages for entrances, and 24-hour monitoring equipment to protect the house.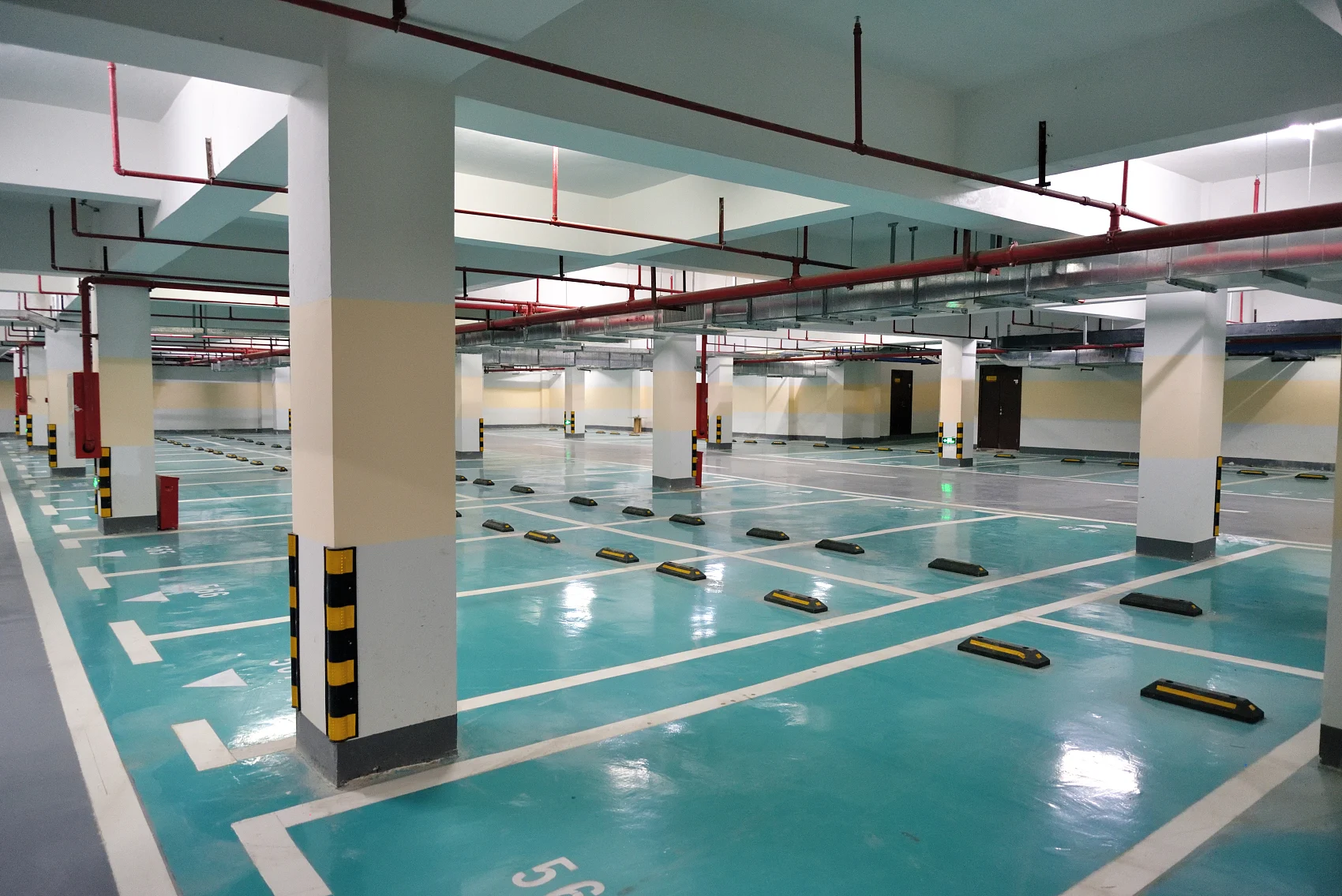 Sky villa ensures the security of each home by adopting the three popular unlocking methods of "password + swiping card + key", and are equipped with a full-function video intercom as an additional security measure.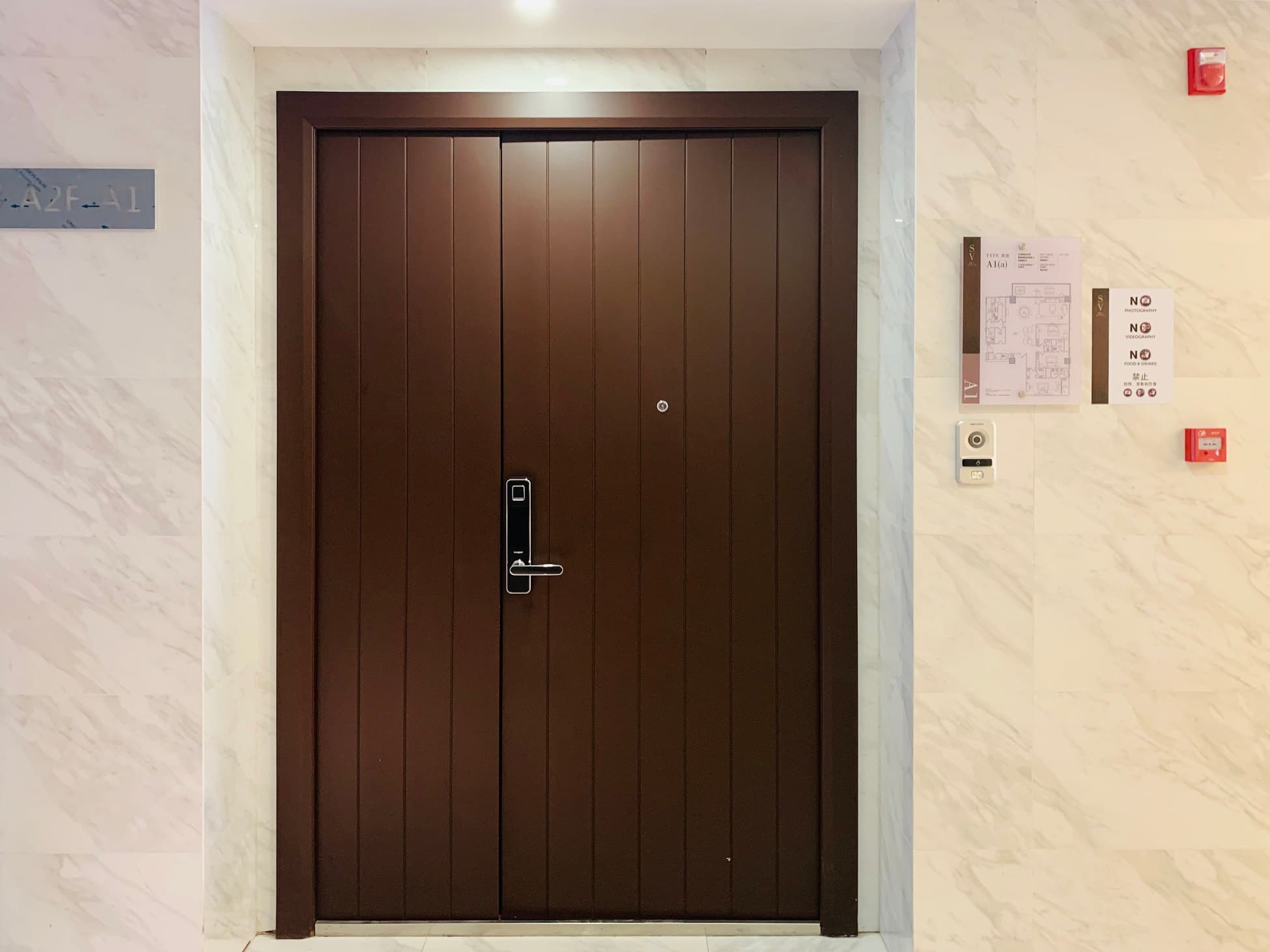 In addition, the full-featured video intercom can also be connected with door sensor openings, infrared alarm detectors, smoke detectors and other equipment to upgrade to a security technology protection network, which plays a role in anti-theft and disaster prevention.
Each apartment is equipped with an indoor escape door. You can go down the stairs from this door if the elevator cannot be used in an emergency. Sky Villa provides the greatest degree of protection for the owner's life and property safety.
Dominating the city skyline and lifestyle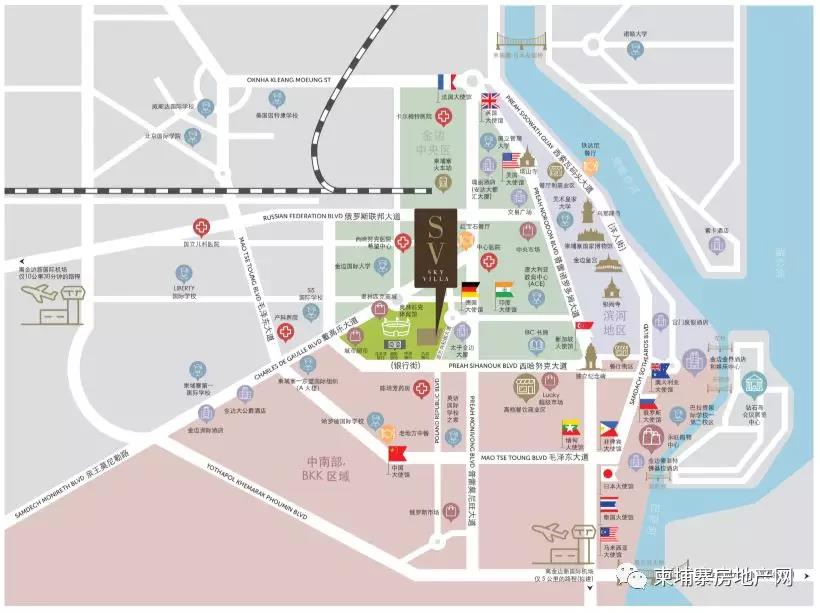 Location is the primary consideration for real estate purchase as it directly determines your living experience and the property's future value - two things Sky Villa is unparalleled in Phnom Penh's property market.
It sits on the central axis of Phnom Penh City-the southern part of the Olympic Stadium in Makara District. It is adjacent to Sihanoukville Avenue and Polish Republic Avenue. The surrounding area has plenty of transportation options heading towards the many commercial hotspots in the city.
Government agencies, embassies of various countries, and international financial banks, and other first-class political and commercial supporting facilities are just around the corner. There are also Olympia shopping malls, Aeon 1 shopping malls, the Russian market, and the famous central market within 3KM of radiation.
Living in the city, in addition to the bustling shopping malls, sports centers, etc., are the many famous schools around Sky Villa, allowing parents to have more choices in ensuring their children's well-being.
Sky Villa stands as a testament to Phnom Penh's future as a prime real estate destination. While the market currently struggles relative to its pre-pandemic activity, it doesn't discount the desire of many Cambodians, especially among the elite, to realize and own a home that exemplifies the improvement of their city and their lives. The future is truly bright with Sky Villa.

Interested in the true elite residence of Phnom Penh? Contact us below!