It is no accident when foreign investors enter Cambodia and spend millions on highrise condo projects. Why do foreign investors invest in Cambodian condos? The answer relates to political stability, strong economic growth, and the free use of the US dollar.
The Cambodian economy has increased so fast since the civil war's end, and relative stability has been achieved in only two decades. Cambodia maintained a 7.8 percentage GDP increase every year since, which makes it the sixth fastest growing economy in the world.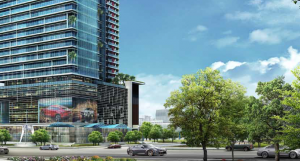 CEO of Eastland HK Development, Sam Yang, who has been building Cambodian condos and high office buildings in Phnom Penh, said that his latest project, East Commercial Center (ECC), will finish at the end of 2017. This building is 38 floors on Norodom Boulevard - with small, adjustable office spaces for sale and rent, with reason prices and a good location.
​ He went on to say, "I think that 2018 will be ok. There isn't any market which is unaffected by politics. You have to remember that Myanmar and Thailand will also have elections, and it will be the same type of situation we predict in Cambodia".
He added that there three main points in this market which make it very attractive. Firstly, we are sure that the next major international economic boom will occur in an Asean country. Secondly, Cambodia is the third country in Asean to have achieved relative political stability. Thirdly, investors can rely of the US dollar in Cambodia, and this is very attractive." Yang also sees Chinese investment continuing to increase in the next few years, citing plans for a regional Chinese railway in the coming years.
He added that thus far the Cambodian real estate market has only attracted relatively small investment pools, in comparison to international standards of major investments. Generally, new real estate investments in Cambodia are valued at around 5 to 10 million dollars only. The larger real estate investment funds of 200 to 600 million dollars have not yet come to Cambodia - but they will soon.  
"The Cambodian condos market will continue to improve and Chinese investors plan to construct more roads and railway lines in 2018 to link the Asian markets together." Mr. Sam Yang asserted "Even though the investment in Cambodia is growing fast, we should still think about the correct supply while this country is developing. This is why ECC is focusing on affordable office space."
The director of JS Land Limited, Koy Lesan, said that even though there are many condo projects being built recently, some of condos don't respond to needs of customers and are too expensive. Prices per unit of around 80 to 100 thousand hundred dollars do not reflect Cambodian incomes. He went on to say that the needs for more housing for locals and foreigners is increasing, but most condo projects are still overpriced.
This understanding has inspired JS Land's new project. The Cambodian condos project is 19 storeys high and has 212 units. Each unit is priced at just $38,000. The important thing is that it will be easy for the customers to cooperate with Maybank, who has offered financing for the project. They can install payments on long terms from 20 to 25 years, allowing buyers to manage their investment alongside a low average income across the population.
KH NIRON Investment's executive director, Ms Lok Sovanna, invests in many condominium projects in order to resell the units. She said  "there is some risk but we observe that Cambodian people and foreigners demanding more and more condos and apartments and understanding the benefits of investment. She went on that KH NIRON INVESTMENT has spent a hundred million dollars investing in big projects. For example; units in Bodaiju Residences, DI Riviera, The Peak, The Bridge, and East One.   
General Director of Century 21, Kevin Goos, said that the Kingdom is the most attractive market among Asean countries. The biggest real estate markets of Singapore, Hong Kong, and Taiwan are decreasing in investment by around thirty percent. Hence, we can expect increased investment in Cambodia in the next 2 years.   
He went on to say that the real estate market in Phnom Penh has affordable prices, if we compare to other countries in Asean. Cambodia is still growing fast across economic sectors, as it has been since 2001.
If we compare the real estate market in Cambodia, it is the same as other countries such as Singapore, Taipei and Hong Kong during decades of the 1980s and 90s. Phnom Penh is growing fast and we also seeing some successful construction projects, such as the North Park Condominium project, which sold around 40 percent in the first phase of its inauguration last week.
​
He went on to say that Cambodia granted a good opportunity for business expansion and the stand of the government on Foreign Direct Investment (FDI) is very attractive if we compare to other Asean member state policies. He added that the creation of the new construction law, and development in the country generally, will open the door for investors to invest more heavily in real estate,  and aid foreigners buying condos with greater transparency and consistency.
Realestate.com.kh is proud to support the CVEA's Property View publication.
Click here to get your copy, or if you are interested to join the CVEA today.