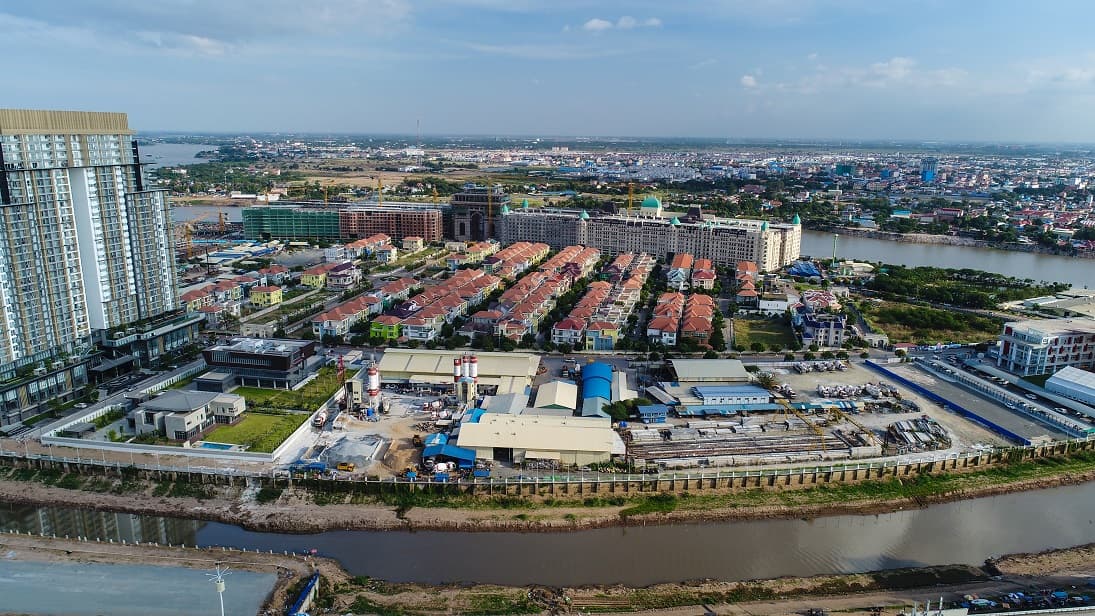 Koh Pich "Diamond Island" is a hub of many modern residential developments in Phnom Penh. Supplied.
The construction and property sector of Cambodia may see a gradual recovery in 2021, says the National Bank of Cambodia. According to NBC's report last December 21, the Kingdom's economy is expected to grow by a positive 4% in the first half of 2021 on the back of a robust financial sector.
Prior to the outbreak of COVID-19, the Kingdom of Cambodia saw an average of 7% annual economic growth from 2010 to 2019. The effects of COVID-19 in the country were forecasted to cause an overall economic contraction of up to 4% in 2020.
NBC's Macroeconomic and Banking Sector Outlook for 2021 reports that the financial sector's active asset, mainly composed of the banks, continues to grow and weather the pressures caused by the global pandemic. The report adds that the inflation rate is expected to be at a manageable level of 3%.
The World Bank similarly forecasts Cambodia's economy to grow by 4%. The Asian Development Bank (ADB) is more optimistic about Cambodia's growth forecasting it to be 5.8% in 2021. But cautions that growth may still be at risk if slowdowns in affected economic sectors persist throughout the year.
According to a Khmer Times report, NBC's report echoes these concerns saying, "The prediction depends solely on the efficacy of the vaccines, the speed in the recovery of Cambodia's economic partners, and the strengthening of our domestic economic foundation."
The tourism and garment sectors felt the immediate brunt of the pressure while the construction and real estate sectors followed as the pandemic persisted in 2020, according to the report.
The report adds that the construction and real estate sectors are expected to see renewed activity in line with the entry of foreign direct investments, revenue recovery, and the overall economic growth to follow.
Economic watchdogs and monitoring groups are, across-the-board, optimistic about the Kingdom's gradual recovery in 2021. A few key developers have also expressed the same positive outlook for Cambodia's construction and property market.

Article by: