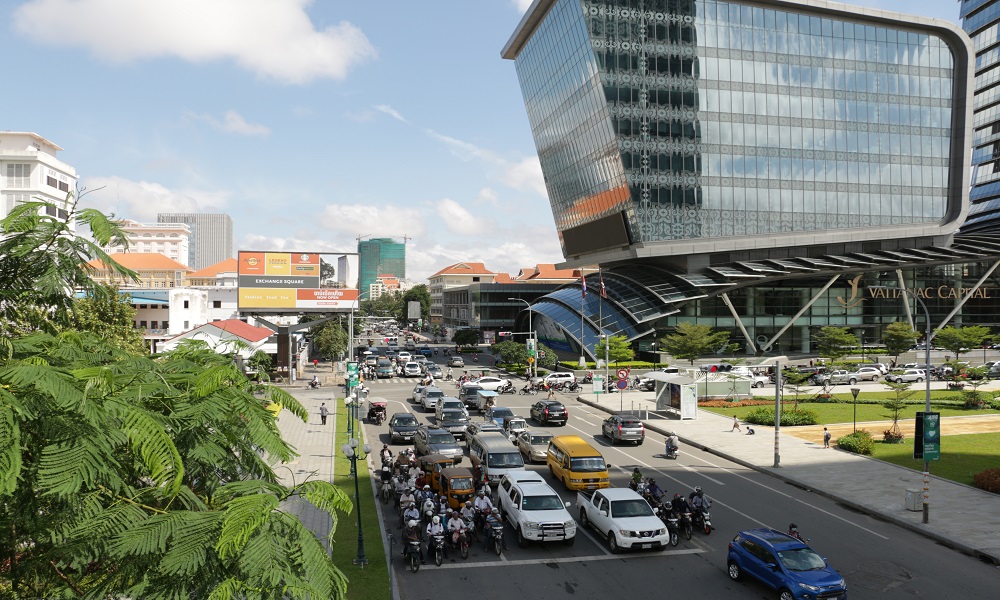 The amount of office space in Phnom Penh has continued to increase over the past year. This is due in part to the growing number of foreign companies setting up shop in the Kingdom. 
According to a new report from real estate services firm CBRE, centrally-own office space in Phnom Penh reached 359,300 square metres at the end of June. This represented an increase of 12 percent from 320,900 square metres, where the total stood at the same time last year.
CBRE's senior analyst, Kim Kinkesa, told Realestate.com.kh that there has been an increasingly strong demand for quality office space in Phnom Penh in recent years.
She added that despite the rapid growth in office supply over the last 12 months, quick uptakes have kept the occupancy rate high. It has stayed above 85 percent, in fact, over the previous four quarters.
"A majority of the inquiries we have received over the last 12 months have been from international companies from China, Singapore, Japan, Malaysia and other countries in the Asia- Pacific region," Kinkesa said, adding that most companies come looking for offices between 100 and 300 square metres. 
"The net uptake of office space in the first half of 2019 was approximately 6,500-square metres, more than twice the uptake of the same period last year, which was around 3,100 square metres." 
The company's report breaks down office space into grades A, B and C. 
According to Kinkesa, while grade C office space has the lowest vacancy rate at just seven percent, demand is shifting toward grade B office space. Both international and local companies, she said, want better quality spaces that are safer.
Just as the supply of office space is growing in the capital, the amount of strata-titled space is also increasing, according to the CBRE report. 
Similar in concept to a co-owned condo building, strata-titled office space first appeared in Phnom Penh last year. Currently, there are just over 40,000 square metres of strata-titled office space in the capital. 
However, the total is expected to reach nearly 100,000 square metres by the end of this year. Experts in the industry are even predicting that the supply of strata-titled space will hit 600,000 square metres by 2022.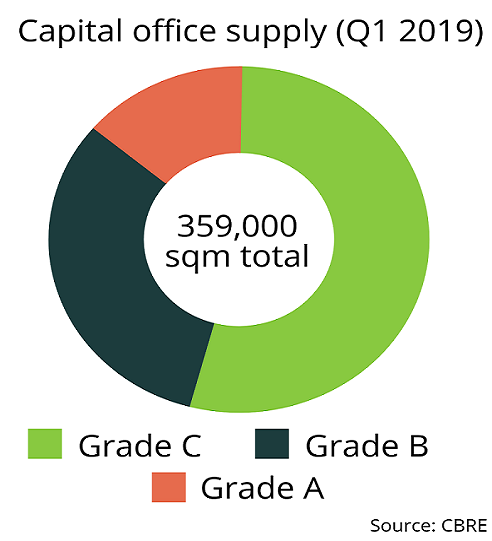 The Cambodia Chamber of Commerce (CCC) Vice President, Lim Heng, said that the continuing growth of office space in Cambodia reflects growing business activity in the country as foreign direct investment (FDI) keeps flowing in and new companies keep establishing themselves in the Kingdom.
"Cambodia's investment environment remains attractive, and we get news about new companies setting up shop almost every day," he said.
Heng added that many Chinese manufacturing operations have moved their domestic factories to other parts of Asia, including Cambodia, to avoid recent tariff hikes imposed by US President Donald Trump. This, he claimed, has driven up demand in the Kingdom for both industrial and office space.
Not included in CBRE's figures are data on coworking spaces in Phnom Penh. Popular with young startup companies, these spaces offer up small working areas, usually by monthly or daily rates. 
Coworking environments have grown in popularity over the last few years. There are several in the capital, including The Factory and ImpactHub. 
Indeed, many in the industry think that coworking spaces are filling a gap in the current market for low-cost office space, even as demand grows at the top end of the market. 
To learn more about coworking spaces in Phnom Penh, and across Cambodia, log on to Realestate.com.kh's guide page where there is a full list of all the coworking spaces in the country.
If you found this article interesting, you'll love our Investment Guide 2019: Property ownership briefing. Browse through or download your copy now.