CBRE Cambodia's recently released report outlines the details of the changes that Phnom Penh experienced throughout the 1st quarter of 2016. The report includes data and analysis gathered from the increasing activity in the land, condominium, office, retail, and serviced apartment markets.
Phnom Penh Land Q1 2016
Despite a bleak outlook on land prices which is expected to decrease by the end of the year, the land price index has shown a significant increase during the first part of the year all throughout principal districts. Land prices have gone up by an average of 4.8 percent during this time as well.
The report also notes that prices in areas like the 7 Makara and the Chroy Changvar districts saw a quarter on quarter increase of up to around 8.3 percent to 8.8 percent. This may or may not be a good thing, depending on which part of the transaction you're on. This is good for current investors who saw a high return of investment. But this may be an opportunity for future investors to shift their focus to the outskirts of the capital city.
Phnom Penh Condominium Q1 2016
According to the report, there were 8 projects that were announced at the beginning of this year which ushered in a total of 4,158 additional condo units. This is a staggering 61.6 percent year on year increase. As a result, the average sales prices for condo units across all unit types went up by 4.1 percent.
Off-plan prices for high-end units, on the other hand, grew a steady 5.7 percent where Chamkarmon took the lead and contributed 2,900 units or 70 percent of the off-plan condominium sales.
Based on the figures as well, a number of newer high-end and middle class condominium unit supply will be from international developers, where China and Taiwan are the frontrunners.
Phnom Penh Office Q1 2016
While the condominium market saw much of an improvement this past 1st quarter, the office market hit quite a few roadblocks. This caused occupancy rates to diminish by 1.5 percent, despite the construction of 3 new office buildings with a leasable space of 17,260 sqm.
But it wasn't all bad as both Grade B and Grade C office rents rose up to 1.3 percent and 2.6 percent, respectively. In addition to this, the quoted rental prices for Grade A office properties remained stable at $28 per square meter.
Taking all these into consideration, as it stands now, the total officespace occupancy rate in Phnom Penh is at  74.4 percent.
It's not all doom and gloom for the office market though as 5 office projects will be available for investors in the near future through the use of strata titles or long-term leases.
Construction for these projects started during the early months of 2016 wherein each development had launched off-plan sales during 2015.They're expected to contribute a net space that's estimated around 84,000 sqm by 2019. The average asking price stands at an average of $3,475 per square meter where Grade B spaces will take a projected 64 percent of the future office space supply.
Phnom Penh Retail Q1 2016
While there were a series of activities that showed activity in different real estate markets, retail showed little to none.
It remained relatively stable during the 1st quarter but is expected to change in the months to come.
One important event to
note though is that the Sorya Shopping Center announced a renovation and rebranding project that will relaunch it as the "Sorya Center Point".
Starting off a bit slow this year, the retail supply in Phnom Penh is expected to pick up and grow significantly before 2018 ends. This will be the effect of "a combination of new international shopping complexes and significant retail components within predominantly residential and mixed-used schemes."
One of these is the Parkson Phnom Penh City Center which is set to launch any time during the 4th quarter of 2016.
The Parkson Phnom Penh.
City Center will have 57,000 sqm of leasable space, alongside Hong Kong Land's Exchange Square which will have a total of 8,000 sqm of leasable retail space before the 2st quarter of 2017 end.
Rents, on the other hand, remained consistent all throughout the 1st quarter, except with rents from purpose built retail malls. This saw a fall amounting to 1.6 percent. Unlike the retail supply, this trend is set to continue as requirement reviews are being done by retailers in terms of pending developments that are set to be delivered within the next 12 months.
This will most likely be affected by international brands seeking prime retail locations for different uses. Among the top uses is the Financial and Professional Services which occupies around 9.2 percent of prime mall space and 33.2 percent of prime high-street. Food and beverage doesn't fall behind which accounts for 14.2 percent of high-street retail spaces and 25 percent of retail malls.
The report states that "2016 is set to welcome a wave of new international brands, with active requirements for both prime shopping mall and high-street locations driven principally by Food and Beverage/ Fashion and Accessories retailers."
Phnom Penh Serviced Apartment Q1 2016
In contrast to the other markets, it seems as though service apartments had been luckier with an increase in supply that spurred by around 5.6 percent in the first quarter alone.
According to the report, a huge factor for this is because of the Grade C serviced apartments coming up to 4,645 units with a recent addition of 246 similar projects. This may be the reason why it is the most prominent Grade type in Cambodia, making up a rough estimate of 71.6 percent of all units, in contrast to Grade A and B serviced apartments that only account for 19.9 percent and 8.5 percent of the units, respectively.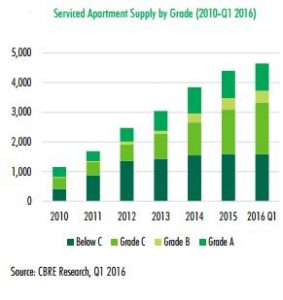 This is probably why prime serviced apartment rents remained stable during the 1st quarter where rental rates ranged from $500 per month for a one-bedroom Grade B apartment to $8,000 per month for one of the higher end penthouse units. This is not far from prices during previous months and quarters.
This stability also contributes 85.6 percent of the occupancy rate where the majority of the capital's current serviced apartment supply is located.
The report aims to provide insight for investors and developers in order to gauge whether or not to proceed with their potential or ongoing transactions. In the end, it is important to look at this data to form informed decisions and make calculated risks.