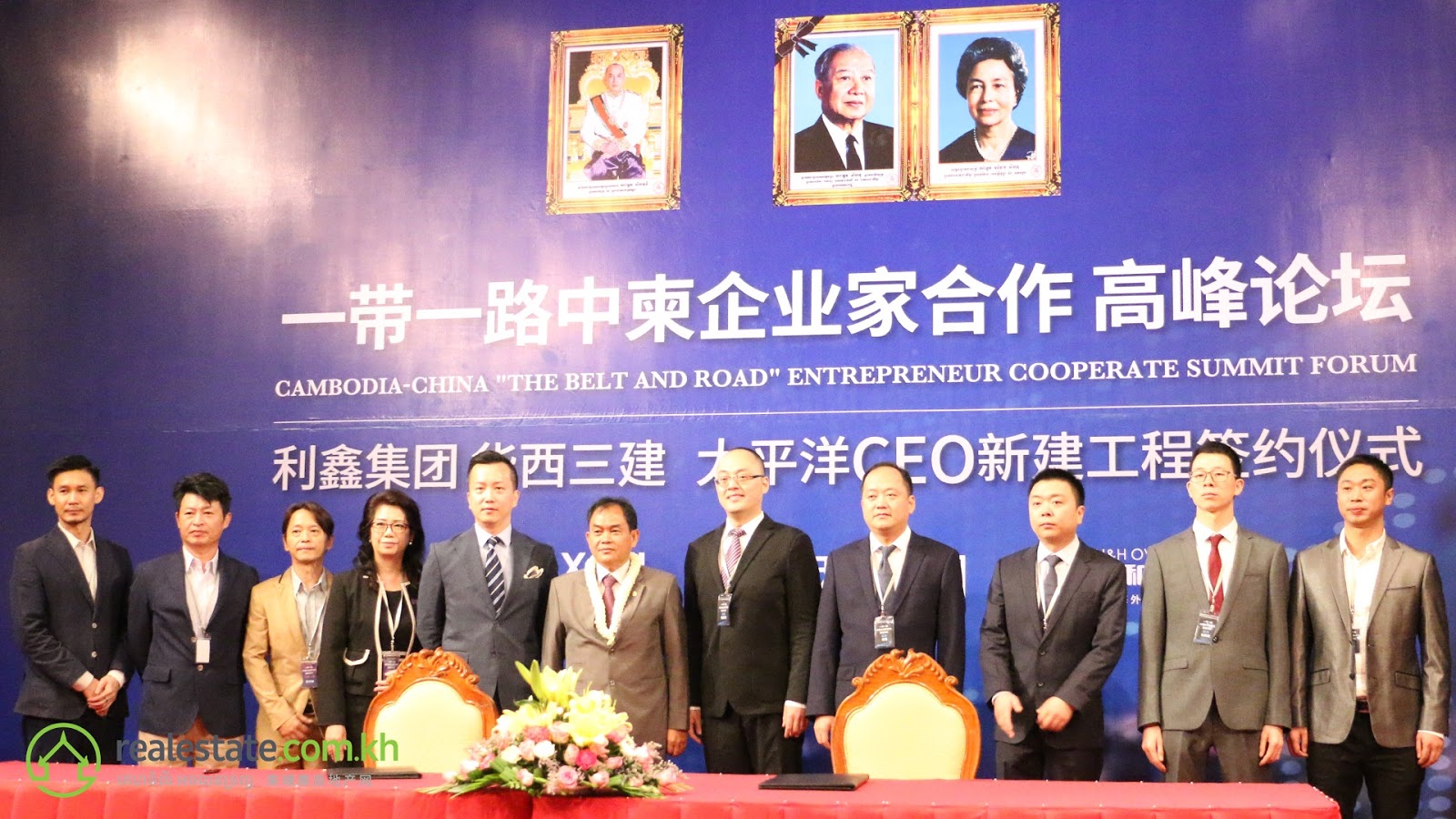 Phnom Penh, Cambodia- This morning, the forum and signing ceremony of the CEO KT Pacific project with renowned construction company Sichuan Huashi Group took place at the Intercontinental Hotel, Phnom Penh, with Realestate.com.kh invited as the exclusive media of this morning's pivotal event.
The recently announced international commercial housing project, located in 7 Makara district, is the result of a joint development venture between KT Pacific Group and LiXin Group.
This morning's event was named Cambodia - China "The Belt and Road" Entrepreneur Cooperation Summit Forum. This name derives from one of the key focuses of the event which is namely, the One Belt, One Road Policy
As discussed at this morning's forum, once this policy initiative is completed and operational, it will establish a direct economic corridor- with both land and maritime routes and will have a major positive impact on the most critical trading economies in the world. The Kingdom will be a major benefactor of this policy initiative as it lies in the heart of the One Belt, One Road.
Today, Phoueng Sophean, State Secretary of the Ministry of Land Planning and Construction of Cambodia, many entrepreneurs and well-regarded market experts came to the forum to exchange ideas and discuss further strategy to strengthen the links between enterprises in Cambodia and Cambodia.
After the official start of the event, Mr. Jingsi Zhang, Vice President of Sichuan Huashi Group and Mr. Kevin Hsu CEO of LiXin Group, delivered a speech of appreciation and shared their optimism regarding CEO KT Pacific project and the development of the real estate market in Cambodia.
Mr. Hsu said: "Under the leadership of Prime Minister Hun Sen, Cambodia's strong relationship with China has made a more stable political environment and enabled higher economic growth than their neighboring countries."
"GDP is growing by 7% annually, making Cambodia the 'ASEAN Star'- with policies that welcome foreign investment so that foreign-funded enterprises can own one hundred percent of the shares. Furthermore, there are no limits on foreign exchange, and trading in a stable USD economy is attracting many international investors and investment opportunities."
"Due to Cambodia's development and potential and in the face of such excellent investment conditions, LiXin Group naturally wanted to be a major part of the investment in Cambodia."
 "This joint venture consisting of two prominent development companies, and the new addition of Sichuan Huaxi Group to manage the construction of the CEO KT Pacific project, is the pinnacle of ingenuity and demonstrates an international vision of all the companies involved," he concluded. 
The CEO KT Pacific project is Southeast Asia's first landmark international business development, from the physical appearance, the interior modeling and the top floor's three -dimensional steel cloud installation art on the top floor, creating a majestic skyline.
Further to this, there will be large conference centers and conference rooms for up to 85 delegates to conduct business and ultimately CEO KT Pacific is specially designed for business people who are stationed in Phnom Penh.
In addition, the top-floor leisure clubhouse offers a 360-degree view of Phnom Penh and the project hosts a top floor running track- perfect for the fitness of fast-paced business professionals.
This majorly futuristic and unique addition to the present architectural landmarks- more than that of other parts of Southeast and is designed to reflect the future direction of Phnom Penh, namely by being a premier five-star business hub.