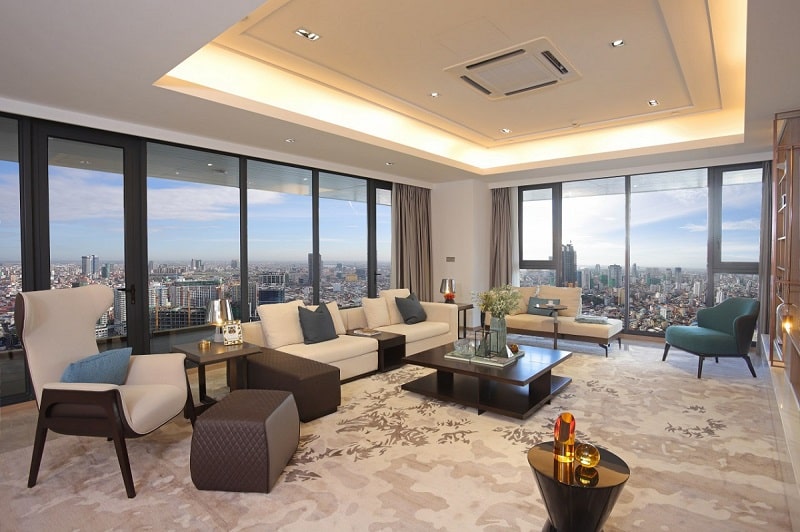 A Chinese real estate developer officially unveiled its condominium project called Sky Villa late last week. The company claims that the units it will be offering in the complex will be the largest condos in the Kingdom's capital.
GreatView Investment last Friday unveiled Sky Villa, a project which is comprised of two 35-storey residential towers. The complex, which will also house a four-storey basement parking area, is set to span 256 units, or 128 in each tower.
The condos range from 272 square metres to a massive 509 square metres. Currently, starting prices sit at just under US$1 million, or around $2,326 per square metre.
"It will possibly set a new record for the largest apartment size [in Phnom Penh]," said Saly Phalin, senior sales manager of Alpha Alliance Real Estate, an appointed marketing agency for Sky Villa. 
While GreatView Investment is a Chinese developer with operations in China and Singapore, Phalin said that Sky Villa's project manager is MCC Singapore, a subsidiary of the Global 500 Metallurgical Corporation of China, which has developed, constructed and project managed more than 6,000 condominium units across 12 projects in Singapore. 
"We expect this new ultra-luxury residential segment to cater to the growing wealthy class as well as foreigners in Cambodia," Phalin said, citing China's One Belt, One Road Initiative as a prime indicator of future growth.
Sky Villa designed by the architect of Taipei 101
Sitting near the Olympic Stadium, Sky Villa is designed by renowned Taiwanese architect Chu-Yuan Lee, famed for the iconic Taipei 101 in Taipei, Taiwan. 
Condos are arguably the hottest type of real estate in Cambodia. According to a recent report by real estate services firm CBRE, 13 condominium projects have been completed and put on the housing market during the first half of this year. 
CBRE's figures also revealed that at the end of June, the total condominium supply in Phnom Penh hit 16,657 units. Over half of those units were classified as mid-range properties. The affordable and high-end segments, meanwhile, each accounted for around 25 percent of the market, each.
CBRE's research and consulting manager, James Hewson, said that the condo sector first started to gain momentum in 2017 when the total supply jumped from less than 5,000 to around 8,000 in just a year. 
Hewson added that the condo market is growing at a breakneck pace, and buyer demographics vary widely. Most developers, he said, target buyers of the same nationality.
Hewson cited Chamkarmon district's L'Attrait. Spearheaded by a Japanese developer, over 60 percent of the project's units were purchased by Japanese buyers.
"Overall, a wide variety of predominantly international purchasers have bought into the condo market in Cambodia … yet the new wave of affordable condominium launches is expected to engage local Khmer buyers." 
A representative from Sky Villa refused to disclose the number of condos that had been sold but confirmed that most buyers were from abroad.
MCC Singapore's CEO Tan Zhiyong said that property investors are flocking to Cambodia to seek capital appreciation and rental yields. 
"Cambodia is witnessing a steady growth of the affluent class as well as an influx of global visitors and investors, and Sky Villa represents the epitome of their home aspirations." 
To learn more about the main types of housing in Cambodia, refer to our Cambodia expat guide.

Article by: