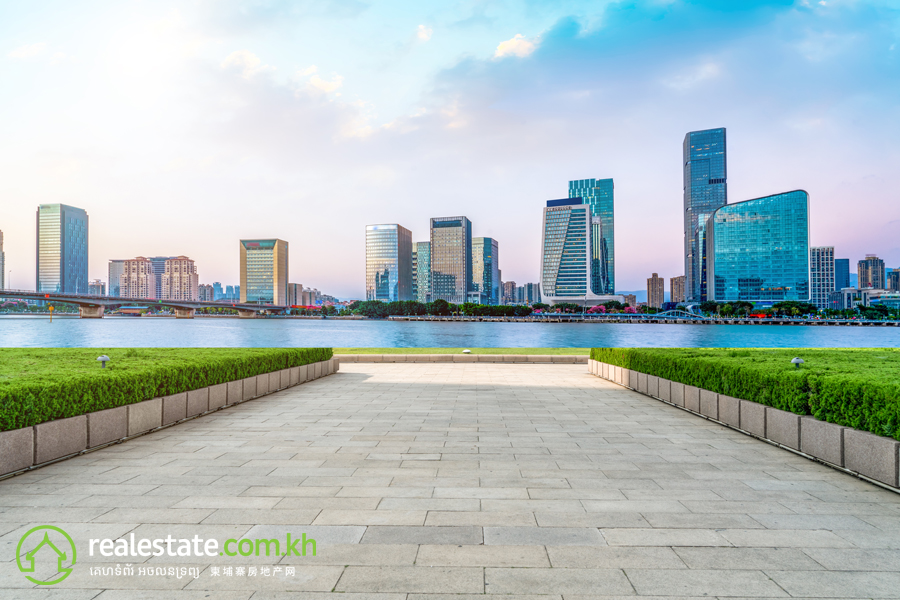 Looking at the Chinese real estate market's experience of the pandemic, the imposed lockdowns essentially froze huge portions of the industry. Recorded property sales plummeted by as much as 80% in big cities when lockdowns were enforced, according to a report from the South China Morning Post.
But in early April 2020, community quarantines and travel restrictions were slowly lifted across China. Market observers then began noticing the first signs of recovery. According to a report from the China Real Estate Information Corporation (CRIC), transactions in large cities such as Shenzhen, Fuzhou, Hangzhou, Chengdu, Shantou, Jiaxing, and Yangzhou have started to pick up in volumes surpassing the average transactions made in Q4 of 2019.
The CRIC reports that some 175,800 sqm of residential property was sold in Suzhou within a single week back in March 2020. CRIC's report further reveals that a district in Suzhou sold 170 million USD of property in 1 minute of online sales through property portals similar to Realestate.com.kh.
The report from the South China Morning Post attributes the rebound to low prices following the spread of COVID-19 in China, aided by financing assistance, making several projects popular. A Chinese real estate insider also derives the sales to "pent-up" demand from the Spring Festival and the widespread lockdowns.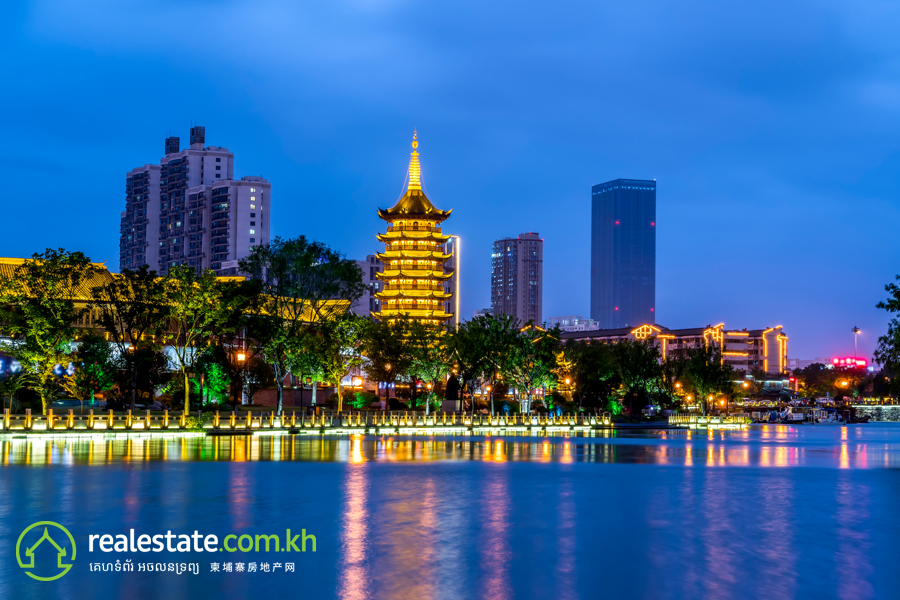 Huaian City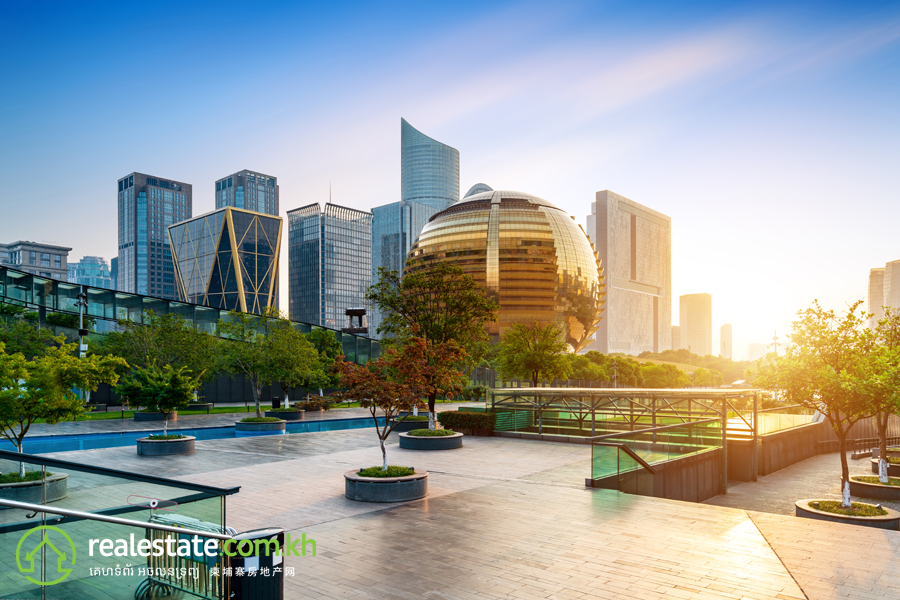 Hangzhou City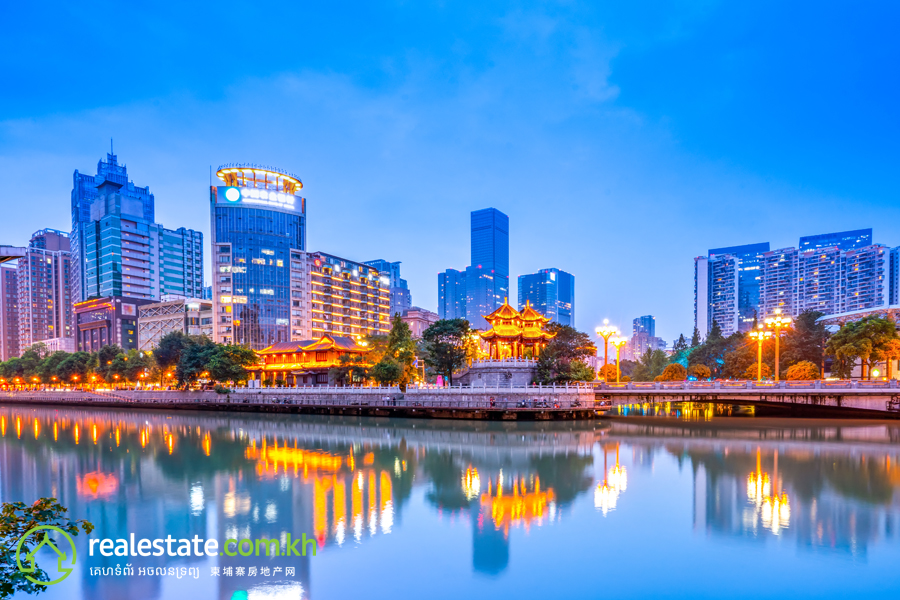 Chengdu City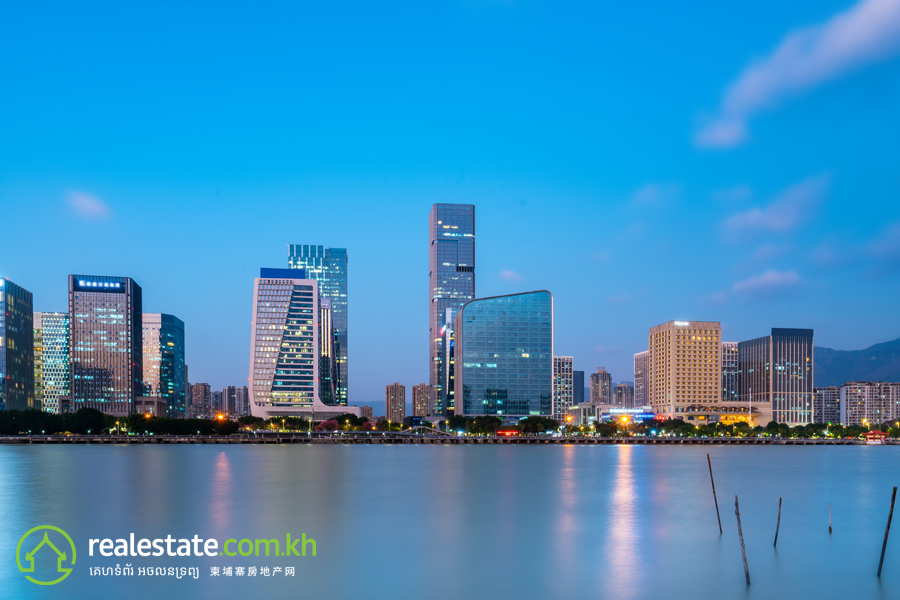 Fuzhou City
International property consultancy Knight Frank, however, cautions developers not to get too excited as sales could still face shortfalls up to 40% of year-ago sales figures. According to Martin Wong, an associate director at Knight Frank, "The sales outlook for the whole year depends on the development of the coronavirus condition".
Xie Rui, a property analyst from Golden Credit Rating, projects that nationwide sales of sqm sold will likely be lower by 4.5% by the end of 2020 compared to 2019. Although, this figure assumes that COVID-19 is under control by the end of April.
Cambodian real estate showing early signs of slump
Cambodia has not experienced a massive outbreak, nor is it facing a nationwide shutdown (as of posting April 9, 2020). Regardless, the pandemic has strained the country's economy, hardest hit being its tourism, and most recently, its real estate sector.
CBRE Cambodia, part of CBRE's international property consultancy, reported early signs of real estate prices sliding this quarter. The lack of foot traffic and cancellation of public events has especially exposed retail spaces to as much as a 10.5% reduction in rental prices, the highest in 4 years.
For residential properties, CBRE's report showed small but indicative price reductions. Condominiums are now experiencing a decrease from 0.5% to 1.5% in price per sqm on the high-end and mid-range, respectively, in Q1 2020. The affordable end of the market slightly picked up by 0.3% in the same period.
Landed property remains resilient as prices of house units increased by up to 4% according to CBRE Cambodia. Landed property in the Kingdom has a status of "safe-haven" for capital, and that perception is faring well in the early parts of this outbreak.
While CBRE Cambodia reports that the slump is still in its early stages, market adjustments will likely persist if the pandemic continues to spread at alarming rates throughout the year.
Can Cambodia mirror China's market resurgence?
While Cambodia and China are two vastly different economies, examining China's initial signs of economic recovery helps set expectations for the Kingdom's real estate market.
Prior to the global outbreak in January 2020, the Kingdom's real estate industry has been strengthened by developers meeting mid-range demands of the local market. According to Knight Frank Cambodia, mid-range residential developments are set to overtake the dominant supply of high-end developments.
The demand for affordable property is likely to sustain itself after the outbreak as, much like the Chinese, the Cambodians value property as a safe store of wealth. Delivering more mid-range and affordable properties, aided by financial assistance, maybe the bedrock of any real estate recovery post-COVID-19
China's economic activity tanked after the restrictions on movement. While there is no lockdown proclaimed, the outbreak has spurred more precautions in daily economic activity, negatively affecting the projected 7% GDP growth. This change in behavior highlights the need for the industry to adapt to changing circumstances.
Many Chinese property seekers have opted to look for property online throughout the lockdown. The Cambodian market may be starting to reflect this behavior as more showrooms close. Any real estate market recovery will definitely be helped along by the sense of euphoria once COVID-19 passes, which further highlights the need of developers and agents to maintain an online presence.
A lot is still uncertain in terms of COVID-19 peak and restrictions of movement in the Kingdom. Regardless of how relatively contained the disease is, the government is keeping a close eye on the situation. The only thing certain is that fears of the pandemic have already taken root in Cambodia's economy and will likely take some time (6 months at the very least) for markets to recover to pre-outbreak activity.
Realestate.com.kh is proud to bring back Cambodia's biggest Property & Lifestyle Market Expo which will be held on 7th and 8th August at Koh Pich Exhibition Center.
Booth sales and sponsorships for Home & Lifestyle Expo 2020 are open.
For more information, please contact:
Nin Kang (Khmer/ English/ Chinese)
+855 78 637 323
+855 93 552 305

Article by: