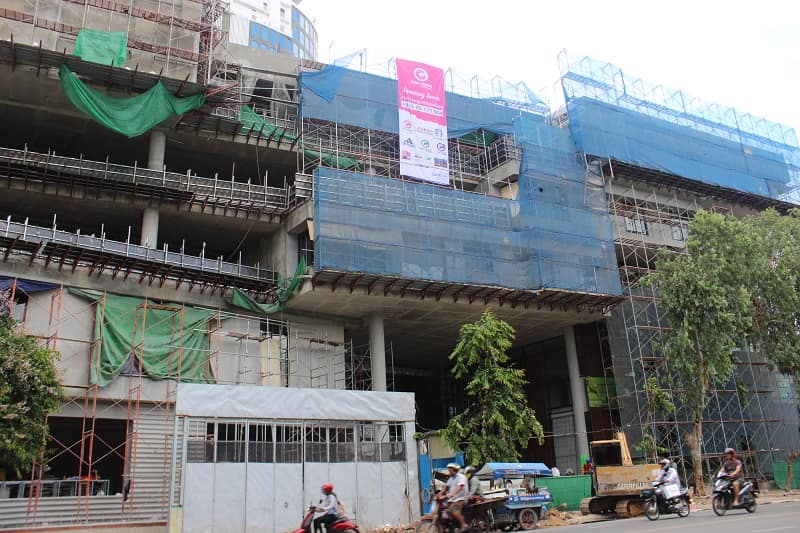 The six-storey Chip Mong Noro Mall in Boeung Keng Kang I (BKK1) district is scheduled to open shop later this year. The shopping centre is set to have a net leasable area of 7,400 square metres. 
According to the firm managing the mall, nearly 75 percent of the space is already fully booked by tenants and businesses. 
Located on Norodom Boulevard, between streets 360 and 370, Chip Mong Noro Mall is the first project by Chip Mong Retail, a subsidiary of Chip Mong Group. 
Thyda Pov, leasing manager of CBRE, the company responsible for managing Noro Mall, told Realestate.com.kh on Wednesday that the property began signing tenants early this year. She said that more than 75 percent of the leasable space has been booked.
Thyda said that the mall is located in a prime location where demand is rising for retail options, residential and commercial buildings.
"When the mall goes online, it will leverage even more potential from Boeung Keng Kang district."
According to Thyda, the construction of the building is nearly complete and the only work left is interior design of the mall. 
She added that tenants include a supermarket, cinema, bakery, restaurants, cafes, and entertainment venues. 
Additionally, the mall has a parking lot that can host 79 cars and 317 motorbikes. 
To stay updated on all real estate and business stories in Cambodia, sign up for our newsletter.

Article by: