People talk about a new angle of doing business which has both challenges and success phase, for it is the right time now to grab a chance to diversify business to be successful.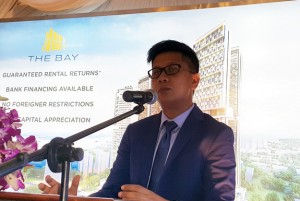 With a new concept of doing business in the kingdom, Mr. Ly Senleap, director of FURI Real Estate, said that CONDO-TEL is mixed between condo and hotel which is a new business concept.
"We turn condo into hotel with 5 stars and we will provide services for customers like their home as the customers can cook, live privately, have living room, dining room and workplace, and they can have a porch to see the outside view." "The target customers that we focus on are business travelers who need privacy of living"  
Besides the service we provide variety of services for customers such as swimming pool, gym, restaurant, and food order for 24 hours.
Although some people think that condo market will get stuck, but Mr. Senleap is optimistic about this market that will not cause any problem because of the political stability and economic growth which boost the demand.
The start of CONDO-TEL service will be run for the first times in June. The location of the service is in SILVER TOWN Condo which is along the street #63 and situated in BKK 1 commune, Chamkar Mon district, Phnom Penh and the next project is in Siem Reap at the end of this year and after that is Sihanoukville.
The director said, "No one here has been interested in the new angle of the business, but it is very popular in the developed countries such as Australia and America because hotel is a place which stay in short time and no privacy. The difference is that businesspeople need quiet place."
"We think that we will have some difficulties for local customers because now there are many boutique hotel and hotels which target tourists, but we focus on businesspeople who want to do business here. We target this kind of guests, while it can face challenges, but it is the newest opportunity that no one takes and if we can do it, it will be strongly successful in the market as we have exports from America to lead the work," Mr. Senleap said.
"I strong believe that I will be able to do it because our price is 20 to 30 percent lower than hotel's, but we will not make our customers disappointed with our service," Mr. Senleap said, "The location is in the middle of Phnom Penh, commercial area, near embassy and government building which provide easiness for customers."
The hotel market focuses on 70 percent for online advertisement, so our market will concentrate on the perfect service advertisement and online, cooperate with businesspeople, NGOs, embassies, and both local and international investors.  
Mr. Senleap, said, "Our strong point is that we lead the business professionally and have exports from American who have many experiences in meeting the customers' demand perfectly." "The business is risk, but we can do it, since we intend to solve the challenge or risk and turn impossible to possible and if we are successful, our business will be unique," he added.  
Realestate.com.kh is proud to support the CVEA's Property View publication.
Click here to get your copy, or if you are interested to join the CVEA today.