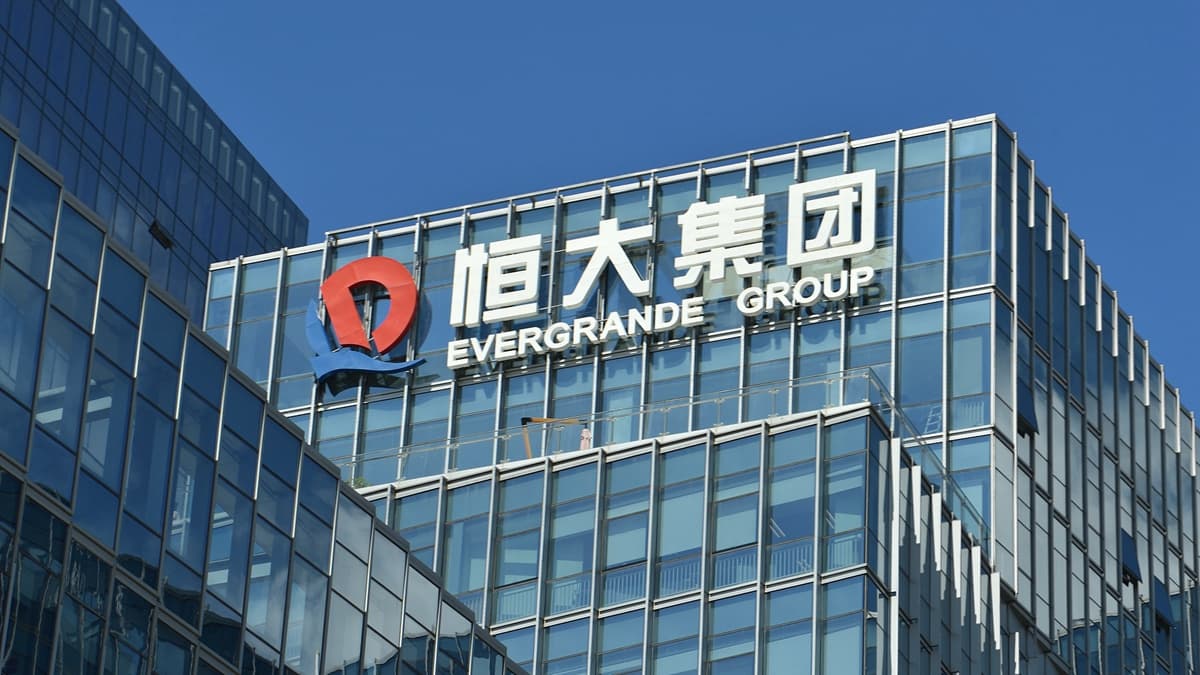 Evergrande's debt woes threaten to hit the Chinese market and many are wondering if the property giant's default will ripple to the international market. Photo from Forbes.com.
In late September 2021, Chinese development giant Evergrande made waves across global property markets when it failed to meet repayment obligations, making it apparent the developer cannot service its loans amounting to more than $300 billion.
China Evergrande Group owns more than 1,300 buildings in more than 280 cities across China and is considered the largest real estate company in the world by total value of assets according to Sovereign Wealth Fund Institute.
Evergrande manages land area in China equivalent to 678 square kilometres - an area just 1 square kilometre shy of Phnom Penh's 679 square kilometres. The developer reportedly houses 12 million residents and indirectly employs more than 3.8 million people or almost double Phnom Penh's total population.
Why is Evergrande in trouble?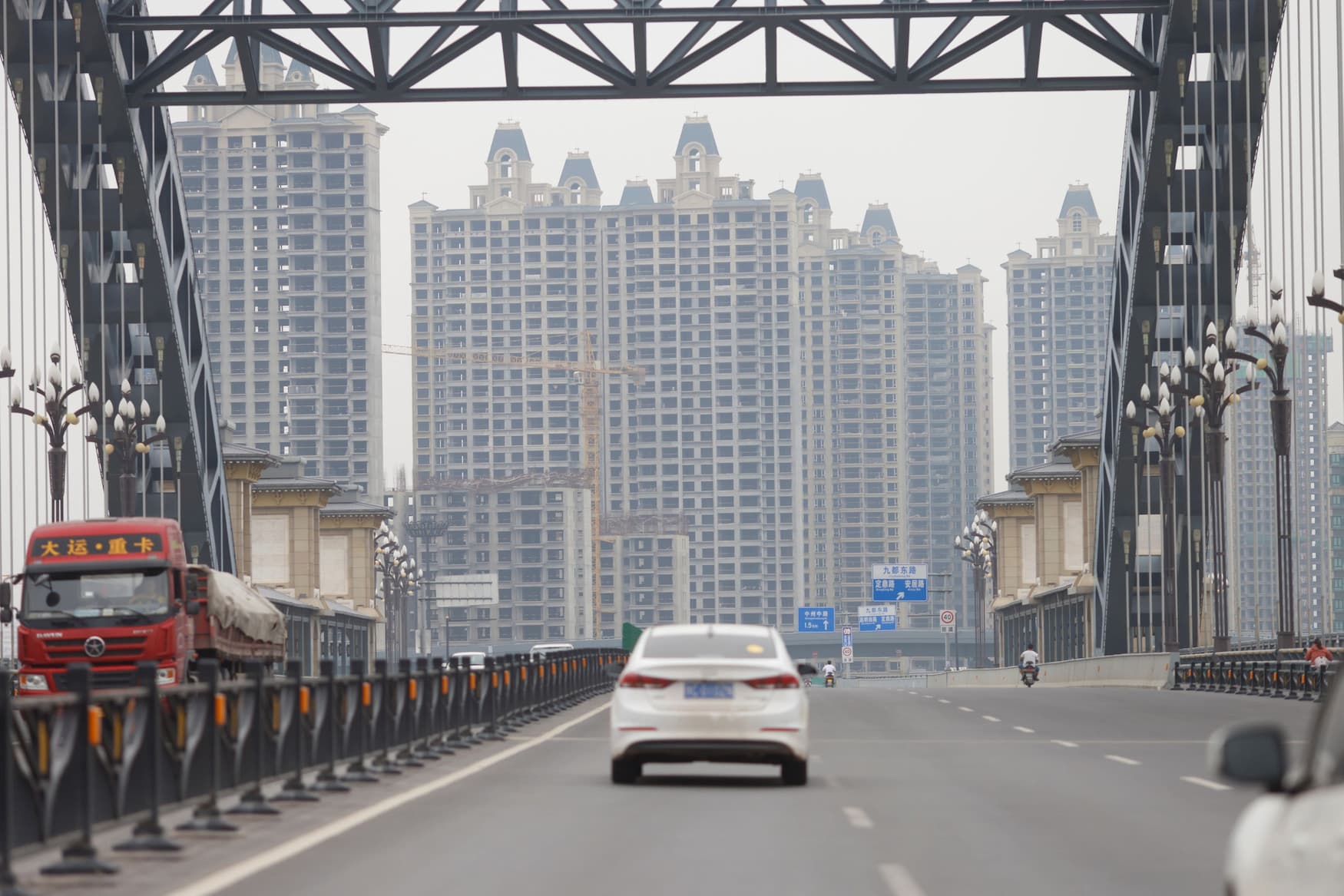 Building in the background: Evergrande Oasis, one of the unfinished projects by one of China's biggest property developers. Photo by Carlos Garcia Rawlins, Reuters.
For short, increasing debt and changing regulation.
The cracks in Evergrande started forming when it pursued an aggressive debt-fueled expansion as the Chinese property market heated up with demand for residential and commercial spaces growing every year - a textbook definition of borrowed time.
After years of unrestrained expansion, Evergrande's debts grew alongside its size and assets. The Chinese property giant is now labouring under a debt pile of more than $300bn.
The embattled developer, since 2020, has been selling off billions of dollars worth of assets to raise funds to slash its debt. Credit rating agencies such as S&P and Fitch have downgraded Evergrande's rating by several notches since 2020.
Things recently came to a head when Evergrande missed its third loan repayment in early October, further sounding the alarm to both domestic and international creditors.
China's heated property market has also been noticed by the Chinese government. President Xi Jinping pushed to "shift the focus to improving the quality and returns of economic growth … to pursuing genuine rather than inflated GDP growth."
To achieve this China has implemented the "three red lines" policy to govern Chinese property developers. The policy was introduced to 12 major developers in China back in August 2020 with Evergrande being one of the attendees.
The "Three red lines" policy imposed limitations on developers' ability to borrow and access loans without satisfying the 3 set criteria of liability-to-asset ratio of less than 70%, net gearing ratio of less than 100%, and cash-to-term debt ratio of more than 1x. The policy is ultimately aimed at cooling the Chinese property market and keeping housing prices from skyrocketing further.
With liabilities piling and new regulations set in place, Evergrande's foundations built on a debt-frenzy started to crumble.
Could this affect the Cambodian real estate market?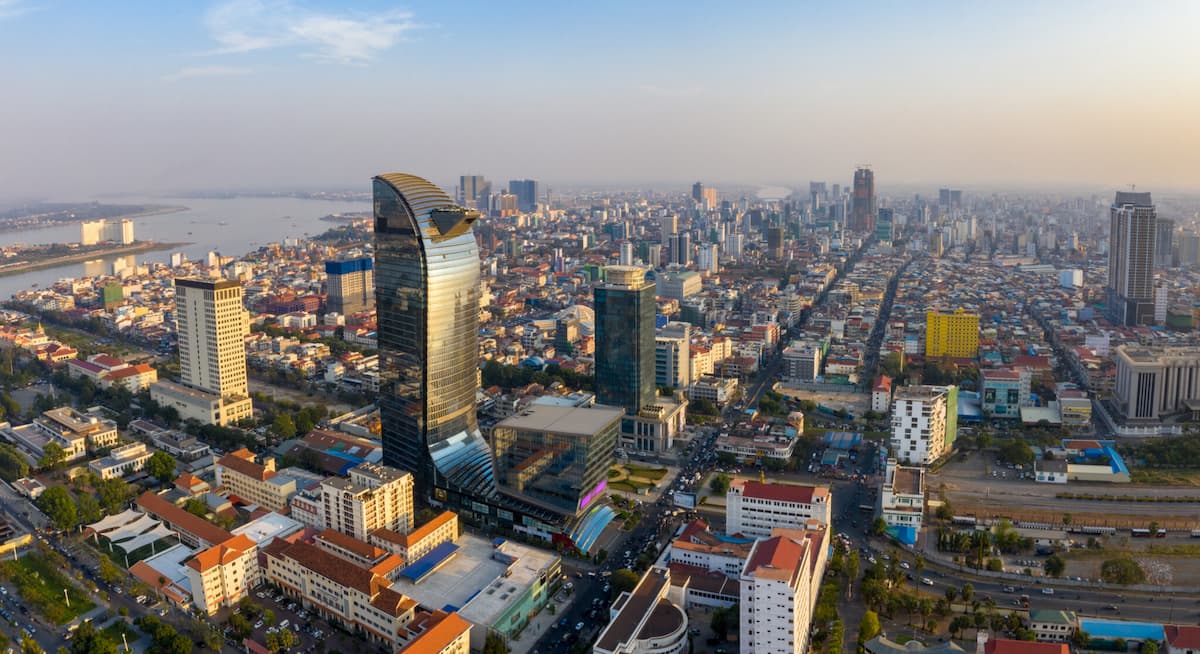 Phnom Penh leads other cities in Cambodia in terms of the concentration of new and modern projects being developed. Supplied.
Realestate.com.kh reached out to several experts familiar with the Chinese, Cambodian, and international property markets to get a better view of the situation, and what it means for the Cambodian property market.
"No, I don't think it will have any major impact here," said Simon Vancliff, MRICS, and CEO of WB Sport Village Co., Ltd., the developer behind the WorldBridge Sport Village in Chroy Changvar. "Any repercussions in China may have indirect effects on Chinese developers in Cambodia. But that remains to be seen as the situation unfolds"
Simon emphasized that though Evergrande is a big developer, it does not represent the wider Chinese real estate sector. "Evergrande oversees more than 1,000 projects at a time while most other developers only manage a few. There are a lot of other active and reliable Chinese developers present in the market."
Wayne Wang, Co-Founder of LumiArch Global, one of the companies behind Le Condé BKK1, similarly believes Evergrande's woes won't have any major impact in Cambodia. "Evergrande's situation is quite isolated. What's happening now is the consequence of their rapid and uncontrolled expansion in the past 5 to 6 years," he said.
Wayne adds that the larger Chinese market is healthy outside of what's happening to Evergrande. "Demand for housing continues in China to the point that the government has imposed restrictions on the buyers' side," he said, "One example is a restriction on how many properties an individual can buy and setting a time embargo before they can sell it".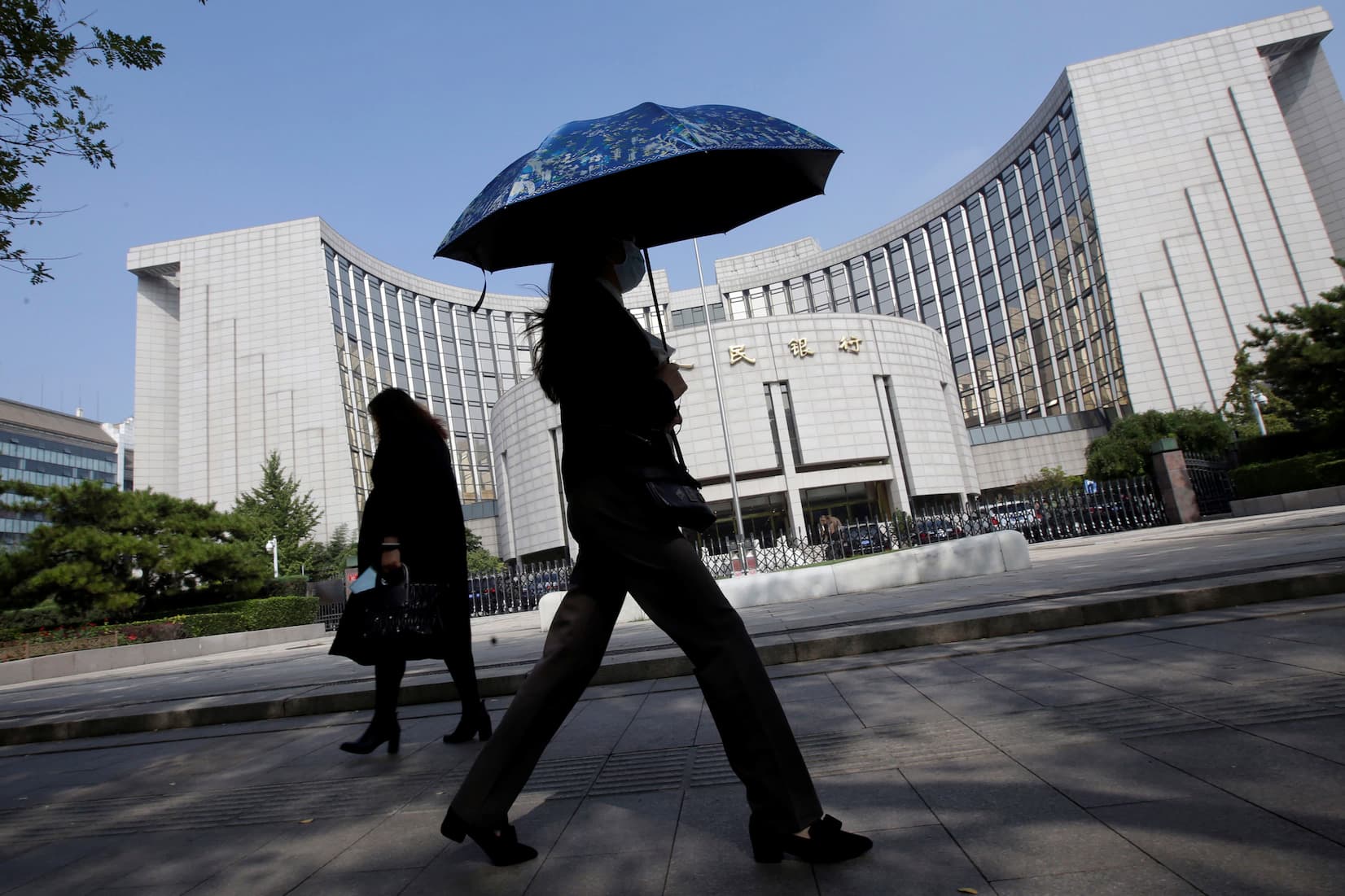 People's Bank of China has been closely monitoring China's real estate market and Evergrande since 2018. Supplied.
In mid-October, the Chinese central bank broke its silence on Evergrande. People's Bank of China Director Zou Lan spoke during a press conference, saying "The problems of Evergrande is an individual case in the real estate sector. After years of macro regulations and the establishment of long-term housing mechanisms, China's land and housing prices remain stable. Most real estate companies are running steadily with good financial indicators and the real estate sector is generally healthy."
The majority of Evergrande's fallout is likely to remain confined within the Chinese property space. Chinese investments in Cambodia mainly started in 2017 and before then, Cambodia's property sector was already booming from projects developed by a variety of international developers.
James Hodge, Managing Director of CBRE Cambodia, believes that Evergrande's impact will be in the form of stakeholders in the Cambodian market taking lessons from the fallout.
"If the situation unfolds, as is widely expected, and Evergrande cannot service its debts, we can expect some level of impact on lenders to Chinese developers, as well as to the sentiment surrounding other developers," he said.
James explained that banks and lenders may start reexamining their loan books especially if they're exposed to construction and real estate. He added that foreign buyers may likely be more cautious by doing extra due diligence and being more scrutinizing on the developer's staying power.
Evergrande's woes stem from its debt-driven funding, having borrowed from a network of banks and other creditors within China and from abroad. It becomes a question now whether or not developers in Cambodia are exposed to the same level of risk.
CBRE's James Hodge said that Evergrande's funding scheme is large and complex, while the forms of funding developers in Cambodia use are simpler in comparison.
"Developers in Cambodia use a variety of funding methods to deliver their projects," said James. "The most common method for larger developments would involve a mixture of off-shore lending, revenue from pre-sales and cash"
Wayne Wang, offers a similar view, saying "A majority of developers in Cambodia, mainly fund their projects in a number of ways such as pre-sales revenue and the developer's own capital."
Simon Vancliff, overseeing one of WorldBridge Group's subsidiaries, notes that some Chinese developers are part of conglomerates. "They [as a conglomerate] could be involved in manufacturing, logistics, transportation, aviation, and etc.," he said, "If one business line fails, the others can support it"
"From what I can see, Evergrande is a large and prestigious developer that managed a significant amount of projects at any single time, which could have been slightly overwhelming for any large developer in the market over the recent years from a risk perspective," said Simon.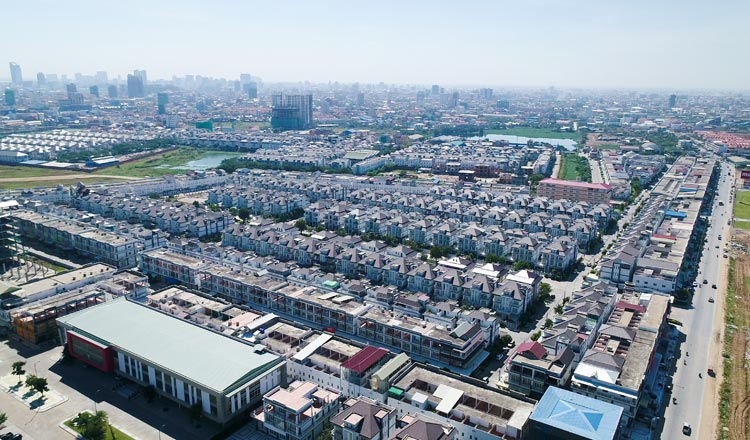 While property buyer loans are becoming the norm in Cambodia, banks in the Kingdom are still reluctant to go all-in the property market. Supplied.
Beyond Evergrande's property buyers not seeing their homes completed on time, the property giant's financial woes risk hitting China's banking system. This poses a question of whether or not developers in Cambodia are leveraged in the same way that could affect Cambodia's banks.
"There is a very mature system in China for the banks to evaluate the developer's asset and major banks have sufficient capital, therefore it is much easier for developers to acquire loans from banks." Wayne Wang said, "In Cambodia, neither of those two points apply."
He explained that Cambodian banks are more reluctant to grant project loans, and have diverted developers' efforts elsewhere when looking for additional funding.
Anthony Galliano, CEO of Cambodian Investment Management, offers a macroeconomic perspective for Cambodia. "Cambodia's property cycle has been evolving for years and the peak is well behind us with evident data of oversupply and declining prices. COVID already significantly quelled the real estate market, with a substantial drop in retail foreign investment in the sector, primarily condos."
"Evergrande is just another adverse factor to hit the market," Anthony noted. "Chinese developers will likely curtail investment in the Kingdom in the short-term to remedy problems at home. FDI in the real estate and construction sector is set to drop, as China is a substantial composition, and this will impact the economy."
Despite seeing a more direct impact, Anthony does not consider it as a major issue. "While Evergrande may default on some commitments, it is thought bondholders and shareholders are most likely to suffer, it is unlikely that the banks and consumers awaiting completion of their properties will be greatly impacted," he said.
Wayne Wang agrees, saying "Evergrande's assets are not toxic. They're valuable and it's all a matter of negotiation for both private and state-owned developers in China".
Anthony cites the recent news of formally considering reopening as it will allow international retail investment to resume in the sector, and offset some of the downturns and lead to a recovery in prices, as is normal in the cycle of the real estate industry.
Article by: