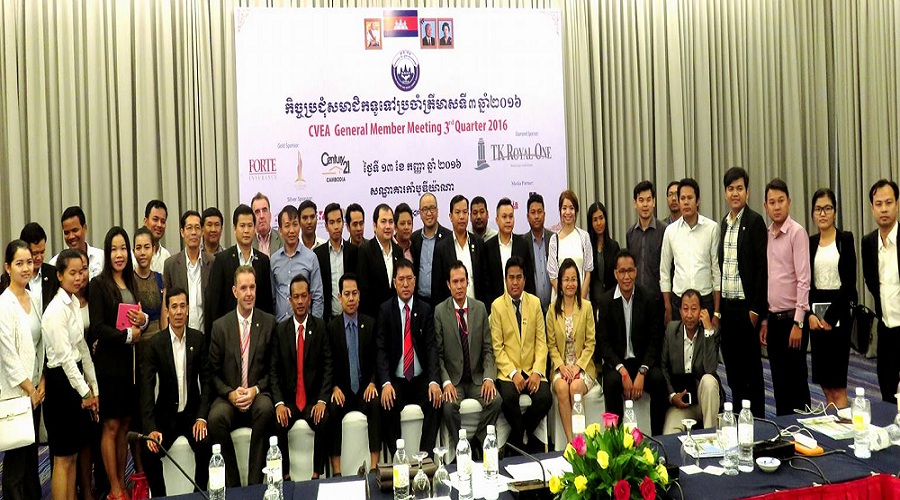 The Cambodian Valuers and Estate Agents Association held its 3rd quarter general members assembly last September 13, 2016 at the Cambodiana Hotel. Members of the association gathered to discuss the different challenges they're facing and to share their knowledge ofthe real estate sector in the country.
In the forum, they also presented about the study tour held in South Korea late last August, entitled "Incheon International Realtor Conference and Expo 2016" (IIRCE) which talked about the "Advantages and the real estate industry of Cambodia today"
Kim Heang , president of the Cambodia Valuers and Estate Agents Association, said that after the workshop was completed in Korea, CVEA was also invited to participate in workshops that will be organized by the National Association of REALTORS (NAR) for the month of November 2016. The NAR has more than 1.5 million members.
"As we are members of this association and are colleagues, I spoke as if we're friends. But we are also competitors. We should expand knowledge more here, we need to provide education and skills for our staffs and stakeholders who are involved with the real estate industry in order to make it stronger in the country. Traveling abroad does not provide answers to anything. We must look at ourselves first in order to progress and reach that stage," said Alex Evengroen, CEO of real estate firm KEY Real Estate Co., Ltd.
When asked about what else was discussed in the meeting, Director and founder of KEY Real Estate Co., Ltd. Sorn Seap said, "We have taken important topics that will explore the typical challenges and business experience in real estate as a whole, particularly regarding professional ethics and the transparency of competition in the real estate sector. These are important in order to help the real estate industry grow. In addition, we also discuss about election the next president of CVEA."
He adds, "The CVEA also plans to invite a professor from the University of Technology Malaysia (UTM) to teach in Cambodia for 3 weeks, training participants to have the best interests of the real estate industry. Knowledge from the course can effectively be employed in the development of the real estate industry, to strengthen professionalism in providing property evaluation services to a wider network in the country."
Please find out more about real estate news on Realestate.com.kh